TORONTO (Dec. 6) — No one has yet to classify the current dispute between National Hockey League owners and players a "work stoppage" or even a "labor disruption". So, let me be the first.
Though the COVID–19 pandemic has clearly complicated the logistics of a 2020–21 NHL season, the latest scuffle over appropriation of revenue is delaying the process. Until the owners requested, on Nov. 19, that the players increase their shares of escrow and deferred salary beyond the terms co–signed in the Collective Bargaining Agreement four months earlier, it appeared an abbreviated schedule would start on Jan. 1. Now, we cannot say, for certain, there will be a 2020–21 season. What we can tell you is that the NHL — for the fifth time since April 1992 and the fourth time in the Gary Bettman administration — is being hampered by labor conflict. Which clearly outnumbers the four major professional leagues in North America.
A quick review:
NATIONAL FOOTBALL LEAGUE: The NFL hasn't lost games over a work stoppage since 1982, when a 57–day strike of players reduced the schedule from 16 to nine games. The strike began on Sep. 21, after the completion of Week 2, and resumed with Week 11 on Nov. 21. In 1987, the NFL surmounted a 24–day strike by using replacement players. In neither instance were the playoffs nor Super Bowl impacted.
MAJOR LEAGUE BASEBALL: The most–recent in an interminable string of disputes that began in 1972 cost baseball the final seven weeks of the 1994 schedule; the playoffs and World Series of 1994 and the first 18 games of the 1995 season. Players struck on Aug. 12, 1994 — teams having completed 112 to 117 games. The 1995 regular season did not begin until Apr. 25, reducing the schedule from 162 to 144 games. It remains the only time a baseball stoppage has canceled the playoffs and World Series.
NATIONAL BASKETBALL ASSOCIATION: The NBA has twice lost games to labor activity. In 1998–99, a 191–day lockout postponed the season until Feb. 5, 1999, after which teams played a 50–game schedule. A 161–day owners' lockout delayed the 2011–12 season until Dec. 26, reducing the schedule from 82 to 66 games.
NATIONAL HOCKEY LEAGUE: A 10–day strike, beginning Apr. 1, 1992, was the first–such action taken against owners by the NHL Players Association. Using the upcoming playoffs as leverage, the NHLPA won a huge decision that increased playoff and licensing revenue. Though the Stanley Cup tournament was not impacted, the strike effectively ended the 15–year reign of NHL president John Zeigler. In 1994–95, a 103–day owners' lockout postponed the season until Jan. 20, 1995 and reduced the schedule from 84 to 48 games. A full playoff tournament ensued with New Jersey winning the Stanley Cup. The entire 2004–05 NHL season and playoffs was canceled by an owners' lockout that culminated in a league–wide salary cap. It remains the only full season lost to labor discord among the four professional leagues. in 2012–13, the impasse over a new CBA lasted from Sep. 15, 2012 to Jan. 12, 2013. It resulted in the owners reducing the players' share of league revenue from 57 to 50 percent. A 48–game schedule began on Jan. 19 and a full Stanley Cup tournament ended with Chicago winning its second title in four years. At this time, there is no official length of delay pertaining to the 2020–21 season. Neither, as mentioned, has the current squabble be termed a "lockout" or a "strike". It is, however, deferring whatever length of season — if any — arises.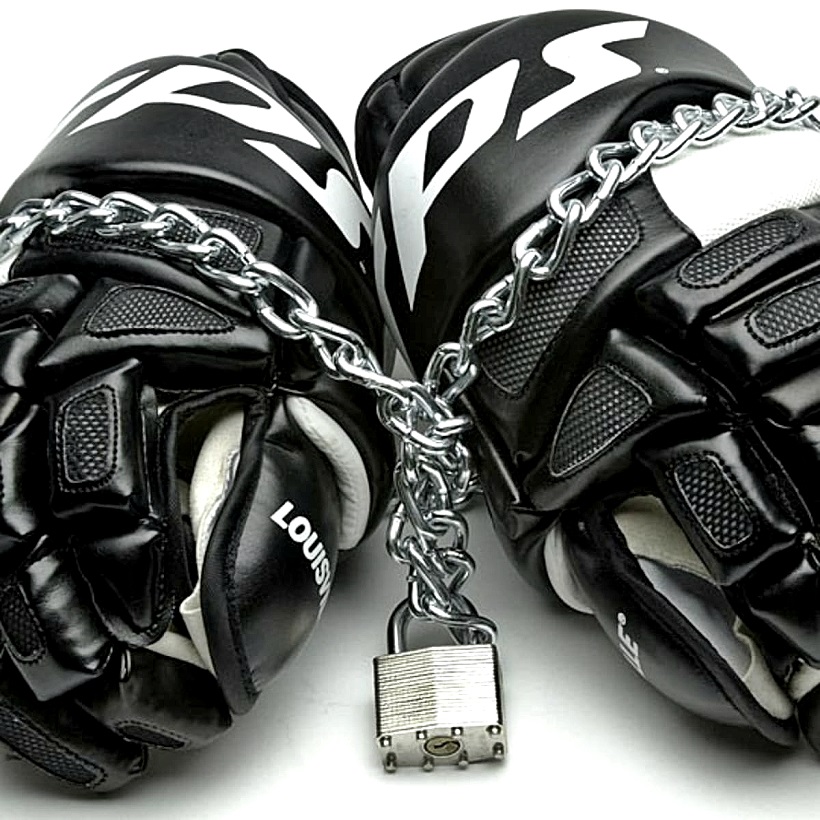 There is no clear answer as to why hockey has incurred more labor tumult than the other three North American leagues over the past 25 years. It is fashionable — and far–too simple — to blame Bettman, yet those who are quick on that draw invariably overlook how the NHL's commissioner since 1993–94 has grown the sport by unprecedented leaps. Also discounted by Bettman critics is the general disorganization of the players' union, which has been directed, since 1992, by five people — Alan Eagleson, Bob Goodenow, Ted Saskin, Paul Kelly and Donald Fehr. The NHLPA got trounced by the owners in both the 2004–05 and 2012–13 disputes. Another victory likely awaits the league in the current feud. If the players do not bend, it is conceivable the owners will cancel the 2020–21 season, thereby annulling contract payments until 2021–22.
In summation, and once again, the players have more to lose.
WHERE DOES MATTHEWS RANK?
I sat down today and made a list of the pure goal–scorers on the Toronto Maple Leafs in the time that I remember watching hockey — generally, since the beginning of expansion in 1967–68. These players could do more than light the lamp, but are remembered, overwhelmingly, for their natural scoring ability.
I settled on nine names:
PAUL HENDERSON: 1968–74 — 162 Goals in 408 Games (0.397 per Game)
ERROL THOMPSON: 1972–78 — 126 Goals in 365 Games (0.345 per Game)
LANNY McDONALD: 1973–79 — 219 Goals in 477 Games (0.459 per Game)
RICK VAIVE: 1980–87 — 299 Goals in 534 Games (0.560 per Game)
JOHN ANDERSON: 1977–85 — 189 Goals in 534 Games (0.354 per Game)
WENDEL CLARK: 1986–94 / 1996–98 / 1999–2000 — 260 Goals in 608 Games (0.428 per Game)
DAVE ANDREYCHUK: 1993–96 — 120 Goals in 223 Games (0.538 per Game)
PHIL KESSEL: 2009–15 — 181 Goals in 446 Games (0.406 per Game)
AUSTON MATTHEWS: since 2016 — 158 Goals in 282 Games (0.560 per Game)
Such others as Blaine Stoughton, Mike Gartner and Alex Mogilny were in the same category but enjoyed their best goal–scoring years with rival teams, either before or after their Leaf days.
The nine players I selected combined to score 1,556 goals for the Maple Leafs over varying terms, an average of 173 per man. As you can see in the above graph, Rick Vaive and Auston Matthews lead the way, statistically, by having scored just more than one goal in every two regular–season games (an identical, to this point, 0.560 per–game average). Some may contend that figure, alone, should settle the argument of which player among the nine was/is the best sniper. But, other factors have to be considered.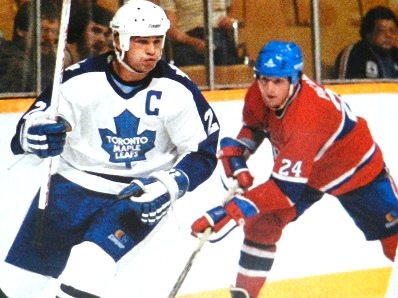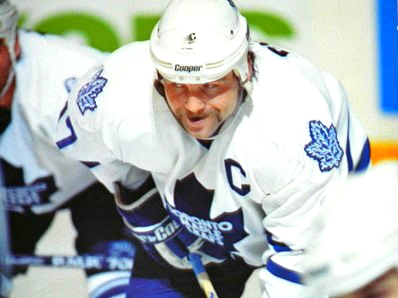 ALL–TIME LEAF SHOOTERS RICK VAIVE (LEFT) AND WENDEL CLARK WERE TEAMMATES FOR TWO NHL SEASONS: 1985–86 AND 1986–87. THEY COMBINED TO SCORE 136 GOALS — 71 BY CLARK; 65 BY VAIVE.
Lanny McDonald and Errol Thompson, for example, skated with two of the top three playmakers in franchise history — Borje Salming (620 assists) and Darryl Sittler (527). Amid this group, John Anderson enjoyed the longest uninterrupted tenure: seven seasons and 17 games (as a rookie in 1977–78). Yet, he played on the two worst Leaf teams of all time: 1981–82 (56 points) and 1984–85 (48 points). Vaive skated alongside elite set–up men Sittler and Bill Derlago (334 points in 378 games) but he, too, languished on the mostly terrible clubs of the 1980's. Wendel Clark had antithetical moments with the Leafs. He played on the dreadful teams of 1985–86 (57 points), 1987–88 (52 points) and 1990–91 (57 points) but later starred with Doug Gilmour on the Stanley Cup semifinal outfits of 1992–93 (99 points) and 1993–94 (98 points). Paul Henderson, the Team Canada 1972 hero, skated with poor–to–average Leaf teams, but alongside clever playmaker Norm Ullman, who had seasons of 85, 77, 73 and 69 points in Toronto. Matthews has obviously benefitted from the presence of fellow elite forwards William Nylander, Mitch Marner and John Tavares.
Yet, to these eyes, only McDonald could fire the puck with such precision and velocity.
EAGLE'S HARD LANDING
Part 1 — Canada — Jan. 7, 1998
Returning to the original subject of this blog, it is true that the NHL did not experience a labor disruption throughout Alan Eagleson's tenure (1967–91) as founder and executive director of the Players Association. We know, today, however that Eagleson conducted criminal activity that led to prison terms in Canada and the United States. On Jan. 7, 1998, Eagleson pled guilty in Toronto to three counts of fraud and embezzling hundreds of thousands of dollars of Canada Cup proceeds in the international hockey tournaments of 1984, 1987 and 1991. He served six months of an 18–month sentence at the Mimico Correctional Centre (1887–2011) west of the city. From my scrapbook are headlines and images from local newspapers of Jan. 8, 1998: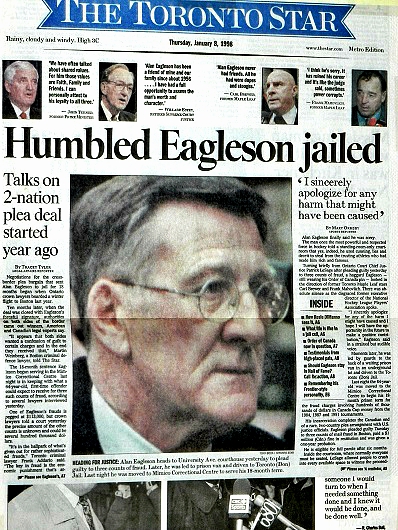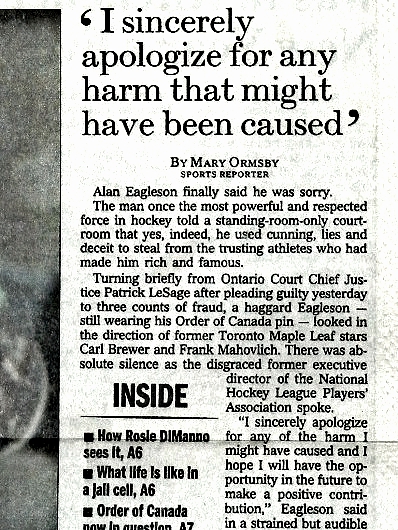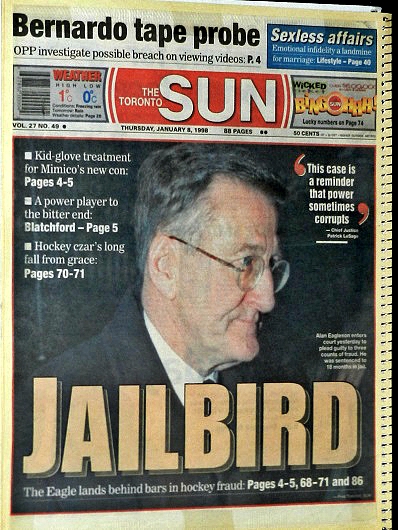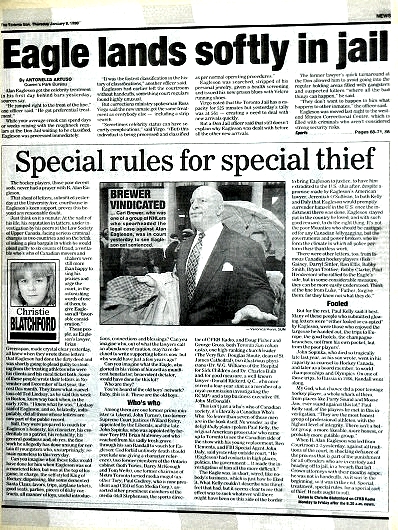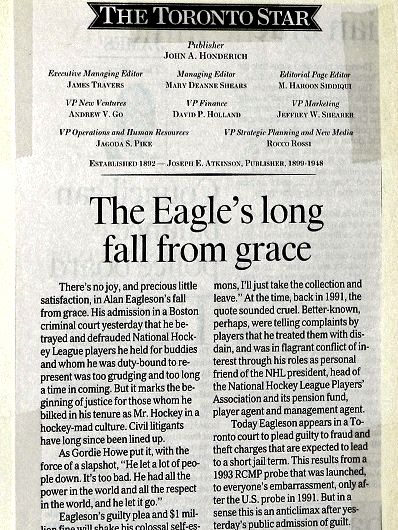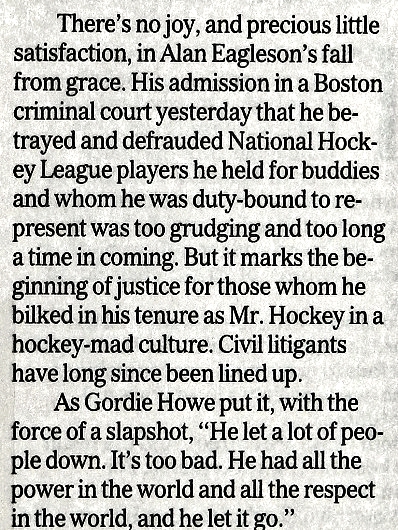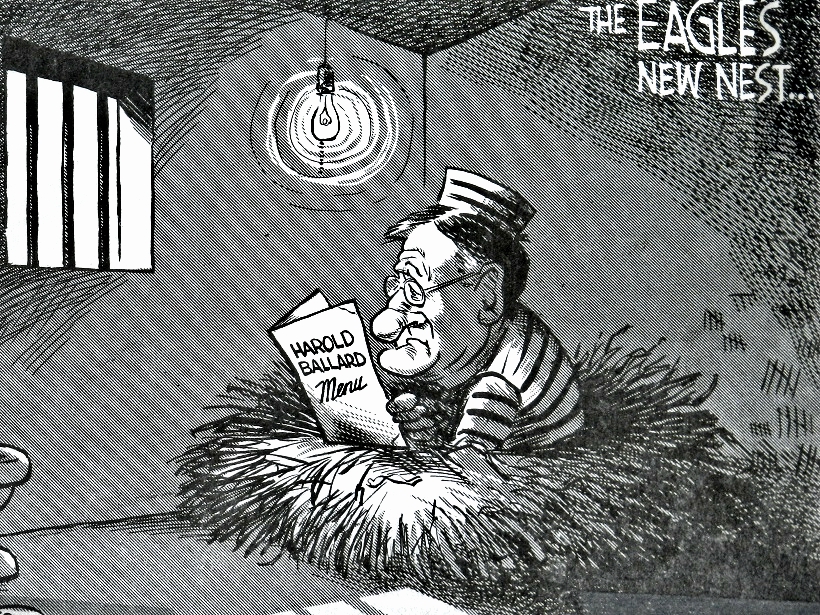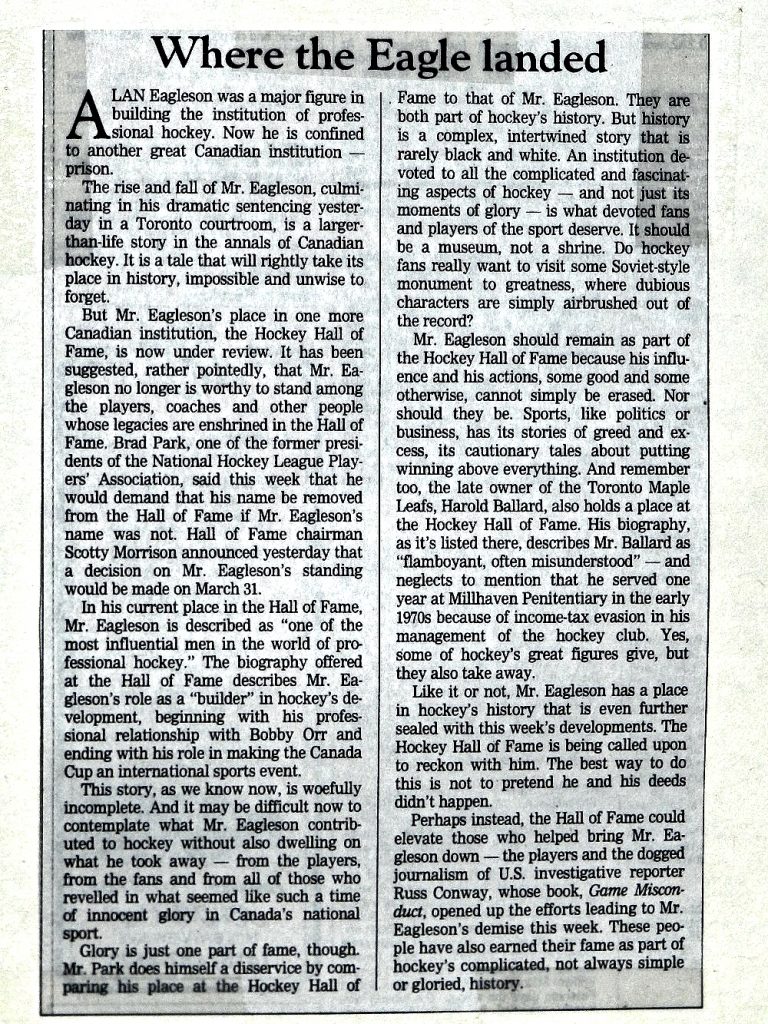 EDITORIAL IN THE GLOBE AND MAIL OF JAN. 8, 1998.
EMAIL: HOWARDLBERGER@GMAIL.COM