TORONTO (Dec. 20) — There's nothing like some old–time media warfare to perk the interest of hockey fans. This became evident on Saturday when I reviewed Al Strachan's latest book — a good one, Hockey's Hot Stove — and re–told how I excoriated him on The FAN–590 from New York one morning in January 2003.
The story led to inquiries about the details of my diatribe and what, in particular, had set me off.
The answer to the first is: I don't remember. Not a single word. It happened nearly 18 years ago and I never heard a recorded version of the rant. All I know is that Don Landry, our morning show host, introduced me and turned off his microphone… as I'd requested in a phone call to him the previous night. Once Don perceived I had emptied the tank on Strachan, he bellowed "that's enough!" Which it clearly was. Though responding in such a fashion was uncharacteristic for me, the emotional release felt wonderful. To this day, I don't know why Strach chose to fling so many arrows in my direction while writing his weekend columns. And, neither did I particularly care. So long as he spelled Berger with an 'e', not a 'u', it was publicity for the radio station. But, when he brought my six–year–old son, Shane, into the picture, it was time to push back.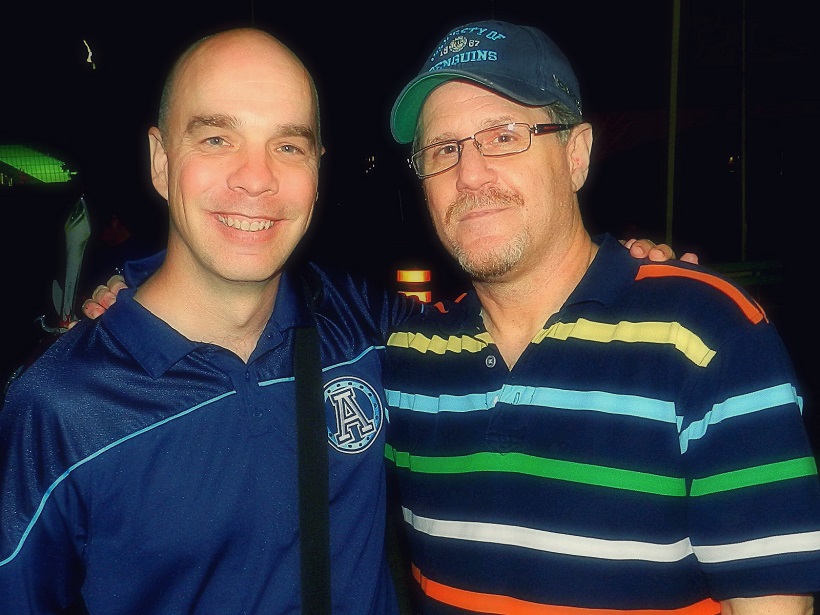 WITH MY OLD FAN–590 COLLEAGUE, DON LANDRY, AFTER AN ARGOS GAME AT BMO FIELD IN AUGUST 2016. DON CO–HOSTED THE MORNING SHOW WITH PAT MARSDEN AND, LATER, GORD STELLICK.
Shane had accompanied me on several road trips back then; it was so enjoyable having my little man along for the ride. He would sit quietly in the press box and keep shots on goal. During his youth, Shane was warmly welcomed at media facilities in Boston, Florida, Uniondale, N.Y., Ottawa, Philadelphia, San Jose, Tampa Bay and Washington. Over the span of five or six years. Upon taking him to New Jersey for a Maple Leafs–Devils game at the Meadowlands on Jan. 3, 2003, I was told he would not be able to sit with me in the press box. Such intrusions were strictly verboten by Devils' (and future Leafs') GM Lou Lamoriello.
Instead, I bought a pair of tickets on–line and sat in corner seats with Shane for New Jersey's 2–0 triumph. As I made my way toward the visitors' dressing rooms afterward — tape–recorder and microphone in hand — I engaged in a minor scuffle with an usher. He said I couldn't take Shane underneath the stands. Not until after an exchange of "F–you's!" did he inform me that children could be watched by staff in a section at one end of the rink. "Why didn't you say that in the first place?" I asked the usher. "It's perfect." I apologized to the man; he accepted, and I walked Shane to the supervised area. That was the entire "incident".
Again, given the passage of time, I don't recall precisely what Strachan wrote in his Sunday column of Jan. 12, 2003. But, he mentioned Shane and said that I had "fought" with Devils' media relations director, Mike Levine, upon being told my son couldn't sit in the press box. Which was malarkey. If I recall, I did question Levine about the decision and was told that Lamoriello wouldn't allow it. Mike then suggested I buy tickets for the game. So, I did. It was my fault for not checking with Levine about the post–game scenario. That's why it caught me off guard when the usher told me I had to leave Shane in the stands. For all of these years, I have wondered why a Hall–of–Fame sportswriter would be interested in such a menial circumstance. But, as mentioned in my Saturday blog, Strachan abhorred me. It was his choice to take the low road; I had done nothing to deserve the frequent zingers. When I saw my son's name in his column, I decided it was time to provide Al a legitimate reason to despise me. And, I did it in spades on that Monday morning in Manhattan.
TONY THE TIGER: While Strachan made a career of battling with others in the media — and was, therefore, an appropriate choice for the Hotstove segment on Hockey Night In Canada — I almost never bickered with colleagues. It was understood and accepted we had jobs in a very competitive field. I remember there being mostly respect for one another. A puzzling situation did arise out of nowhere one night in San Jose. I was seated two or three spots to the left of Tony Cooper, who covered the Sharks in their early years for the San Francisco Chronicle. I remembered Tony having an argument with someone in the press area of the Cow Palace, where the Sharks played in their first two National Hockey League seasons. But, I thought nothing more of it. By this time, the Sharks were in their current home on the fringe of downtown San Jose.
It was during an intermission and I needed info about a Sharks player. I left my seat and approached Cooper. He looked up at me and said "huh"? So, I repeated my question. He then stood up and said "what's your problem?" At first, I thought he was joking… but, then I remembered the dispute at the Cow Palace. "I don't have a problem," I answered. "Just wanted to ask you something." At which point Cooper shoved me.
Tony was a short, black fellow, but ripped to the nine's. He had muscles bulging from his arms and biceps. I knew better than to engage him. "I'm asking you, again, what's your problem?" he repeated, much louder. I then looked to my right and saw the entire Sharks' media relations staff — Ken Arnold, Scott Emmert and Roger Ross — running toward us at Olympic speed. They managed to calm Cooper, who sat back down.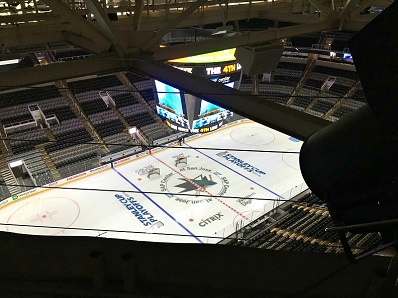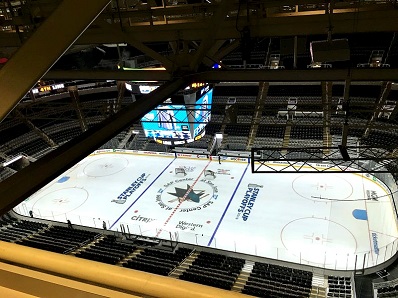 VIEWS FROM THE PRESS BOX AT THE SAP CENTER IN SAN JOSE. NOT THE BEST SPOT FOR A FIGHT.
Arnold then motioned with his head for me to join him. "What was that all about?" I asked, incredulously. Ken chuckled and explained that Cooper had a short temper, usually over trivial matters. They always kept one eye on him during home games. "You must have interrupted him while he was writing, which no one else would bat an eyelash at," Arnold said. "Tony gets mad. That's just the way he is. Nothing we can do."
AS APPROVED, SUNDAY, BY THE NHL AND NHLPA FOR THE 56–GAME SEASON TO BEGIN JAN. 13…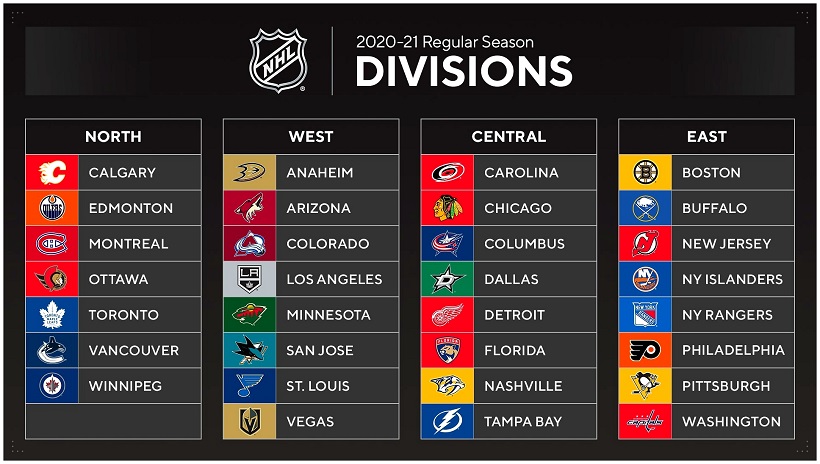 IN IT'S 50th YEAR: The Little Paper That Grew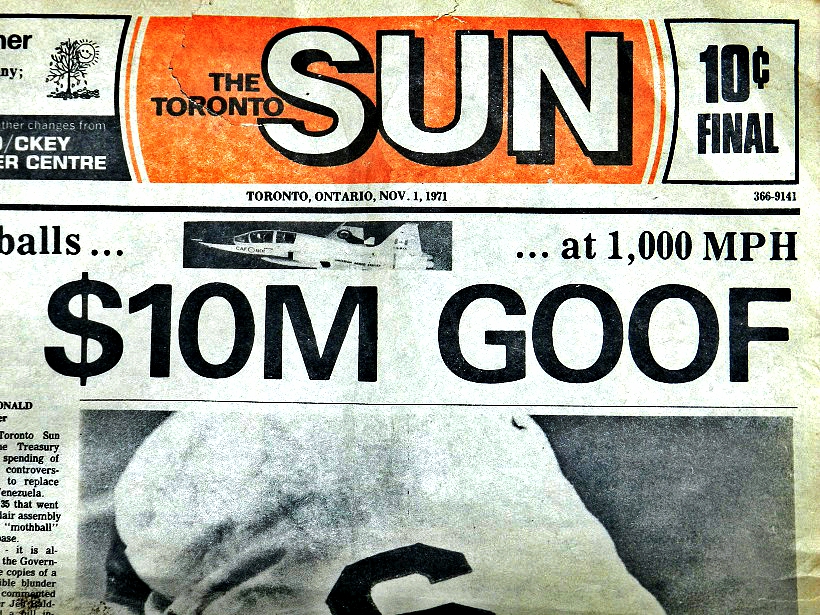 While rummaging through my collection last week, perhaps somehow knowing I would write about Al Strachan, I came upon the first edition of the Toronto Sun — published Nov. 1, 1971, two days after the demise of the Toronto Telegram (founded in 1876). Unlike myriad items in my stock of memorabilia, this newspaper is quite weather–beaten… as you can clearly tell in the front–page photo, below. The inside pages, however, are in decent shape and I thought I would post several here, including images from the first Sports section. I somehow remember that weekend rather well. On Saturday morning, I walked from my home to the corner store in the Bathurst Manor Plaza and bought two copies of the final Telegram. I cannot find either of them. Later that night, I attended a 1–1 tie at Maple Leaf Gardens between the Leafs and Minnesota North Stars. Dave Keon and Murray Oliver were the goal–scorers. On Sunday afternoon, Dad and I went to the Argos final game of the 1971 season: a 23–15 loss to the Hamilton Tiger–Cats at old CNE Stadium. Hamilton quarterback Joe Zuger, now 80, made the Sun's front page after being rudely bounced to the running track that surrounded the football field. Later on Nov. 1, the Leafs played their third game in as many nights, a make–up encounter, from Oct. 13, against Detroit. The home opener had been postponed hours after Leafs president Stafford Smythe died. The Leafs beat the Red Wings, 6–1, at the Gardens.
A portion of the first Sun editorial is also below.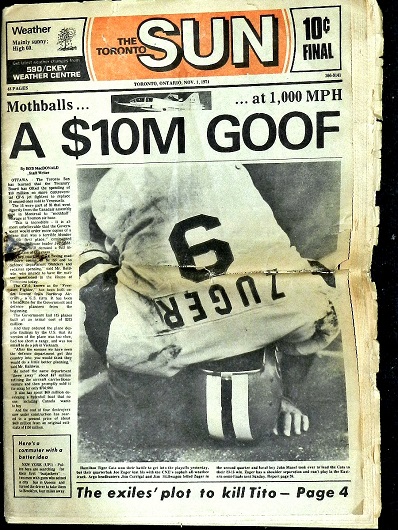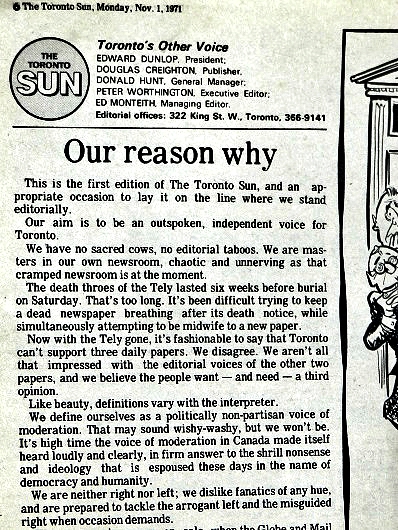 Front page (above) of the first Toronto Sun Sports section. Close–up of photo, below.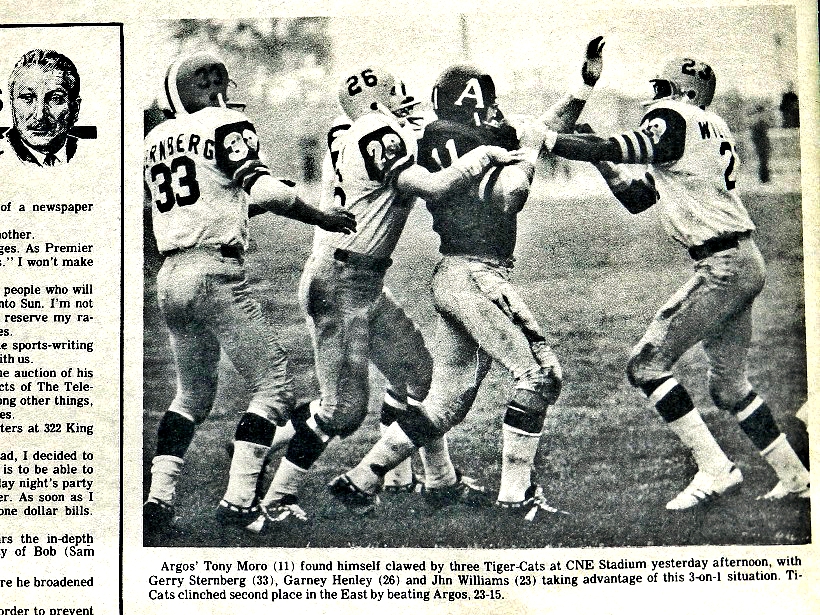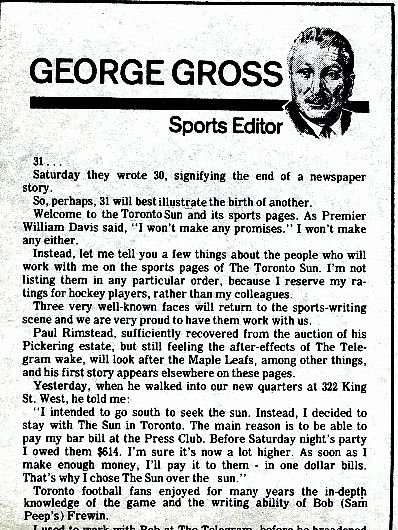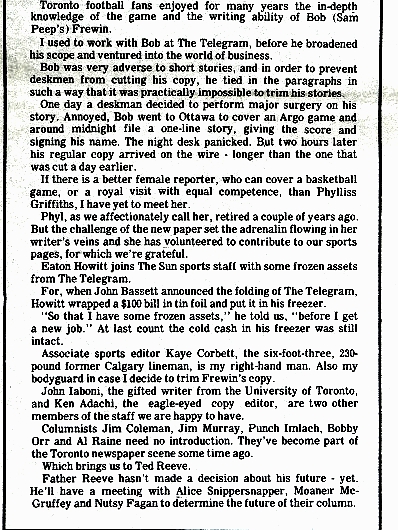 George Gross (1923–2008) was the first sports editor of the Toronto Sun, a position he held until 1981. As with many of the original Sun employees, Gross came from the old Telegram. This was his first Sun column.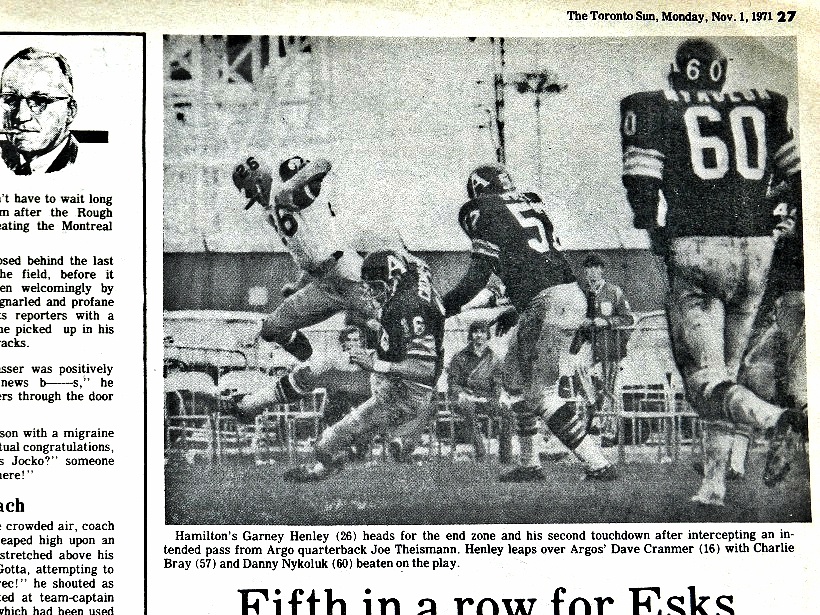 Another photo (above) and details (below) of the Argos loss to Hamilton.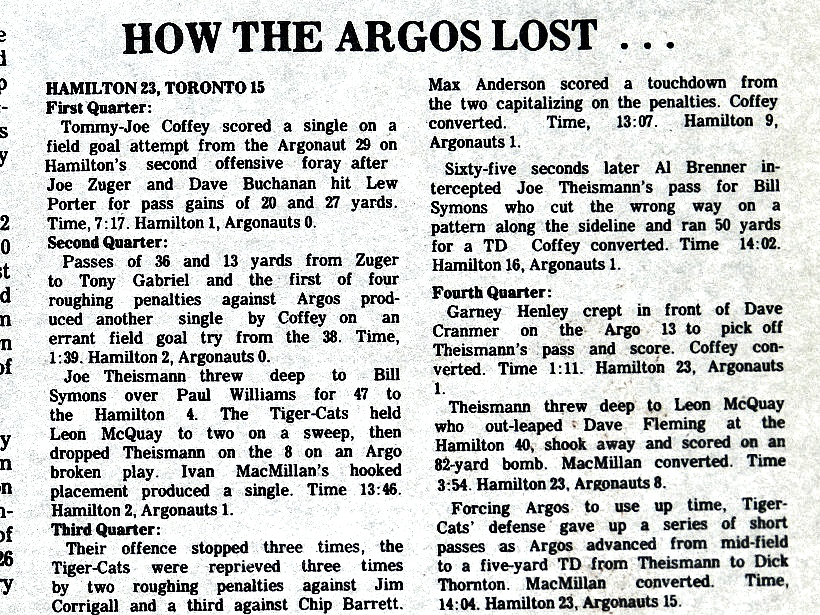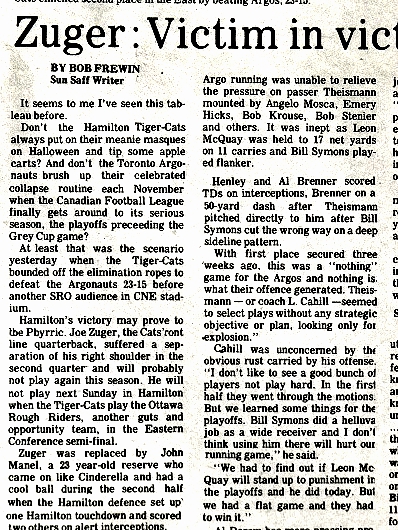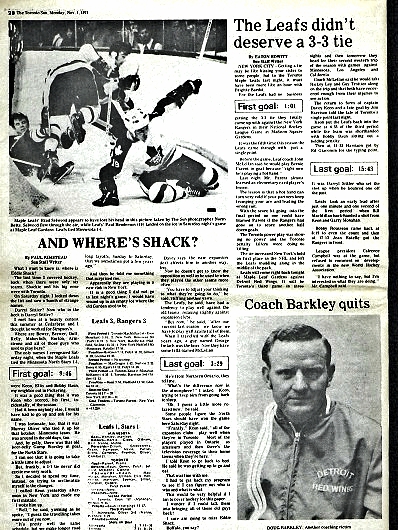 The front–page Argos–TiCats story (top–left) and the first hockey page at the Sun.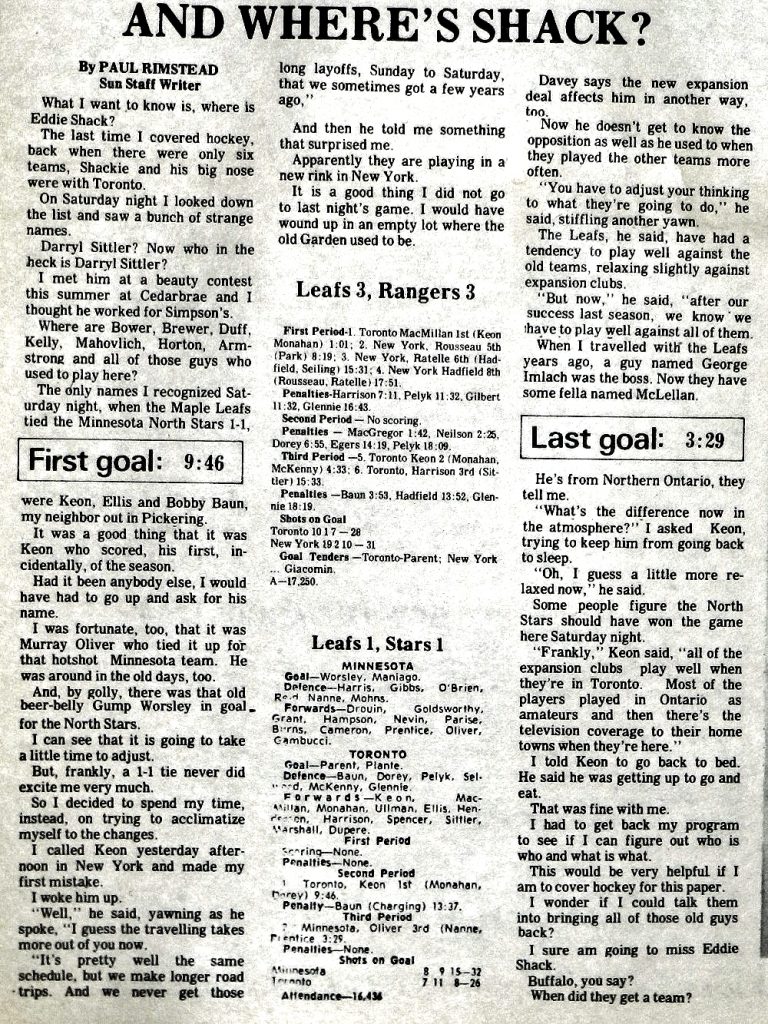 Stories, above and below, from the Toronto Maple Leafs games of Saturday night (vs. Minnesota) and Sunday night (in New York). Written by Paul Rimstead and Eaton Howitt.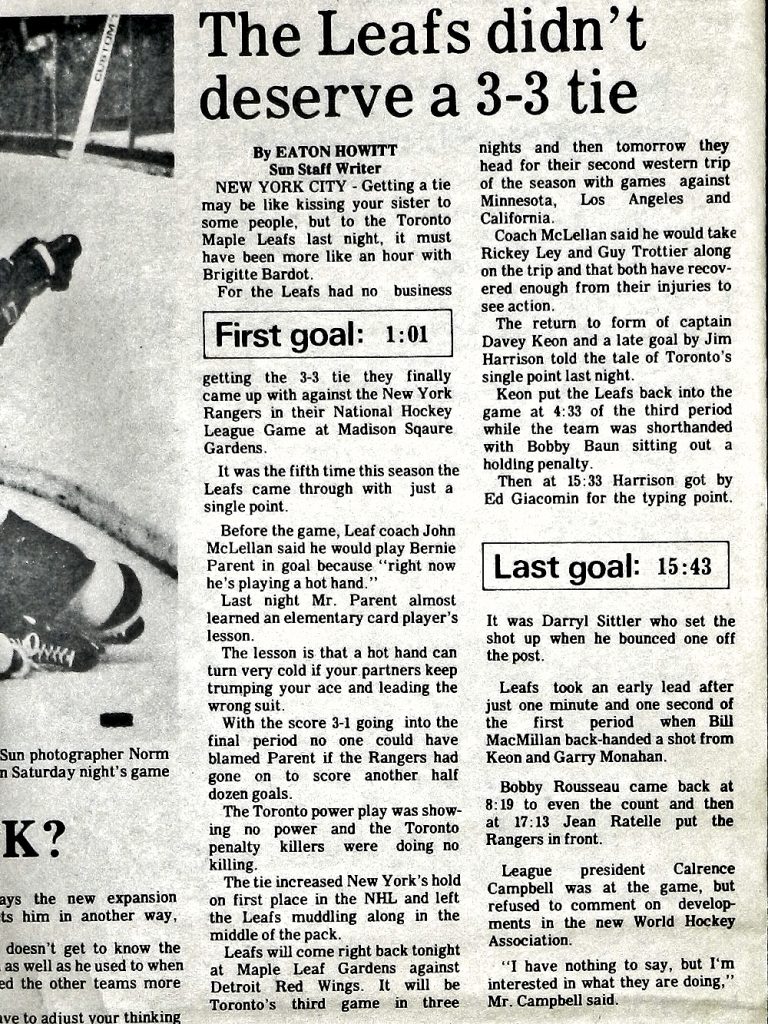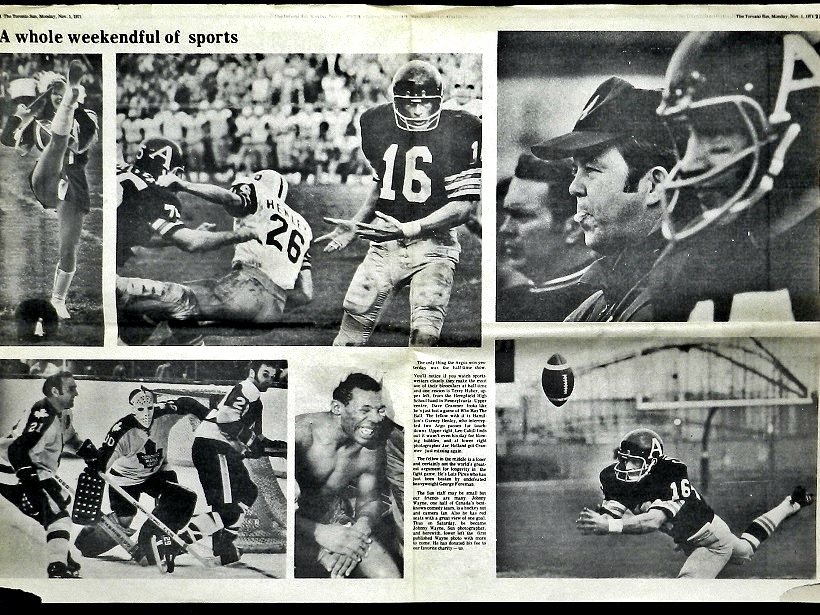 The photo center–spread in the first edition of the Toronto Sun.
EMAIL: HOWARDLBERGER@GMAIL.COM