Toronto (Dec. 19) — A blog on the TSN website this week was entitled ANDERSEN DECISION LOOMING FOR LEAFS. In the article, Travis Yost reminded readers that Frederik Andersen's contract with the Toronto Maple Leafs expires after the 56–game National Hockey League season, potentially to start on Jan. 13. Utilizing graphs that would confuse a trigonometry major, Yost went down the same path as so many of those that currently cover the Maple Leafs: He built an argument for Andersen based solely on regular–season performance. Which is the rough equivalent of appraising a cardiac surgeon on his ability to open the chest wall and expose the heart. Whether the surgeon can perform a quadruple–bypass is immaterial.
Same applies to ignoring Andersen's lack of achievement in the Stanley Cup playoffs. Yes, he's been quite reliable for the Blue and White between the months of October and April — in the same minuscule category of post–1967 Leaf goalies as Mike Palmateer, Felix Potvin and Curtis Joseph. Unlike the aforementioned, however, he has failed to win a post–season series in four attempts since 2017. Palmateer, Potvin and Joseph combined for 14 playoff–round conquests. There wasn't even an inference to this in the article by Yost. Which, again, puts him in no exclusive company amid Leaf reporters that write or comment about Andersen. Any media wag that evaluates a goalie on the regular season to the exclusion of the playoffs should have a different job. More than likely in today's world, that person — particularly if employed, as Yost, by team–owned TSN or Sportsnet — is concerned about some form of backlash. So, he or she writes fluff. It provides the viewing, listening and reading public a distortion of fact. Yet, it happens all the time.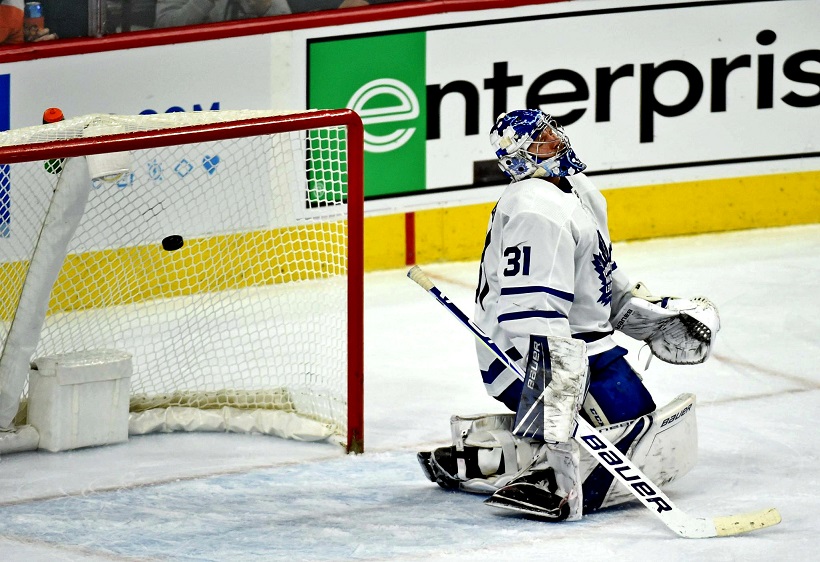 FREDERIK ANDERSEN IS 0–FOR–4 IN THE POST–SEASON WITH THE LEAFS. ERIC HARTLINE USA Today
Under no circumstance should the Leafs extend the contract of Andersen. Perhaps unconditionally, but certainly not unless he proves, in his lone remaining chance, to be reliable in a clutch playoff circumstance. Travis Yost and others can devise all the fancy, irrelevant graphs they wish. If Andersen performs brilliantly in the Stanley Cup tournament — backstopping the Maple Leafs to the Canadian Division title and Final 4 — then there's another conversation. If the Leafs either miss the playoffs (they were close last season) or bow out again in the opening round, a rival team will pay Andersen's salary in 2021–22. Only an acute, career–altering brain cramp would entice Kyle Dubas into a contract extension for Andersen during the regular season. If you're a Maple Leafs fan, you would sincerely hope that Brendan Shanahan is on that same page.
HOCKEY'S HOT STOVE IS ALL STRACH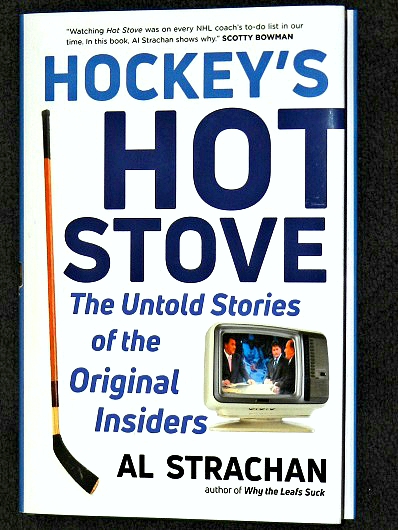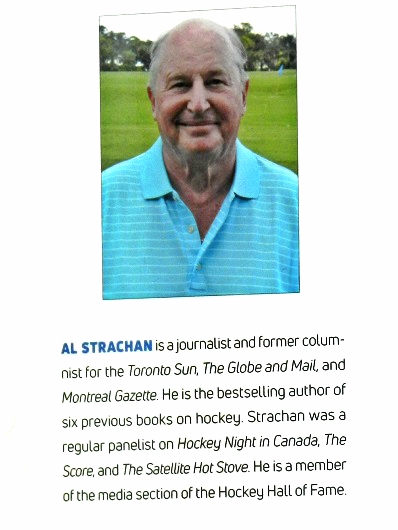 Full Disclosure #1: Al Strachan hates my guts.
Full Disclosure #2: I loved his latest book and could barely put it down.
Full Disclosure #3: I couldn't care less about #1… and I'm going to tell you about #2.
To assuage curiosity, however, I will attempt to answer "why?" to #1. Frankly, I had no answer… until the morning of Jan. 13, 2003. At which point I provided Al an actual reason. Strachan had been taking gratuitous shots at me in his Toronto Sun weekend column. I ignored them. As mentioned, I wasn't sure what prompted these zingers. There were a couple of theories as to why Al didn't like me: a) I had the temerity, as a radio reporter, to cover the Maple Leafs in the manner of a newspaper columnist. How dare someone on the air not be merely a flag–waver for the Blue and White? And, b) I didn't drink. If you read Al's book, you'll know that's an unpardonable sin. Whatever the case, he didn't care for me. Which, again, was irrelevant.
But, when he brought my six–year–old son, Shane, into a column, it was time to push back.
Which I did, for all to hear, on that morning of Jan. 13, 2003.
The previous night, I had arrived in New York for a Leafs–Rangers game. Al's dart toward Shane was in his Sunday column. I called our FAN–590 morning show host, Don Landry, at home and asked him for a segment on Monday. He had read Al's column and knew why I was ringing. "Don," I said, "I'm going to ask you to introduce me… and then turn off your microphone for two minutes. That's all it will take." In the 8 o'clock hour the next morning — absolute prime time for those listening in their cars while driving to work — Landry did as I'd requested. At which point I took one breath and unloaded on Strachan with every greasy, bedraggled rumor about him from the previous ten years. For two full minutes. Uninterrupted. To this day, I'm surprised the radio station wasn't hit with the motherlode of law suits. It was so vindictive and one–sided that Don finally turned on his mike and said, "okay, that's enough!" Which it most–certainly was.
I showered and got dressed, then walked over to Madison Square Garden for the morning skates. While approaching my colleagues behind the benches, Leafs radio broadcaster, Dennis Beyak (now the voice of the Winnipeg Jets), said, "whooo, Howie, what happened on the radio this morning?" Beyak's partner, Jim Ralph, added, "whatever happened is making the rounds." I just grinned. As I sat down, my cellphone rang.
"Hello?"
"Holy shit!" 
It was Nelson Millman, my boss; program director of The FAN–590.
"What was that all about? I nearly drove off the road." I proceeded to explain myself.
"Wow," Nelson answered. "Well, it was good radio… but I expect to hear from our lawyers."
"Nah, Al isn't stupid," I replied. "He won't like it, but he knows he had it coming."
If Strachan didn't care for me prior to Jan. 13, 2003, he made no bones about it afterward. He did, however, behave in his weekend columns, knowing the vehicle at my disposal. For my part, happening nearly 18 years ago, this is water under the bridge. I doubt it is for Al, but I'm here, nonetheless, to write about his book.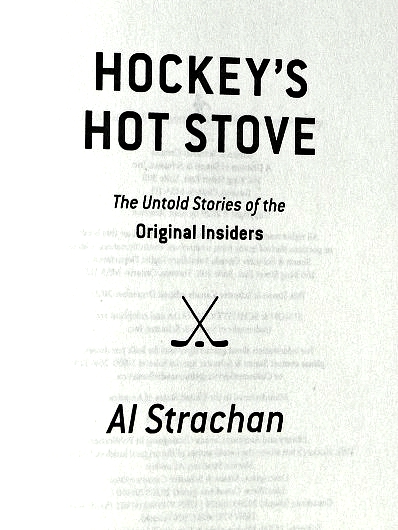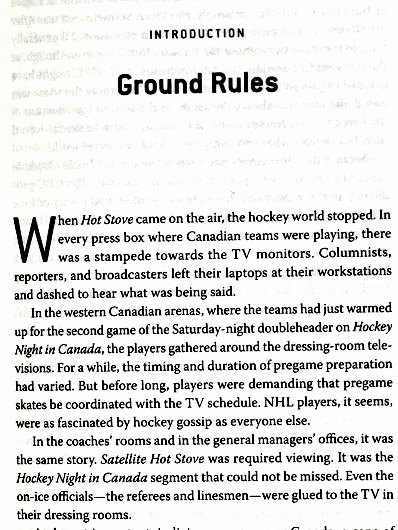 As Al mentioned in his Introduction (above), the Hot Stove dialogue in the second intermission of Hockey Night In Canada did attract many eyes from coast to coast. Throughout the book, Al made it sound like the Eighth Holy Sacrament. Which it wasn't. But, a darn–good segment, it was. Particularly in the early years (1994–2000), under the stewardship of John Shannon, when Strachan and John Davidson were regular panelists. Davidson, then a TV broadcaster with the New York Rangers (today, the club's president), was the good guy; Al, the heel. Neither had to put on an act. The segment often broke news and offered gossip about the NHL. When paired with Coach's Corner in the first intermission, viewers had every reason to hang about their TV between periods. Undoubtedly, it was the modern heyday of Hockey Night In Canada.
As indicated earlier, Hockey's Hot Stove is purely Strachan. Operating as he did through the years with covert resentment and overt agenda, Al's book drips with sarcasm and innuendo. As always, FOS (Friends of Strach) are extolled; his best three pals in the media — Roy MacGregor, Tony Gallagher and Scott Morrison — called upon to offer "praise" on the back cover. Wayne Gretzky and God are indistinguishable.
Also typical of Al, and to his credit, is a large dollop of self–deprecating humor. "I'd wander down the hall [prior to Hot Stove] to the make–up room, where Lianne Harrower would share a bit of CBC gossip while valiantly using everything short of sandpaper in her attempt to tone down the glare off the top of my head."
There is virulent distaste toward Ron MacLean throughout the book. Ostensibly, for Ron's unwillingness to conform to the script of Hot Stove and provide panelists the priorities discussed in the afternoon meeting. But, I often figured, while reading, that MacLean would have been dealt with less harshly had the book come out before Don Cherry was fired by Rogers (in November 2019). One night after Cherry's infamous harangue about poppies and "you people", MacLean (during introductory remarks to the Hometown Hockey telecast) distanced himself from his long–time cohort. This led to an irreparable falling out between Ron and Don. Strachan and Cherry have maintained a tight alliance; it was Al who worked with Don on the two–volume Don Cherry's Hockey Stories from 2008 and 2010. Given Al's career–long pursuit of agenda, it was undoubtedly easier for him to dump all over MacLean today, rather than before Cherry's dismissal.
Again to Strachan's credit, I noticed only two minor errors in the 227–page manuscript. About the NHL owners' lockout of 1994, which occurred less than four months after the New York Rangers captured international attention by winning the Stanley Cup, Strach wrote, "not long afterward, baseball started its playoffs." In fact, Major League Baseball was also idle in the autumn of 1994, owing to a players' strike that canceled the playoffs and World Series. Later on, Al wrote that "in 2004, the NHL staged hockey's first World Cup." Strach knows the inaugural–such event, won by the United States, occurred in September 1996.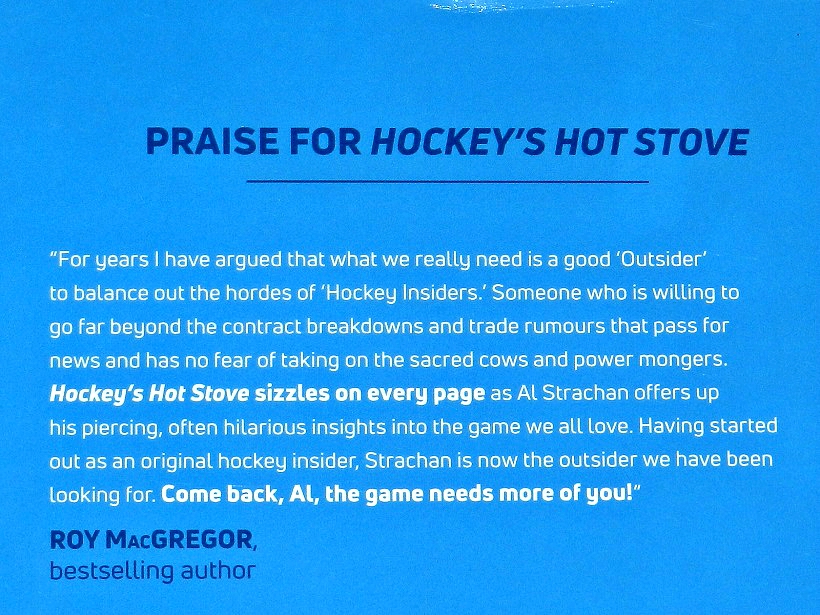 Yes, Hockey's Hot Stove is "piercing" and often "hilarious", as noted, above, on the back cover.
For fans of the sport, young and old, I consider it a must read.
You can order it, here, from Amazon.com: http://amzn.to/37wc5XN.
EMAIL: HOWARDLBERGER@GMAIL.COM