TORONTO (Dec. 22) — More than four decades on, he still holds the club record for points in one season by a defenseman, and the National Hockey League mark for goals in one game by a defenseman, but former Maple Leaf Ian Turnbull is also remembered, strangely, for a dressing room fart. Please allow me to explain.
At some point before the midway mark of the 1980–81 season, Leafs coach Joe Crozier was in the midst of a pre–game tirade. Unpopular with the players and knowing he would soon be fired, Crozier bitterly acknowledged defeat, claiming he would somehow get even with the dressing room malcontents. Two books about the team — one written by former general manager Gord Stellick in 1990 and another by one–time captain Rick Vaive that is currently on the market — claim that Turnbull responded to Crozier's tantrum by "leaning forward and loudly farting". At which point, the speechless coach quickly left the room. Intrigued by this unusual retort, I rang Turnbull at home in Los Angeles, today, on his 67th birthday — 67, of course, representing the most–familiar of all numbers for fans of the Blue and White. I had never–before spoken to a Maple Leafs player about passing wind; it isn't generally the subject that first arises in a hockey interview. But, the mention by Vaive, who played here in town with Turnbull for two seasons, peaked my interest.
"Well, it sure makes for a good story," Turnbull cackled over the line from SoCal. "But, I honestly don't remember doing it on purpose in front of Joe. I mean, if you have to fart in the dressing room, you fart. It isn't exactly a hallowed place. But, let's be honest: How many of us fart on command? Do you? It isn't easy. So, I think that story's a bit of a stretch. I actually didn't mind Crozier. Yeah, he was another of [Punch] Imlach's cronies; they were all over the place back then. But, he kind of made me laugh. We used to tell each other 'the Crow knows.' He would say 'one of these days, you guys are gonna wake up with lunch–buckets in your hands, not realizing what has happened to you.' In other words, we were pissing away our careers. But, I thought Joe was a decent guy. I can't imagine wanting to purposely fart him out of the dressing room."

IAN TURNBULL AT SCOTIABANK ARENA IN FEBRUARY 2019. PHOTO BY MIKE ZEISBERGER NHL.COM
A first–round draft pick (15th overall) in 1973 from the Ottawa 67's, Turnbull played for the Leafs from 1973–74 to 1981–82, when an early season trade sent him to Los Angeles. In 1976–77, he and defense partner Borje Salming enjoyed a remarkable year. Turnbull put up 79 points, still a franchise record for a blue–liner, and Salming had 78. On Feb. 2 of that season, against Detroit at Maple Leaf Gardens, Ian erupted for five goals on as many shots. Nearly 44 years later, the single–game standard has survived such high–scoring defensemen as Denis Potvin, Raymond Bourque, Doug Wilson, Paul Coffey, Brian Leetch, Al MacInnis, Nicklas Lidstrom, Erik Karlsson and John Carlson. The 157 points registered by Turnbull and Salming in '76–77 has been approached only once by a Leaf defense tandem: Bryan McCabe and Tomas Kaberle combined for 135 points in 2005–06. Morgan Rielly, in 2018–19, is the only Leafs rearguard not named Turnbull or Salming to exceed 70 points in one season; he had 72, the most by any club defenseman in 39 years.
Another Turnbull yarn that has made the rounds dates to the second half of 1979–80, when Harold Ballard brought back Imlach, sparking season–long turmoil and dissent. That was the year Imlach traded Lanny McDonald to the old Colorado Rockies, enticing McDonald's best friend, Darryl Sittler, to unstitch the captain's 'C' from his jersey before a home game the following night against Winnipeg. Looking to add some "experience" to the blue line, Imlach unretired 41–year–old Carl Brewer more than six years after playing his last NHL game. Brewer had been part of the three consecutive Stanley Cups won by Imlach and the Leafs (1962–63–64) but had quit prior to 1965–66, fed up with Imlach's hard–nose tactics. Many of the Maple Leaf players felt Brewer had been re–summoned as a dressing room spy during that chaotic 1979–80 season.
In a practice one day at the Gardens, the Leafs were engaged in a skating drill with the nets moved out to the blue lines. The players zoomed around the ice, in back of each net, until a whistle was blown by coach Floyd Smith. In Vaive's book, there's an accusation that Turnbull intentionally maimed Brewer by yanking the net into his path and causing the veteran to slam head–first into the goal–post. "He needed 30 stitches in his forehead," Vaive wrote. "There was actually a piece of skin left on the post; it was ugly." Turnbull remembered the incident in our phone call today, but not quite the way Vaive presented it.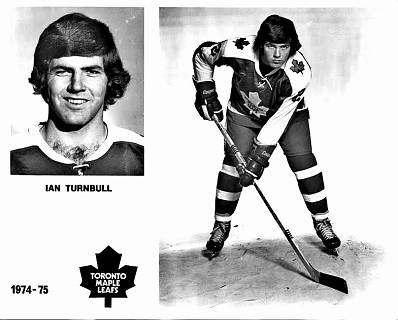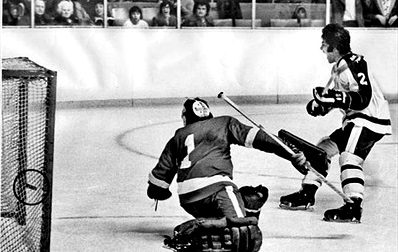 CLOCKWISE FROM TOP–LEFT: TURNBULL'S LEAF PUBLICITY PHOTO FROM HIS SECOND NHL SEASON. HE WAS 20. HIS RECORD–SETTING FIFTH GOAL AGAINST DETROIT (GOALIE WAS CURRENT PITTSBURGH GM, JIM RUTHERFORD) AT MAPLE LEAF GARDENS ON FEB. 2, 1977. MY PHOTO FROM THAT NIGHT OF THE FINAL SCORE ON THE GARDENS SPORTSTIMER. AND, IAN'S NAME STILL ATOP THE LIST FOR "MOST GOALS BY A DEFENSEMAN, ONE GAME" IN THE NHL RECORD BOOK.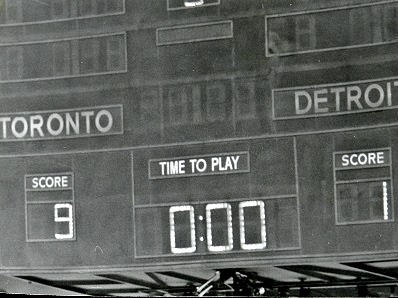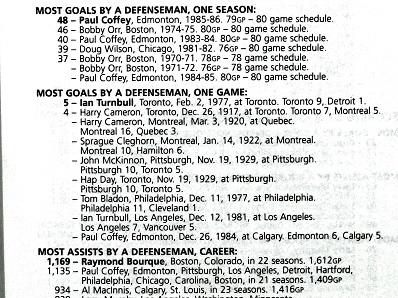 "It wasn't intentional," Ian recalled. "We were doing one of those race–lap things and Carl pissed me off because he was trying so hard to win. I was competitive and didn't want that to happen. When I was going around one of the nets, I grabbed the post to reduce my skating angle and kind of catapult me in the other direction. But, the net obviously wasn't moored to the ice and I pulled it into Carl's path. He was right behind me at the time. All I remember is hearing a crash then turning around to see Carl bleeding all over the ice. I can honestly tell you I wasn't trying to hurt Carl, though he had no chance to even slow down when I pulled the net. To say I wanted to slice him to pieces makes for a better story, I guess. But, I didn't plan it that way."
Ian laughs when remembering the circus around the team the year Imlach returned. "Punch had traded [defenseman] Dave Hutchison, who was popular with the guys and close friends with Sittler. As the famous story goes, a bunch of us met at a bar and pinned up a photo of Imlach. We then began throwing darts at it. As we were doing this, I noticed [Toronto Star hockey writer] Jim Kernaghan walking by outside. I ran out and invited him in. 'Want a good scoop?' Jim came in and witnessed the dart game, then got some off–the–record quotes from us. We were all really fed up by then. 'Can I really use all of this in the newspaper?' Jim asked. We looked at each other, shrugged, and said 'sure.' It made some big headlines the next day, as I recall."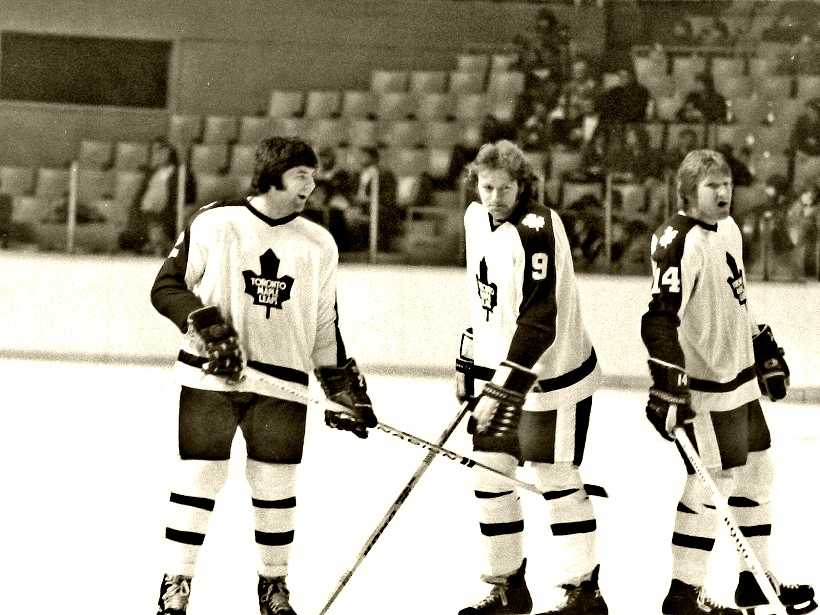 PHOTO I TOOK DURING THE PRE–GAME WARM–UP ON FEB. 2, 1977. TURNBULL, LEFT, SEEMED TO BE IN A GOOD MOOD, PUTTING HIS STICK BETWEEN THE LEGS OF THE LATE DON ASHBY (d. May 30, 1981). STAN WEIR (14) IS AT RIGHT. NO ONE KNEW IAN WOULD SCORE AN NHL–RECORD FIVE GOALS THAT NIGHT ON ED GIACOMIN AND JIM RUTHERFORD OF DETROIT. HAROLD BALLARD'S FAMOUS "BUNKER" IS IN TOP–LEFT — AT ICE LEVEL IN THE NORTHEAST CORNER OF THE GARDENS.
THE BEST YEAR FOR ME, NOT THE LEAFS — PART 1
If Mike Murphy is reading this blog, he'll move on to another web–page right about now. Hired by Cliff Fletcher to coach the Maple Leafs in 1996–97, ol' Murph likely has sour memories of a season in which the club finished out of the playoffs with a record of 30–44–8 for 68 points. For yours truly, it was a wonderful time, as my first child — a son, Shane — was born in early December. I covered the Leafs, home and away, for the third of 17 consecutive seasons, and Toronto's second–to–last in the Western Conference, thus a multitude of trips to the Central, Mountain and Pacific time zones. In Part 1 of a photo feature, here are programs, newspaper pages and media credentials from October and November, 1996: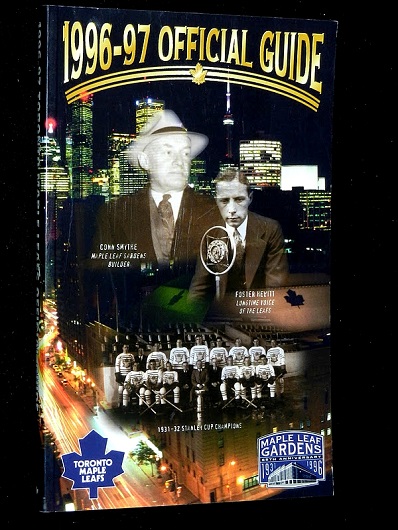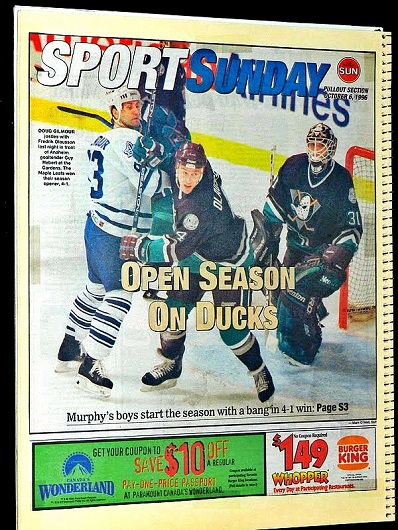 IT WAS THE 65th ANNIVERSARY OF MAPLE LEAF GARDENS, THUS THE NOSTALGIC MEDIA GUIDE COVER (TOP–LEFT). THE LEAFS STARTED THE SEASON, AND MURPHY'S TENURE BEHIND THE BENCH, WITH A SATISFYING, 4–1 VICTORY AT THE GARDENS OVER ANAHEIM ON OCT. 6. IT WOULD BE RON WILSON'S FINAL YEAR AS COACH OF THE MIGHTY DUCKS.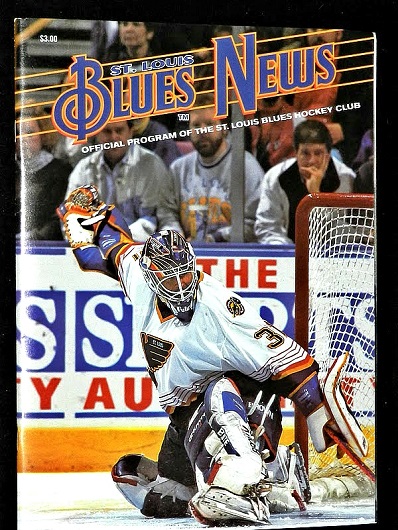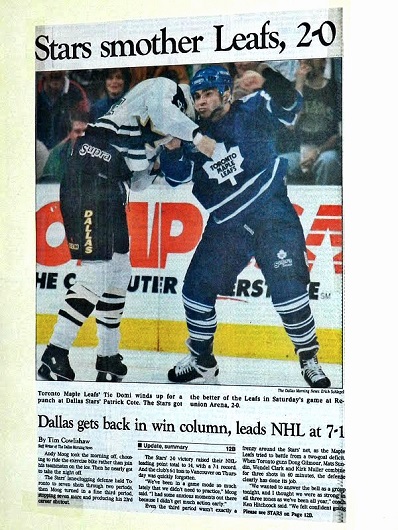 TORONTO BEGAN ITS '96–97 ROAD SCHEDULE WITH LOSSES AT ST. LOUIS (6–1, OCT. 17) AND DALLAS (2–0, OCT. 19).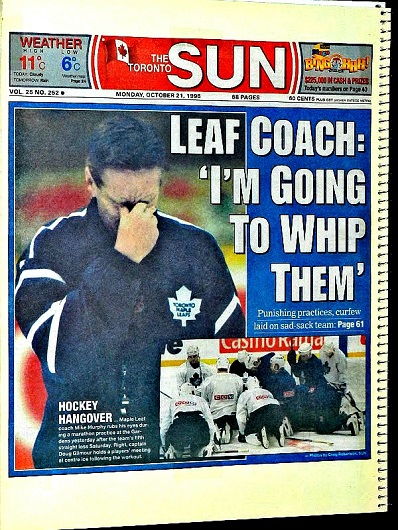 THE FIRST SIGNS OF STRAIN WERE VISIBLE (TOP–LEFT) AFTER THE ST. LOUIS/DALLAS TRIP. A THIRD–PERIOD COLLAPSE AT HOME TO LOS ANGELES (OCT. 29, TOP–RIGHT AND BELOW) EXACERBATED THE SITUATION FOR MURPHY. YOU'LL NOTE IN THE SUMMARY THAT THREE FUTURE NHL TV ANALYSTS SCORED GOALS: RAY FERRARO, NICK KYPREOS AND ED OLCZYK.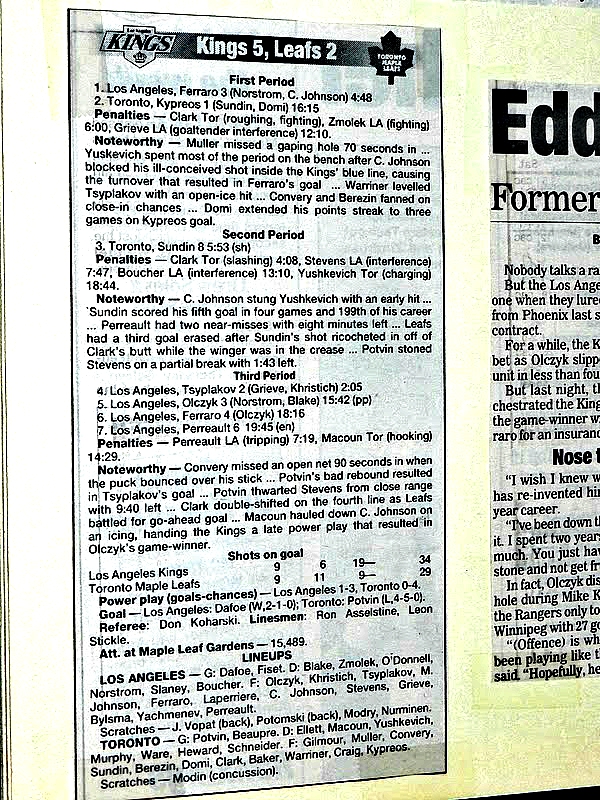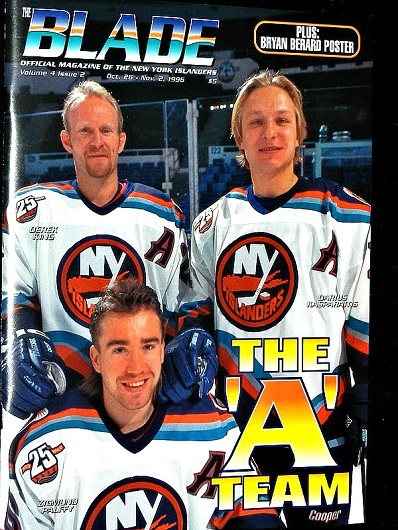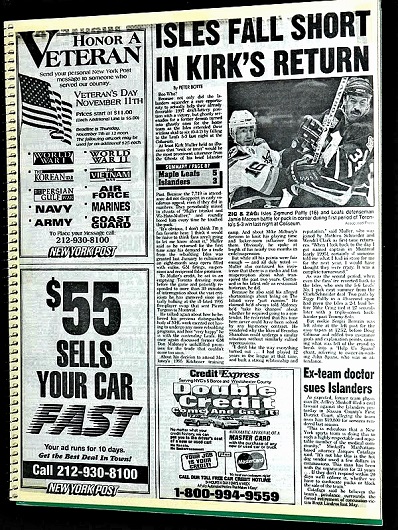 EX–NEW YORK ISLANDERS FORWARD KIRK MULLER RETURNED TO NASSAU COLISEUM WITH THE LEAFS FOR THE FIRST TIME ON HALLOWEEN 1996 (ABOVE) AND THE VISITORS PREVAILED, 5–3. AT TOP–LEFT OF THE ISLANDERS PROGRAM–COVER WAS LEFT–WINGER DEREK KING, WHO WOULD PLAY 161 GAMES WITH TORONTO BETWEEN 1997 AND 2000.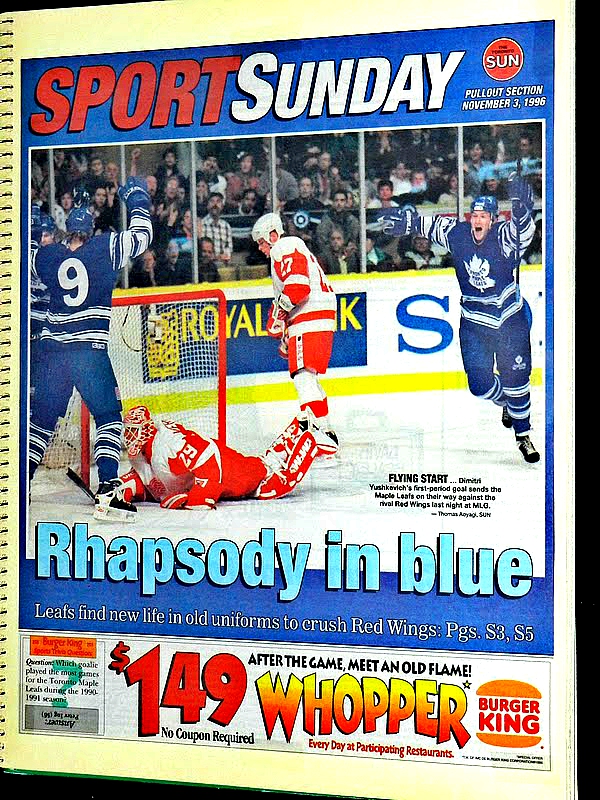 THE MAPLE LEAFS HAMMERED DETROIT, 6–2, AT THE GARDENS ON NOV. 2.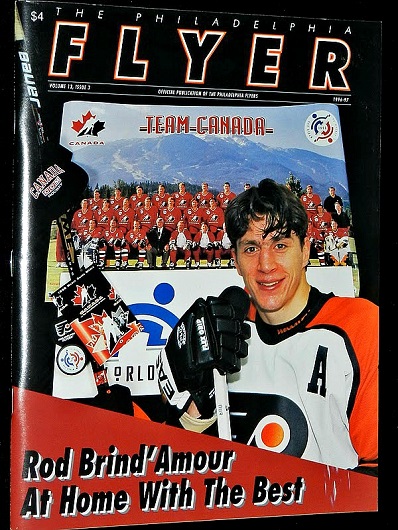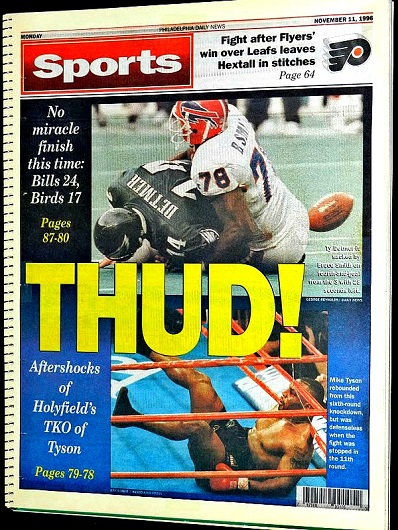 A BUSY SUNDAY FOR ME: NOV. 10, 1996. I ATTENDED THE PHILADELPHIA EAGLES NFL GAME AGAINST BUFFALO AT VETERANS STADIUM (BOUGHT A SCALPER'S TICKET) AND THEN HAD TO SCRAMBLE BETWEEN DRESSING ROOMS AT NIGHT AFTER THE HOCKEY GAME IN THE WAKE OF A NOW–LEGENDARY FIGHT AT THE FINAL BUZZER INVOLVING LEAFS GOALIE FELIX POTVIN AND FLYERS COUNTERPART RON HEXTALL. IT WAS TORONTO'S FIRST VISIT TO THE NEW PHILLY ARENA (WELLS FARGO CENTER), LOCATED ACROSS A PARKING LOT FROM THE OLD SPECTRUM. THE FLYERS PREVAILED, 3–1.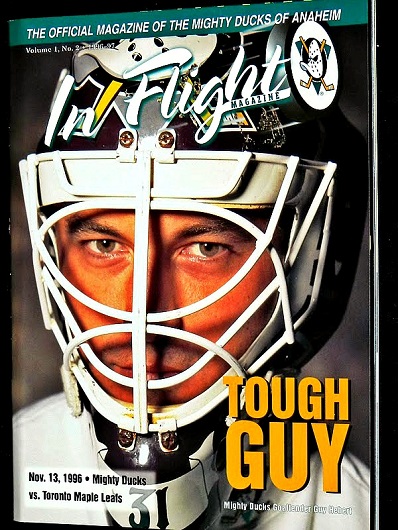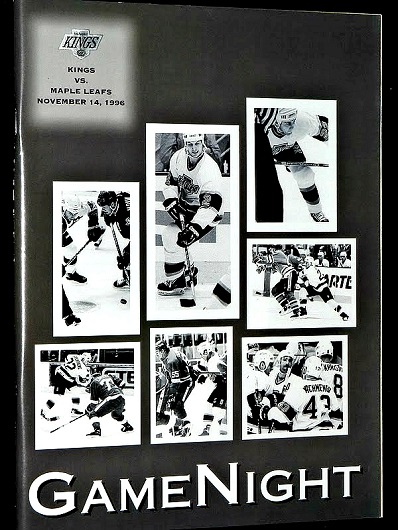 DURING THE FIRST WEST COAST TRIP OF THE SEASON, MAPLE LEAFS DEFENSEMAN MATHIEU SCHNEIDER HAD TO MISS A 4–1 DEFEAT AT LOS ANGELES (NOV. 14, TOP–RIGHT). THE NHL TOLD HIM NOT TO DRESS AFTER SCHNEIDER DELIVERED AN ELBOW TO THE CHOPS OF MIGHTY DUCKS FORWARD PAUL KARIYA THE PREVIOUS NIGHT IN ANAHEIM (3–2 LOSS, TOP–LEFT). MATHIEU WAS ULTIMATELY SUSPENDED BY THE LEAGUE FOR THREE GAMES.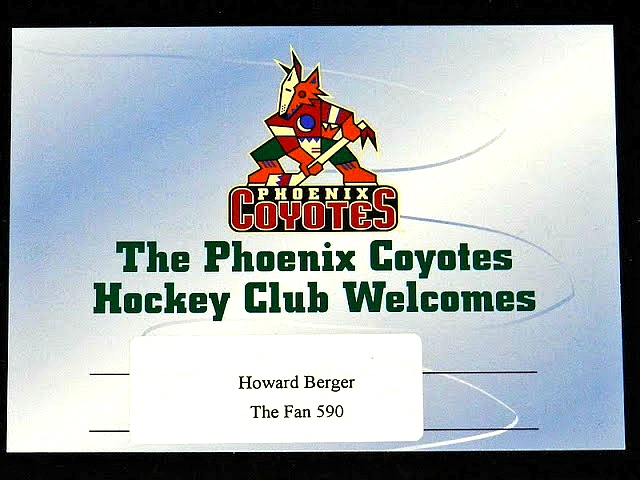 KEEPSAKE (ABOVE) FROM THE MAPLE LEAFS FIRST–EVER VISIT TO PHOENIX (NOV. 16, 1996). THE COYOTES, FORMERLY THE WINNIPEG JETS, PLAYED HOME GAMES IN THEIR EARLY YEARS AT AMERICA WEST ARENA IN THE DOWNTOWN CORE (ALSO HOME TO THE NBA PHOENIX SUNS). THE HOCKEY CLUB MOVED TO THE WEST–END SUBURB OF GLENDALE IN 2005. TORONTO LOST, 3–2 (BELOW), AND DROPPED ALL FOUR GAMES ON ITS ROAD TRIP, FALLING TO 8–11–0.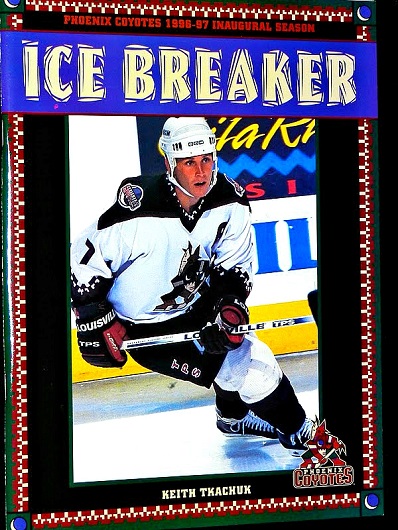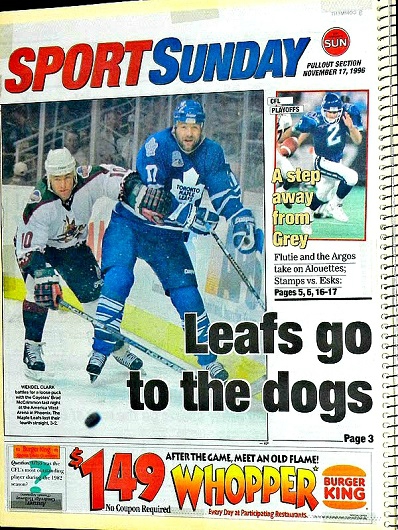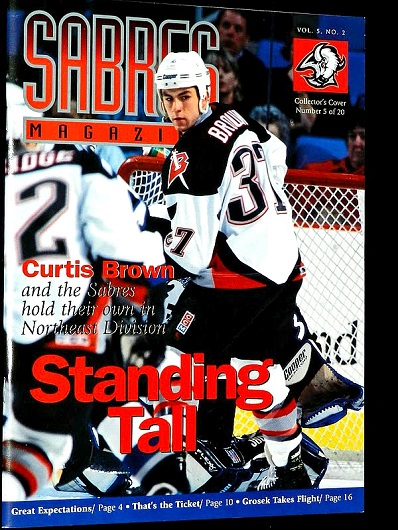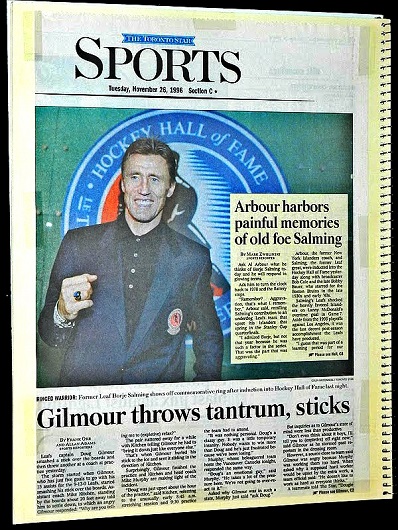 THE LEAFS WERE DOUBLED, 6–3 (TOP–LEFT), IN THEIR LONE VISIT OF THE SEASON TO BUFFALO, NOV. 21. AMONG THE FEW BRIGHT OCCASIONS FOR THE LEAFS AND THEIR FANS IN 1996–97 WAS INDUCTION TO THE HOCKEY HALL OF FAME OF ACE DEFENSEMAN BORJE SALMING (TOP–RIGHT) ON NOV. 25. BUT, EVEN THAT CELEBRATION WAS ACCOMPANIED BY A HEADLINE MORE INDICATIVE OF THE SEASON ON SPORTS FRONT OF THE TORONTO STAR.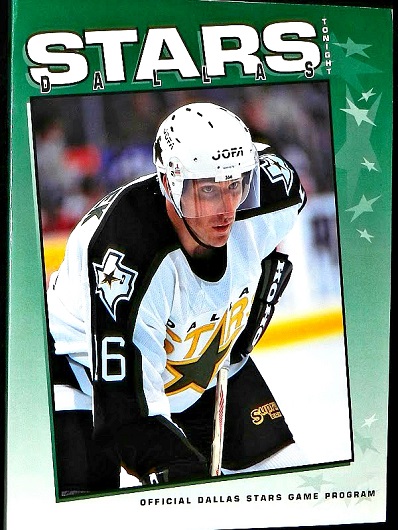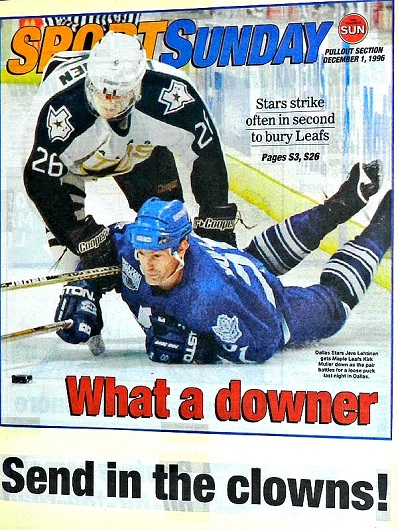 WHAT AN HONOR IT WAS TO TRAVEL THROUGH PARTS OF THE 1996–97 NHL SEASON WITH FRANK ORR OF THE TORONTO STAR — DEAN OF HOCKEY WRITERS IN OUR CITY DURING THE 1970's AND A MAN THAT ALWAYS TOOK TIME TO MENTOR AND ENCOURAGE ME. ORR COVERED THIS TRIP TO DALLAS (5–2 WIN OVER THE LEAFS, NOV. 30, ABOVE AND BELOW). HE AND I HAD DINNER THE NIGHT BEFORE WITH LEAFS' RADIO ANALYST MARK HEBSCHER AND A LIFE–LONG PAL OF MINE, DAVID SILVERMAN, WHO CAME ALONG TO TEXAS. I HAD NO IDEA IT WOULD BE THE FINAL LEAFS ROAD GAME BEFORE MY SON WAS BORN. TORONTO FINISHED NOVEMBER 1996 WITH A 10–15–0 RECORD AFTER 25 GAMES.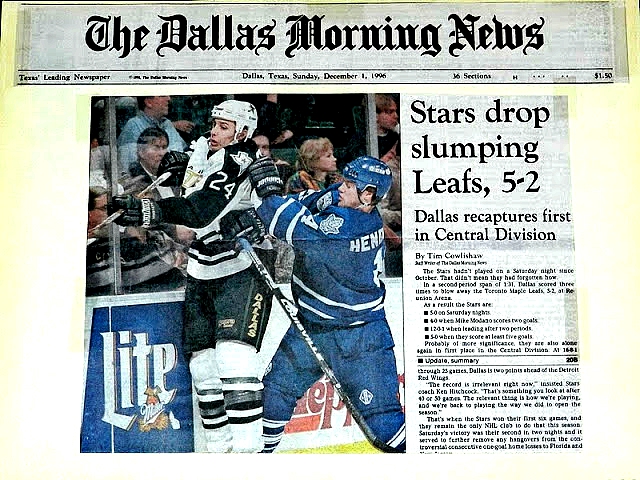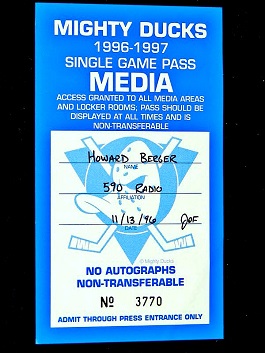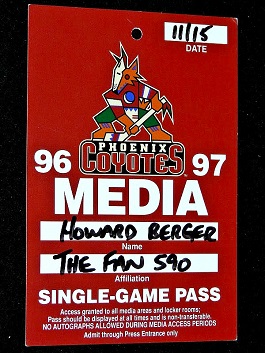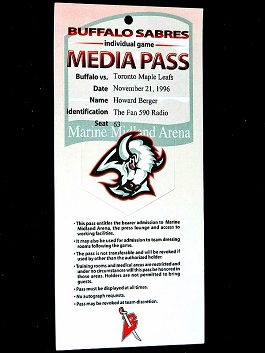 MEDIA CREDENTIALS FOR LEAFS AT ANAHEIM (NOV. 13), PHOENIX (NOV. 16) AND BUFFALO (NOV. 21).
EMAIL: HOWARDLBERGER@GMAIL.COM