TORONTO (Jan. 21) — I hesitate to begin this blog by saying that Joe Bowen is getting old. True, he'll be 70 on Apr. 5, but he's still full of voice, energy and fun. The facts, however, do not lie. No person, Foster Hewitt included, has called as many Toronto Maple Leafs games on radio and TV. Only two people — Rick Jeanneret in Buffalo and Nick Nickson in Los Angeles — have worked in the National Hockey League longer than Bowen, now in his 39th year… and his fifth decade. It's true. Joe has called Maple Leafs games in the 1980's, 90's, 2000's, 2010's and 2020's. His affinity for the Blue and White started early. Very early.
"I was told, by my father, that I listened to Bill Barilko score his famous overtime goal to win the Stanley Cup in 1951," Bowen mentioned on the phone today. "I had been born only 17 days before so my recollection of the moment isn't particularly vivid. But, I suppose that was the start of following the Leafs for yours truly."
It would require 31½ years of preparation from the Barilko goal to the night — Oct. 6, 1982 — that Bowen climbed into the broadcast booth at old Chicago Stadium for his first game as voice of the Leafs: a 3–3 tie with the Blackhawks. "Oh, I'll never forget that night, for many reasons," Joe said. "I got into a cab with the biggest human being I've ever seen and he started driving me into the dark slums along West Madison Avenue. I remember thinking 'where is this guy taking me?' The Stadium was in a very rough neighborhood back then. I climbed up to our broadcast location but the engineer couldn't get us on the air; I worked that night with [Maple Leafs assistant coach] Doug McKay. Jeez, I had planned all these things I was going to say leading into my first broadcast and we had no network connection. Just as the referee was set to drop the puck, the engineer pointed hard at me. And, away I went. I haven't stopped talking for almost 40 years."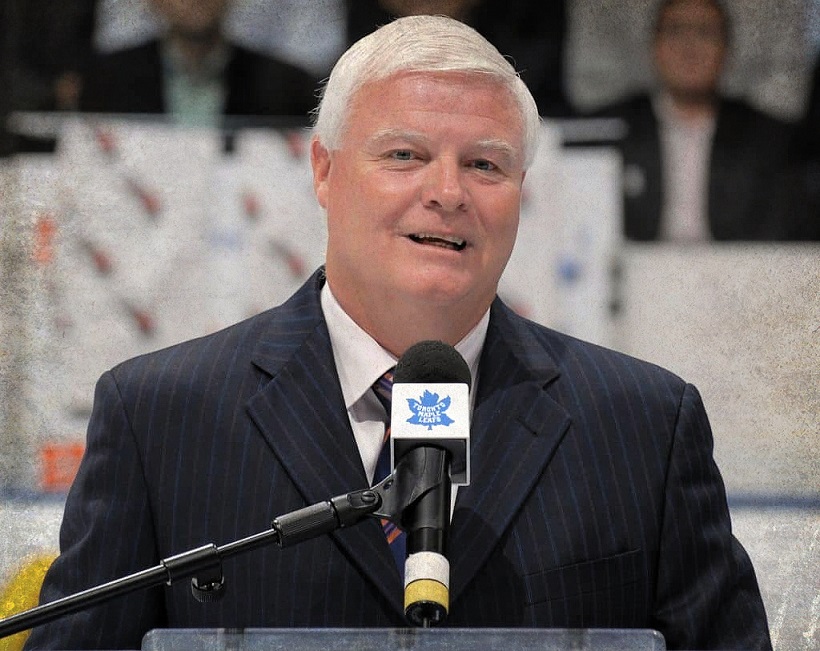 Among Leafs broadcasters, only Foster Hewitt, who invented the craft, held the job longer than Bowen — starting in 1923 with the Toronto St. Pats and wrapping up his on–air career more than 53 years later (Feb. 23, 1976). But, Hewitt called roughly 1,200 fewer games than Bowen has, to this point. Foster's son, Bill Hewitt, did radio games along with his primary role as TV play caller for the Leafs in the 1960's and 70's. Ron Hewat, an executive at Foster Hewitt's radio station, CKFH–1430, also called Leaf games in the 70's. But, the microphone has belonged to Bowen since the start of the 1982–83 season. Were he in possession of $100 for every analyst with whom he has worked, Joe may have retired by now. Heck, even I had a few turns alongside the Hall–of–Fame crooner: road games in Hartford, Winnipeg and Los Angeles, and a home match against Detroit, from the late–80's to the mid–90's. "In my early years, we didn't travel with a color guy so I would ask someone in each city to join me," Bowen said. "It was quite a cast: Uncle Miltie [Milt Schmidt] in Boston; The Big Whistle [Bill Chadwick] in New York; Babe Pratt in Vancouver; Stemmer [former Leaf Pete Stemkowski] on the Island. For home games, I worked with [ex–Leafs] Garry Monahan and Brad Selwood.
"Then, Wilbur came along."
Ah, yes… Wilbur, also known as Bill Watters. Never in the history of Leafs broadcasting has there been a duo quite like Joe and Bill, whose irreverent wisecracks often had listeners rolling on the floor (and radio executives rushing for the phone). "In the pre–season of 1987–88, we were auditioning people to work alongside me," Bowen recalled. "Bill was still in the hockey agency business (with Branada Sports) and his private box was very close to the entrance of the press box at Maple Leaf Gardens. Vicki McKee, one of our CKFH execs, was talking to Wilbur one night and he said 'heck, I can do better than all these fu–ing guys.' To which Vicki replied, 'okay, then why not come up and work the third period.' The rest, as they say, is history."
Bowen and Watters worked Leaf games, home and away, for four memorable seasons, at the tumultuous tail–end of Harold Ballard's life. "I don't know if I'm ever going to call a Stanley Cup final but you had to live through the 1980's to truly appreciate what Leafs' ownership and management is trying to do today," Bowen said. "Ballard always claimed he wanted to win on the ice, but he only cared about winning at the bank. There was no hope — and I mean, none — until he died (in April 1990) and Cliff Fletcher came aboard. Whether or not the current Leafs contend for the Cup, there is no arguing that Maple Leaf Sports and Entertainment (Rogers, Bell and Larry Tanenbaum) is of one mind when it comes to building the team. The company spends to cap every year and does whatever possible to try and win under the rules of the sport.
"It is the polar opposite of what happened in my first eight years with the club."
More with Joe Bowen in my next blog.
VINTAGE HOCKEY PHOTOS
PORTRAITS OF GREATNESS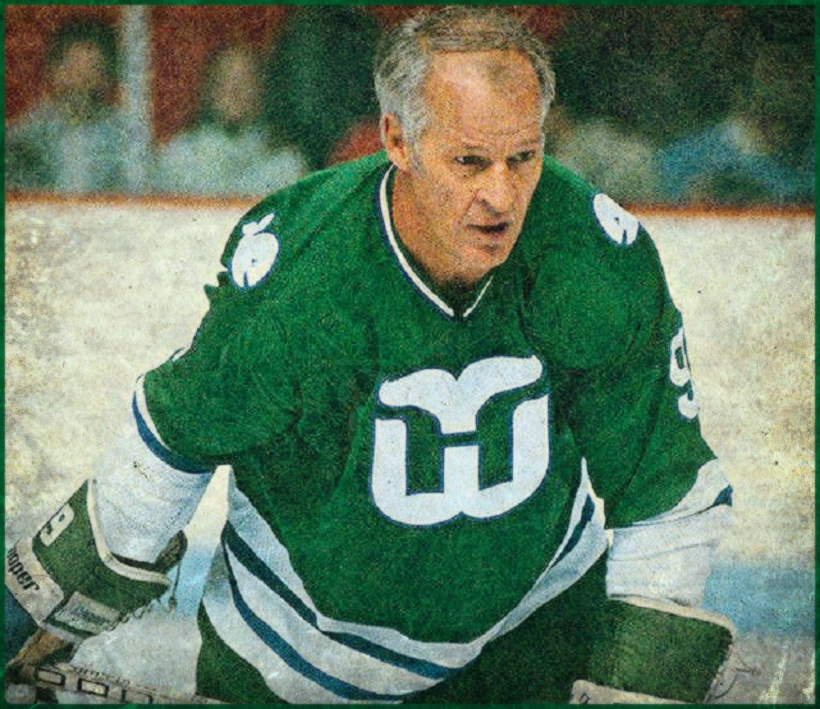 GORDIE HOWE, 52, IN HIS LAST NHL SEASON (1979–80) WITH THE HARTFORD WHALERS.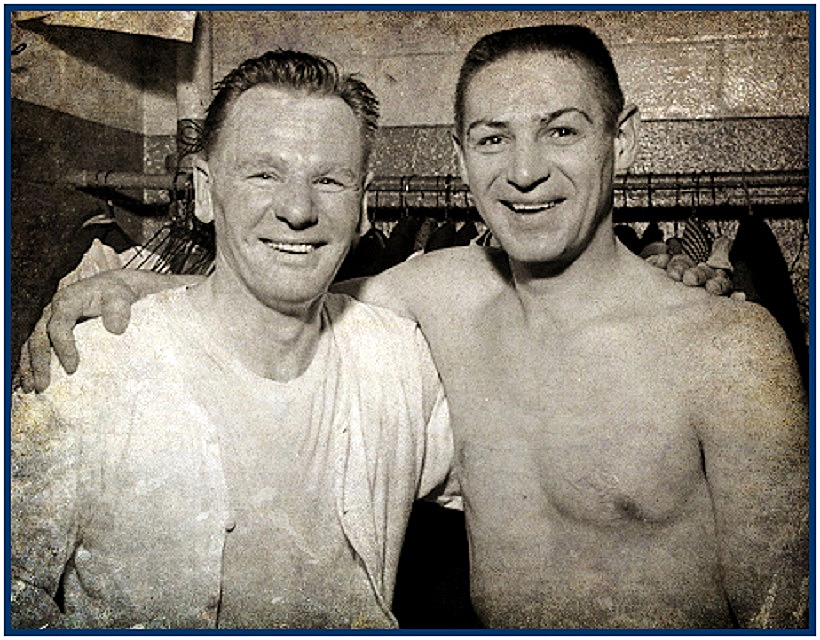 GOALTENDING TEAMMATES JOHNNY BOWER (LEFT) AND TERRY SAWCHUK EMBRACE AFTER BACKSTOPPING TORONTO TO A SURPRISE STANLEY CUP. MAY 2, 1967, AT MAPLE LEAF GARDENS.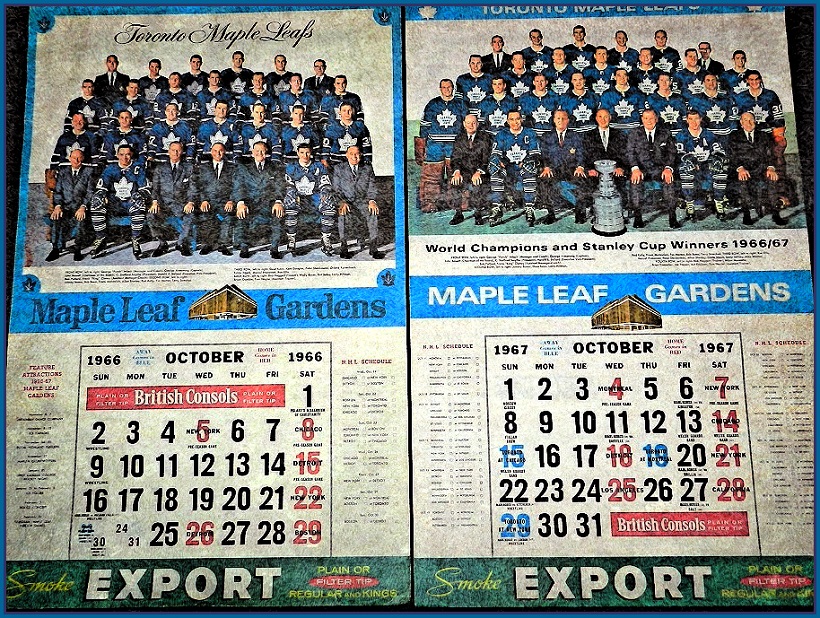 EXPORT MAPLE LEAF GARDENS WALL CALENDARS FROM 1966–67 AND 1967–68.

OCT. 11, 1967: CALIFORNIA SEALS CAPTAIN BOB BAUN IN WARM–UP AT OAKLAND COLISEUM ARENA PRIOR TO THE FIRST GAME IN FRANCHISE HISTORY — A 5–1 WIN OVER THE PHILADELPHIA FLYERS.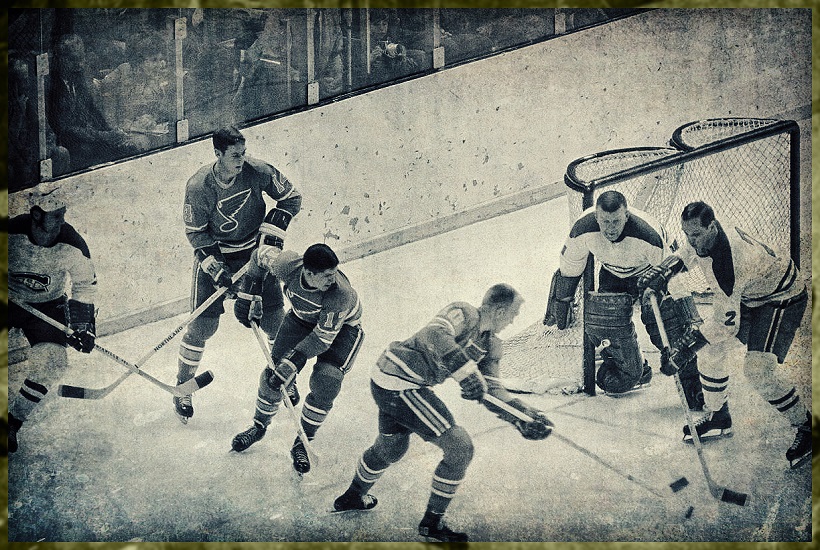 MAY 5, 1968. GAME 1 OF THE FIRST EXPANSION STANLEY CUP. MONTREAL AT ST. LOUIS. PLAYERS, LEFT–TO–RIGHT: J.C. TREMBLAY, TIM ECCLESTONE, GARY VENERUZZO, RON SCHOCK, GUMP WORSLEY, JACQUES LAPERRIERE. THE HABS WON, 3–2, ON A GOAL BY JACQUES LEMAIRE AT 1:41 OF OVERTIME.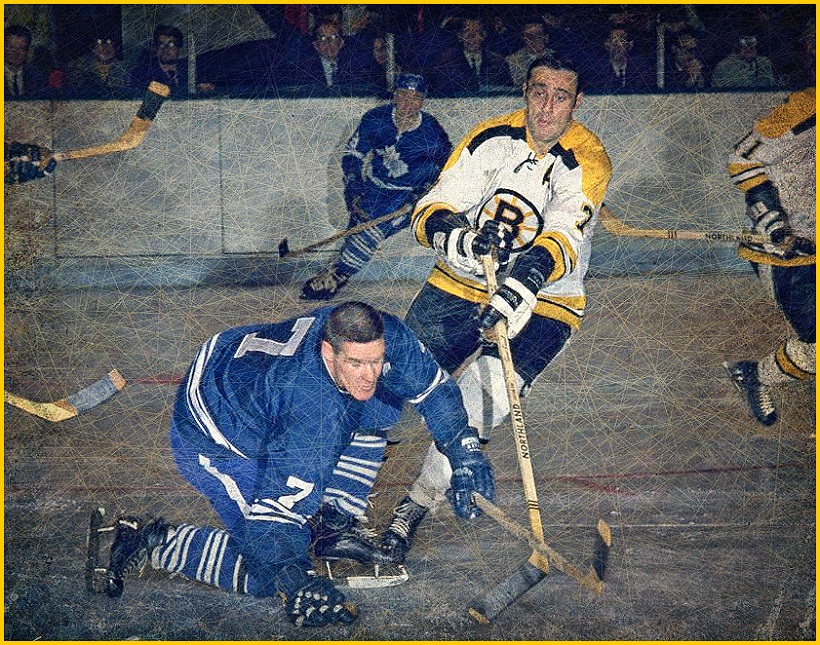 MAR. 15, 1969: TIM HORTON (TORONTO) AND PHIL ESPOSITO SCRAMBLE FOR PUCK AT MAPLE LEAF GARDENS. THE LEAFS BEAT THE BRUINS, 7–4, BUT WOULD LOSE IN BOSTON, 11–3, THE NEXT DAY. 

DEC. 30, 1970: TORONTO GOALIE JACQUES PLANTE IS PROTECTED BEHIND THE NET BY DEFENSEMEN BOB BAUN (21) AND JIM DOREY (8) FROM DENNIS HEXTALL OF CALIFORNIA. REFEREE DAVE NEWELL WATCHES THE PLAY. THE LEAFS BEAT THE GOLDEN SEALS, 3–1, AT MAPLE LEAF GARDENS.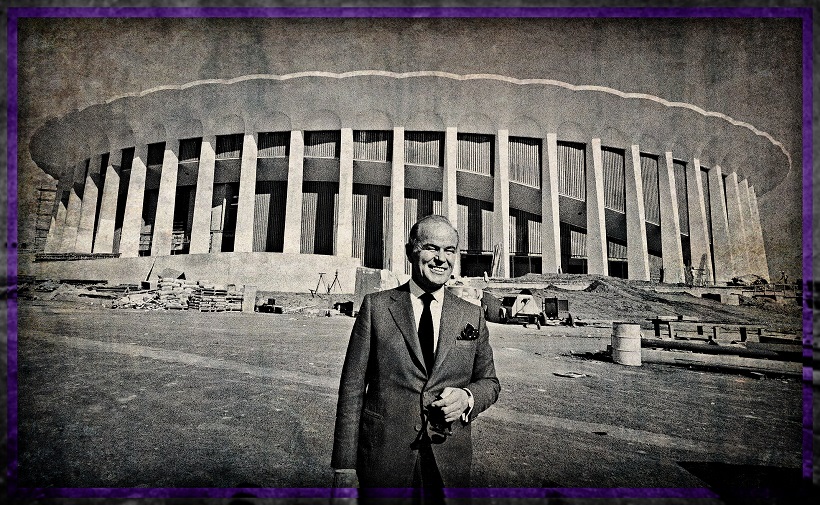 JACK KENT COOKE IS ALL SMILES IN SEPTEMBER 1967 STANDING OUTSIDE HIS FORUM IN INGLEWOOD, CALIF. THREE MONTHS LATER (DEC. 30, 1967), IT WOULD OPEN FOR A GAME BETWEEN THE LOS ANGELES KINGS AND PHILADELPHIA FLYERS. IT WOULD ALSO BE HOME COURT OF THE NBA LAKERS.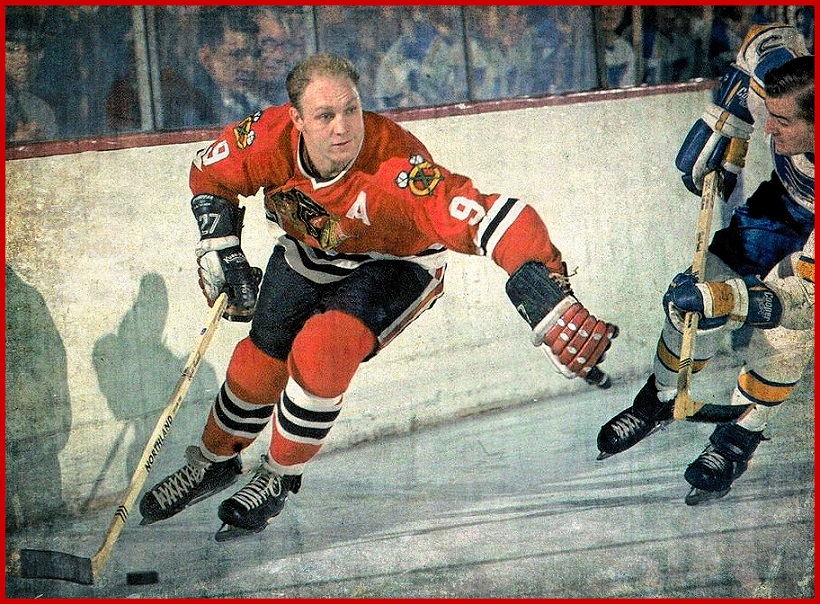 OCT. 11, 1968: IN THE SEASON OPENER FOR BOTH TEAMS, BOBBY HULL SPEEDS AWAY FROM ST. LOUIS DEFENSEMAN BOB PLAGER. THE BLACK HAWKS BEAT THE BLUES, 4–3, AT CHICAGO STADIUM.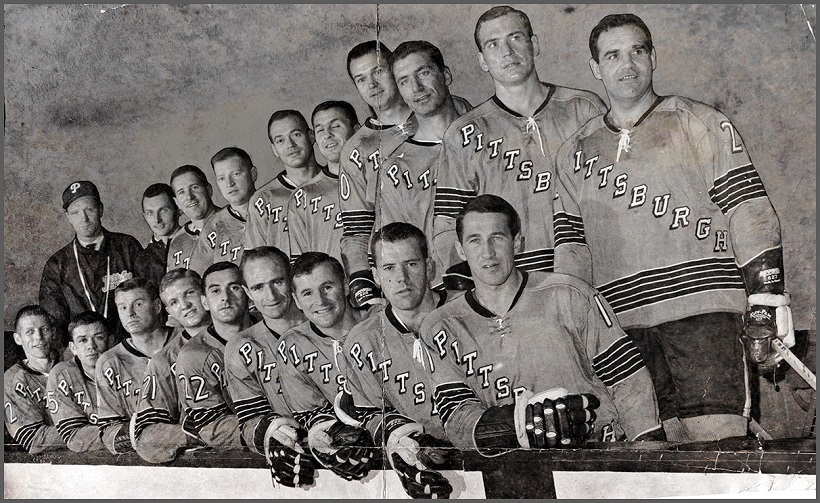 MEMBERS OF THE ORIGINAL PITTSBURGH PENGUINS IN HOME JERSEYS AT TRAINING CAMP. BRANTFORD, ONT., SEPTEMBER 1967: TOP ROW (LEFT–TO–RIGHT): COACH RED SULLIVAN, TRAINER KEN CARSON, LES BINKLEY, HANK BASSEN, ART STRATTON, DICK MATTIUSSI, AB McDONALD, ANDY BATHGATE, DUNC McCALLUM, LEO BOIVIN. BOTTOM ROW: KEN SCHINKEL, BOB DILLABOUGH, EARL INGARFIELD, KEITH McCREARY, PAUL ANREA, VAL FONTEYNE, AL MacNEIL, BILLY DEA, GIL GILBERT.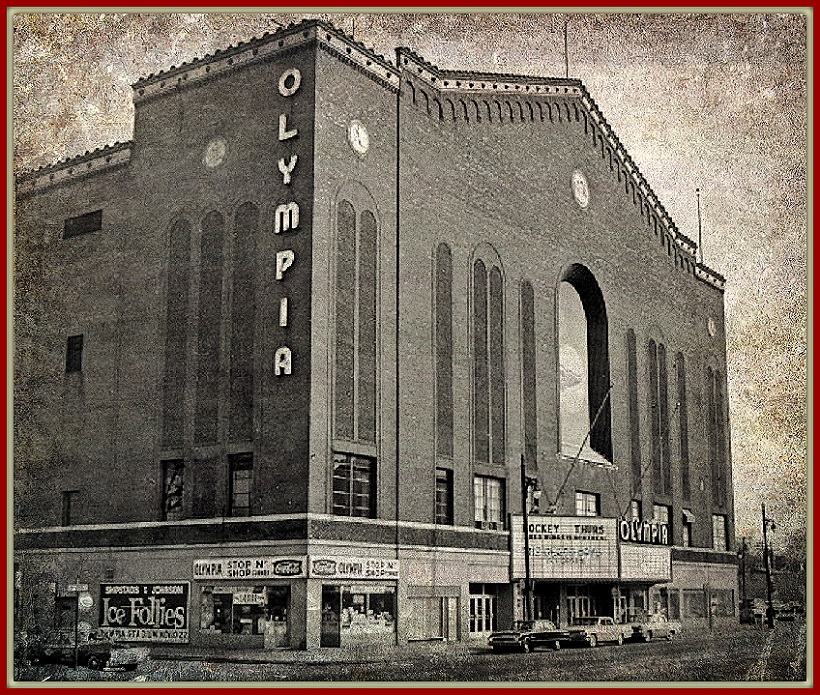 OLYMPIA STADIUM (1927–1980) HOSTED ALL OF GORDIE HOWE'S GREAT MOMENTS IN DETROIT, INCLUDING THOSE WITH THE SECOND "PRODUCTION LINE" (BELOW). LEFT–TO–RIGHT IN 1969: FRANK MAHOVLICH, ALEX DELVECCHIO AND HOWE. THE OLYMPIA GAVE WAY TO JOE LOUIS ARENA.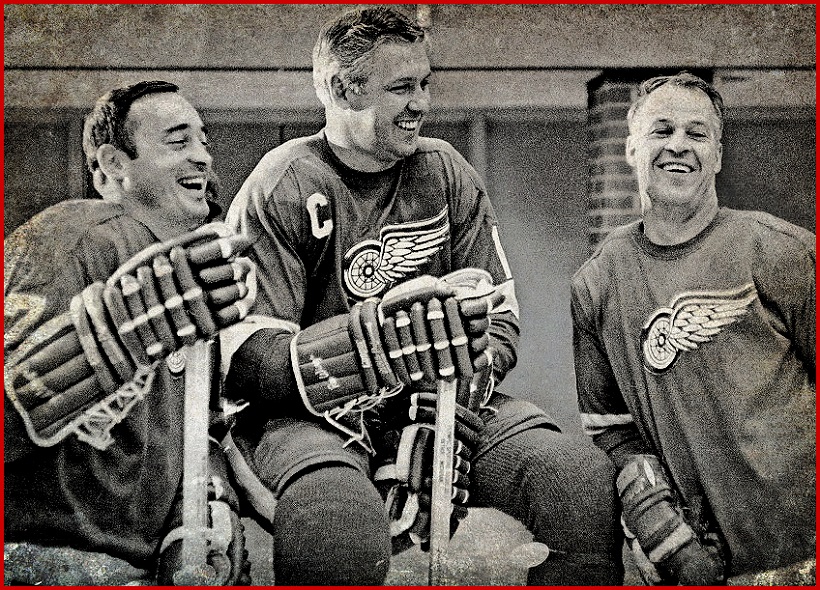 EMAIL: HOWARDLBERGER@GMAIL.COM