TORONTO (Jan. 4) — You can make excuses for the Toronto Maple Leafs from sun–up to sun–down — and countless people around here have perfected the art — but the bottom line is this: Zdeno Chara was available and should be wearing blue and white on Jan. 13 for the Leafs season opener against Montreal.
Never mind that his $750,000 contract with Washington is full of bonus potential or that Kyle Dubas didn't want to wait out the process. When it all shakes down, the Maple Leafs spent $250,000 more in base salary on career underachiever Zach Bogosian and, rather astoundingly, accorded Bogosian a full no–trade clause.
You can argue that 29 other teams in the National Hockey League (excluding Boston) were also unable to land Chara. But, one did: the Stanley Cup champion from two seasons ago. Which happened to be 51 years since the Leafs last played for the Cup. Capitals general manager Brian MacLellan totally outmaneuvered the Leafs… and all other teams that Chara could have helped with such an affordable, one–year deal. Please don't suggest that Dubas was unaware of Chara possibly leaving the Bruins; heck, a small potato like me wrote about it twice in mid–October. If I was privy to such speculation, you know a GM in the NHL had to be.
Nor will I buy that the Leafs weren't interested in the behemoth, even at 44. I ask again: Who would you rather have on a one–year deal: Zdeno Chara or Zach Bogosian? It's a rhetorical question. Fact is, and for whatever reason, the Leafs weren't patient enough. After signing, as a free agent, T.J. Brodie (his prime off–season maneuver), Dubas could have maintained cap space for Chara. At $750,000, that spot was available to anyone if the veteran were to spurn a Toronto offer. Alex Biega, for Chrissake, earns more than Chara. If you haven't heard of him, he occasionally plays defense for the basement–dwelling Detroit Red Wings.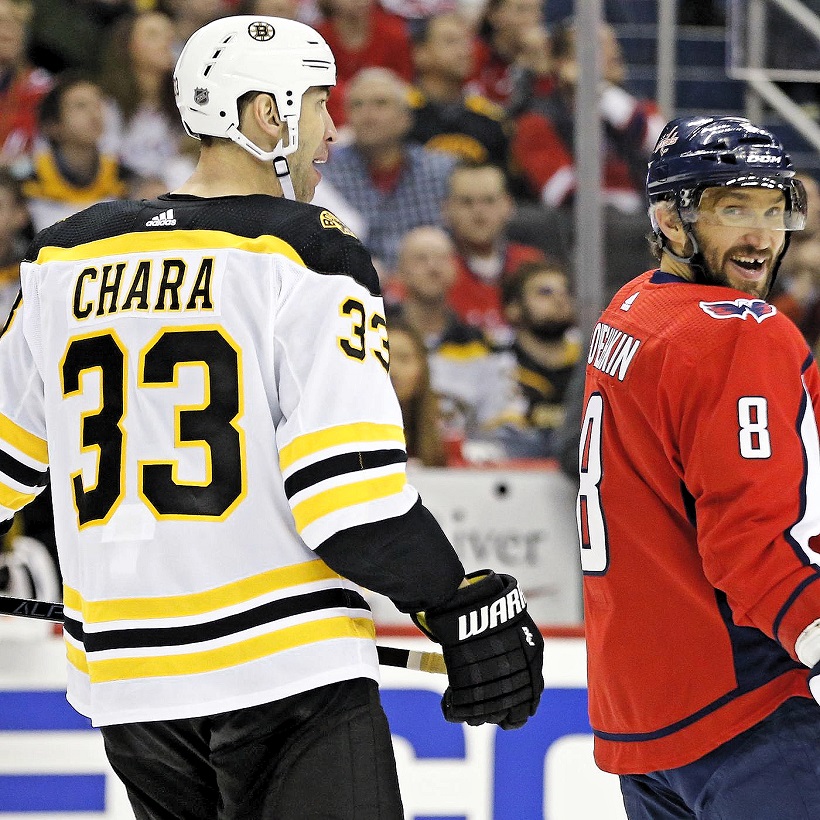 ALEX OVECHKIN SHOULD BE HAPPY. HE'S GOT BIG Z ON HIS  SIDE THIS SEASON. GEOFF BURKE USA TODAY
The Leafs, in truth, have been proactive with Dubas as GM. When they want to get something done, it usually happens. The final two or three years of John Tavares's contract will be an albatross, but Brendan Shanahan, Dubas and former coach Mike Babcock made certain the Toronto native would not re–sign with the New York Islanders in July 2018. Maybe Tavares fancied the thought of coming "home" but he wasn't anxious to leave the club that drafted him first, overall, in 2009. It took some convincing from the Leafs brass to dissuade him from returning to the Island. And, it was quite a coup. Same with the other big contracts Dubas has negotiated. Perhaps he overpaid Mitch Marner and William Nylander. But, he wanted to lock up both players, and he did. Auston Matthews as well. There's no reason to believe he couldn't have gone after Chara; played the "game" appropriately, and landed the most–dominant NHL blue–liner of the past decade.
A player, we all know, has enacted such a key role in frustrating the Leafs on three occasions in the spring.
Again, we're not talking here about a multi–year arrangement or the Maple Leafs entering into a bidding war with a handful of rivals. Chara was simply there for the taking. Once the circumstances in Boston were no longer amenable to the future Hall–of–Famer, the Leafs should have been all over him. Particularly heading into a season during which the North Division champion is guaranteed a spot in the Stanley Cup semifinals.
Perhaps Chara had vehement objection to playing here in Toronto, even if it's difficult to imagine why, especially given that he spoke to Montreal about a contract. Maybe he'd have chosen Washington, in any event, over the Maple Leafs (he signed two days after goalie Henrik Lundqvist announced, last week, he would miss the season with a heart ailment). Perhaps Big Z loved the notion of playing with Alex Ovechkin.
All I can tell you is that Toronto, right now, should not take a back seat to any place as an appealing hockey destination. The Maple Leafs remain full of promise, with an unparalleled foursome of gifted scorers up front. Were Dubas as anxious and committed to signing Chara as he was Tavares (and while re–signing his other top forwards), I suspect he may have talked the big defenseman into coming north for one season.
In that regard, I allege the Maple Leafs blew it. Big time.
CURIOUS CONTENTION: Among the "in–house" reporters that cover the Leafs for Bell and Rogers, the best, in my view, is Kristen Shilton. She's an exceptional writer and has a solid understanding of the game.
That's why I did a double–take at the story she posted, Sunday, on TSN's website… entitled EMPHASIS NOW ON REGULAR SEASON SUCCESS FOR LEAFS. Shilton wrote: "The Leafs have had little recent success in the post season, between three consecutive first–round exits from 2017–19 and then failing to advance past the qualifying round in last summer's tournament. But that doesn't mean the team's focus is on preparing for a playoff push this year; in reality, their biggest concern is the 56 games that will come before. Because it's that span which will show general manager Kyle Dubas just how much his team has — or has not — learned from past disappointments." This, quite frankly, was difficult to comprehend. There may not, in fact, be a team whose regular–season performance is less relevant than the Maple Leafs. Obviously, the club requires enough points to be among the four qualifiers in the North Division. Otherwise, how can anyone even imply that a good regular schedule, if accompanied by another playoff flop, will engender any satisfaction?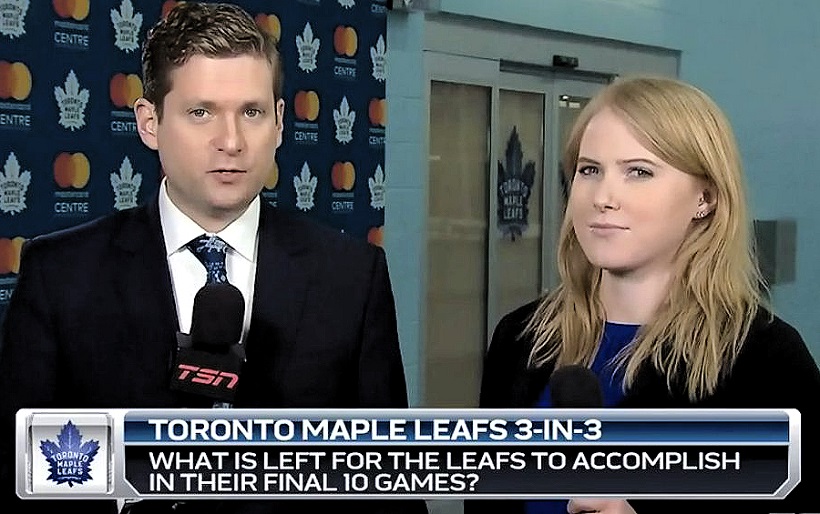 KRISTEN SHILTON (WITH TSN COLLEAGUE, MARK MASTERS). GOOD REPORTER. BAD TAKE.
Equally, if not more perplexing, was the line suggesting that… "in [Kyle] Dubas's mind, Toronto will be defined by its daily habits, not a final outcome." Really? If the "final outcome" is a fifth consecutive ouster from the opening round of the post–season — or, in the name of everything holy, finishing lower than fourth place in the division — the Leafs will be defined by something else? Again, this doesn't correlate to Shilton's usual good work for TSN. It is, in every respect, the opposite of how the 2021 Maple Leafs will be assessed.
EMAIL: HOWARDLBERGER@GMAIL.COM