TORONTO (Jan. 18) — It is so true. A mother's work is never complete. Not for one day. Not for one hour. Even if her famous, 25–year–old son, earning $10.6 million over two years to play hockey with the Columbus Blue Jackets, lives 688 kilometers (427 miles) southwest of home, in Toronto. And, particularly with a closed Canada–USA border in the midst of the COVID–19 pandemic. Thank goodness for modern technology.
"Do I still worry about Max?" says Leanne Domi, repeating a question asked to her over the phone. "Absolutely. Of course I do. It's a mother's instinct and I doubt, for me, it will ever change. We stay in touch every day. I need to ensure that he's doing well." In Max Domi's world, "doing well" indicates he is controlling Type 1 Diabetes, with which he has struggled, on and off, for nearly half his life. He was 12 years old and coming off a hockey tournament in Detroit, juggling alternate bouts of insatiable thirst and a profound need to empty his bladder. Blood work on the son of ex–Toronto Maple Leafs forward Tie Domi revealed the alarming news that he'd contracted a potentially fatal disease, one that required continual supervision.
Max detailed his medical odyssey with refreshing candor in a 2019 national bestseller NO DAYS OFF, written with my one–time colleague at The FAN–590, Jim Lang. To favorably encounter Type 1 Diabetes each day is an ample challenge. To do so while playing in the world's best hockey league is monumental. Max Domi has accomplished both… and rather well. But, his mother is rarely appeased. "I have complete faith and confidence in Max and his ability to keep on top of the disease," says Leanne. "Still, I check on him all the time. Whenever I ask about his Insulin or blood levels, he says 'Mummm!' That's my cue to stop. So, I try to not dwell on it. He's actually quite amazing, the way he charts everything: his sleep; his nutrition; his blood levels. On top of the Diabetes, he also has Celiac Disease and must avoid Gluten products. So, me and Tie are always worried that everything in his life is balanced. He's good at understanding that his parents need to know. Even if he's determined to control his health independently. Which Max does exceptionally well."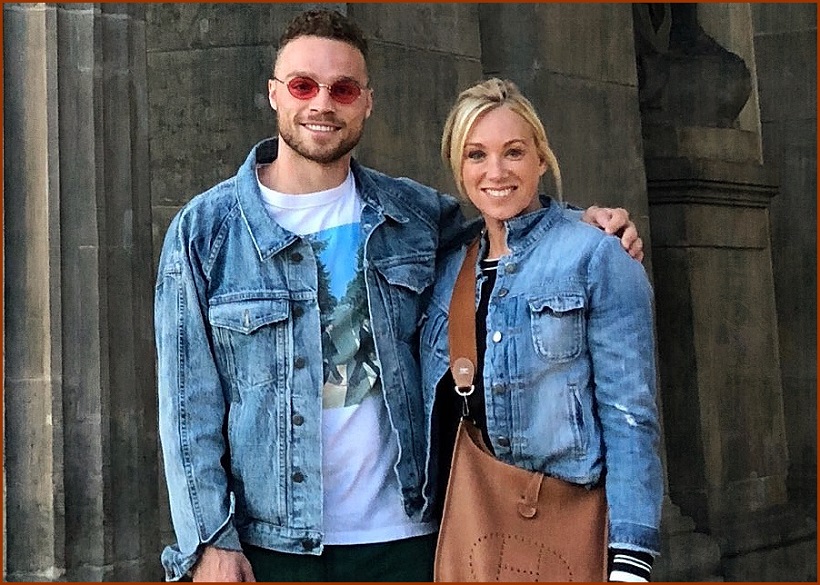 Leanne and Tie Domi separated in 2006. The former Leaf has re–married and spends the bulk of his time in New York. Leanne has re–established as well and lives in midtown Toronto. She and her boyfriend are planning a renovation of her 15–year–old house. Tie and Leanne are also parents of daughters Carlin and Avery. "Obviously, given his profile, I talk a lot about Max, but I am equally proud of my girls," says Leanne. "If you read Max's book, you'll see how big a role Carlin and Avery played in his development and ability to recognize symptoms of low blood–sugar. Me and Tie are blessed to have such wonderful children."
Max Domi's book is a gem. It partly re–kindled a wonderful time in my life (1993–2010), covering Tie Domi and the Maple Leafs, home and away, for Canada's first all–sports radio station, as the first–ever radio beat–reporter in the National Hockey League. Beginning while the club played at Maple Leaf Gardens, but more–so during the early Air Canada Centre years, Tie would bring Max to practices and morning skates. Given my endearment toward kids (I have two of my own: Shane, 24, and Lauren, 20), I often had to restrain from mauling the little varmint; he was so cute. Instead, we kicked around a ball of rolled–up tape outside the dressing room. God forbid I suggested that Max play goal. He always had to be the shooter; me, the stopper.
They were the Pat Quinn years, when the Leafs — captained by Mats Sundin — twice advanced to the Stanley Cup semifinals, losing to Buffalo (1999) and Carolina (2002). With such fondly remembered players as Curtis Joseph, Steve Thomas, Gary Roberts, Darcy Tucker, Shayne Corson, Dmitri Yushkevich, Bryan McCabe, Tomas Kaberle and the late, great Wade Belak. Sundin, in particular, had a huge influence on Max, who wrote, in NO DAYS OFF, about a moment involving the Maple Leafs' all–time leading scorer:
One night, as I was leaving the ACC late with my dad after a game, I glanced down the hallway to the workout room. Almost everyone else had gone home, but Mats was still in the gym alone, going full–blast on the stationary bike. He was so locked in that he didn't even see us go by. He was just giving it his all, sweating head to toe. I realized that if I was going to follow in the footsteps of a guy like Mats, I would have to work just as hard.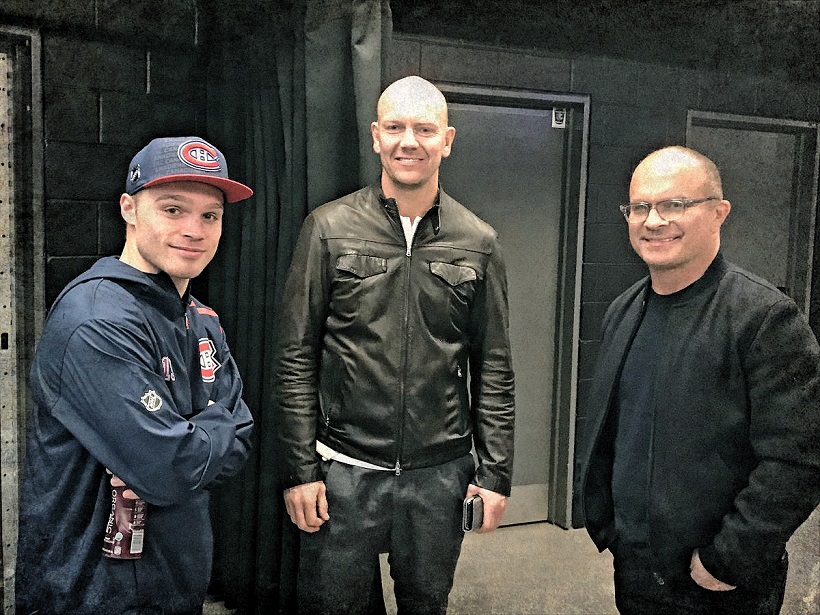 MAX DOMI (LEFT) AS A MEMBER OF THE MONTREAL CANADIENS, VISITING AT THE BELL CENTRE WITH FATHER TIE (RIGHT) AND FORMER TORONTO MAPLE LEAFS CAPTAIN MATS SUNDIN. ERIC ENGELS PHOTO 
Sundin, however, did not juggle a career in the NHL with Type 1 Diabetes and Celiac Disease. Which Max needs to accomplish every day (and night) during the hockey season. "In this situation, being a mother isn't always easy," says Leanne Domi. "Especially from a distance. When Max started playing with Arizona (from 2015–18), I put my real estate career on hold and spent a lot of time living with him and [Coyotes teammate] Jakob Chychrun. It was important for me to help Max adjust to being on his own. When he played in Montreal (2018–19 and 2019–20), he lived in a downtown condominium and I visited and stayed with him a handful of times. Now, in Columbus — with the closed Canada–USA border — we communicate on–line. He is renting a house there and was introduced to a relative of his real estate agent; a woman in her 60's, who offers constant support. Which it comforting to me. Other than when he played in the World Junior tournament, this was the first Christmas in Max's life that we weren't together.
"I miss him and worry about him. I can't help it. That's what a mother does."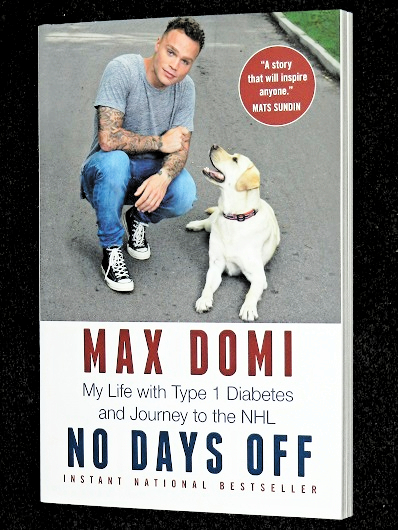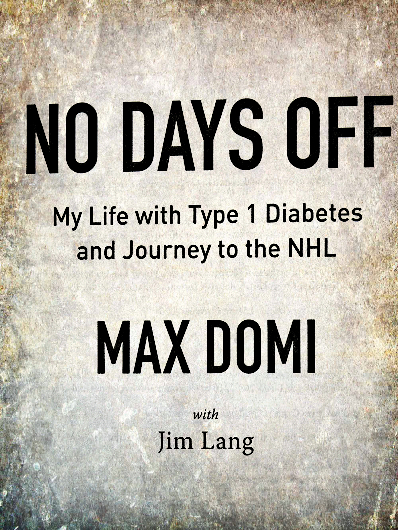 MAX DOMI'S INSPIRATIONAL STORY (ABOVE) BECAME AN INSTANT CLASSIC WHEN RELEASED IN 2019. IT CAN BE ORDERED ON AMAZON.COM, HERE: http://amzn.to/2Y3Y3Y1. LEANNE, BELOW, SECOND–FROM–LEFT, IS SURROUNDED BY HER BEAUTIFUL CHILDREN: CARLIN (FAR–LEFT), AVERY AND MAX.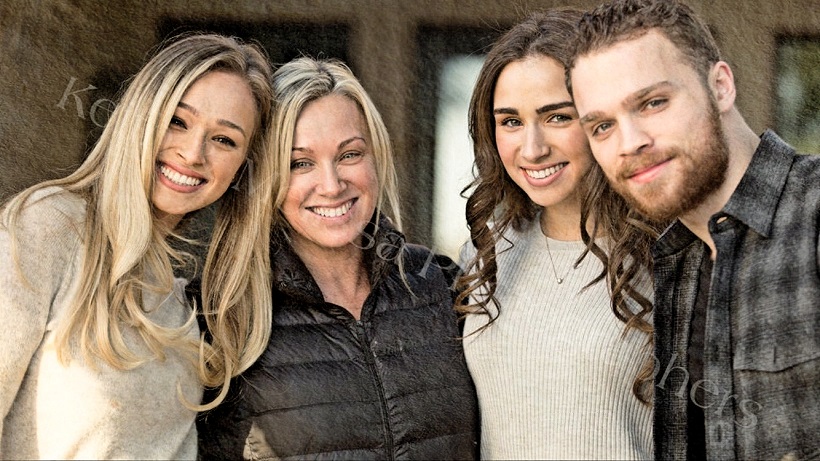 MORE VINTAGE HOCKEY PHOTOS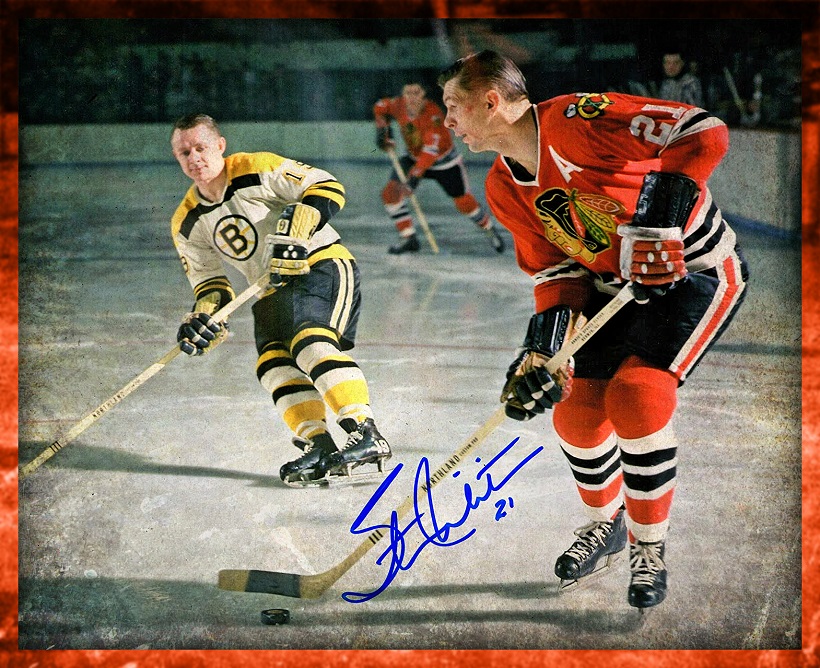 AT THE BOSTON GARDEN IN THE FINAL YEAR OF THE SIX–TEAM NHL. IT WAS ALL STAN MIKITA — HERE, BEING WATCHED BY JOHN McKENZIE OF THE BRUINS. THE CHICAGO STAR COPPED A HATTRICK OF TROPHIES IN 1966–67: THE HART, ART ROSS AND LADY BYNG. BUT, THE BLACK HAWKS WERE UPSET BY THE TORONTO MAPLE LEAFS IN THE STANLEY CUP SEMIFINALS.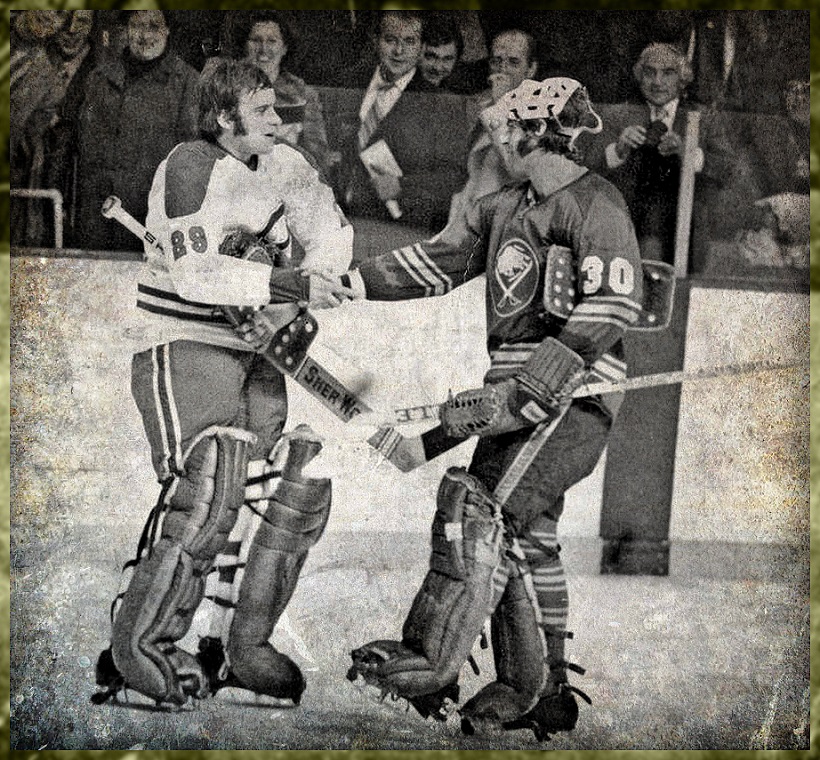 APR. 4, 1973 AT THE MONTREAL FORUM. BROTHERS KEN DRYDEN (LEFT) AND DAVE DRYDEN  SHAKE HANDS AFTER PLAYING GOAL AGAINST ONE ANOTHER IN GAME 1 OF THE STANLEY CUP QUARTERFINALS. YVAN COURNOYER SCORED ON THE POWERPLAY AT 4:27 OF THE THIRD PERIOD TO GIVE THE CANADIENS A 2–1 WIN OVER THE BUFFALO SABRES.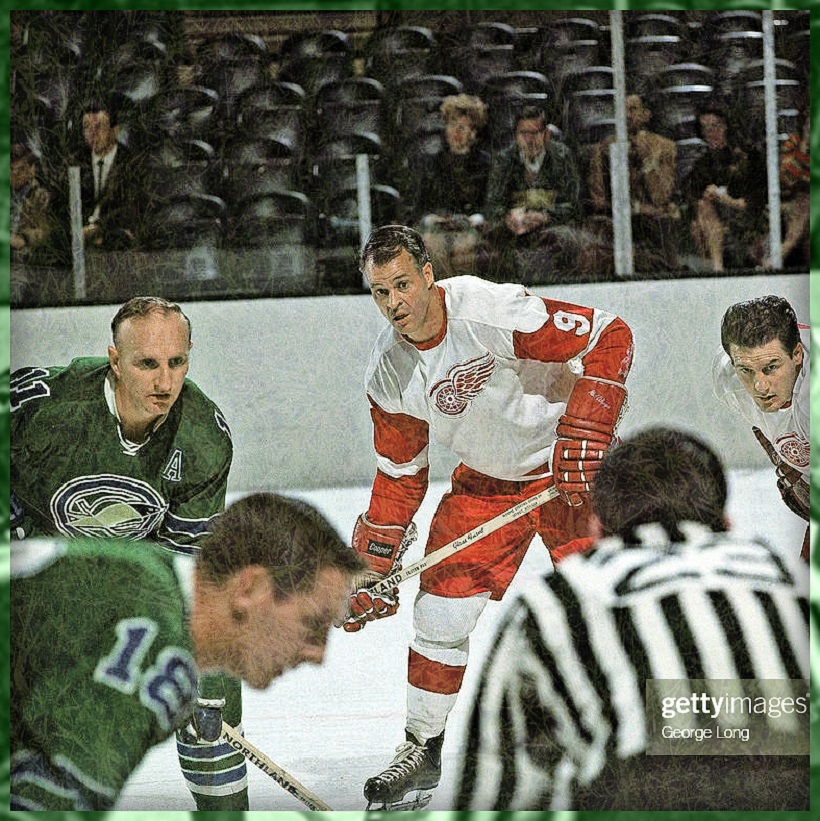 GOOD SEATS WERE AGAIN UNSOLD AT THE OAKLAND COLISEUM–ARENA ON NOV. 13, 1968, EVEN WITH MR. HOCKEY IN TOWN. HERE, GORDIE HOWE LINES UP OPPOSITE GERRY ODROWSKI (11) FOR A FACE–OFF. THE OAKLAND SEALS EDGED THE DETROIT RED WINGS, 2–1, WHEN GARY JARRETT BEAT ROGER CROZIER WITH 48 SECONDS LEFT IN THE GAME.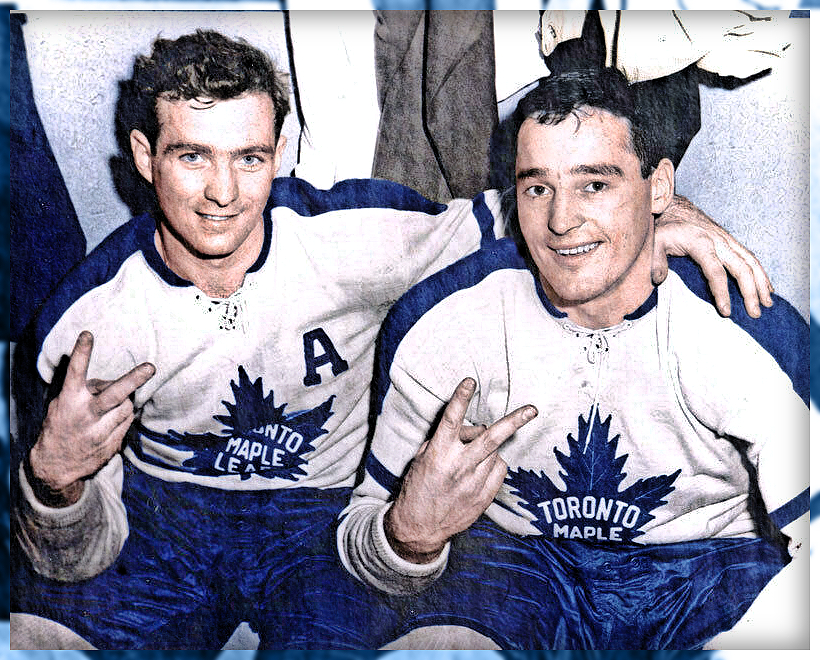 DICK DUFF (LEFT) AND FRANK MAHOVLICH FLASH THE "VICTORY" SIGN IN THE VISITORS' DRESSING ROOM AT CHICAGO STADIUM — APR. 22, 1962 — AFTER THE MAPLE LEAFS DEFEATED THE BLACK HAWKS IN GAME 6 TO CAPTURE THEIR FIRST OF THREE CONSECUTIVE STANLEY CUPS UNDER PUNCH IMLACH. DUFF SCORED THE WINNER AT 14:14 OF THE THIRD PERIOD.

HERE'S A SURPRISE: WE KNOW THAT BOBBY ORR WORE NO. 27 FOR EXHIBITION GAMES AS A ROOKIE WITH THE BOSTON BRUINS. ORR SWITCHED TO HIS FAMILIAR NO. 4 ONCE THE 1966–67 SEASON BEGAN. THIS IS THE ONLY PHOTO I'VE EVER SEEN OF HIM WEARING NO. 19. IF ANYONE KNOWS THE STORY OF THIS IMAGE, PLEASE ADVISE ME.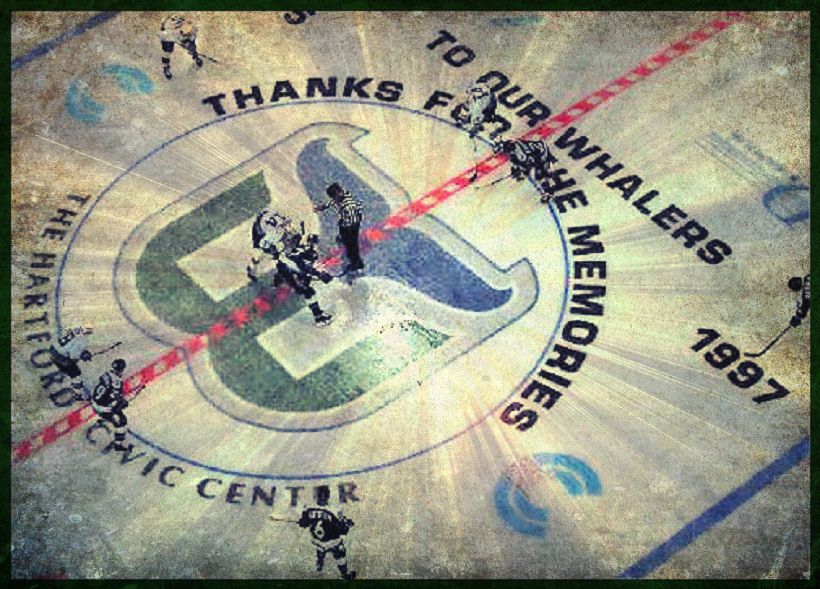 APR. 13, 1997 AT THE HARTFORD CIVIC CENTER. THE WHALERS HOST TAMPA BAY IN THEIR FINAL GAME BEFORE MOVING TO NORTH CAROLINA FOR THE 1997–98 SEASON. GLEN WESLEY AND KEVIN DINEEN SCORED TO PROVIDE THE TEAM A HAPPY SEND–OFF: 2–1, OVER THE LIGHTNING. THE WHALERS HAD BEEN PART OF THE NHL SINCE 1979–80.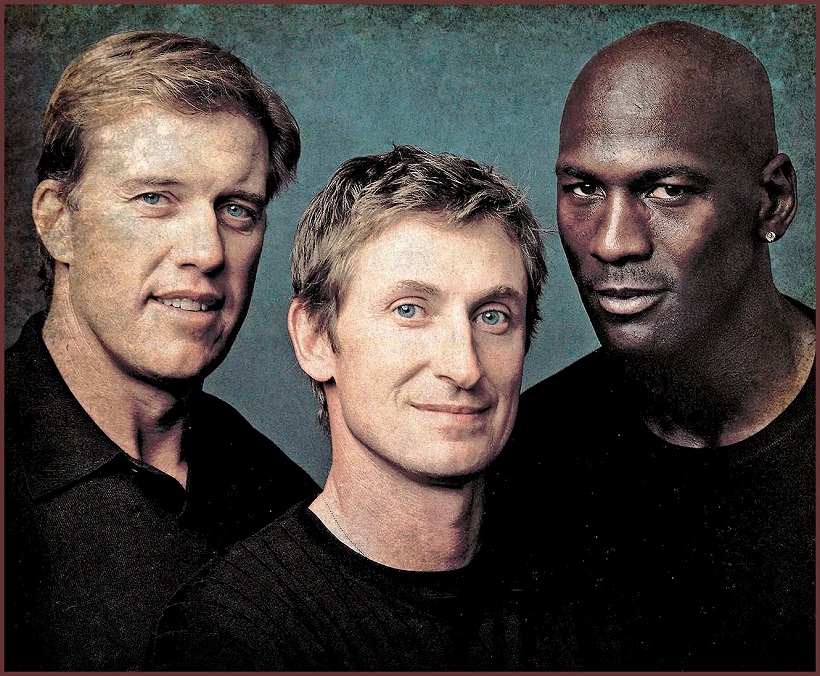 1998: THREE OF THE GREATEST ATHLETES IN THE MODERN ERA OF PROFESSIONAL SPORT. WAYNE GRETZKY FLANKED BY DENVER BRONCOS QUARTERBACK JOHN ELWAY (LEFT) AND CHICAGO BULLS SUPERSTAR MICHAEL JORDAN.

THE 1976–77 LOS ANGELES KINGS CONGRATULATE MIKE MURPHY (PARTIALLLY HIDDEN) FOR SCORING A GOAL AT THE L.A. FORUM. LEFT–TO–RIGHT: SHELDON KANNEGIESSER (6), BOB MURDOCH (5), TOMMY WILLIAMS (17), GENE CARR (12).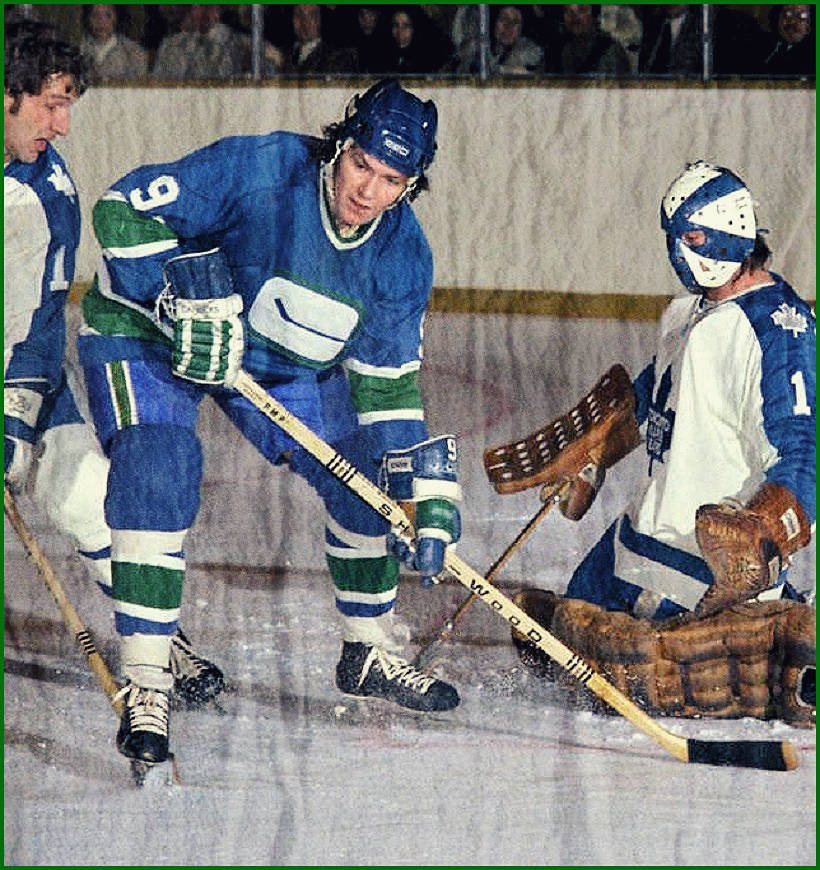 JAN. 8, 1975 AT MAPLE LEAF GARDENS. VANCOUVER FORWARD DON LEVER CAMPS IN FRONT OF TORONTO GOALIE DUNC WILSON WHILE BEING WATCHED BY DEFENSEMAN ROD SEILING. THE LEAFS BEAT THE CANUCKS, 6–4.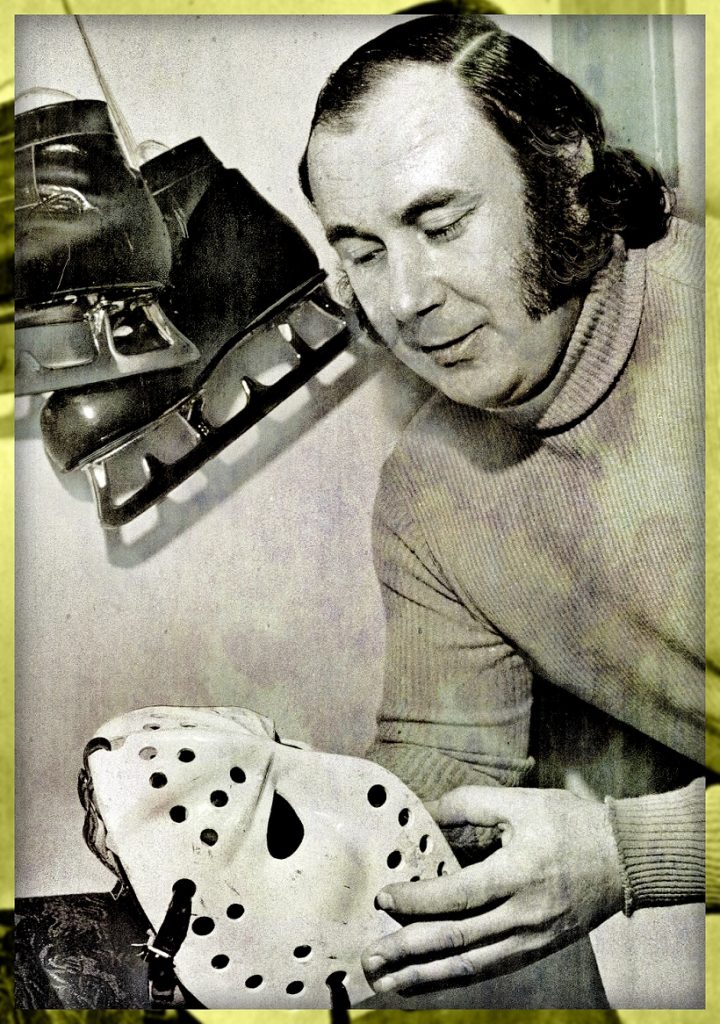 VETERAN BRUCE GAMBLE EXAMINES HIS MASK AFTER BEING TRADED BY TORONTO TO PHILADELPHIA (FOR BERNIE PARENT) IN FEBRUARY 1971. GAMBLE WAS THE LEAFS' NO. 1 GOALIE IN 1968–69 AND 1969–70.
EMAIL: HOWARDLBERGER@GMAIL.COM