TORONTO (Jan. 2) — It isn't often that a bathroom break reminds me of a Maple Leafs game from my youth.
But, 50 years ago tonight, as the Leafs were building what remains the most lop–sided shutout in franchise history, I had to pee. It was 10–0 for Toronto over Detroit in the third period when I visited the lavatory… and 12–0 when I returned. As I look at the game summary, below, I see that I missed goals, 28 seconds apart, by Norm Ullman and Brian Spencer — at 16:48 and 17:16 of the final frame. But, I was back on the rec room couch when Jim Harrison closed out the scoring binge 49 seconds after Spencer. The 13–0 Maple Leafs romp hasn't been equaled… an 11–0 home blanking of the California Golden Seals on Nov. 25, 1972 coming closest. The 13–goal margin of victory over the Red Wings a half–century ago tonight — on Jan. 2, 1971 — matched that of a 14–1 destruction of the New York Rangers, at Maple Leaf Gardens, on Mar. 16, 1957.
As indicated, the most remarkable aspect of the carnage against Detroit was the late, third–period eruption: four goals in a 2:27 span that pushed the score into double figures and beyond. Having started the 1970–71 schedule by winning only seven of their first 26 games, the Leafs, by Jan. 2, were the hottest team in the National Hockey League. A 13–1–2 streak between Dec. 9 and Jan. 13 is second–best over a 16–game stretch in franchise history; bettered only by the 14–0–2 run by Pat Quinn's club between Nov. 22 and Dec. 26, 2003 (which is the longest undefeated streak in Leaf annals). During the '70–71 power move, Toronto outscored its opposition 69–23, including the 13–0 win over Detroit. Which occurred one week after a 9–1 rout of Philadelphia at the Gardens. The lone blemish was a 6–3 loss at Minnesota on Christmas Night 1971.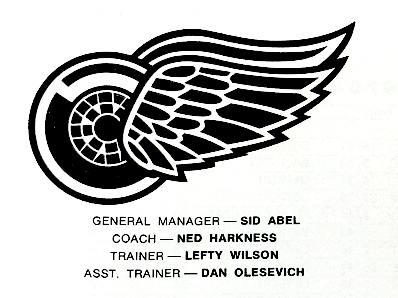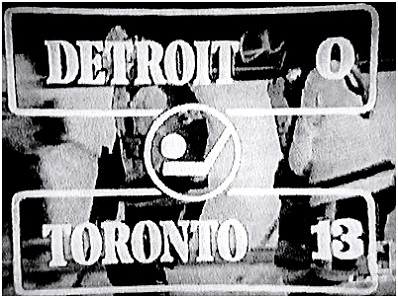 HOCKEY NIGHT IN CANADA IMAGE (TOP–RIGHT) OF THE FINAL SCORE, AT MAPLE LEAF GARDENS, 50 YEARS AGO TONIGHT. THE FULL SCORING SUMMARY IS HERE:
First Period —
01. Toronto, Ullman 21 (Ellis, Henderson) 2:53. PPG
02. Toronto, Pelyk 3 (Ley, MacMillan) 12:02.
03. Toronto, Keon 20 (Spencer, Ley) 16:06. PPG
Second Period —
04. Toronto, Sittler 6 (Harrison, Spencer) 4:28.
05. Toronto, Sittler 7 (Harrison) 7:22. PPG
06. Toronto, Henderson 13 (Ullman, Armstrong) 15:02.
Third Period —
07. Toronto, MacMillan 11 (Dorey, Baun) 0:41. PPG
08. Toronto, MacMillan 12 (Keon, Dorey) 4:25.
09. Toronto, Monahan 8 (Pelyk, Keon) 7:59. SHG
10. Toronto, Henderson 14 (Ullman) 15:38.
11. Toronto, Ullman 22 (Armstrong, Henderson) 16:48.
12. Toronto, Spencer 1 (Sittler, Harrison) 17:16.
13. Toronto, Harrison 8 18:05.
Goalies — Rutherford, McLeod, Detroit / Plante, Gamble, Toronto.
Shots on Goal: Toronto 49, Detroit 31.
Referee — Bill Friday. Linesmen — Pat Shetler, Willard Norris.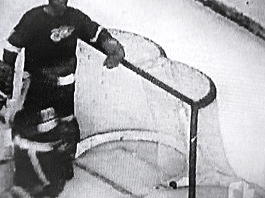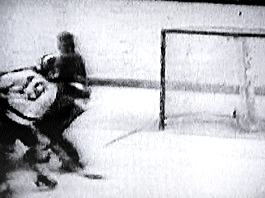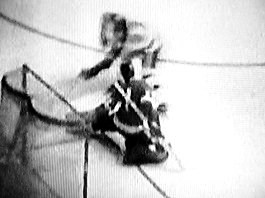 THE LEAFS LAMBASTED BOTH DETROIT GOALIES. JIM RUTHERFORD ALLOWED THREE GOALS ON 17 SHOTS; DON (SMOKEY) McLEOD, 10 GOALS ON 32 SHOTS. IT WAS TORONTO'S THIRD CONSECUTIVE WIN, DURING WHICH THE CLUB OUTSCORED ITS OPPOSITION 25–2. CBC/HOCKEY NIGHT IN CANADA IMAGES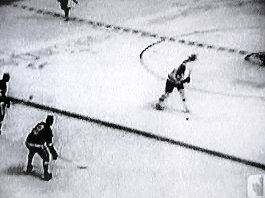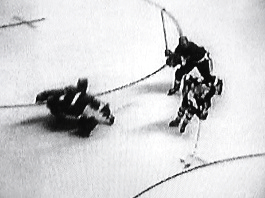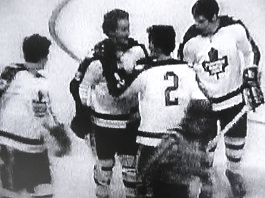 Among the many stars for the Leafs in the 13–goal blowout was winger Paul Henderson, who led the way with two goals and two assists. Still 20 months prior to his long–fabled moment in Moscow for Team Canada 1972, Henderson skated on Toronto's best forward unit with Norm Ullman and Ron Ellis; the line clicking for eight points against the Red Wings. Henderson will turn 78 later this month. His lone recollection of the game was perhaps the easiest of his 236 NHL goals. "I remember faking poor Smokey McLeod and scoring on the backhand," Henderson laughed over the phone on Friday. "He came out to try and poke–check me on a breakaway and was halfway to the blue line when I pulled the puck around him. It was the equivalent of an empty net goal." Paul was referring to the tenth Maple Leaf tally, at 15:38 of the third period. In the Hockey Night In Canada picture sequence, above, it is middle of the second row. Don McLeod (nicknamed Smokey) is dreadfully out of position with Paul's former Detroit teammate, Gary Bergman, in full "slash" mode.
Henderson had become a Leaf nearly three years prior (Mar. 3, 1968) in what remains the biggest franchise swap of the post–expansion era. Frank Mahovlich, Peter Stemkowski, Garry Unger and the NHL rights to defenseman Carl Brewer went to Detroit for Ullman, Henderson and Floyd Smith. More than 50 years later, Henderson can still feel the "utter rejection" upon learning of the trade. "Audrey McGregor (wife of Detroit teammate Bruce McGregor) phoned to say she'd heard, on the radio, I'd been traded to Toronto," Paul remembered. "Well, I was absolutely devastated. My lone feeling, initially, was of sheer rejection by the only team I'd ever known. But, I got over it. Suddenly, I was on TV across Canada every Saturday, playing before a full house at the Gardens. Still with Normy as my center. By that night in 1971, when we scored 13 goals, any feeling of revenge against Detroit had long passed. I was happy to be a Leaf and settled here in Toronto."
As you may know, Henderson was diagnosed, in 2009, with chronic lymphocytic leukemia and given perhaps five or six years to live. More than 11 years later, he is feeling perfectly well — his daily medicinal cocktail suppressing the cancer. "I've been very fortunate," he said. "The situation looked kind of bleak early on and I lost 30 pounds. But, I responded to a clinical trial in the United States and have done well. Every day is an absolute gift." Henderson came to national prominence when he scored the winning goal in each of the final three games of the groundbreaking Summit Series in September 1972 between Canada and Russia — most famously, shooting his own rebound under Vladislav Tretiak for the decisive marker with 34 seconds left in the eighth, and final, match. That moment clearly overshadowed 12 mostly good years in the NHL, during which he scored 20 or more goals in seven seasons; a career–best 38 with the Maple Leafs in 1971–72.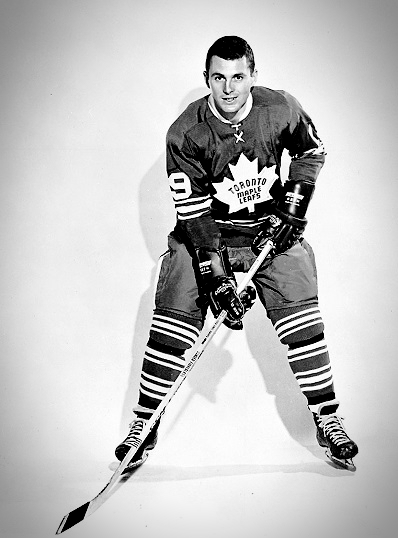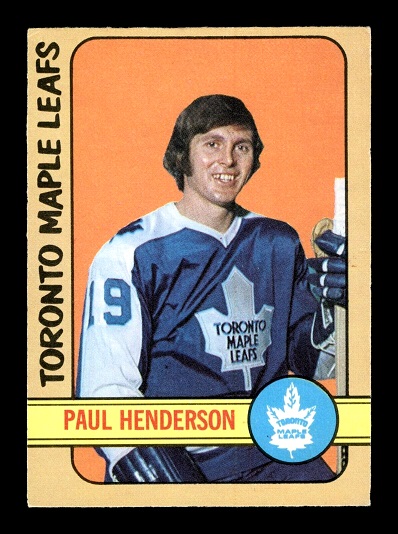 PAUL HENDERSON AS HE APPEARED (TOP–LEFT) AFTER BEING TRADED FROM DETROIT TO TORONTO IN MARCH 1968. AND, ON HIS O–PEE–CHEE 1972–73 HOCKEY CARD WITH THE MAPLE LEAFS.
During his half–decade with Detroit (1963–68), Henderson twice came close to winning the Stanley Cup. In 1964, the Red Wings took a 3–2 series lead in the Cup final into Game 6 at the old Olympia Stadium. Henderson scored in the second period and a goal by Gordie Howe with 4:06 left in regulation put the home team ahead, 3–2. But, Billy Harris of the Leafs tied the match at 17:48 and Bob Baun scored his famous overtime goal on a broken foot to deadlock the series. Toronto breezed to a 4–0 victory in Game 7 at the Gardens. In 1966, Detroit won the first two games of the final at the Montreal Forum, only to lose the next four. A disputed overtime goal, at the Olympia, by Henri Richard ended the series. "That one still hurts," Henderson said. "We were in command after winning the first two on the road but we had no discipline. There was too much drinking between games. It sticks in my craw that we didn't come out on top that year."
By 1970–71, the Red Wings were in disarray. Sid Abel had moved from behind the bench to general manager and installed, as coach, the unpopular Ned Harkness. Detroit plummeted 23 points in the standings and finished ahead of only the California Golden Seals. "By that time, Gordie Howe and Alex Delvecchio were at the end of their [NHL] careers and the Red Wings' defense had really been decimated," Henderson recalled. "In the mid–60's, we had great pros like Bill Gadsby, Marcel Pronovost and Doug Barkley. Gads retired (in 1966); Marcel was traded to the Leafs (in 1965) and Doug lost an eye (in a game against Chicago, Jan. 30, 1966, on an accidental high–stick by Doug Mohns). Gary Bergman was our only NHL–caliber defenseman."
In 1968–69 and 1969–70, Detroit deployed the old Leafs tandem of Bob Baun and Carl Brewer. By January 1971, however, both had been dealt: Baun back to Toronto (via St. Louis) and Brewer to the Blues. In the 13–0 humiliation at the Gardens, Detroit iced a makeshift blue line of Bergman, Dale Rolfe, Larry Brown, Serge Lajeunesse, Ron Harris and Gerry Hart. Jim Rutherford and Smokey McLeod were strafed between the pipes.
Henderson played for the Maple Leafs through the 1973–74 season (scoring 162 goals) then jumped to the Toronto Toros of the old World Hockey Association. "I actually wanted to stay because I hadn't won the Stanley Cup," Paul reminisced. "John Basset Jr. (who owned the Toros) said he would double my salary and give me a five–year, no–trade contract. He had just signed Frank Mahovlich (from the Montreal Canadiens) and was all excited about moving his team from Varsity Arena to Maple Leaf Gardens. He told me to speak with Frank and get back to him. When I told Frank I wanted to stay in the NHL to win a Cup, he said, 'Paul, if that's your goal, you'd better ask the Leafs to trade you immediately. Because they will never win anything with [Harold] Ballard running the team. If you don't have stability at the top, it cannot work.'
"I then immediately called Bassett and accepted his offer. It was the best move I ever made."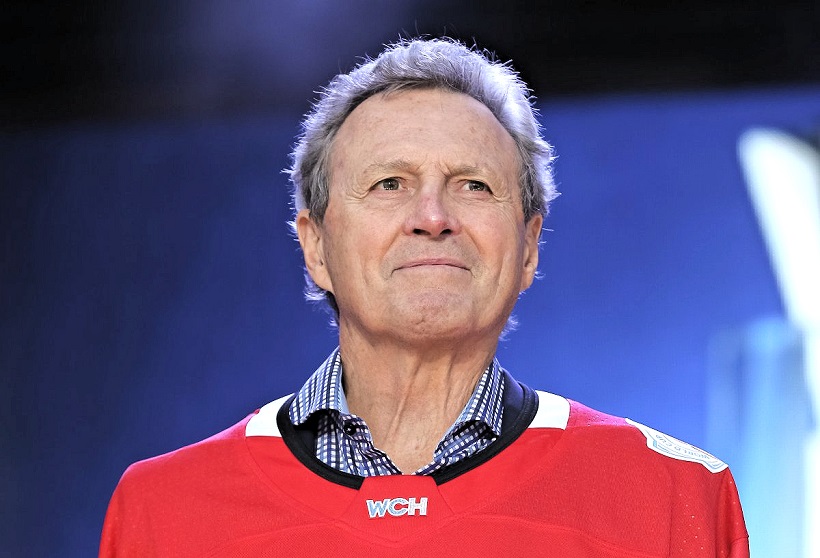 FORMER LEAF PAUL HENDERSON — AS HE APPEARS TODAY — NEARING AGE 78.
EMAIL: HOWARDLBERGER@GMAIL.COM