TORONTO (Jan. 31) — He has been, for more than four years, the best small Maple Leafs forward since Doug Gilmour and, therefore, the second–best small Leafs forward these eyes have ever seen. Yet, he makes too much money; he can't do diddly squat in the playoffs, and he should be traded. All three, positions taken by fans of the Blue and White prior to this pandemic–shortened season.
Since the puck was dropped on Jan. 13? Crickets.
With Suddenly Marvelous Mitch at 14 points after 10 games, trailing only the dynamic Edmonton duo of Connor McDavid and Leon Draisaitl for the Art Ross Trophy, there are appreciation threads all over the Internet. It's as if people have awakened to the fact he can perform at a 90 to 95–point pace (when healthy) during a full National Hockey League schedule. For reasons unexplained, 291 points in 300 NHL matches before this season wasn't satisfactory. Now that he's compiled 305 points in 310 games, all is well. Go figure.
I have written about it here (http://bit.ly/2DlBQgb / https://bit.ly/339SvhQ) and spoken of it many times: Mitch Marner is the most–indispensable Maple Leafs player. Okay, second–most, right now, to Frederik Andersen given that Jack Campbell is injured. But, otherwise, he has no peer among skilled playmakers on the club. In a half–century watching the Leafs, only Darryl Sittler, Gilmour and Mats Sundin ranked with Marner as a set–up man. That's fairly good company. And, well worth $10 million a season in today's NHL economy. So, stop bitching about his contract. If you consider it un–tradable — which it isn't — that's good, because there's no way the Maple Leafs should even consider moving No. 16. Once the appropriate roster balance is achieved (it's getting closer) and a clutch playoff goalie is obtained, Mitch Marner will thrive in the Stanley Cup tournament. Considering his skill–set, there's no reason he should be silenced when it matters.
Interestingly, and inexplicably, the Maple Leafs are nine games over .500 when Auston Matthews is out of the line–up. When Marner went down with an ankle injury against Philadelphia on Nov. 9 of last season, the club immediately fell into a six–game losing streak (against the Flyers, Chicago, the Islanders, Boston, Pittsburgh and Vegas), compiling a 4–8 record without the fleet winger. Obviously, Toronto needs both star players in order to flourish. But, Marner's nearly month–long absence was felt rather profoundly.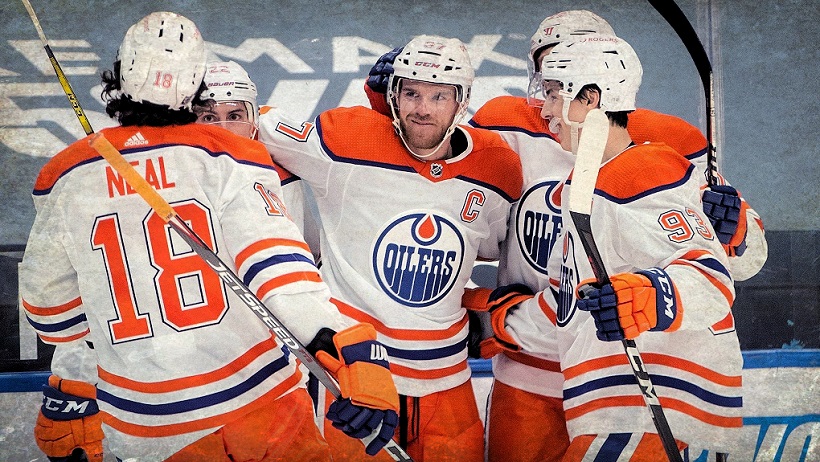 MITCH MARNER IS PERFORMING CLOSE TO THE LEVEL OF CONNOR McDAVID. 'NUFF SAID. JASON FRANSON THE CANADIAN PRESS
If the Maple Leafs give up on Marner, which is very unlikely, it will bite them in the backside for years; similar to the decade–long ruin in the wake of Punch Imlach absurdly trading Lanny McDonald in December 1979. With gifted players, be it goal scoring or setting up goals, discovering how to abet is the only reasonable plan. Throwing in the towel is too simple and counterproductive. If Marner, therefore, is gobbling up too much of the salary cap (which he isn't), find cheaper players that can bolster his performance. Such as Zach Hyman and Wayne Simmonds, who are more adept at pushing back when confronted. Though lacking a Stanley Cup–caliber presence between the pipes, the Maple Leafs have underachieved in the playoffs the past half–decade by leaning too heavily on raw talent. Throwing away that talent isn't the answer. Never is.
That's why the impatience reflected by fans of the Blue and White toward Marner was so puzzling. Edginess that has quickly disappeared in the first ten games of the schedule, with Marner threatening to lead the NHL in points. Marvelous Mitch has always shown such capability. There aren't more than a half–dozen players in the entire league with his innate skill. A poster on the Leafs page at the H–F Boards chat site wrote this: "Mitch is flying out there. Everything in his game has gone up a level… from goal scoring to penalty killing. The kid is legit." This could have been said about Marner in 2016. And, in every subsequent year.
Finally, though belatedly, Leafs Nation is taking note.
RETRO REVULSION?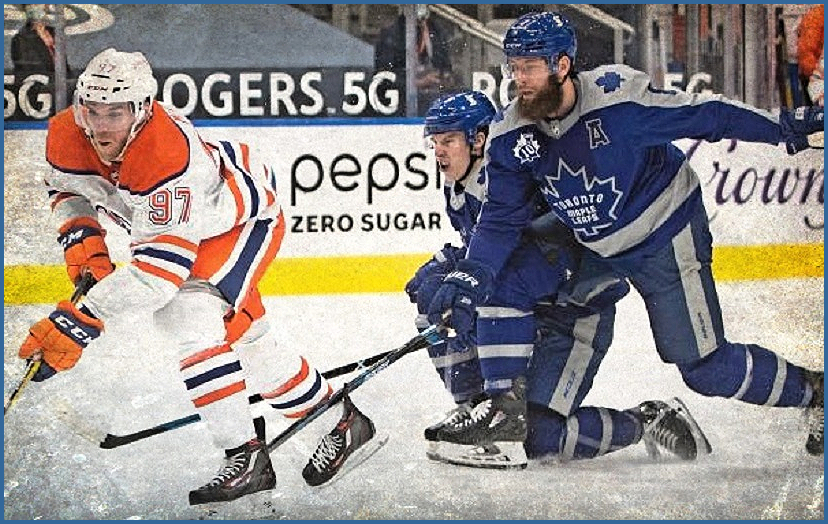 It came as quite a surprise on Saturday, in Edmonton, that the Leafs version of the NHL retro–reverse uniforms had grey shoulder piping and stripes (as above, worn by Mitch Marner and Jake Muzzin). All preview images of the jersey showed the striping to be white (as bottom–left). It certainly wasn't my favorite look, though the patch honoring George Armstrong warmed my heart. The Chief died a week ago today. Again, from H–F Boards, this line summed up the reaction to the blue–and–grey Leaf duds: "Jerseys always look better when paired with the full uniform. So that means it can go from hideous to just ugly."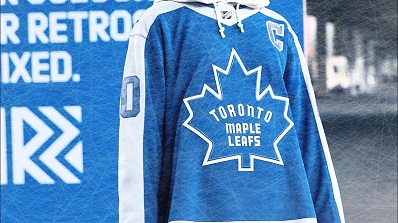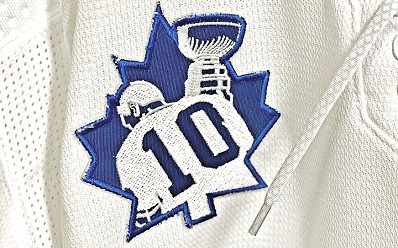 On two occasions in March, the Leafs will revert to their more–handsome Toronto St. Pats retro–jersey (as below… and even if defenseman Morgan Rielly appears to be wearing No. 414). This was first displayed on Mar. 2, 2002 at the Air Canada Centre during a game against the Buffalo Sabres. It became a sad night when Art Jackson, nephew of Leafs legend Harvey (Busher) Jackson, collapsed while being introduced. As other introductions honoring the top 25 players in franchise history continued, Leafs doctor Michael Clarfield was seen performing CPR on the team bench at ice level. Despite 10 minutes of effort, the 78–year–old Jackson could not be revived and he died later in hospital. The Toronto–Buffalo game ended in a 3–3 tie.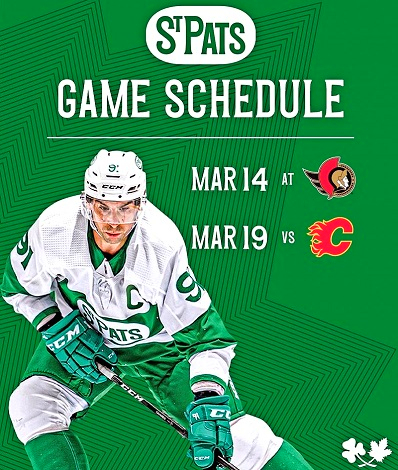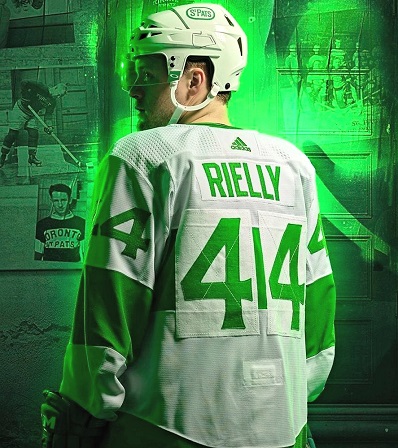 SPEAKING OF ODD UNIFORMS…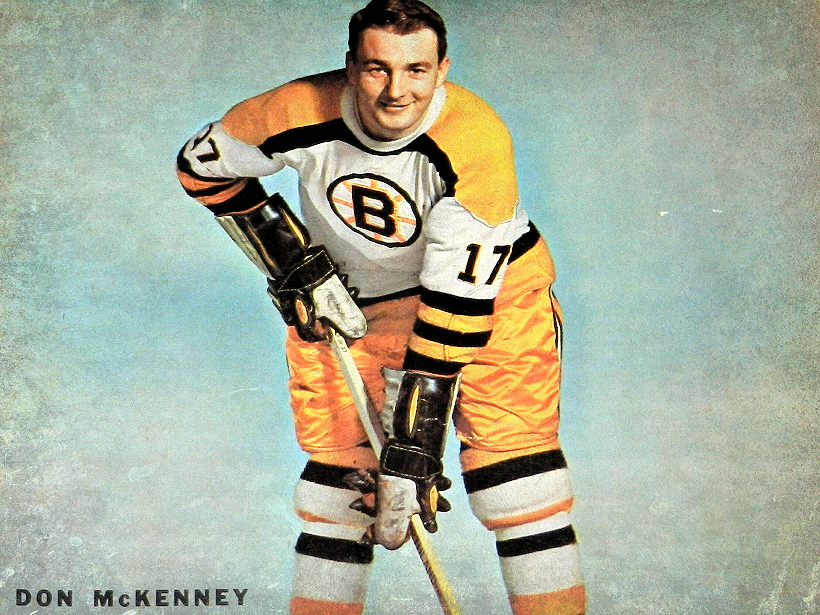 ON THE COVER OF THE DECEMBER 1960 ISSUE OF HOCKEY PICTORIAL MAGAZINE IS THIS PHOTO OF DON McKENNEY WEARING GOLD PANTS WITH HIS WHITE BOSTON BRUINS JERSEY. HAVE NOT SEEN SUCH A COMBO, BEFORE OR SINCE. DOES ANYONE KNOW IF THESE PANTS WERE USED IN GAMES?
WHERE THEY PLAYED — Part 2
A look at former arenas in the National Hockey League.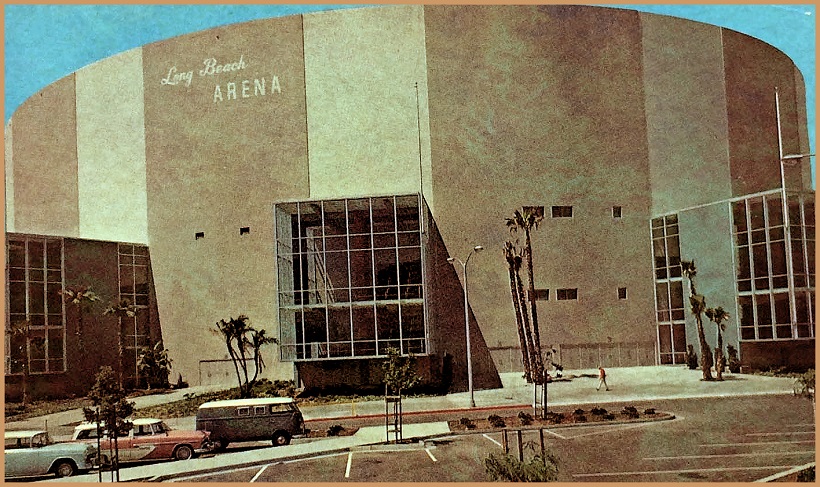 THE FIRST TWO GAMES IN LOS ANGELES KINGS HISTORY WERE PLAYED AT LONG BEACH ARENA (ABOVE) ON CONSECUTIVE NIGHTS — VICTORIES OVER PHILADELPHIA (OCT. 14, 1967) AND MINNESOTA (OCT. 15). LONG BEACH, 24 MILES SOUTH OF DOWNTOWN LOS ANGELES, HOSTED FOUR MORE KINGS GAMES IN DECEMBER 1967: AGAINST ST. LOUIS, PHILADELPHIA, MINNESOTA AND BOSTON.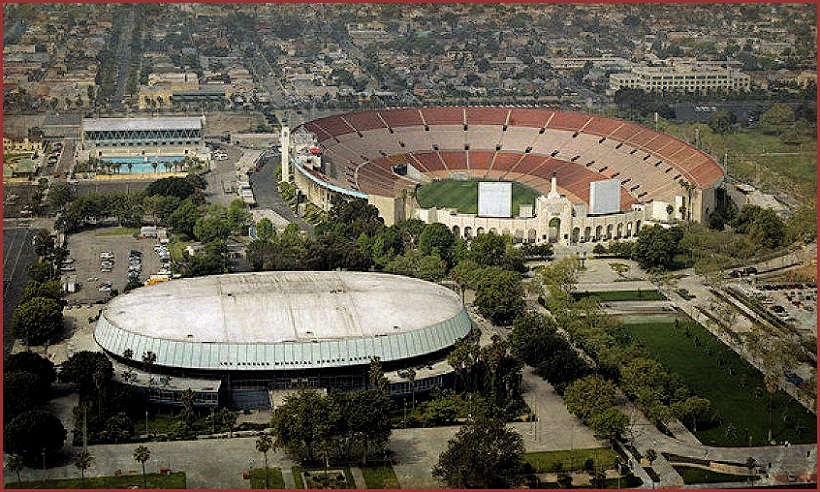 WHILE CONSTRUCTION OF THE FORUM WAS BEING COMPLETED, THE KINGS ALSO PLAYED EIGHT GAMES AT THE LOS ANGELES MEMORIAL SPORTS ARENA (BOTTOM–LEFT IN PHOTO, ABOVE, KITTY CORNER TO THE GIANT L.A. COLISEUM). INCLUDED, WERE THE FIRST KINGS HOME ENCOUNTERS AGAINST TORONTO (NOV. 9, 1967) AND MONTREAL (NOV. 19). THE LAST NHL MATCH AT THE SPORTS ARENA TOOK PLACE ON DEC. 24, 1967: A 5–3 WIN OVER PITTSBURGH. OPENED JULY 4, 1959, THE ARENA WAS DEMOLISHED IN SEPTEMBER 2016. IT HAD ALSO BEEN HOME TO THE LOS ANGELES SHARKS OF THE WORLD HOCKEY ASSOCIATION (1972–74) AND THE NBA's LOS ANGELES CLIPPERS (1984–99).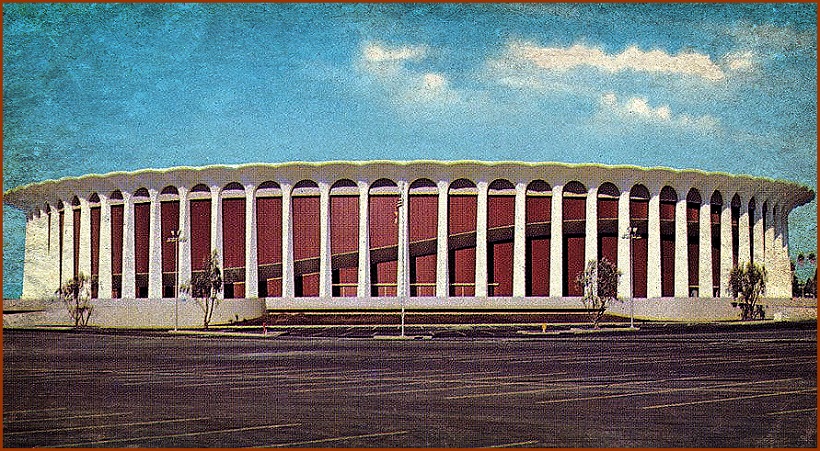 THE FORUM, BUILT IN SUBURBAN INGLEWOOD BY CANADIAN JACK KENT COOKE, OPENED ON DEC. 30, 1967 (ABOVE) WHEN THE PHILADELPHIA FLYERS BLANKED THE LOS ANGELES KINGS, 2–0. IT WAS RENOVATED (BELOW) IN 1988 UPON WAYNE GRETZKY'S ARRIVAL AND RENAMED THE GREAT WESTERN FORUM; THEN RESTORED TO ITS ORIGINAL EXTERIOR DESIGN (AND COLOR) IN 2014. THE INFAMOUS GRETZKY–DOUG GILMOUR–KERRY FRASER INCIDENT OCCURRED AT THE G–W FORUM ON MAY 27, 1993. IT WAS HOME TO THE KINGS AND NBA LOS ANGELES LAKERS THROUGH THE 1998–99 SEASON.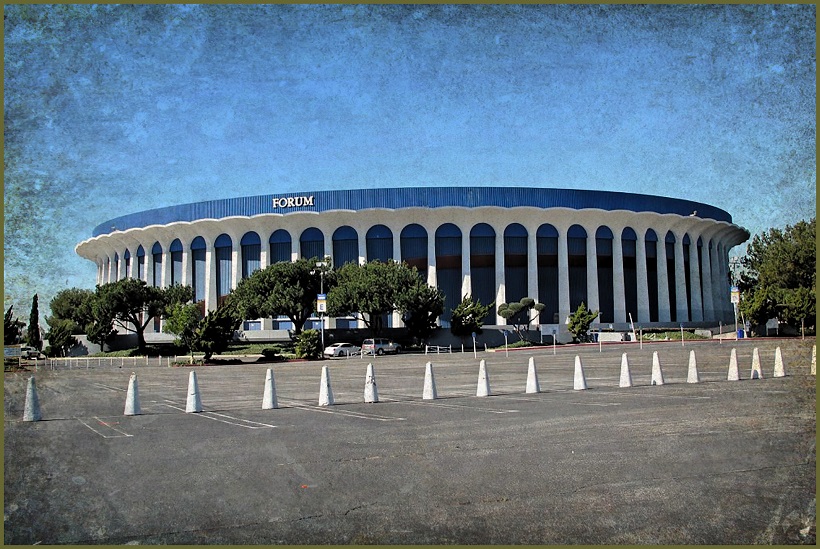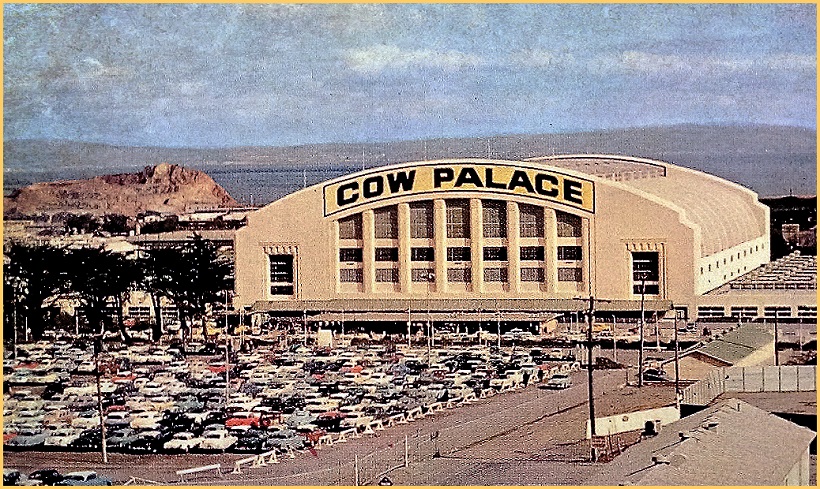 SITUATED IN DALY CITY, 9.4 MILES SOUTHWEST OF DOWNTOWN SAN FRANCISCO, THE COW PALACE HAD TWO NHL STINTS. THE OAKLAND SEALS, PART OF THE 1967 GREAT EXPANSION, PLAYED THREE GAMES IN 1968–69: NOV. 8 vs. NEW YORK; DEC. 22 vs. PHILADELPHIA AND FEB. 21 vs. ST. LOUIS. IT WAS THEN HOME TO THE SAN JOSE SHARKS IN THEIR FIRST TWO NHL SEASONS, 1991–92 AND 1992–93.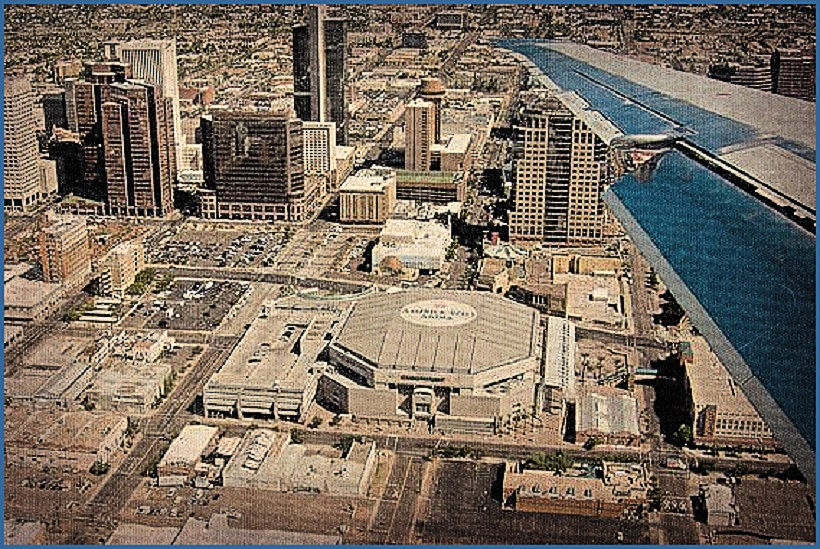 A JETLINER ON FINAL APPROACH TO PHOENIX SKY–HARBOUR AIRPORT PASSES OVER TOP AMERICA WEST ARENA, HOME OF THE PHOENIX (NOW ARIZONA) COYOTES FROM 1996–97 TO 2003–04.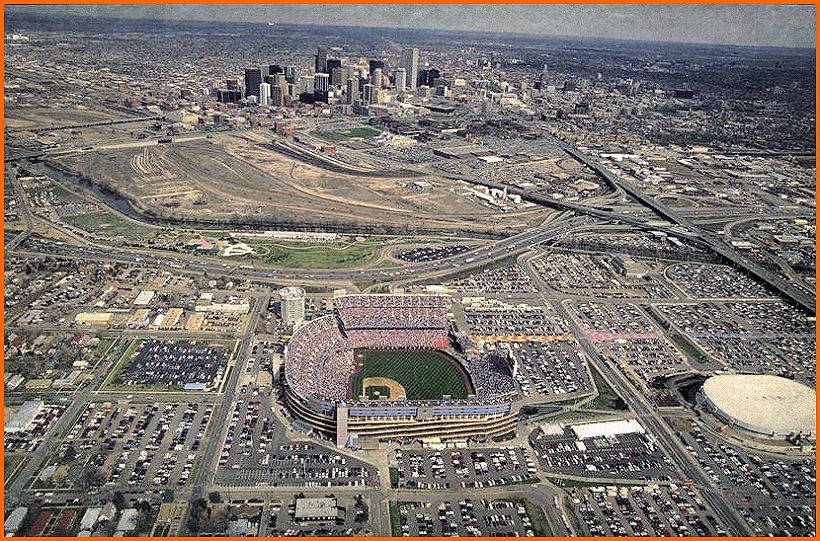 McNICHOLS ARENA IN DENVER, AS SEEN (FAR–RIGHT) DURING A BASEBALL GAME AT ADJACENT MILE HIGH STADIUM IN 1993, ALSO HOUSED TWO NHL TEAMS. THE KANSAS CITY SCOUTS MOVED WEST AS THE COLORADO ROCKIES FROM 1976–77 TO 1981–82 (INCLUDING DON CHERRY'S LONE SEASON AS COACH, 1979–80). IT WAS THEN HOME TO THE COLORADO AVALANCE FOR FOUR YEARS (1995–96 TO 1998–99) AFTER THAT CLUB'S RE–LOCATION FROM QUEBEC CITY. THE AVS MOVED TO THE PEPSI CENTER TO BEGIN THE 1999–2000 SCHEDULE. McNICHOLS ARENA WAS DEMOLISHED ON JAN. 24, 2000.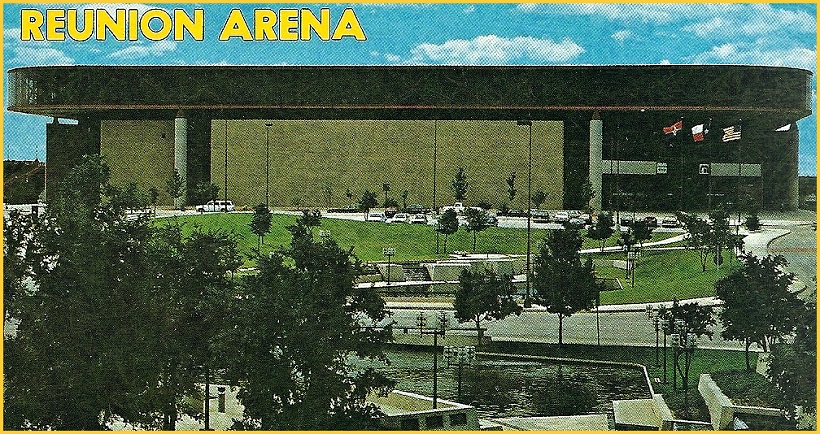 THE MINNESOTA NORTH STARS MOVED TO DALLAS IN 1993–94 AND CALLED REUNION ARENA HOME THROUGH THE 2000–01 SEASON. IT WAS LOCATED THREE BLOCKS SOUTH OF THE JOHN F. KENNEDY ASSASSINATION SITE. NEW JERSEY RAISED THE STANLEY CUP AT REUNION ARENA ON JUNE 10, 2000 WHEN JASON ARNOTT SCORED AT 8:20 OF DOUBLE–OVERTIME IN GAME 6. HE BEAT HALL–OF–FAME GOALIE ED BELFOUR ON A CLEAR BREAKAWAY. THE STRUCTURE WAS DEMOLISHED ON NOV. 17, 2009.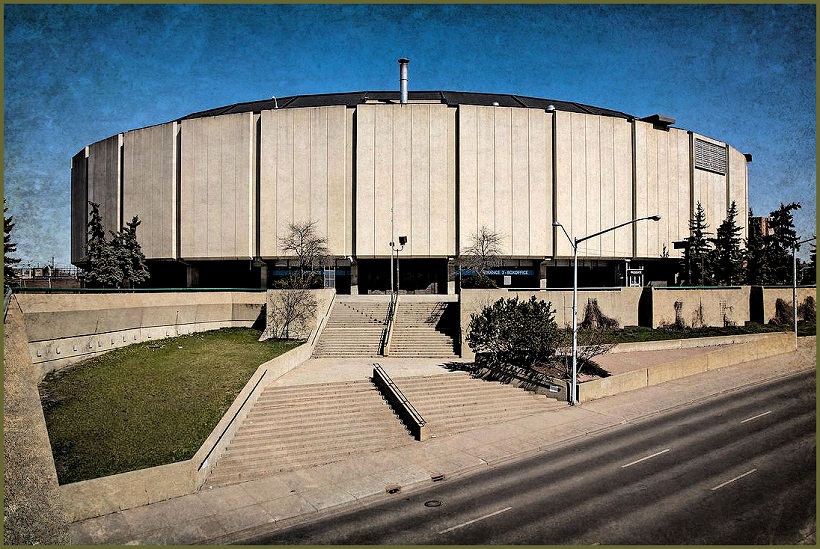 NORTHLANDS COLISEUM WAS SIMPLY THE HOUSE OF CHAMPIONS WHEN THE EDMONTON OILERS WON FIVE STANLEY CUP TITLES IN SEVEN YEARS (1984–85–87–88–90). WAYNE GRETZKY WAS A PART OF THE FIRST FOUR PRIOR TO HIS TRADE TO LOS ANGELES. THE OILERS RAISED THE CUP AT THE COLISEUM EACH TIME; MARK MESSIER DID THE HONORS AT BOSTON GARDEN IN '90. IT WAS NHL HOME TO THE CLUB FROM 1979–80 TIL 2015–16. THE OILERS THEN MOVED TO ROGERS PLACE.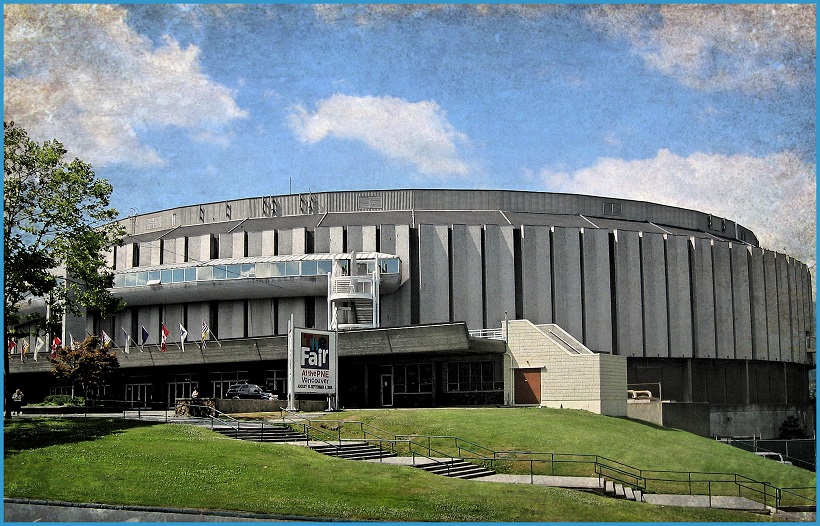 THE PACIFIC COLISEUM HOUSED THE VANCOUVER CANUCKS FROM THEIR NHL INCEPTION IN 1970–71 THROUGH THE LOCKOUT–SHORTENED SEASON OF JANUARY TO MAY 1995. THE CANUCKS THEN MOVED INTO GENERAL MOTORS PLACE (NOW ROGERS ARENA). IT IS LOCATED ON THE GROUNDS OF THE PACIFIC NATIONAL EXHIBITION. TWO STANLEY CUP FINALS WERE PLAYED AT THE COLISEUM — THE CANUCKS LOSING TO THE NEW YORK ISLANDERS IN 1982 AND THE RANGERS IN 1994. UNTIL 1993, IT STOOD ADJACENT TO EMPIRE STADIUM, HOME (FROM 1954–82) OF THE B.C. LIONS FOOTBALL TEAM.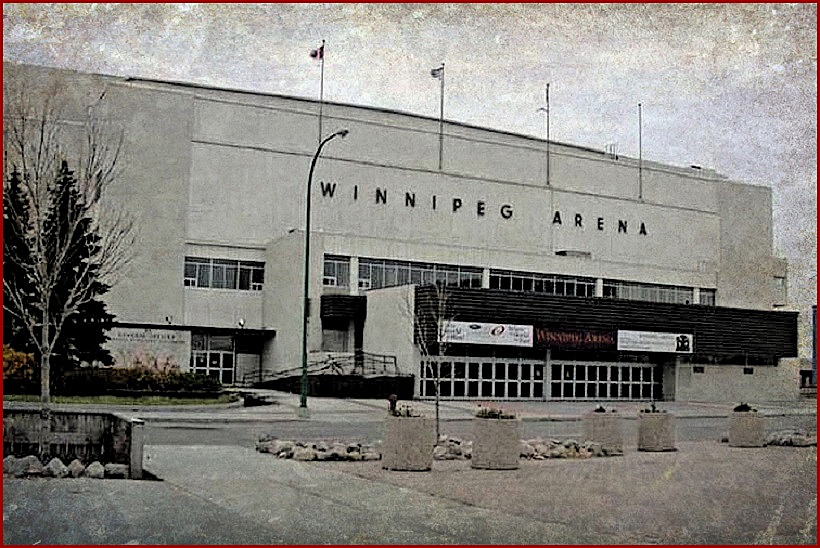 WINNIPEG ARENA IS MOST–FONDLY REMEMBERED FOR HOSTING GAME 3 OF THE 1972 CANADA–RUSSIA SERIES; THEN BOBBY HULL AND THE WINNIPEG JETS OF THE WHA FROM 1972–79. IN THE NHL YEARS (1979–96), THE LATE DALE HAWERCHUK WAS THE JETS' MOST–NOTABLE AND PROLIFIC PLAYER. THE CLUB RE–LOCATED TO PHOENIX FOR 1996–97 AND THE ARENA — SITUATED ACROSS FROM THE OLD WINNIPEG STADIUM — FELL TO THE WRECKER'S BALL ON MAR. 26, 2006. WINNIPEG RECLAIMED AN NHL TEAM WHEN THE ATLANTA THRASHERS MOVED NORTH FOR THE 2011–12 SEASON.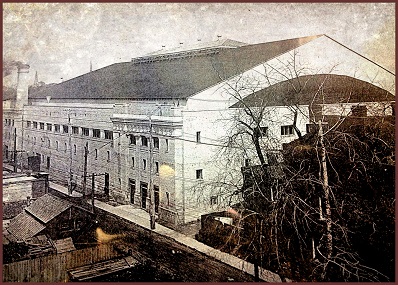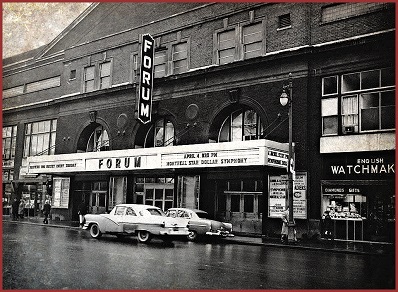 OLDIES BUT GOODIES: THE TORONTO MAPLE LEAFS PLAYED THEIR EARLY YEARS (1926–31) AT MUTUAL STREET ARENA (TOP–LEFT) BEFORE MOVING INTO MAPLE LEAF GARDENS. AND, THE MONTREAL FORUM (TOP–RIGHT) APPEARED AS SUCH FROM 1924–68, WHEN IT UNDERWENT A MASSIVE FACELIFT. THE NEW YORK RANGERS PLAYED AT THE OLD MADISON SQUARE GARDEN (BOTTOM–LEFT), LOCATED ON EIGHTH AVE. BETWEEN 49th AND 50th STREETS, FROM 1926–68, WHEREUPON THEY MOVED INTO THE CURRENT GARDEN ABOVE PENN STATION. AND, THE COLISEE IN QUEBEC CITY (BOTTOM–RIGHT) WAS HOME TO THE QUEBEC NORDIQUES IN THE NHL FROM 1979–80 TO 1994–95. THE FRANCHISE THEN MOVED TO DENVER AS THE COLORADO AVALANCHE; TRADED FOR PATRICK ROY, AND WON THE STANLEY CUP IN ITS FIRST YEAR.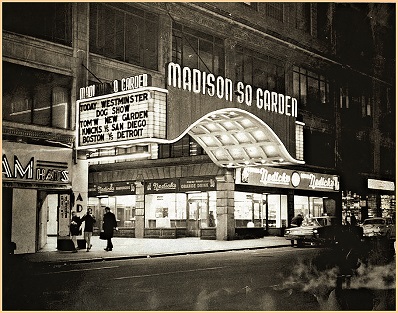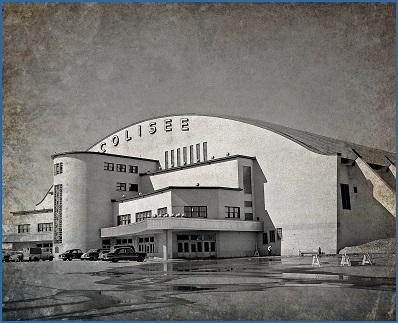 EMAIL: HOWARDLBERGER@GMAIL.COM