TORONTO (Jan. 24) — Among the heroes of my youth; the hockey players that took me from black–and–white to color TV on Saturdays and Wednesdays in the latter half of the 1960's, I came to know and love two of the most revered: Johnny Bower and George Armstrong. The goalie and the captain. Best pals and Stanley Cup collaborators with the Toronto Maple Leafs. Now — sadly, but inevitably — reunited for all time.
Bower died on Dec. 26, 2017, less than two months after his 93rd birthday.
Armstrong joined him on Sunday, in his 91st year.
It's difficult to quarrel over the goalie and the captain being the two most–beloved figures, among many, in Toronto franchise history. "Dad and Johnny were inseparable during their time with the Leafs," agreed Fred Armstrong, the third of four children born to George and wife, Betty. "They were roommates on the road during the Stanley Cup dynasty of the 1960's. And, their great friendship continued to the day Johnny passed." The Chief is survived by his bride of nearly 67 years, along with Fred, Brian, Betty–Ann and Lorne.
"It was on Jan. 2 and Dad wasn't feeling well," explained Fred on Sunday night. "For three or four days, he didn't want to get out of bed. Not even to go visit my mom in her retirement facility… which he did for three hours every day. Around noon, I went up and encouraged him to come down to the kitchen for a coffee. He wasn't interested. I tried again at 1 and 2 p.m. Still nothing. That's when I knew something was definitely wrong. I apologized to Dad but said that I needed to call 9–1–1. Within 30 seconds, I could hear sirens blaring toward our street. A fireman got out and said 'I knew George Armstrong lived somewhere around here; I've been working the area for 30 years.' They took Dad to the hospital. And, he never came home."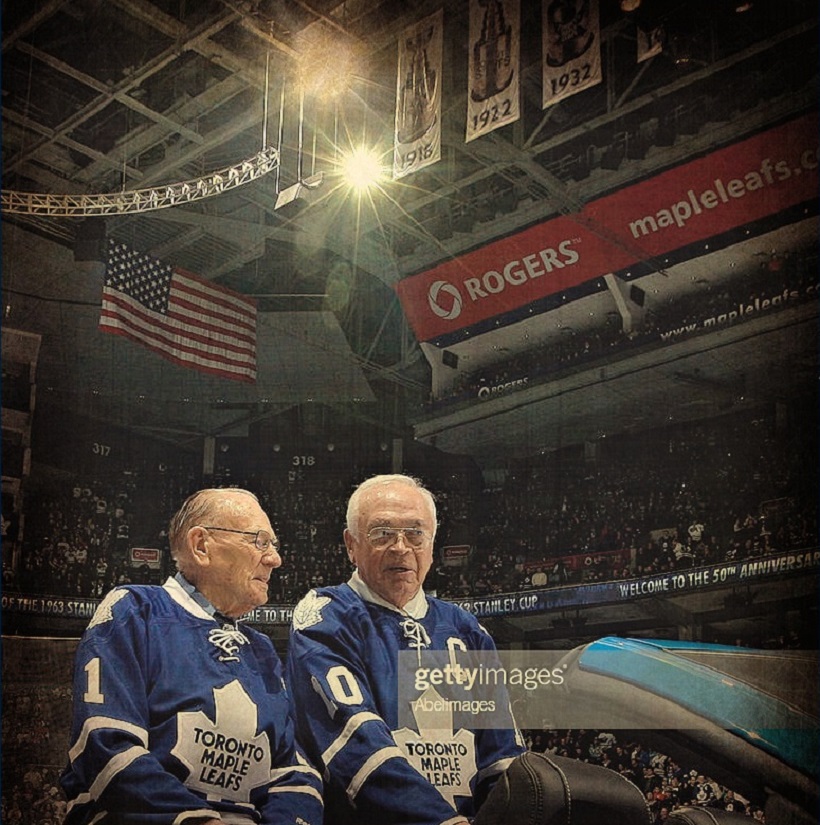 GRAIG ABEL'S WONDERFUL PHOTO OF JOHNNY BOWER (LEFT) AND GEORGE ARMSTRONG RIDING IN A CONVERTIBLE AT THE AIR CANADA CENTRE ON FEB. 16, 2013, AS THE 1963 STANLEY CUP CHAMPIONS WERE FETED IN A CEREMONY. THE GOALIE AND CAPTAIN ARE NOW TOGETHER FOR ETERNITY.
George died of heart and lung complications early Sunday morning. "We got the call around 1 a.m.," Fred noted. "It was hard, but came as no surprise. Dad had been steadily declining since the day he entered hospital. There was one occasion where he seemed to rally and we asked if he wanted to go for re–hab. But, he no longer had the physical or emotional energy. He knew his time was up. And though we're obviously sad today, none of us can complain. Dad enjoyed more than 90 healthy years. He was never sick until the end. Which is something else he shared with Johnny Bower. We've had so many messages and phone calls. Dave Keon kept in touch with us through Dad's illness. I spoke to Dick Duff and Wendel Clark, who Dad absolutely loved. Even Borje Salming called (from Sweden) and started to cry. Which was so touching. I would say the Leaf teammates closest to Dad, after Johnny, were Davey (Keon), Pully (Bob Pulford) and Eddie (Shack, who pre–deceased Armstrong last summer). I know Dad really missed Eddie in his last months."
But, Armstrong and Bower shared a bond unlike any on the four–time champions under Punch Imlach in the 60's. Armstrong nicknamed Bower "Cooz" and always laughed out loud when someone else referred to the goalie by that moniker. During their years rooming together on road trips, Armstrong played the prankster; Bower, the good–natured foil. Most famous is the story of Armstrong switching Bower's dentures one day after practice at Maple Leaf Gardens. The Chief had somehow obtained the false teeth of a cadaver and they swam around in Bower's mouth. As the goalie made swishing noises and tried to properly "fit" the dentures, his teammates turned blue from holding in laughter. Armstrong finally broke the news to Bower, who spit the teeth onto the floor in a panic. Needless to say, the Leaf players let loose with uncontrolled hysteria.
In Armstrong's final National Hockey League season, the 1970–71 Maple Leafs were enjoying a steam–bath one day at the Gardens. Darryl Sittler, a rookie that year, tells the story of Armstrong opening the sauna door and looking for a place to sit. Which induced a round of griping from those crowded into the tiny space. Armstrong quickly realized the sauna was filled to capacity. Whereupon he proceeded to urinate on the coals; the subsequent "mist" sending his younger Leaf 'mates scrambling for fresh air. "There was plenty of fu–ing room in the sauna after that!" the Chief crowed when reminded, years later, of the incident.
Of Armstrong's children, only Brian enjoyed the proverbial five minutes of fame. Moments after the Leafs eliminated Montreal to win the 1967 Stanley Cup, Brian, then 13, appeared on the ice at Maple Leaf Gardens to help his father receive the trophy from NHL president Clarence Campbell. "In the final minutes, the Leafs were leading, 2–1, and my grandpa, Fred, took me down through the seats to the alley between the benches," Brian, now 66, recalled Sunday night. "As we were approaching, the crowd erupted into an incredible roar, reacting to Dad's empty net goal that clinched the victory. Though I've seen the goal a thousand times on video and film, I missed it happening live. I was standing at the bench when Grandpa suddenly began pushing me onto the ice. Dad saw what was happening and told me to come over… though hesitantly. He was captain of the Leafs and didn't want to take advantage of it. But, I held the Cup with him after Mr. Campbell made the presentation. And, he quickly waved for the rest of the players to join us."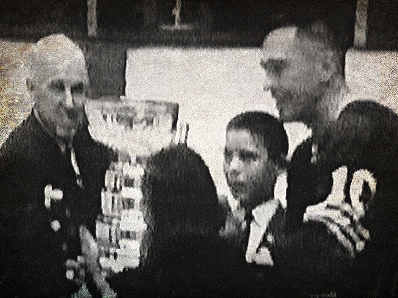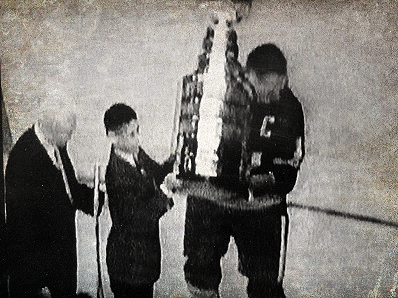 FROM THE TELECAST OF THE STANLEY CUP PRESENTATION ON MAY 2, 1967, 13–YEAR–OLD BRIAN ARMSTRONG RECEIVES THE TROPHY WITH HIS FATHER FROM NHL PRESIDENT CLARENCE CAMPBELL.
Among the 27 people in the Leafs 1967 Stanley Cup photo, 17 have passed away, including players Terry Sawchuk, Tim Horton, Allan Stanley, Marcel Pronovost, Red Kelly, Milan Marcetta, Autrey Erickson, Bower, Shack and Armstrong. Still alive are Bob Pulford, Bob Baun, Frank Mahovlich, Larry Hillman, Dave Keon, Ron Ellis, Peter Stemkowski, Larry Jeffrey, Mike Walton, Brian Conacher and Jim Pappin. The entire ownership and management group is long gone, including Imlach, John Bassett, Stafford Smythe, Harold Ballard and King Clancy. As are trainers Bobby Haggert and Tommy Nayler. Time marches on. Unimpeded.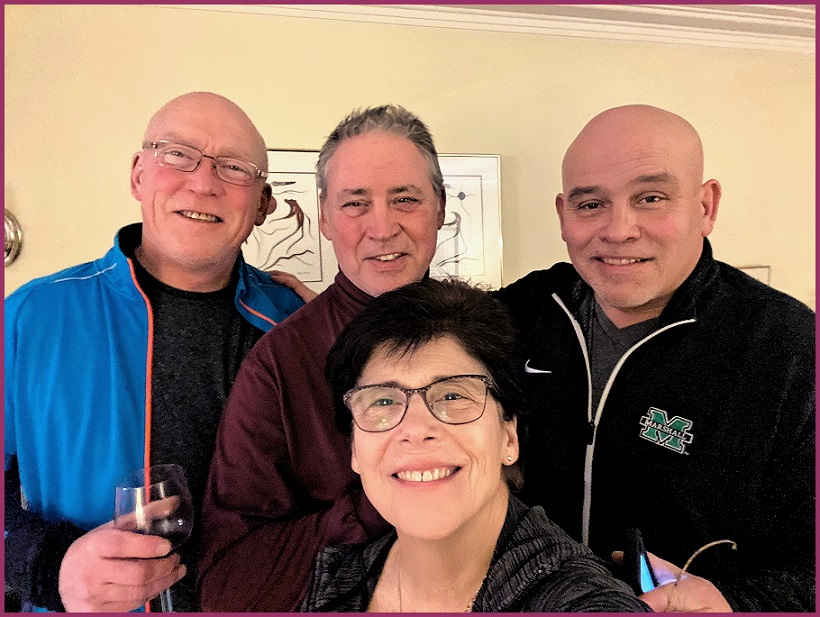 SMILING THROUGH THEIR GRIEF. TOASTING THE CHIEF. GEORGE ARMSTRONG'S CHILDREN, SUNDAY NIGHT. BACK ROW, LEFT–TO–RIGHT: FRED, BRIAN, LORNE. IN FRONT: BETTY–ANN. YOU WON'T MEET A NICER FAMILY. A PRIVATE FUNERAL FOR THEIR FATHER WILL BE HELD LATER THIS WEEK.
EMAIL: HOWARDLBERGER@GMAIL.COM