TORONTO (Jan. 16) — There are three elements of the abbreviated, 56–game season that will continuously stand out in the National Hockey League between tonight and May 8: 1) each game is just a bit more significant than during a typical, 82–game schedule; 2) competing exclusively within the division, every game won or lost in regulation time is a "four–pointer";  3) as never in recent annals, responding will be of utmost significance. This is the result of double and triple–headers liberally built into the schedule to reduce travel during the COVID–19 pandemic. After a terrible performance last night in Ottawa, the Toronto Maple Leafs will encounter their first "response" tonight in the back–end of the doubleheader at Canadian Tire Centre.
That every Toronto shift is increasingly scrutinized in our overkill universe, a premature level of anxiety has settled over Leafs Nation. The club, defensively challenged for as long as most can remember, yielded nine goals while splitting its first two games. Though hardly on an island, Frederik Andersen has been a bit shaky between the pipes (Andersen is a slow starter and a terrible finisher; otherwise, he's fine). And… the Maple Leaf millionaires are again pirouetting from the nasty portions of the rink, rather than engaging physically. It's like watching The Wizard of Oz. Or, reruns of The Honeymooners. You know exactly what's about to unfold before the next scene begins. That's why it is profoundly important that the Maple Leafs push back against Ottawa tonight and split the weekend clash. Newcomer Wayne Simmonds proved to be a sore–ass loser in the waning seconds of last night's 5–3 setback, angrily chirping with Austin Watson between the benches. The incumbent Leafs need to adopt a similar aversion to defeat. It is long overdue.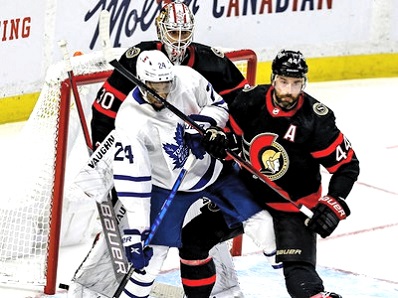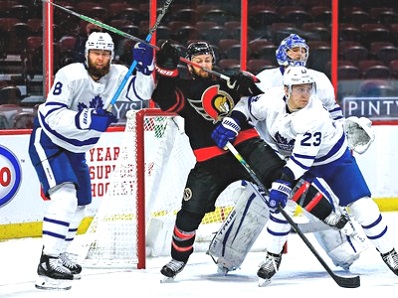 THE MAPLE LEAFS WERE OVERMATCHED, PHYSICALLY, ON FRIDAY NIGHT IN OTTAWA. NOT A GOOD SIGN FOR THE CLUB FAVORED TO WIN THE ALL–CANADIAN NORTH DIVISION. GETTY IMAGES/NHL
Most–alarming for the Blue and White was the No. 1 defense tandem of Morgan Rielly (minus–4) and T.J. Brodie (minus–3). True, one game is a tiny sample–size, but the Leafs — absolutely and unequivocally — require elite performance from their most–gifted blue–liner and his newly acquired partner. Critics of Brodie claimed he coughed up the puck too frequently in Calgary when threatened with physical assault. This materialized more than once in the loss to Ottawa. And, it cannot become a pattern. As mentioned on too many occasions, the Maple Leafs have to combine a modicum of tenacity with their skill and flair. They cannot dump that entire chore on Simmonds, expecting that a timely scrap (as on Wednesday against Montreal) will spark the club. If the Big 4 up front capitulate when challenged, or refuse to enter the unpleasant regions of the ice, there will be more–such results as Friday. This is hardly a bulletin. But, a no–show in the second game of the season is red–flag worthy. The Leafs need an effective reversal tonight.
SATURDAY MUSINGS: Big kudos to Rick Jeanneret for marking 50 years as play calling voice of the Buffalo Sabres. The native of St. Catharines, Ont., now 78, began in the 1971–72 season as back up to original Sabres' voice Ted Darling. When Darling called games on WKBW–TV Channel 7, Jeanneret filled for him on WGR–550 Radio. With his unique, multi–pitched style of broadcasting, Rick became an icon in Buffalo and western New York state. He is best–remembered for calling an overtime goal by Rene Robert that ended Game 3 of the 1975 Stanley Cup final against Philadelphia at the old Memorial Auditorium — the image of fog rising from the ice immortalized on film as Robert beat Hall–of–Fame goalie Bernie Parent. Rick's excitable call of Danny Gare's 50th goal (against Toronto) on Apr. 4, 1976, final night of the 1975–76 season, is also a broadcasting jewel. But, nothing in Jeanneret's career is likely to surpass the acclaim of his "May Day!!…May Day!!…May Day!!" eruption on Apr. 24, 1993, at the Auditorium, after Brad May's goal at 4:48 of overtime (on Andy Moog) capped a four–game sweep of Boston in the opening round of the Stanley Cup playoffs (and a three–goal comeback in that encounter). Rick is a cancer survivor, having been diagnosed with Stage 3 disease in his throat on July 1, 2014. On Nov. 7 of that year, a CAT–scan showed that Jeanneret was cancer–free. He had been inducted into the media wing of the Hockey Hall of Fame on Nov. 12, 2012…

HALL–OF–FAME BROADCASTER RICK JEANNERET, NOW IN YEAR 50 WITH THE BUFFALO SABRES.
Not too many miles behind Jeanneret is the voice of the Maple Leafs, Joe Bowen, now into his 40th year behind the microphone. The originator of hockey broadcasting, Foster Hewitt, called games for a record 53 years, beginning with the Toronto St. Pats in 1923. His final radio game was a 7–1 Leafs romp over the Atlanta Flames, at Maple Leaf Gardens, on Feb. 23, 1976… For 24 years, Dave Randorf did excellent work at TSN and Sportsnet, most–recently calling games for the Canadian NHL rights–holder. Nine days ago, Randorf, 53, became TV voice of the Tampa Bay Lightning, replacing Rick Peckham, who retired after a quarter–century of service. Another good one moves south of the border… Happy 83rd birthday, today, to the man that taught me how to skate: Lou Angotti, first captain of the Philadelphia Flyers (in 1967–68). Angotti ran the College Hockey School in East Toronto, which I attended in the summers of 1972 and 1973. Helping Lou were former NHLers Bob Nevin, Tim Ecclestone and Tony Featherstone. Angotti also played with New York, Chicago (twice), Pittsburgh and St. Louis… My gut tells me the Buffalo Bills can beat the Kansas City Chiefs, but may not be able to overcome the Baltimore Ravens, their opponent tonight in the American Football Conference Divisional playoff round. Bills quarterback Josh Allen, an MVP candidate, will encounter quite a challenge with the Baltimore defense, which allowed the fewest points (303) in the National Football League this season. Last week, the Bills upended the original Baltimore NFL team, now the Indianapolis Colts… After tonight, the Leafs play ten consecutive games against West opponents, beginning with a single match against Winnipeg on Monday night at Scotiabank Arena — though the Jets, today, canceled practice "out of an abundance of caution due to potential exposure of COVID-19". How, or if, that impacts Monday's game remains to be seen. Then, for Toronto, comes a home doubleheader against Edmonton (Wednesday and Friday); a double–dip in Calgary (Jan. 24 / 26); two games in Edmonton (Jan. 28 / 30) and a tripleheader in Vancouver (Feb. 4–6–8). Yes, this is quite the unique NHL season.
VINTAGE HOCKEY PORTRAITS
Many from Graphic Artists in the 1960's. All with a touch of photo–shopping.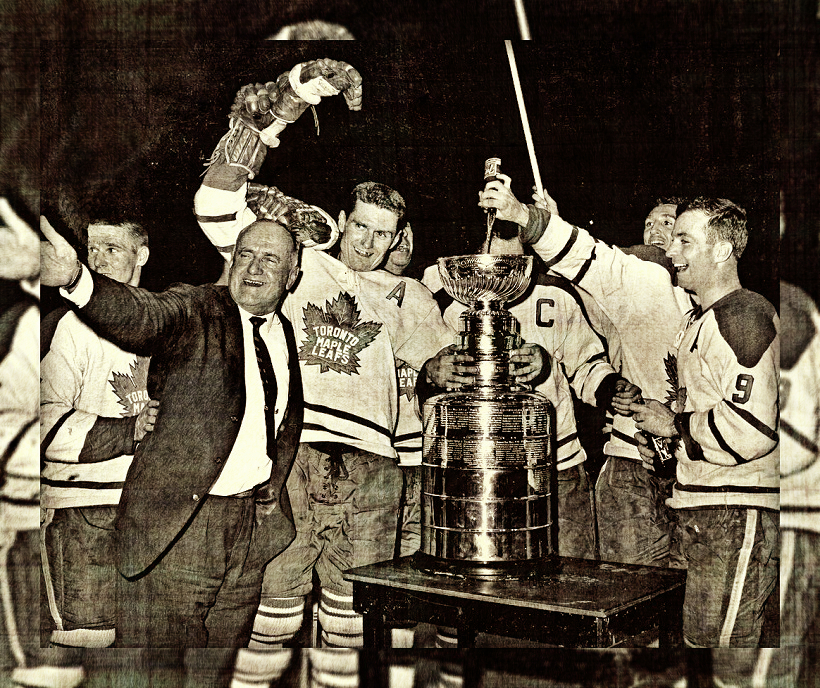 APR. 22, 1962 AT CHICAGO STADIUM. GAME 6 OF THE STANLEY CUP FINAL. THE MAPLE LEAFS CELEBRATE THEIR FIRST OF THREE CONSECUTIVE CHAMPIONSHIPS. ALLAN STANLEY'S FATHER JOINS HIS SON (WEARING THE 'A') ON THE ICE. TIM HORTON IS AT FAR–LEFT; DICK DUFF (9), WHO SCORED THE WINNING GOAL (14:14 OF THE THIRD PERIOD), AT FAR–RIGHT.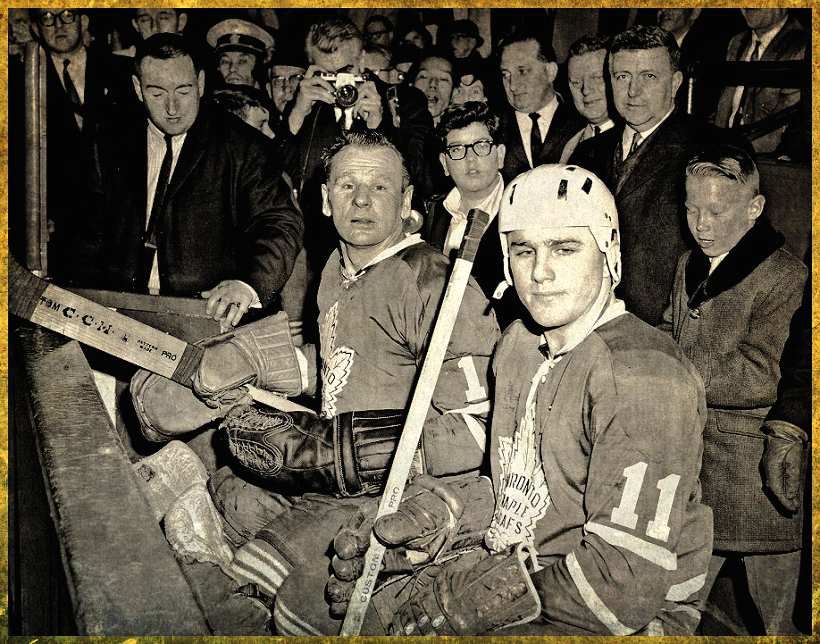 LEAFS ROOKIE RON ELLIS (11) SITS NEXT TO JOHNNY BOWER ON THE BENCH AT MAPLE LEAF GARDENS DURING THE 1964–65 NHL SEASON, WAITING TO BE ANNOUNCED AMONG THE THREE STARS OF THAT NIGHT'S GAME.

THE HABS AND BRUINS BATTLE IN 1966–67 AT BOSTON GARDEN. PLAYERS, LEFT–TO–RIGHT, ARE LEON ROCHEFORT (23), JOHN BUCYK (9), GILLES MAROTTE (10), J.C. TREMBLAY (3), GUMP WORSLEY (30), BOBBY ORR (4) AND CLAUDE LAROSE (11).

PRIOR TO THE 1969–70 SEASON, MAPLE LEAFS TRAINER JOE SGRO AFFIXES THE CAPTAIN'S 'C' TO DAVE KEON'S JERSEY.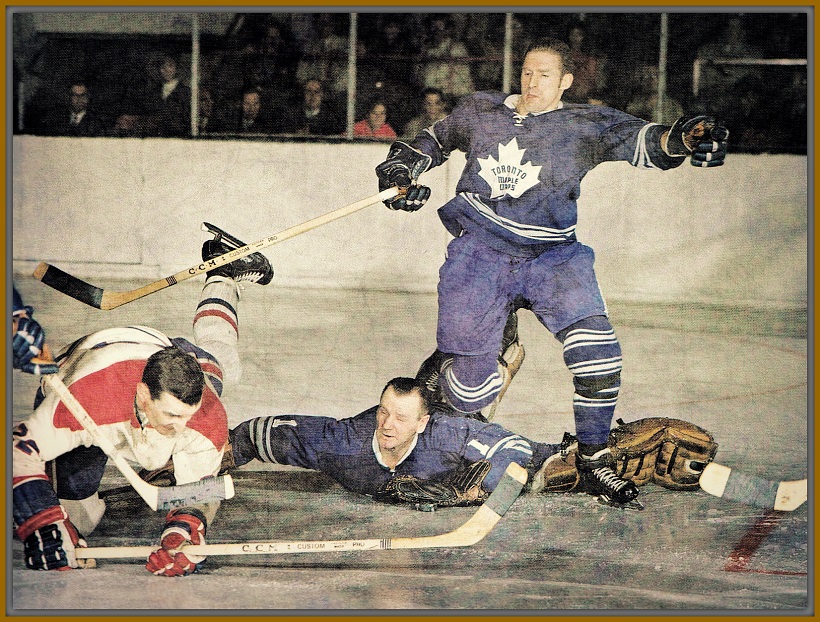 NOV. 1, 1967 AT MAPLE LEAF GARDENS: DEFENSEMAN LARRY HILLMAN STUMBLES OVER TEAMMATE JOHNNY BOWER WHILE JOHN FERGUSON OF MONTREAL LOOKS FOR THE PUCK. BOWER AND THE LEAFS BLANKED THE HABS, 5–0.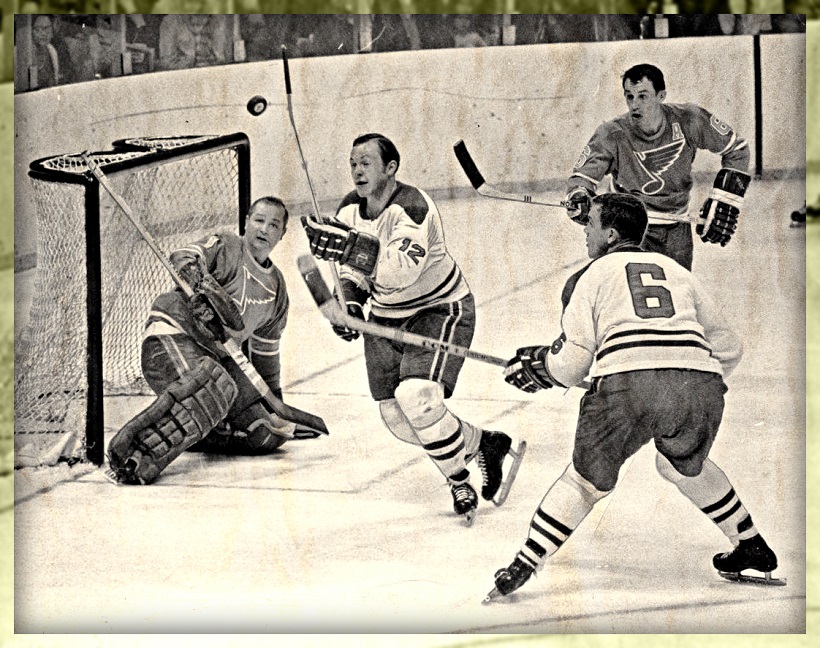 THE FIRST STANLEY CUP FINAL OF THE EXPANSION ERA. MONTREAL AT ST. LOUIS, 1968. VETERAN BLUES GOALIE GLENN HALL AND DEFENSEMAN JIM ROBERTS (6) WATCH FLIGHT OF THE PUCK WHILE YVAN COURNOYER (12) AND RALPH BACKSTROM (6) CLOSE IN FOR THE CANADIENS. MONTREAL SWEPT ST. LOUIS IN FOUR CLOSE GAMES.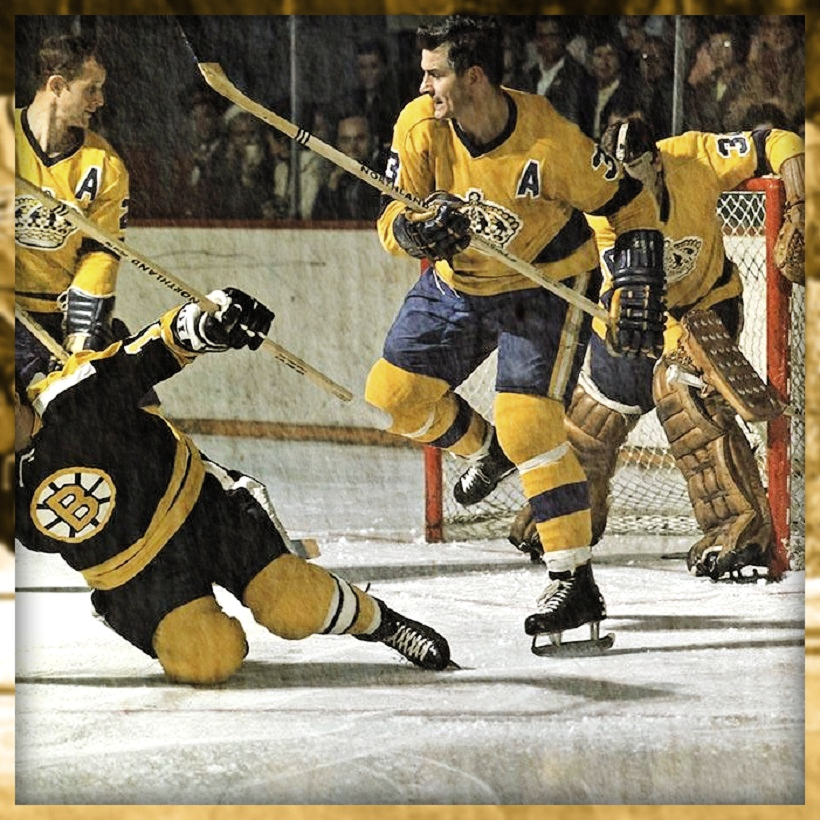 LOS ANGELES AT BOSTON IN 1968–69. ALTERNATE CAPTAINS BOB WALL (LEFT) AND LARRY CAHAN (3) OF THE KINGS DEFEND IN FRONT OF ROOKIE GOALIE GERRY DESJARDINS. L.A. WORE GOLD UNIFORMS ON THE ROAD.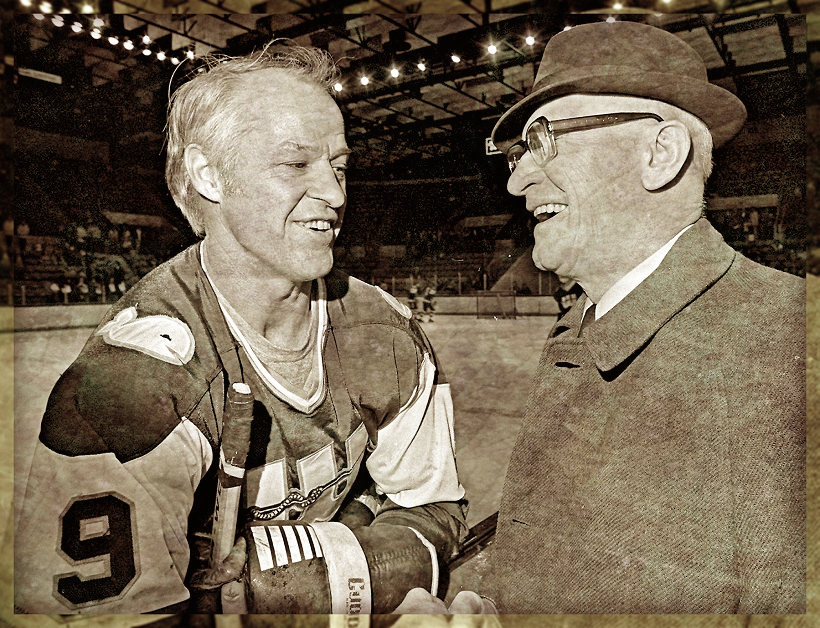 IN 1978, TWO OF HOCKEY'S MOST–LEGENDARY FIGURES CATCH UP AT THE SPRINGFIELD CIVIC CENTER: GORDIE HOWE (LEFT). WHILE PLAYING FOR THE NEW ENGLAND WHALERS OF THE WORLD HOCKEY ASSOCIATION, AND BOSTON BRUINS LEGEND EDDIE SHORE, THEN 76. SHORE WOULD DIE IN MARCH 1985; HOWE IN JUNE 2016.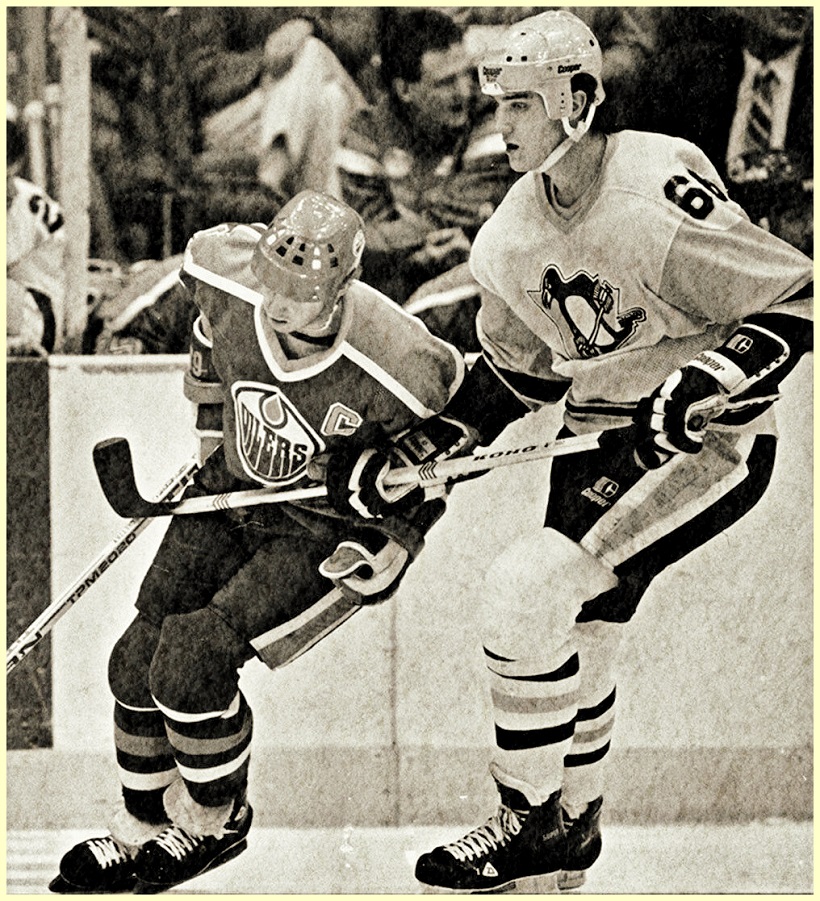 "WHERE YOU GOING?" THAT'S WHAT ROOKIE MARIO LEMIEUX APPEARS TO BE ASKING WAYNE GRETZKY IN THEIR FIRST–EVER CLASH — NOV. 6, 1984 AT THE PITTSBURGH CIVIC ARENA. IN REGULAR SEASON AND PLAYOFFS, Nos. 99 AND 66 WOULD COMBINE FOR 5,134 POINTS. THIS GAME ENDED IN A 3–3 DRAW; GRETZKY SCORING AT 16:03 OF THE THIRD PERIOD.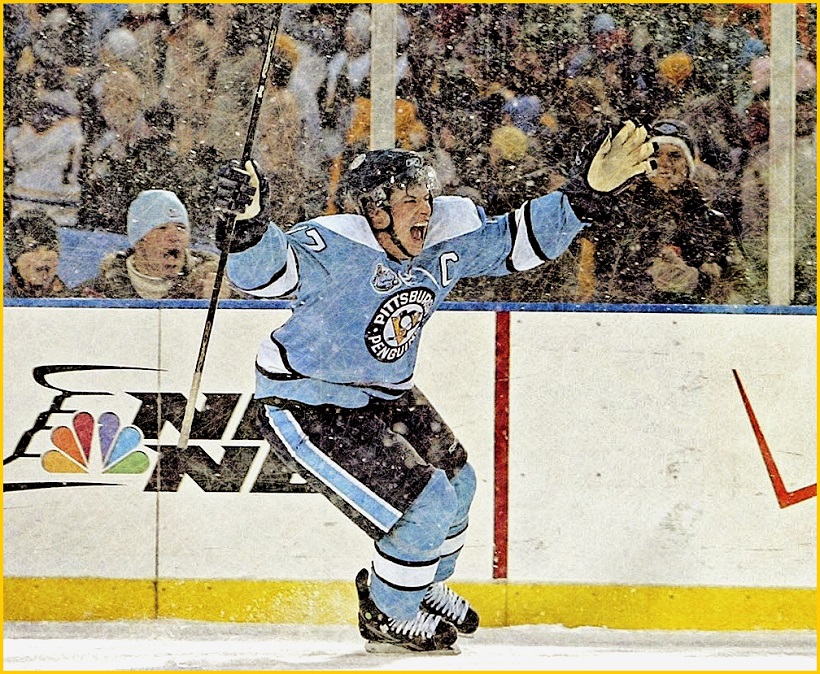 HARD TO FATHOM IT'S BEEN MORE THAN 13 YEARS SINCE THE FIRST NEW YEAR'S DAY OUTDOOR GAME IN THE NHL. BUT, JAN. 1, 2008 WAS THE DATE THAT SIDNEY CROSBY UPENDED THE BUFFALO SABRES IN THE SNOW AT RALPH WILSON STADIUM DURING A SHOOTOUT IN THE INAUGURAL BRIDGESTONE WINTER CLASSIC.
EMAIL: HOWARDLBERGER@GMAIL.COM