TORONTO (Feb. 9) — After Bell Canada carved its media division by randomly firing more than 200 people last week, I restrained from drawing the hypocritic parallel between the company's "Let's Talk" initiative and its immolation of employees. But, no more. This massive conglomerate, which shares in 37.5 percent of profit generated by the Toronto Maple Leafs and Toronto Raptors, is a raging cauldron of deceit and duplicity. This was proven, forever more, when TSN Radio stations in Hamilton, Winnipeg and Vancouver were obliterated earlier today. Last week's debacle, it turns out, was a mere warm–up to the main event.
Who knows what comes next?
If you work for TSN here in Toronto, on TV or radio, will you sleep soundly? Perhaps the tall foreheads that line their pockets with every cataclysm have assured you the carnage is over. Which may be the deepest, most–passionate kiss of death in the history of sports broadcasting. Keep that nest egg safely in the bank.

AMONG THOSE SACRIFIED BY BELL MEDIA IN VANCOUVER TODAY: MATT SEKERES AND BLAKE PRICE.
At least Bell's rival, Rogers Communications, has never pretended to care about people.
The sports figures sacrificed by that behemoth in the past two years could fill the wing of any media Hall of Fame. The company nearly destroyed its media division by agreeing, in 2013, to pay the National Hockey League $5.2 billion over 12 years for exclusive TV rights, thereby purchasing its route to No. 1 in the ratings battle. Those that consummated the absurd deal quickly scattered like frightened sheep. The executioners left behind in the ivory tower at Bloor St. and Mount Pleasant Rd. soon began to "fix" the problem by disemboweling its hockey department of every prime figure other than Ron MacLean, Elliotte Friedman and Jeff Marek. As a one–time Rogers employee — or, more precisely, an employee number — I can assure you the company expressed no moral equivocation, in 2010 and 2011, while draining people left, right and center.
Bell, on the other hand, positioned itself as a friend and advocate to all Canadians that encounter emotional malaise. The annual "Let's Talk" Day was an ingenious, laudable enterprise in which I happily participated.
Two weeks later, it comes across as the biggest blob of equine excrement that one could possibly imagine.
I am nauseated by the dry gulch that immobilized so many close friends (and others) across the country today. Matt Sekeres, Jeff Paterson, Blake Price, Rick Dhaliwal in Vancouver. My old FAN–590 colleague, Rick Ralph, in Winnipeg. And, so many more. My heart bleeds for them. As mournfully mentioned last week — been there; done that. The executive warlords in radio understand only one method: to ambush; to secretly and premeditatively chart the demise of hundreds beneath them. You wake up in the morning and come to work, happily, yet unwittingly. The administrative reptiles descend from all sides… in sorrowful pretense.
Thanks, so genuinely, for your service. Have a good life. Don't let the door whack you on the way out.
It's a revolting, barbaric exercise. Which Bell and Rogers have savagely perfected.
BURKE HAPPY NOW: More than 16½ years after the Pittsburgh Penguins "won a goddamn lottery", Brian Burke has joined the lodge. Ever since the Penguins prevailed over Anaheim in the 50/50 odds for the No. 1 draft choice following the lost season of 2004–05, Burke has loudly lamented having to settle for Bobby Ryan as runner–up. Though the Ducks, after Burke so–adroitly added Scott Niedermayer and Chris Pronger, won the 2007 Stanley Cup, the Penguins, with No. 1 gem Sidney Crosby, have thrice been atop the hockey world: 2009, 2016 and 2017 (losing to Detroit in 2008). Any person in the past decade–and–a–half that lauded Pittsburgh within earshot of Burke got the "goddamn lottery" treatment. Well, ain't that a jolly result today.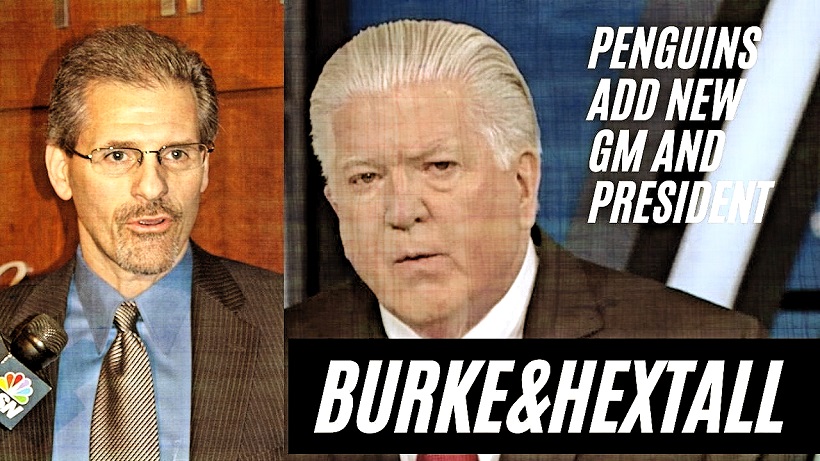 Burke left Sportsnet and Hockey Night In Canada in quite a lurch by becoming the Penguins' president, joining new general manager Ron Hextall. They replace the prolific Jim Rutherford, who abruptly resigned two weeks ago. In his two years with the Rogers all–sports platform, Burke was an invaluable asset. His legendary bluster and candor softened the blow, somewhat, of losing Coach's Corner when Don Cherry was fired in November 2019. Even the most–credible employees of Sportsnet and Hockey Night understand they work for the NHL's broadcast partner in Canada and govern themselves accordingly. Criticism of the product and, particularly, the Toronto Maple Leafs — of which the company holds a 37.5 percent ownership stake — is cited rather delicately. Burke and "delicate" have never coexisted. Which was perfect for TV and radio audiences across the land. Now, without Burke, Cherry and such–other outspoken media stars as Bob McCown, Glenn Healy, Nick Kypreos and Doug MacLean, the Sportsnet radio/TV product, while plausible and trustworthy, will become uniformly bland. Or, precisely the way the NHL prefers it to be.
EMAIL: HOWARDLBERGER@GMAIL.COM