TORONTO (Feb. 26) — For years, we have known that Canada's two communication leviathans, Bell and Rogers, compete as cable, Internet and sports media providers. They copulate only as 75 percent co–squires of Maple Leaf Sports and Entertainment… and only to prevent one another from devouring the Toronto hockey colossus. What we perhaps didn't recognize, until recently, is that Bell and Rogers are also waging a razor–thin battle to become the most–vile and noxious public entities in our land.
This is a clash both companies would prefer to lose. You would think.
Yet, on Friday, it was Rogers' turn to defile the sports media landscape by amputating its most–traditional appendage — baseball on radio. In all its absurd wisdom, the company, which generated a paltry $135.97 billion in revenue for the decade beginning in 2011, felt it necessary to eliminate the radio arm of the Toronto Blue Jays. For the first time since the franchise joined the American League (along with the Seattle Mariners) in 1977, it will not deploy a radio broadcast crew. Instead, all 162 games of the 2021 schedule will be simulcast from TV. The images described by Dan Shulman, Buck Martinez and Pat Tabler for the Sportsnet audience will be heard across the club's radio network. It's a frivolous cost–cutting move that Rogers shamelessly positioned (and buried toward the bottom of a company press release) as "an effort to minimize travel and closely adhere to team, league, and government protocols related to the pandemic."
It could have added that pigs will majestically soar above the infield of the vacant Rogers Centre on Apr. 8, when the home portion of the schedule — a four–game series against the Los Angeles Angels — begins at TD Ballpark in Dunedin, Fla. Or that ownership, with the exception of 2015 and the current off–season, has striven to compete, financially, with the New York Yankees and Boston Red Sox in the American League East.
Look up "hogwash" in your favorite dictionary and you'll see a Rogers logo.
This is a particular affront to the sport that has always blended so consummately with radio. At the risk sounding schmaltzy, there are Blue Jays fans — perhaps in the millions — that spent their summer lives on the deck or back–patio listening to Tom Cheek and Jerry Howarth. Because of radio, baseball is not a game you need to watch. With its relaxed tempo, it has long been the domain of imagery and conversation. You can take the game with you on radio and not miss a beat… onto your deck, into your bedroom, or your car.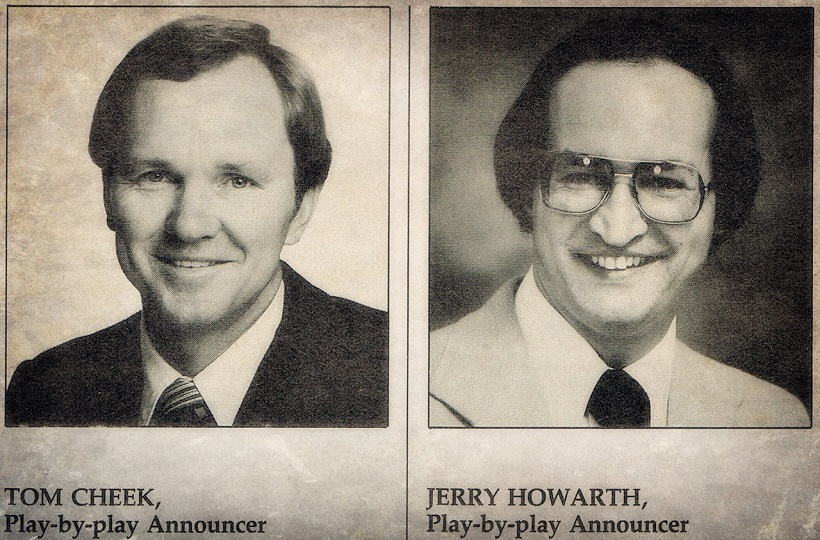 MY OLD FRIEND, JERRY HOWARTH, MAY SEND ME A LETTER–BOMB FOR POSTING THIS IMAGE FROM 1982, BUT IT DEPICTS THE LONG–STANDING TRADITION OF BLUE JAYS BASEBALL ON RADIO. SADLY, THOUGH TYPICALLY, ROGERS ONLY CARES ABOUT SAVING COMPARATIVE PENNIES.
With a quality, enduring tandem, baseball over the wireless breeds an intrinsic connection to listeners. Between 1982 and 2004, Tom and Jerry called every Blue Jays game — exhibition, regular season and playoffs — for CJCL AM–1430, which became Canada's initial all–sports entity less than two months before the club won its first of consecutive World Series championships. Cheek's now–legendary call of Joe Carter's Series–winning home run against Philadelphia on Oct. 23, 1993 at SkyDome — "touch 'em all, Joe!!" — stands alongside Foster Hewitt bellowing, from Moscow, "Henderson has scored for Canada!!" in September 1972. And, Chris Cuthbert with his indelible "Sidney Crosby… the golden goal!!" from Vancouver in February 2010. Of the three, Cheek's call was the only one heard exclusively on radio. Now, thanks to another insipid, bush-league maneuver by Rogers, "exclusive" and "radio" will no longer co–exist in the Blue Jays universe.
We, of course, are left to wonder what comes next. Between Rogers and Bell, there is now weekly degradation of the sports–media panorama in this country; callous, obdurate decisions that save pennies in the big picture. What neither company seems to comprehend is that people have no interest in how they peddle cable/Internet bundles. Or, that hapless, underpaid "support" personnel are routinely inept at solving the most–basic TV and Internet issues. It is professional sport — in this city, the Maple Leafs and Blue Jays — that occupies the intrigue and imagination of the public. The imbecilic choices involving sports properties are the ones that cast derision and scorn on the companies. Yet, they keep making them… over and over.
It is nothing shy of preposterous.
EMAIL: HOWARDLBERGER@GMAIL.COM