TORONTO (Feb. 13) — It should come as no surprise that the people sacrificed in the Bell Media bloodletting this week want the blood of their employers. Having lived through a not–for–cause termination by Rogers nearly a decade ago, I can tell you it's a sensitive time in which emotions unavoidably become immoderate.
As such, I spoke today with Irv Kleiner, a much–respected labor and employment specialist at the Toronto law firm Torkin Manes. The Bell Media job cuts last Tuesday, in which TSN branded all–sports radio stations in Hamilton, Winnipeg and Vancouver were abruptly eliminated, cost hundreds of full–time positions. Last weekend, similar cuts became newsworthy when involving such notable TV personalities as Dan O'Toole, Brent Wallace and Natasha Staniszewski. Kleiner, 67, has represented both employees and management.
"In a situation like this, which involves a large conglomerate, most employees that qualify for severance pay will feel they've been low–balled… quite often justifiably," Kleiner said. "So, I would obviously encourage them to seek legal advice. It's important to proceed thoroughly and not allow the situation to become all–consuming. Initially, it may feel as if your whole world is coming apart but, in the end, most will see that it was a moment in time. Understand your legal entitlement without obsessing over it. Try to get as much compensation as quickly as you can… but keep your eye on the ball and look for another job. Everyone's situation is different, especially pertaining to age and experience, but the process is hardly rocket science."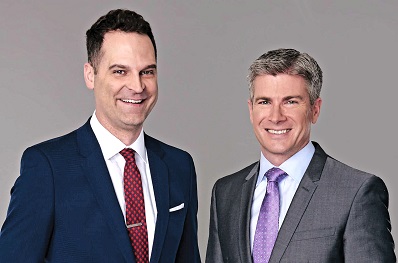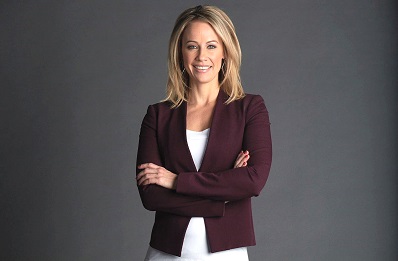 DAN O'TOOLE (RIGHT, WITH JAY ONRAIT) AND NATASHA STANISZEWSKI WERE AMONG THE BELL MEDIA CUTS THIS WEEK.
By that, Kleiner indicated that the overwhelming number of Bell employees cast aside this week can expect nothing more than a potential increase in severance pay. "Considering the [format] change by their employers, they aren't going to be reinstated," said Kleiner. "So, the best they can do is try and improve their settlement. Wrongful dismissal is a complicated process that involves either a written or verbal contract. If there are no issues under the Human Rights Code — race, ancestry, color, sexual orientation, workplace harassment and others — it is very difficult to prove. There are exceptions: for example, an employee being told, unequivocally, that his or her job is secure. If, as a result, that individual turns down another job offer; buys a house or a car… and then gets released, there is ground for additional damages. Otherwise, dismissal reverts to common law and, here in Canada, the so–called Bardal factors (age, length of service, type of employment, availability of similar employment, appropriate notice of termination). If you have worked for 15 years as a radio broadcaster, you aren't expected to seek a job as a restaurant host. If a firing is done in a mean–spirited or humiliating manner that creates mental anguish, it can also increase punitive damages.
"But, most of these situations are rather straightforward."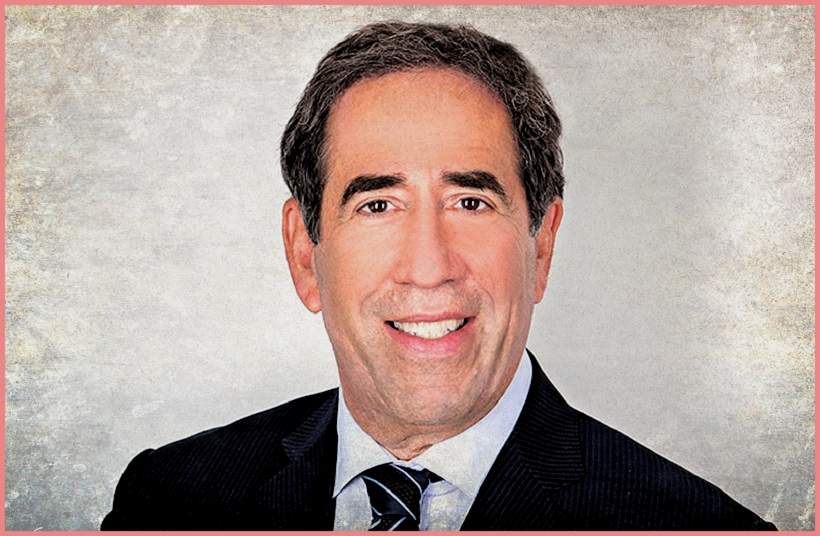 LABOR AND EMPLOMENT SPECIALIST IRV KLEINER OF TORKIN MANES.
Kleiner has another strong piece of advice. "There are many companies out there that advertise they won't demand a fee until a client collects compensation… only to charge an exorbitant percentage of that amount (cases of 33.3% are on record). Having just lost a job, it is very seductive to enter into that type of agreement. In the end, however, almost all–such clients are sorry for doing so. It's best to know, beforehand, what your legal representation will cost. Front–ended agreements will eliminate most of the unpleasant surprises."
SATURDAY THOUGHTS: Whether the Maple Leafs are as splendid as their record after 14 games (11–2–1) will be determined, as always, in the playoffs, particularly if they advance beyond the all–Canadian grouping and begin to face such "unfamiliar" opponents as Boston, Tampa Bay, Florida, Washington or Philadelphia. At the moment, however, and with Montreal in a sudden tailspin, the Leafs have a chance to blow open the North Division. Another game against the Habs, tonight, at Scotiabank Arena will be followed by a home tripleheader against Ottawa, dead–last in the National Hockey League at 2–12–1 for five points. Beating the Canadiens again would, theoretically, enable the Leafs to extend their unbeaten string to 12 games. If the club can win all four matches this week, it would have 31 points, likely 10 more than its closest North rival. With an 8–0–1 mark in the past nine games, Toronto still needs to go 6–0–1 to equal the franchise–record 14–0–2 string of November and December 2003 under the late Pat Quinn. A 12–0–1 mark by Thursday night would get the Leafs tantalizingly close. The scuffling Senators provide a great opportunity… Until he proves otherwise and wins at least one playoff round, I will remain skeptical about the Leafs decision to stay with Frederik Andersen as No. 1 goalie. But, it's impossible to not marvel at his astounding career record against Canadian–based teams. At 9–2–1 so far this season, Andersen is now 62–13–15 in 90 starts against clubs from north of the border. Which is beyond spectacular… Though it is nearly impossible to compare eras in hockey, it sure looks as if Auston Matthews is the most–natural goal scorer in Maple Leafs history. I don't remember Frank Mahovlich in his scoring prime, but I did see the entire careers of Lanny McDonald and Rick Vaive, the only two, in my life, that rival Matthews… I am both thrilled for and envious of my former FAN–590 colleague, Mike Wilner, who landed a plum job this week as baseball columnist at the Toronto Star. Mike was among the multitudes run off by Rogers in a blitz to save its media division from the catastrophic $5.2 billion contract with the NHL. He had worked exceptionally hard to become one of the voices of the Toronto Blue Jays on radio, after the retirement of Jerry Howarth. Only to get the pink–slip treatment toward the end of November. Now, he's back, in a big way. It has always been a dream of mine to write opinion for a major, daily newspaper. I suspect it will forever remain a fantasy. Mike gets that unique chance at the Star. He is fully qualified. My hope, however, is that he applies more objectivity to his analysis of the Toronto Blue Jays than during his radio years, when he staunchly — sometimes absurdly — advocated for the club. Unless, of course, the Star wants him to continue waving the home team flag. Which would hardly shock me in today's submissive media climate. It would, however, disappoint me. Wilner is capable of much more.
ESPN: "WHAT IS HOCKEY?"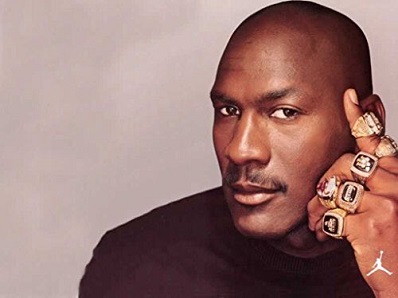 The NHL, on Friday, took another ignorance hit from the "world leader" in sports programming.
A dual–image (above) on Twitter showed Michael Jordan and Tom Brady flaunting their championship rings — six and seven, respectively. They were quickly "trolled" by Boston Celtics legend Bill Russell, bottom–left, and his 11 rings. In debating the much–overused acronym GOAT (greatest of all time), ESPN — re–printing an article from the website Sportress of Blogitude — implied that Russell was the only pro athlete to claim as many team titles. A bit of research, however,  into that foreign game, hockey, would have revealed that the late Henri Richard (bottom–right) also won 11 rings with the Montreal Canadiens (1956–57–58–59–60–65–66–68–69–71–73). But, why allow a mere fact to stand in the way of a good "American" story?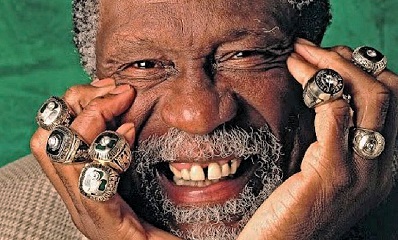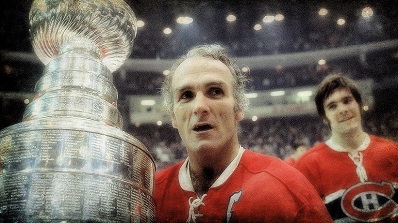 THE "BIG WEED" TURNS 50

Mats Sundin is the all–time points leader (987) in Maple Leafs history and the finest gentleman I encountered in 17 seasons covering the team for The FAN–590. The "Big Weed", as he was known to his teammates (weed rhyming with Swede) came into the world 50 years ago today in the borough of Bromma, eight kilometers west of Stockholm. Selected first overall by the old Quebec Nordiques in the 1989 NHL draft, Sundin was dealt to the Leafs in a stunning transaction just prior to the 1994 draft in Hartford. Fan–favorite Wendel Clark, among the most–popular Leafs of all time, went to Quebec. In 13 seasons with Toronto, all of which I had the privilege of covering for the radio station, Sundin put up 75 or more points eight times, topping out at 94 in 1996–97. His best goal–scoring year was 41, in '96–97 and 2001–02. For the 1997–98 season, he replaced Doug Gilmour as captain (Gilmour had been traded to New Jersey the previous March) and held the title for 11 years — second only to the late George Armstrong. Sundin finished his career in 2008–09 with the Vancouver Canucks, receiving a long, memorable ovation from fans at the Air Canada Centre upon his return (Feb. 21, 2009). For good measure, he scored the decisive goal on Vesa Toskala in the shootout, as Vancouver beat the Maple Leafs, 3–2. Mats was enshrined in the Hockey Hall of Fame on June 26, 2012.
BUSY HOME WEEKEND
50 Years Ago… Maple Leaf Gardens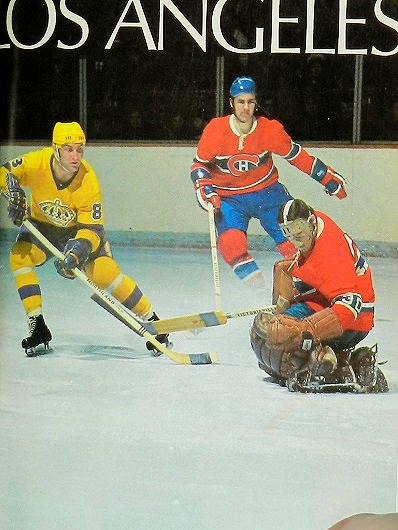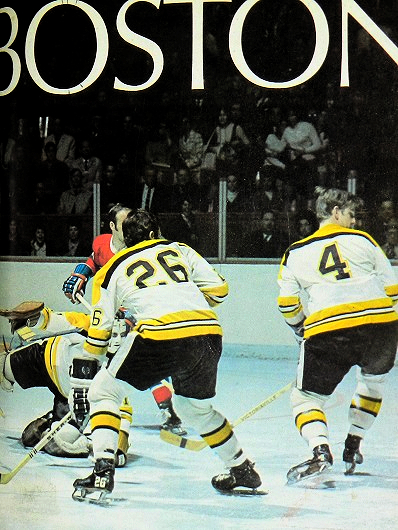 There was quite a contrast in opponent and result on this weekend, 50 years ago, as the Maple Leafs hosted Los Angeles on Saturday night; then followed with a Sunday matinee against Boston that was televised nationally by NBC. The Kings arrived with a record of 16–25–11 after 52 games and were destroyed, 8–1. Roughly 16 hours later came Phil Esposito, Bobby Orr and Co. with a record of 39–8–7 after 54 games (42 points more than L.A.). The Leafs got whipped, 5–1. Program covers (above and below) from each game.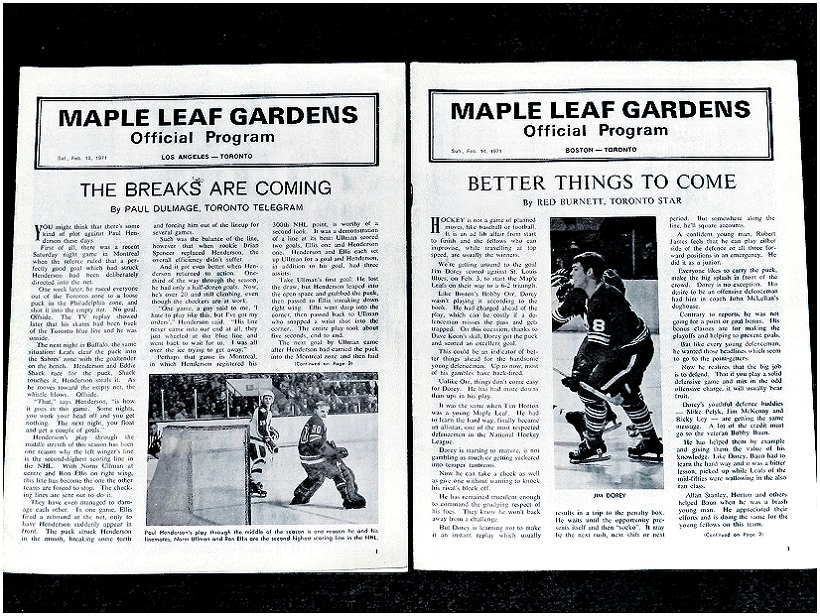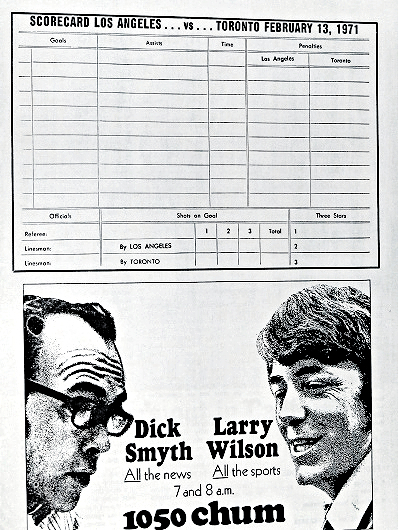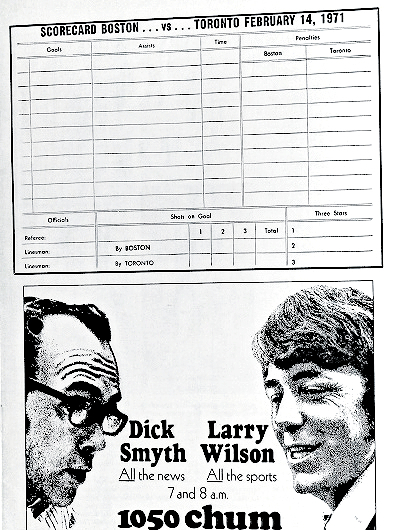 On the day Mats Sundin was born in Bromma, Sweden, his future team erupted for five goals in a 4:18 span of the second period to beat Los Angeles by a converted touchdown. Ron Ellis (5:59), George Armstrong (6:39), Billy MacMillan (7:27), Paul Henderson (8:50) and Guy Trottier (10:17) did the damage to L.A. netminders Jack Norris and Denis Dejordy. Henderson, Jim Dorey and Garry Monahan had given the Leafs a 3–0 lead by the 15:07 mark of the opening frame. Butch Goring netted the Kings only goal at 17:10 of the period. Former Montreal center Ralph Backstrom, who died earlier this week at 83, wore No. 9 for Los Angeles. The Leafs outshot the Kings 53–27, with Jacques Plante getting the easy win.
Referee Dave Newell was injured in a collision along the boards in the third period, but finished the game with linesmen Matt Pavelich and John D'Amico. It was my first time seeing L.A.'s purple road uniforms, as NHL teams had switched, that season, to wearing predominantly colored sets away from home.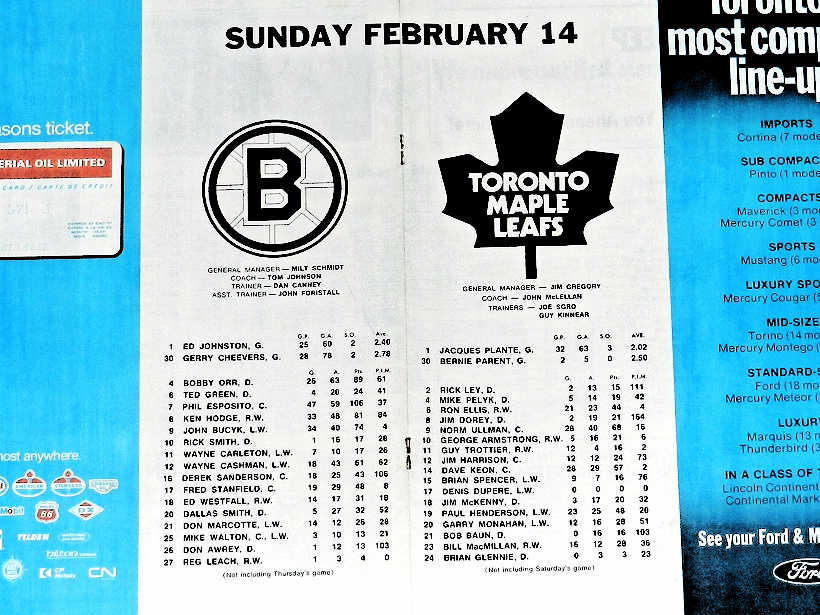 As mentioned, it was an entirely different story the following day at the Gardens — an 11–goal swing in 19 hours (winning by seven against L.A. then losing by four to Boston). As evidenced by the point totals (below), the Bruins were annihilating the single–season record book, en route to scoring 399 goals, 108 more than second–place Montreal. Derek Sanderson and Dave Keon exchanged first–period markers, but it was all Boston after that. Phil Esposito and Wayne Cashman in the second period; Don Awrey and Johnny Bucyk in the third, beat Bernie Parent (all but Awrey's goal on the powerplay). Boston outshot Toronto 40–20 with future Leaf Eddie Johnston getting the win. There were two fights in the game: Ken Hodge and Bob Baun at 1:11 of the opening frame; Ted Green and Brian Spencer with 5:20 left on the clock. John Ashley was the referee, with the same linesmen as the previous night: Matt Pavelich and John D'Amico.   

EMAIL: HOWARDLBERGER@GMAIL.COM