TORONTO (Feb. 3) — Imagine the Toronto Maple Leafs, in the early 1970's, with Ken Dryden and Gerry Cheevers playing goal. With Bobby Orr, Brad Park, Borje Salming, Ian Turnbull and Pat Stapleton on defense; Dave Keon, Garry Unger, Darryl Sittler and Bobby Clarke providing unparalleled strength at center ice.
It sounds like some form of Utopia. Yet, it could have happened. Honestly.
Though I consider myself fairly well–versed in the history of the Maple Leafs, I forgot how dreadfully the club messed up its future while winning four Stanley Cups in the 1960's. The arrogance engendered by that dynasty literally destroyed the Blue and White for 25 years in the wake of the 1967 National Hockey League title (some will argue the Leafs still haven't recovered). This all came back to me while re–reading the exceptional book — '67 — written, in 2004, by my old radio colleagues Gord Stellick and Damien Cox. Though many literary volumes emerged from that juncture of Leafs history, no others traced management missteps with such precision and detail. And while I knew about all the calamitous oversights, Gord and Damien's book offered a fresh reminder of what truly could have been. It was rather a mind–blowing flashback of incompetence shrouded by Stanley Cup glory. How the 60's demolished the 70's and 80's.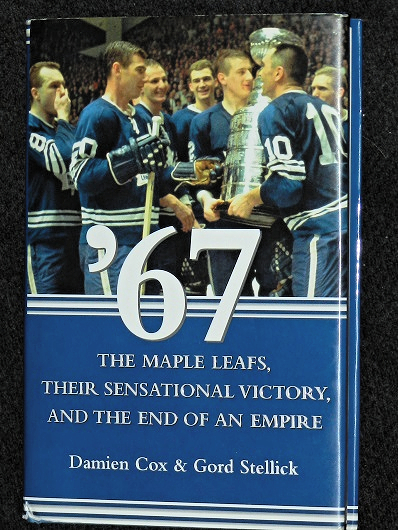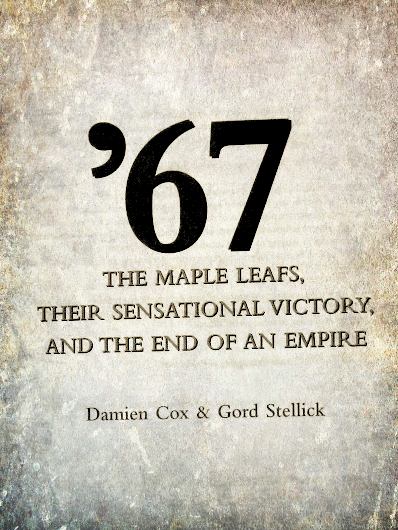 The most–grievous oversite is one that I stumbled upon while on a flight (Mar. 8, 1998) from Toronto to San Francisco to cover a Leafs western trip for The FAN–590. Sitting next to me, merely by chance, was the son of Anthony Gilchrist, who coached Bobby Orr as a 12–year–old peewee in Parry Sound, Ont. During the five–hour jaunt to California, I was told about a letter Gilchrist had sent to Leafs general manger and coach Punch Imlach after Orr's team played in a 1960 tournament at Maple Leaf Gardens. Imlach had been impressed with Orr and Gilchrist implored him to again view his prodigy during an upcoming game in Barrie, Ont. "It might pay to have one of your men look him over in Barrie and place him on your [sponsored] list before Hap Emms [of Boston] sees him, or I feel sure it will be too late." I asked Gilchrist if he could find a copy of the letter and mail it to me. But, there was more. Gilchrist also had a copy of the Leafs' reply, which came not from Imlach, but from chief scout Bob Davidson. My seat–mate promised to send both documents.
Once in my possession, with an accompanying photo, I wrote a story for the Globe and Mail, which appeared (as below) on the front Sports page of Apr. 15, 1998. The reply from Davidson sounded too haughty for one of the game's most–respected scouts; a quiet, humble man. It reeked, instead, of Imlach's pomposity: "I would like to… thank you for recommending Bob Orr to our organization but this boy is a little too young to be put on any list for protection. In regard to Emms placing him on a list, the pro clubs cannot put a boy on the list until he is 18 years old." The letter from the Leafs could have been entitled "Wrong and Stupid."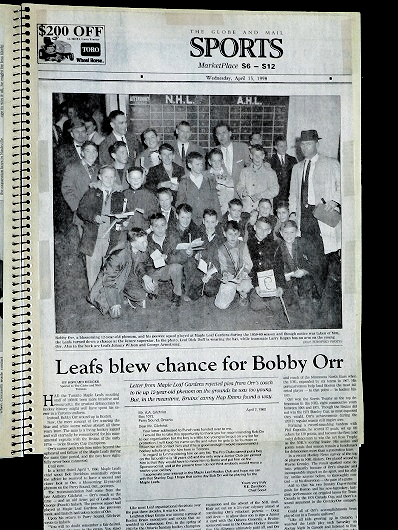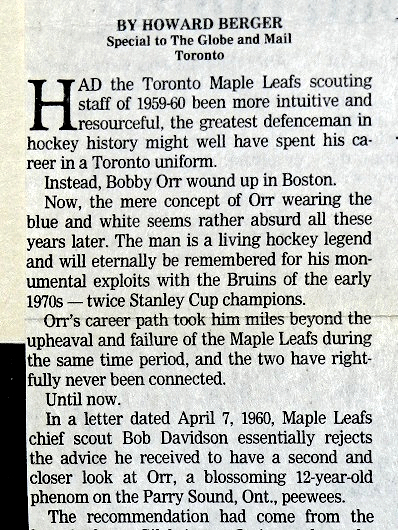 As Gilchrist predicted, a posse of Bruin bird–dogs, led by Wren Blair, descended on Gananoque, Ont. (21 miles east of Kingston) for a tournament in the spring of 1961. It was captivated by Orr, and Blair — who would become, in 1967, the first coach of the Minnesota North Stars — made repeated visits to the family home in Parry Sound. In the fall of 1962, when Orr was 14 (not 18, as suggested by the Leafs), Boston signed the youngster to a standard 'C' form, thereby committing him to the organization. Imlach and the Leafs, which scoured every corner of Ontario in the years before the universal draft, missed out on the most–gifted player ever born in the province. Even after being so–blatantly encouraged, by Orr's peewee coach, to secure his NHL rights. It remains the biggest blunder in the 103–year history of the Toronto franchise.
Grading the other gaffes recounted in '67 is a fool's paradise. But, the selection of Ernie Moser in the 1969 draft deserves a special place. To be fair, the Leafs weren't the only team to consider Type–1 Diabetic Bobby Clarke a longshot to survive in the NHL. Heck, even the Philadelphia Flyers, who chose Clarke 17th overall, took someone named Bob Currier in the No. 6 slot. Moser (from the Estevan Bruins) and Courier (the Cornwall Royals) share the ignominy of never playing a game in the NHL. But, imagine if the Leafs, with the ninth selection, had "gambled" on Clarke. Instead of losing to Philadelphia in the playoffs three consecutive years (1975–76–77), the Leafs — with Clarke and Darryl Sittler at center — may have been rather difficult to subdue. Even more can be said about Montreal and Boston, which combined for five picks before Clarke went to the Flyers. I shudder to think of Clarke as part of the Canadiens team that steamrolled to four consecutive Stanley Cup titles (1976–77–78–79) under Scotty Bowman. Or, of Clarke riding shotgun with Phil Esposito and Bobby Orr of the Bruins. Montreal had two cracks at Clarke in the '69 draft; Boston had three.
Gerry Cheevers and Ken Dryden between the pipes? Sounds like a pipedream, huh? But, it was right there for the Maple Leafs. Cheevers, in fact, had been groomed by the club in the early 60's after playing for its sponsored junior team at St. Michael's College. His was a prime example of the short–sighted rationale deployed by Imlach after winning his three consecutive Stanley Cups. On June 10, 1964, as part of the intra–league waiver draft, Imlach chose Terry Sawchuk from Detroit's roster. Sawchuk was coming off consecutive losses to Toronto in the Cup final. One year later, after Montreal had ended the Leafs championship run with a six–game semifinal conquest, Imlach needed to expose a netminder for the 1965 waiver draft — a choice between Sawchuk, Johnny Bower and Cheevers (then playing with Rochester of the American Hockey League). Gerry, 25 at the time, was 16 years younger than Bower; 11 years younger than Sawchuk.
He was projected to carry the Leafs through the latter part of the 60's and into the 70's.
But, Imlach's ego got in the way. Again.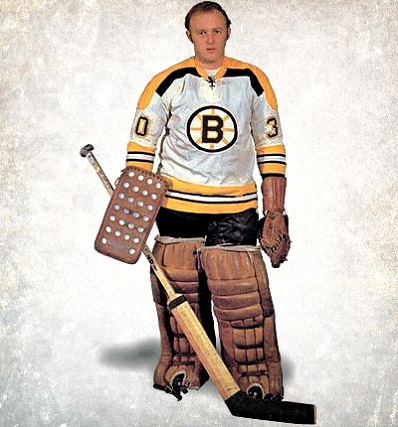 GERRY CHEEVERS IN THE UNIFORM (LEFT) HE SHOULD HAVE WORN THROUGH HIS NHL YEARS.
After nurturing the St. Mike's product for half–a–decade, Imlach made Cheevers available. The Boston Bruins, with an aging Eddie Johnston (the last goalie, in 1963–64, to play every minute of a season for his team), giddily nabbed Cheevers, who cemented his place in the Hockey Hall of Fame by backstopping Orr, Esposito and Co. to Stanley Cup glory in 1970 and 1972. Sawchuk and Bower teamed to win the '67 Cup, yet both were gone within two years: Sawchuk taken by Los Angeles in the 1967 expansion draft; Bower retiring midway through the 1969–70 season. The Leafs, as we know, have not since returned to the Cup final.
Imlach and Co. was well aware of local boy Dryden as he worked his way up in the Etobicoke minor hockey program, west of the city. Ken's older brother, Dave, played goal in 68 games with Chicago between 1965–66 and 1968–69. In the 1964 NHL draft of un–sponsored players (those that hadn't signed 'C' forms), the Maple Leafs had two chances to secure Dryden. Instead, they chose forwards Tom Martin and David Cotey.
Martin played for the 1967 Memorial Cup–champion Toronto Marlboros, then appeared in three games with the 1967–68 Leafs (scoring his lone NHL goal, Mar. 30, 1968, on — yes — Dave Dryden of Chicago at the Gardens). He is better–remembered, locally, for his two years (1973–75) as a regular with the Toronto Toros of the World Hockey Association. Cotey never played a game of pro hockey. Instead, he owned and trained thoroughbred horses, including Mine That Bird, which won the 2009 Kentucky Derby. Boston wound up claiming Ken Dryden fourteenth in the '64 NHL draft and, regrettably, flipped his rights to Montreal. Seven years later, the rookie from Cornell University stunned, in the opening playoff round, the best–ever Bruins team: that which compiled 57 wins and 121 points in 1970–71; Esposito scoring 76 goals; Orr providing 102 assists (all, at the time, NHL records). After winning six Stanley Cups (five with Scotty Bowman) in nine years, and twice helping to sweep Toronto from the playoffs (1978 and 1979), the Hall–of–Fame goalie retired.
More Blue and White missteps in my next blog.
EMAIL: HOWARDlBERGER@GMAIL.COM