Clowns to the left of me; Jokers to the right…
— Gerry Rafferty, 1973
TORONTO (Feb. 5) — Yes, I am biased and no, the communications industry is not alone in destroying careers. But, neither would Bell Canada be extinct today if it hadn't eliminated 210 media positions this week. In another merciless attempt to maintain profit margin, the company that owns 37.5 percent of the Toronto Maple Leafs invoked the jaded pretext of every employee massacre: "streamlining its operation to become agile and efficient." Which is such a load of bullshit. What these conglomerates do not report is how their fervent executioners line pockets with blood money extracted from the marrow of those cast adrift.
Bell, in particular, should be loudly condemned after taking $122 million in pandemic–related subsidies while still posting strong financial results and massive dividend payouts. Accordingly, the job cuts were pathetic to an extreme… but these monolithic, public enterprises have no shame and no soul. Never will.
We have learned of the high–profile workers that were terminated after years of proud service: Dan O'Toole, Natasha Staniszewski and Brent Wallace by TSN; radio legend Ted Woloshyn by Newstalk–1010 (CFRB)… and a couple of friends and former colleagues at The FAN–590, Barb DiGiulio and Jim Richards, also by Newstalk–1010. But, there were dozens of equally dedicated employees whose names we'll never know that are, today, facing an uncertain future. And, yeah, it pisses me off. Because I've been there. And, know the feeling.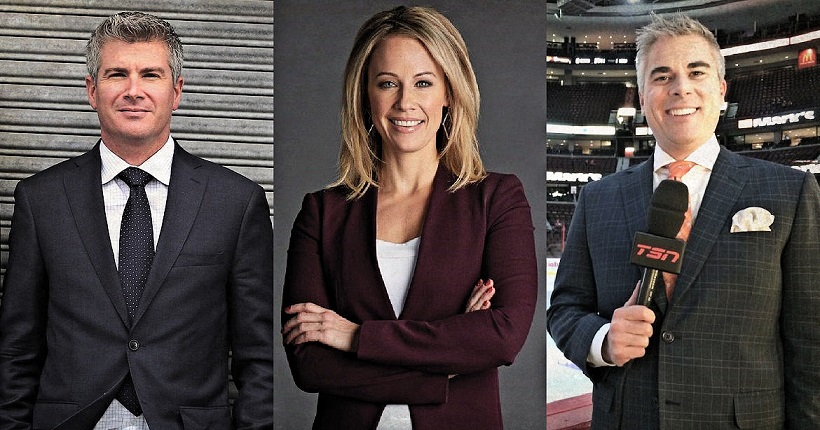 AMONG THE BELL MEDIA VICTIMS THIS WEEK: LEFT–TO–RIGHT, DAN O'TOOLE, NATASHA STANISZEWSKI AND BRENT WALLACE OF TSN. ALL, GOOD PEOPLE. ALL, EXCEPTIONAL BROADCASTERS.
June 1 of this year will be a full decade since I was terminated by Rogers Communications after 23 years at Canada's first all–sports radio station. For me, it was the culmination of an old Chinese water torture.
I had been systematically detached of responsibility at The FAN–590; my travel with the Leafs eliminated after 17 years; sponsored playoff travel (which rarely included the Leafs) eliminated; all of the unwritten clauses that were in place with my former boss, Nelson Millman, eliminated, most–profoundly, parking at the Air Canada Centre for practices and games. I had been told, in no uncertain terms, to "be seen as working" while the Leafs were on the road. Problem is, no one could find anything for me to do. So, getting rinsed by Don Kollins on June 1, 2011 felt like a prison break. My point in all of this is I could see it coming. The people that were fired in such a cold, calculating manner this week got hammered between the eyes.
But, I can no longer pretend the carnage surprises me. We've seen it all too often. It will happen again.
If you're a local sports fan, just look at the media names that have been taken away in the past five years. Differing circumstances, but most in the guise of essential cost savings: Glenn Healy, Don Cherry, Bob McCown, Bob Cole, Nick Kypreos, Doug MacLean, John Shannon, Daren Millard, Paul Romanuk, Scott Morrison, George Stroumboulopoulos, Barry Davis, Mike Wilner (sorry guys for the omit), Dave Perkins, Bob Elliott, Ken Fidlin, Bill Lankhof, Mike Zeisberger, Joe Tilley, Mark Hebscher, Jim Tatti, Mike Hogan, O'Toole and Staniszewski. Preceded by such others as Norm Rumack, Don Landry, Gord Stellick, Jim Lang, Dan Matheson, Suneel Joshi. Some have caught on elsewhere; several jumped before being pushed. But, all either re–shuffled or no–longer working. It matters not what these good people did for their employees and the sports community. Or, that they had such minor inconveniences as children, car payments and mortgages.
The monoliths don't care.
The woodchoppers do care because, as mentioned, every corporate slasher that ruins a career profits financially. It's a perverse, immoral structure that defiles so many innocent, faithful employees.
And, it makes me sick to my stomach.
EMAIL: HOWARDLBERGER@GMAIL.COM