TORONTO (Feb. 1) — It was a few hours before the 2011 National Hockey League draft and I was sitting next to Jim Gregory on a bus outside the Minneapolis Marriott. The former Leafs general manager was battling cancer and didn't look well. I sensed it may be the last time I would speak with him. On the half–hour drive to the Xcel Energy Center in neighboring St. Paul, I asked Jim about his biggest coup as GM of the Leafs: the acquisition, from Philadelphia, of Bernie Parent — a trade announced 50 years ago today (Feb. 1, 1971).
"I finalized the details with [Flyers' GM] Keith Allen on a Sunday night and we had to wait until Monday morning for the NHL to officially register the trade," Gregory told me. "I remember not sleeping very well, thinking that Keith would call at any moment and back out of the deal. We'd been trying to get Parent ever since I was GM in Toronto (starting in April 1969). Keith always said no. I figured it was a matter of time until he phoned back and declined once again. But, the trade went through. And, who knows how the history of the Leafs may have changed if we'd been able to keep Bernie. It's something I have always regretted."
Gregory, as fine a person the Leafs have employed in their long history, bounced back from his 2011 cancer struggle and lived for more than eight years, passing away on Oct. 30, 2019, six days prior to his 84th birthday. He would not allow himself to openly criticize his Toronto boss, Harold Ballard, choosing, instead, to be thankful for the decade in which he ran the Blue and White. But, there's no question that Ballard's mishandling of Parent — among the top ten goalies to ever play in the NHL — hurt Gregory more than any blunder in his Maple Leaf years. That Ballard pompously ignored his GM and allowed the future Hall–of–Fame netminder to accept a proposal from the upstart World Hockey Association ranks as the most deep–seated gaffe (among many) in modern franchise history. Given the owner literally dared Parent to take the offer from the Miami Screaming Eagles only added to the misgiving Gregory felt for the remainder of his life. It should be an epitaph for the destruction Ballard wrought in his 18 years at the helm of the Maple Leafs.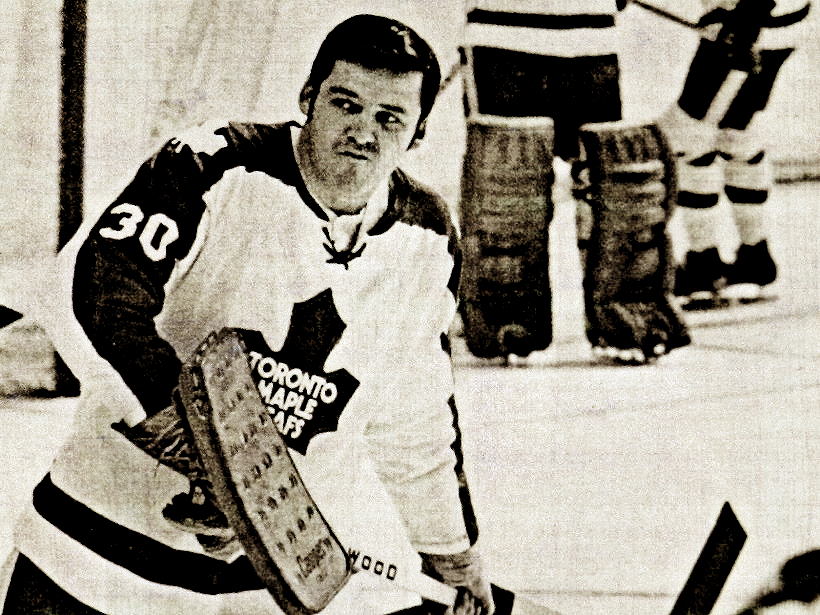 BERNIE PARENT DURING HIS FIRST WARMUP AS A GOALIE WITH THE LEAFS: FEB. 3, 1971.
But, a half–century ago today, all seemed wonderful. After an appalling start (7–18–1) to the 1970–71 season, the Maple Leafs roared back into playoff contention with a 13–1–2 power move between Dec. 9 and Jan. 13. The club had cooled off to 3–5–0 in its eight matches prior to Gregory finally obtaining Parent.
I was at Maple Leaf Gardens on Feb. 3, 1971 (my 12th birthday) when Bernie first appeared in a Leafs uniform. My dad always managed to scrounge up a pair of choice tickets for the game closest to Feb. 3. On this night, we were in Box 20 of the west Reds, very close to center ice (they would become Golds in 1974–75). I remember watching Parent during the warm–up — his black hair neatly parted — skating around in the No. 30 jersey previously worn by Bruce Gamble, who'd been dealt to Philadelphia in the three–team swap that also sent Mike Walton from Toronto to Boston and Rick MacLeish from Boston to the Flyers. Parent would sit idly as teammate Jacques Plante stopped 24 St. Louis shots in a 6–2 win over the Blues.
The Leafs purchased Plante from St. Louis on May 18, 1970, after he had twice teamed with Glenn Hall in leading the Blues to the Stanley Cup final. The addition of Parent provided the Leafs, as history shows, its most–decorated goaltending tandem, equaled only by the Johnny Bower–Terry Sawchuk duo from 1964–67. Plante had backstopped Montreal to its record five consecutive Stanley Cup titles (1956–60) and somehow managed — at 42 and with a middling Toronto team — to post the third–best goals–against average (1.88) of his storied career. Parent would learn much about his craft with Plante as a Maple Leaf counterpart.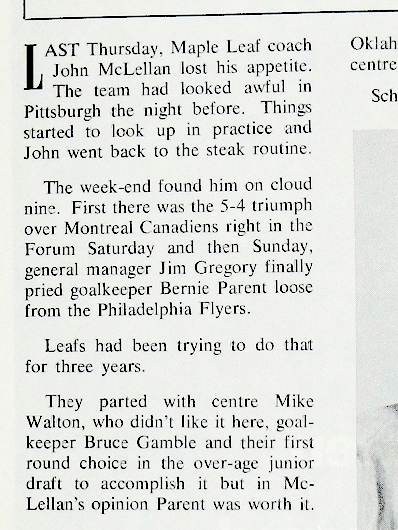 FROM THE MAPLE LEAFS–ST. LOUIS PROGRAM (ABOVE AND BELOW) OF FEB. 3, 1971.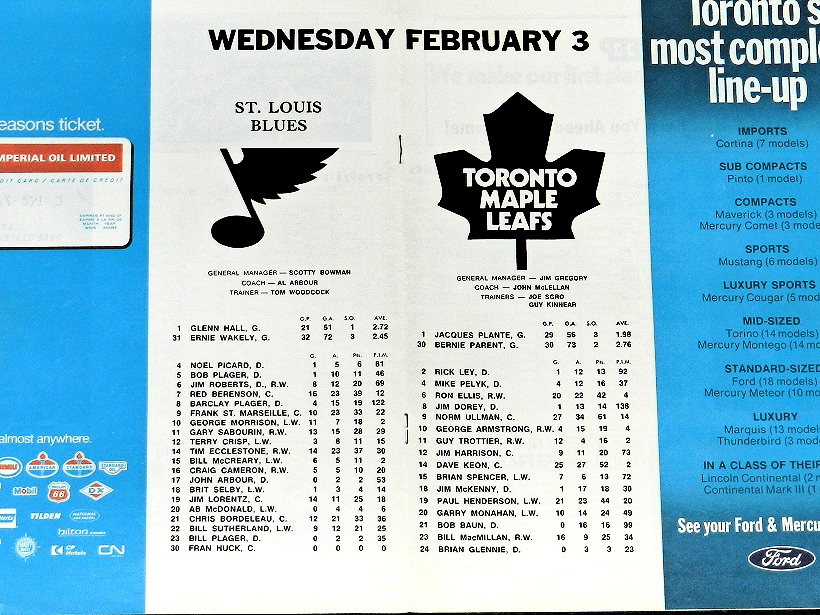 Through the course of 14–plus months, Parent played 65 games with the Leafs in the regular season (24–25–12 / 2.59 / 3 SO) and eight more in the playoffs (3–5 / 2.76), merely scratching the surface, as it turned out, of his ability. There were disappointments, to be sure — none bigger than a 1–0 loss to the Canadiens at the Montreal Forum on Jan. 19, 1972 in which Peter Mahovlich beat Parent at 19:58 of the third period. The goalie's $25,000 NHL contract was set to expire, which prompted the Miami entry in the WHA to try and lure him with $125,000. Ballard, though hardly alone among his sanctimonious NHL colleagues, offered a raspberry to the new league, figuring it would never materialize. When he stupidly advised agent Howard Casper that his client should grab the Miami offer, the Maple Leafs owner gave Parent his legal blessing.
"In that situation, I had no choice," Bernie once told me. "Gregory was trying to negotiate but Ballard wanted nothing to do with it because he felt the WHA would fold before it started. I wasn't anxious to leave the NHL, but how could I turn down that kind of money? It was a 400 percent increase from my Toronto salary."
With Plante between the pipes, the Leafs manhandled Vancouver, 7–1, at the Gardens on Feb. 26, 1972, a Saturday night. The next morning, an off–day for the club, Parent — without informing Ballard — flew with Casper to Miami and signed his WHA deal. The Screaming Eagles announced it at a splashy news conference and Parent was back in Toronto for practice on Monday morning. The defection sent shock waves through the naïve NHL, which shuddered in disbelief, four months later, when Bobby Hull left the Chicago Black Hawks to sign a million–dollar pact with the Winnipeg Jets. Ballard, however, held firm in his contention the WHA had no chance and it cost him three more valuable assets: defensemen Rick Ley and Brad Selwood, and forward Jim Harrison. Not surprisingly, the 1972–73 Leafs stumbled through the worst season, to that juncture, in franchise history, plummeting 16 points in the standings and missing the playoffs.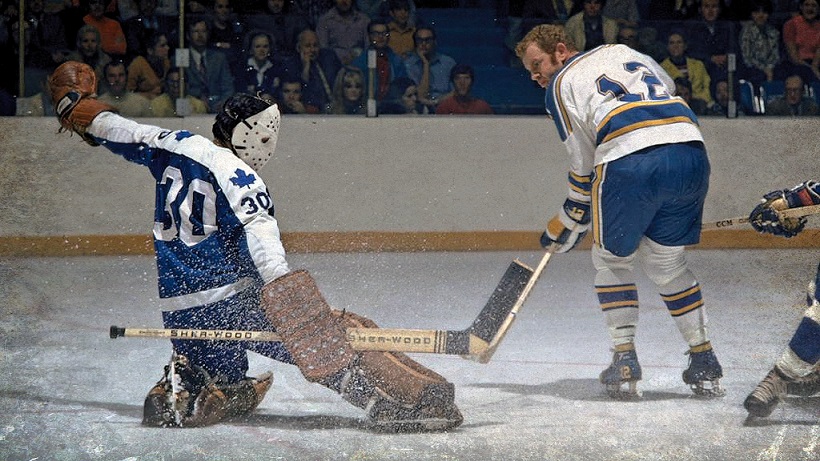 MAR. 1, 1972: THREE DAYS AFTER SIGNING WITH MIAMI OF THE WHA, PARENT STOPPED 31 SHOTS FOR THE MAPLE LEAFS IN A 3–1 VICTORY AT ST. LOUIS. HERE, HE STYMIED BLUES FORWARD TERRY CRISP.
The Miami club transferred to Philadelphia before the first WHA game and Parent played only that one season for the Blazers. There remains conflicting stories as to why he did not return to the NHL with the Leafs, who still owned his rights. "Ballard didn't want me back," Parent told me for my 1994 book Maple Leaf Moments. "He was still mad at me for leaving. So, the Leafs traded me back to the Flyers." Gregory countered that claim in my book: "No, we tried to get Bernie back but his wife (Carol, a Philadelphia native) wasn't interested in returning to Toronto. Harold actually had no problem re–signing him for the same money he made in the WHA. We were basically forced into consummating a deal with Philadelphia."
Which happened on May 15, 1973, bringing Parent's former colleague with the Flyers, Doug Favell, to Toronto. Coach Red Kelly rotated Favell with Eddie Johnston and Dunc Wilson in 1973–74 and the Leafs improved by 22 points. But, Parent entered the stratosphere, backstopping the Flyers to consecutive Stanley Cups (1974 and 1975) while winning the Conn Smythe Trophy, each spring, as playoff MVP. He became a member of the Hockey Hall of Fame in 1984 and, in 2017, was named among 100 Greatest NHL Players. If you therefore wonder why Gregory took Ballard's 1972 blunder to his grave, 47 years later, now you know.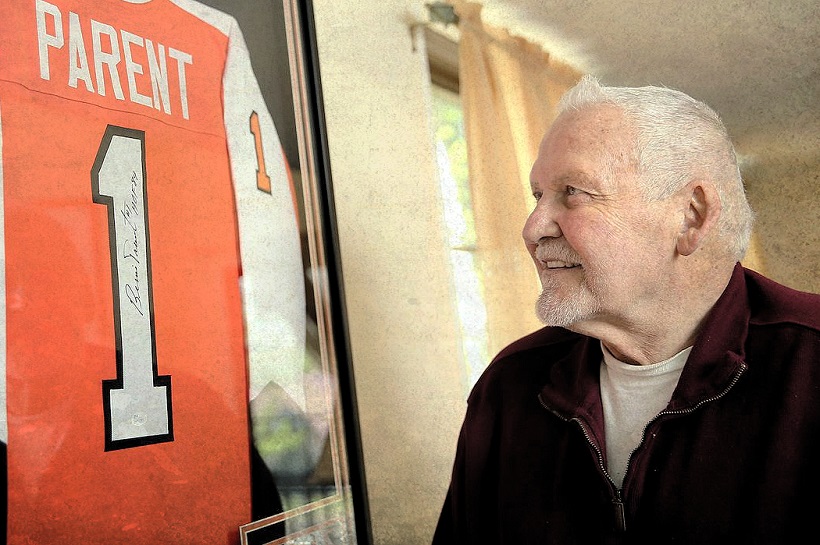 HALL–OF–FAME GOALIE BERNIE PARENT, TODAY, AT 75 YEARS OF AGE.
EMAIL: HOWARDLBERGER@GMAIL.COM