TORONTO (Feb. 28) — If the old saying "the numbers don't lie" relates to the Toronto Maple Leafs, 2021 could be quite a year for the franchise with the longest Stanley Cup drought. The figures atop the National Hockey League's North Division today are rather astounding: 16–4–2. Such is the Leafs' record after 22 games of the 56–game schedule, equating to most wins; most points (34); most ROW's (all 16); best winning percentage (.773); fewest regulation losses (tied with four other teams); most home victories (9, tied with Tampa Bay); best road record (7–1–1) and second–best goal differential (+23, to Tampa's +30). Over a regulation 82–game schedule, the Maple Leafs, at their current pace, would finish 59–15–8 for 126 points — the sixth–highest total in NHL history, and 21 more points than the franchise–record 105 from 2017–18. Since Sheldon Keefe replaced Mike Babcock as head coach (on Nov. 21, 2019), the club is 43–19–7 in 69 games.
This is heady stuff, folks.
For whatever it's worth, here is Toronto's record after 22 games in its 11 Stanley Cup–winning seasons:
1931–32:   9–8–5 for 23 points.
1941–42: 14–7–1 for 29 points.
1944–45: 12–8–2 for 26 points.
1946–47: 13–5–4 for 30 points.
1947–48: 12–6–4 for 28 points.
1948–49: 7–10–5 for 19 points.
1950–51: 14–4–4 for 32 points.
1961–62: 13–6–3 for 29 points.
1962–63: 11–9–2 for 24 points.
1963–64: 11–7–4 for 26 points.
1966–67: 10–5–7 for 27 points.
In no Cup–winning season has the team compiled 34 points after 22 games (coming closest in 1950–51).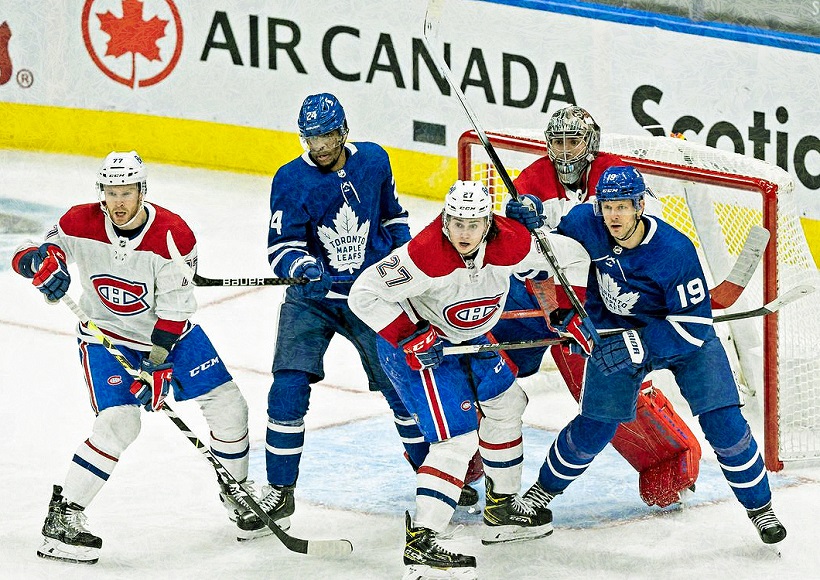 More numbers: In 1976–77, when Montreal (under Scotty Bowman) established the NHL–record of 132 points in a season, it was 15–4–3 after 22 games — one win and one point less than the current Leafs. The 1995–96 Detroit Red Wings and 2018–19 Tampa Bay Lightning share the league mark of 62 wins in a season. After 22 games, Detroit was 14–6–2 for 30 points; T–Bay, 15–6–1 for 31 points. Again, not as prolific as the 2021 Leafs. When Toronto amassed its record 105 points under Babcock in 2017–18, it was 14–8–0  for 28 points. In my last year of high school, the 1977–78 Leafs, under rookie coach Roger Neilson, were 19–6–3 after 28 games. That record was narrowly surpassed by the 1993–94 club that won its first 10 matches of the season. Pat Burns had the Leafs at 19–5–4. To equal the latter mark, the current club must go 3–1–2 in its next six outings (two at Edmonton; two at Vancouver and two at home against Winnipeg). Seems doable.
What we do not know, of course, is whether the 16–4–2 record is a mirage. Or, to what extent. The Leafs, in this pandemic–shortened season, are squaring off exclusively against the other six Canadian–based teams. Toronto leads the North Division by six points over Edmonton, with a game in hand. Winnipeg is seven points back, having played two fewer games than Toronto. The playoff survivor in the North will advance to the Stanley Cup semifinals, among the last four teams. So, the Maple Leafs seem to have a good shot at their first appearance in the Cup semis since 2002, when Carolina prevailed in six games. For the record, I didn't think the Leafs would be in such an advantageous position. Prior to the season, I predicted Toronto to finish third in the North, behind Winnipeg and (gulp!) Vancouver. I felt the quality of goaltending in the division would make for a tightly packed group. Instead, there's a 13–point gap between second and seventh place; a 19–point separation of the Maple Leafs and Ottawa Senators. If the playoffs started today, Toronto would clash with fourth–place Montreal in a best–of–seven opening round; Edmonton would play Winnipeg.
The big question — though immaterial before the penultimate Stanley Cup series — is whether the Leafs would be soaring, as such, in a "normal" season as part of the Atlantic Division with Tampa Bay, Boston and Florida. The Lightning, Bruins and Panthers are a combined 39–13–6. Thus, the "mirage" element. But, again, none of the other 12 playoff qualifiers this season will become a factor to the North Duvision champion until the Stanley Cup semifinals. So, the Maple Leafs have quite a lofty goal for which to aim.
MARNER PLAYING LIKE… MARNER
I've said it before and I'll say it again: No skater is more indispensable to the Maple Leafs than Mitch Marner, the club's most–gifted all–round player since Mats Sundin departed after the 2008–09 season. In spite of cries to the contrary, Marner is worth every cent of his $10,903,000 annual salary and cap hit, which runs through the 2024–25 schedule. After Sunday's games, Marner stood third in NHL points with 32, behind only Connor McDavid (40) and Hart Trophy winner Leon Draisaitl (34) of Edmonton. When projected over a full, 82–game season, Marner's pace would yield 121 points, second in franchise history to the 127 amassed by Doug Gilmour in 1992–93. Marner would compile 84 assists, tying Gilmour's total from 1993–94, the second–most in franchise history (Gilmour had 95 the previous year). Still, Marner falls well beneath Auston Matthews in media chatter; even Joe Thornton and Wayne Simmonds have been more–widely hyped and acknowledged in 2021. When John Tavares, continuing his gradual decline from last season, has a big game, it is significant news. Marner, for whatever reason, plods along in the lengthy shadows of the aforementioned.

MITCH MARNER (16) AND CONNOR McDAVID COLLIDE IN NEUTRAL ICE DURING SATURDAY NIGHT'S 4–0 MAPLE LEAFS VICTORY AT ROGERS PLACE IN EDMONTON. PERRY NELSON USA TODAY
His presence is all 22 games thus far has enabled the Leafs to withstand injuries to Matthews, Thornton, Simmonds, Jack Campbell, Frederik Andersen and Jake Muzzin. The club, somewhat bizarrely, is 11–2–1 in games without Matthews. When Marner missed 12 matches with an ankle injury last season, the Leafs were 4–8–0 and lost the first six games of his absence. A classic example of teammates receiving disproportionate credit occurred against Ottawa, Feb. 15, at Scotiabank Arena — the night the Leafs coughed up a 5–1 lead and lost, 6–5, in overtime. It was Thornton's first game back after a 10–game injury absence. On the opening goal, at 6:32 of the first period, Marner magnificently carried the puck 150 feet, stickhandling into Ottawa territory and dishing off a backhand feed to Thornton in the left–wing corner. Jumbo Joe, as he's done countless times, found Matthews in the slot with a sharp pass. Matthews one–timed a slapper past goalie Marcus Hogberg. On the TSN telecast, Marner wasn't even mentioned. The announcers gushed over Thornton's primary assist and, of course, over Matthews' scoring drive. Maybe a half–dozen players in the world could have maneuvered from end–to–end as smartly as did Marner. But… crickets.
Even without Matthews, Andersen and Campbell, the Leafs have won games this season.
They would not have such luck without slick No. 16.
LOOKING BACK… to this week in 1970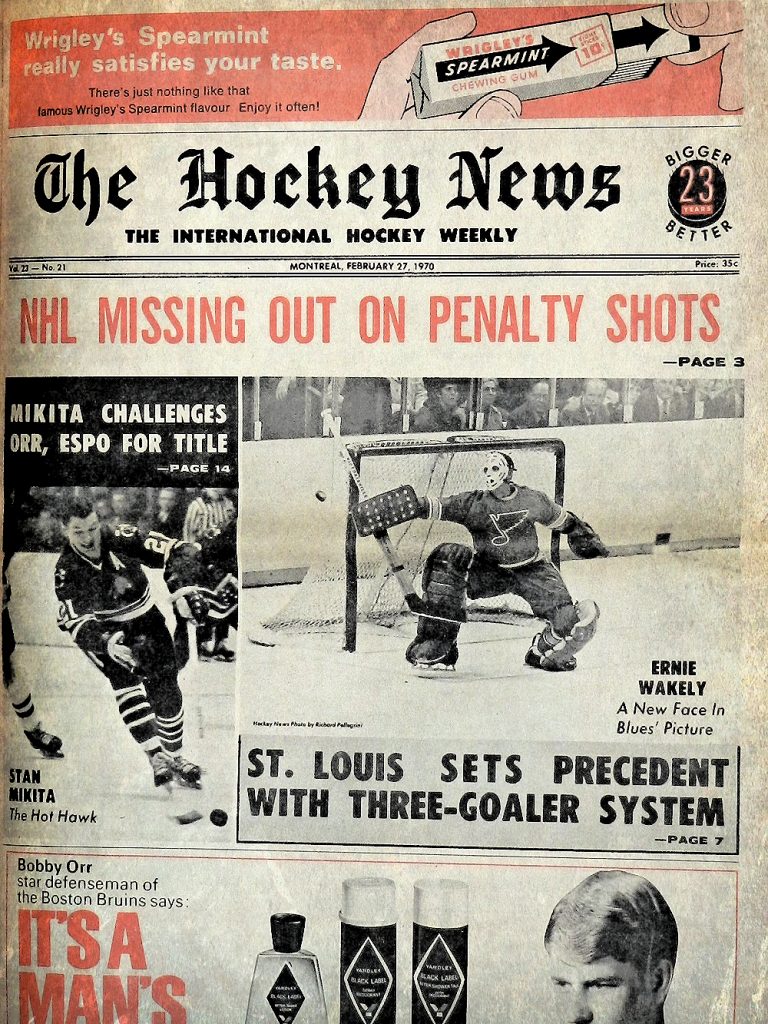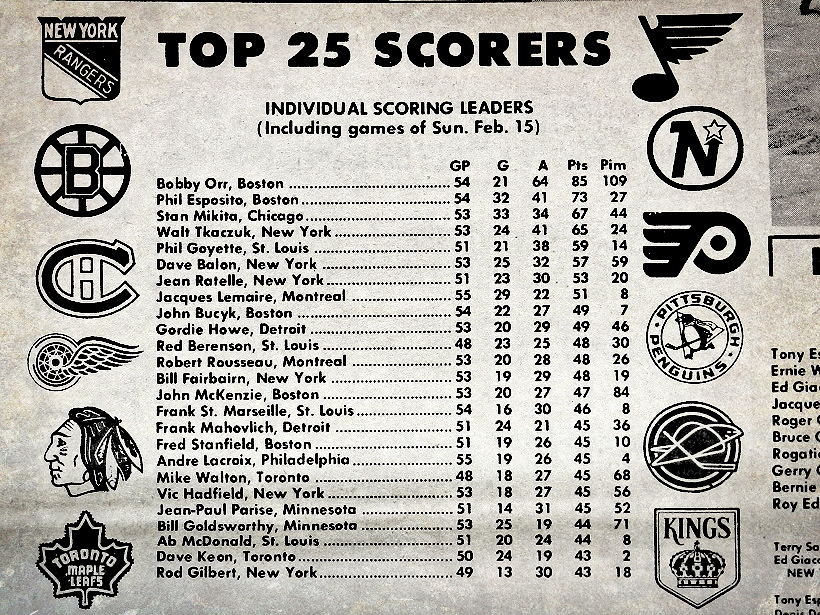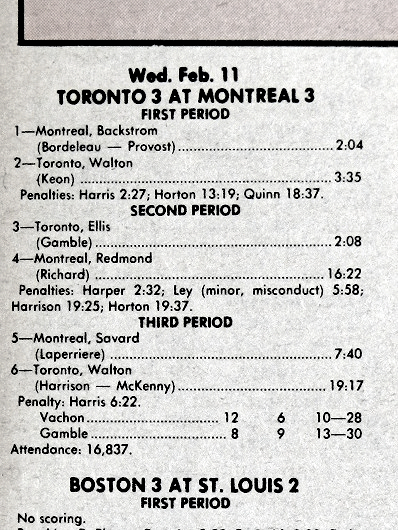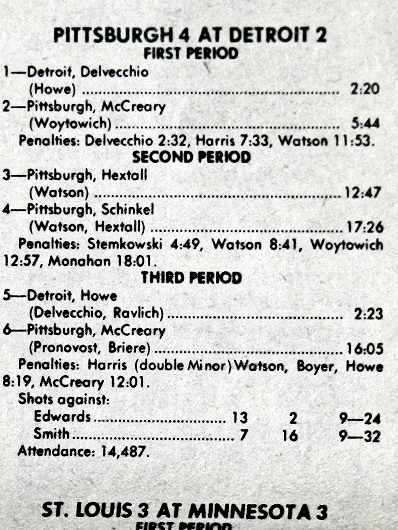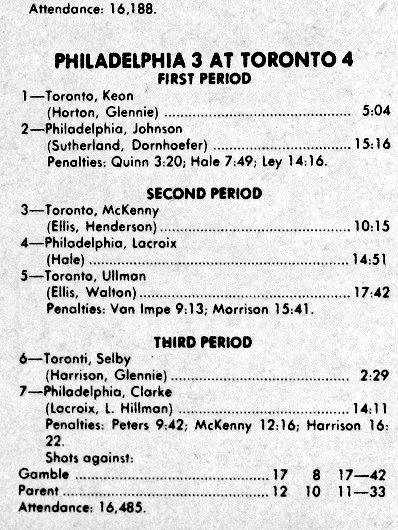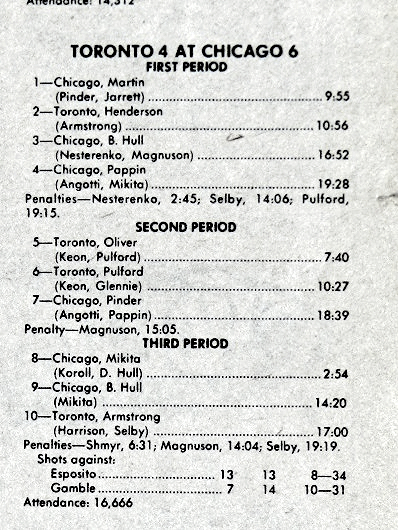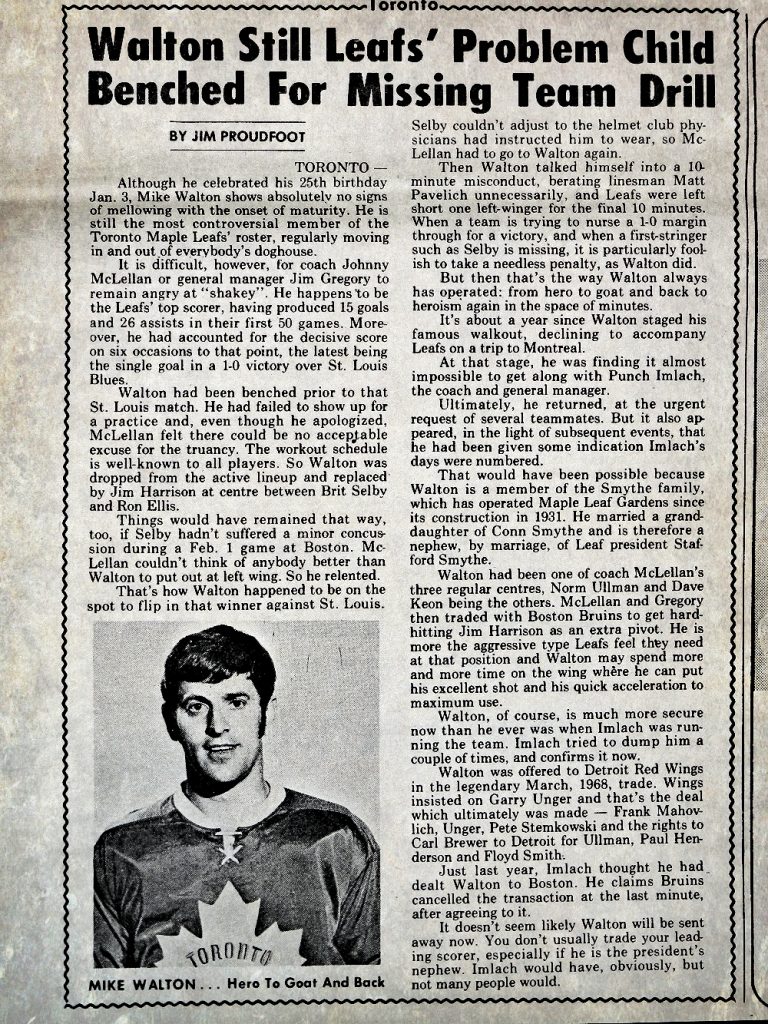 EMAIL: HOWARDLBERGER@GMAIL.COM