TORONTO (Mar. 28) — Most would agree, I'll assume, that change should be progressive; that if you alter anything in life which works, it should begin to work even better. Though the first intermission of Hockey Night In Canada is credible and informative, I need not examine television ratings to know that many fewer people stay tuned after the opening period than during the long era of Coach's Corner. I'm certain there will never be a phenomenon to match the five–to–seven minutes each Saturday night — from 1982 to 2019 — that Don Cherry sat alongside, first, Dave Hodge, and then Ron MacLean. No TV segment in our country's history endured so unceasingly; neither was any as polarizing nor embraced by individuals from coast to coast.
When the decision–makers at Rogers — waiting for Cherry to commit a firing offense — got their wish on Nov. 9, 2019, they had to know that whatever replaced Coach's Corner would pale by viewership comparison. Yes, they threw Dapper Don's million–dollar–plus salary into the fire to help defer insufferable payments to the National Hockey League for the 12–year, $5.2 billion rights deal signed in 2013. Alongside such other large–salaried broadcasters as Bob McCown, Glenn Healy, Nick Kypreos, John Shannon and Doug MacLean. But, Rogers cannot be drawing anything close to the revenue generated while Cherry commanded the air, regardless of how the Coach's Corner package was sold to advertisers. So, is the company better off without the most–viewed seven minutes in Canadian TV annals? Did that change result in recognizable progress? If so, it's nearly impossible to comprehend.

Rogers, for the moment, has replaced Coach's Corner with a segment known as In Conversation. On Saturday night, during the telecast of the Toronto Maple Leafs–Edmonton Oilers game from empty Scotiabank Arena, the session — governed by MacLean — featured Kelly Hrudey, Jennifer Botterill and Kevin Bieksa. As mentioned, this group provided immense cache. MacLean is the most–recognized TV host in the history of Hockey Night In Canada, now in its 70th year. Hrudey, a 23–year veteran of Hockey Night, appeared in 677 NHL games from 1984 to 1998 and played goal for the 1993 Los Angeles Kings, with Wayne Gretzky, the club that famously defeated the Maple Leafs in Game 7 of the Stanley Cup semifinals. Botterill, among the most–notable female hockey players of all time, won four Olympic medals with Team Canada: a silver in Nagano (1998); then gold in Salt Lake City (2002), Turin (2006) and Vancouver (2010). Her older brother, Jason, won three consecutive gold medals for Canada at the World Junior Hockey Championships, beginning in 1994. Bieksa is among the brightest newcomers to Sportsnet and Hockey Night. He played 808 NHL games on defense with Vancouver and Anaheim; best–remembered, perhaps, for his important role when the Canucks advanced to Game 7 of the 2011 Stanley Cup final, losing to the Boston Bruins. And, for Cherry routinely mispronouncing his name as "Bieska" on Coach's Corner.
So, yes, there was unquestioned credibility among the first intermission panel on Saturday night.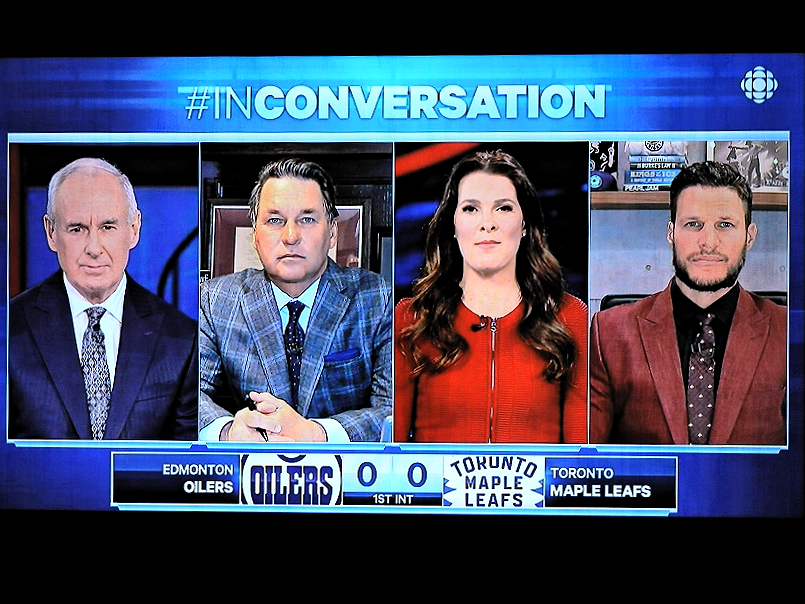 THE IN CONVERSATION CREW. LEFT–TO–RIGHT: RON MacLEAN, KELLY HRUDEY, JENNIFER BOTTERILL, KEVIN BIEKSA.
The discussion topics were, primarily, the scoreless first period of the Leafs–Oilers game; then the biggest hockey story of the week: veteran referee Tim Peel getting removed by the NHL for remarks heard on a live microphone during a game between Detroit and Nashville. Though the comments about Peel were similar to those made by others since Wednesday, they were offered with balance and undeniable insight given that MacLean has long been a minor hockey referee and that the others appeared in numerous NHL and international games. It was impossible to not learn something from the conversation. Hrudey, in particular, has evolved into an honest and trustworthy voice through the years, offering robust opinion without being offensive. Which is a unique skill among analysts on TV. There was nothing implausible, mundane or unprofessional about the seven–minute exchange.
When compared, however, with the tone and tenor of Coach's Corner, we're talking apples and oranges. Perhaps even grapes and watermelons (no pun intended). Except for the indisputable fact that In Conversation appears in the identical time–slot as Cherry's former pulpit. Which, therefore, must draw correlation. In my final years covering the Leafs for The FAN–590, media would flock to the wall–mounted TV set behind the press box. Utter silence prevailed while Cherry and MacLean did their schtick. For a time, a reporter from The Canadian Press was assigned to watch Coach's Corner and submit a story. There were occasions when C.P. didn't cover the game at Air Canada Centre, but wrote about Cherry's remarks. This was unprecedented and is likely to never be repeated.
So, given, as mentioned off the top, that change should be progress, has the first intermission of Hockey Night improved in the nearly 17 months since Rogers fired Cherry? Many will consider this a rhetorical question.
Rogers, without a doubt, had an opportunity to re–insert strong, contestable opinion in the Coach's Corner slot. But, the company deliberately chose to deny Brian Burke the chance to evolve into a Cherry–like personality. Among hockey figures in Canada, only Burke may have achieved such a following. Rogers, however, reigned in the one–time Maple Leafs president, offering him bit parts on the Saturday night telecast. Whether or not Burke would have left, unconditionally, for the role as president of hockey operations with the Pittsburgh Penguins — as he did on Feb. 9 of this year — is a question only he can answer. But, Brian may have become fulfilled with his presence on Hockey Night had Rogers supplied him a more–obvious platform. I suspect we'll never know.
SATURDAY NIGHTS IN THE 1960's
Hockey at Maple Leaf Gardens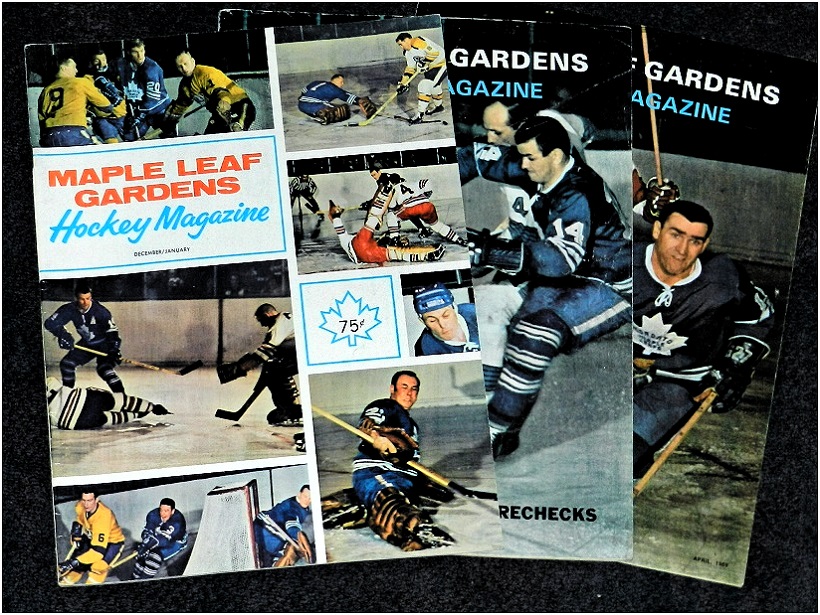 These programs evoke the earliest memory of going to hockey games at Maple Leaf Gardens. Though my initial Leafs game was Dec. 3, 1966 (vs. Detroit), I began to attend more often in the first two years of expansion: 1967–68 and 1968–69. Dad's accounting firm had season tickets in Sec. 46 of the west Blues (which became Reds in 1974–75). He would drive us to the Gardens from our home in North York, maneuvering south on Jarvis St. before making a right turn on Carlton. At which point, the east side of the arena came into view — blueish–grey light shining through stairwell windows on the top floors. Back then, there were no buildings on the south side of Carlton, directly across from the main entrance to MLG. Just a pair of massive parking lots, into which Dad would turn. The attendants packed in vehicles with no lanes, so we always had to wait, afterward, for the logjam to disperse before snaking our way back onto Carlton St. But, those memories are so wonderful. Dad would warm up the car and read aloud articles from the program. It's the reason why the items, pictured above and below, are among the most–treasured in my collection. Here are editions, 11 months apart, from December 1967 and November 1968: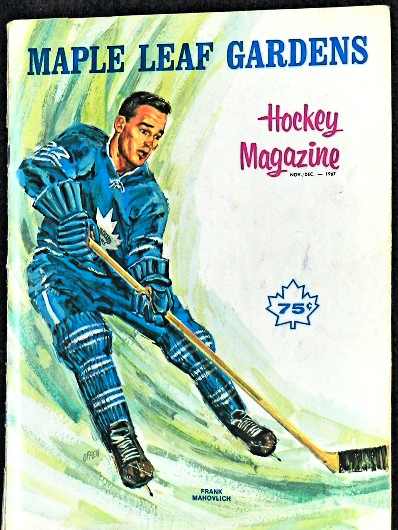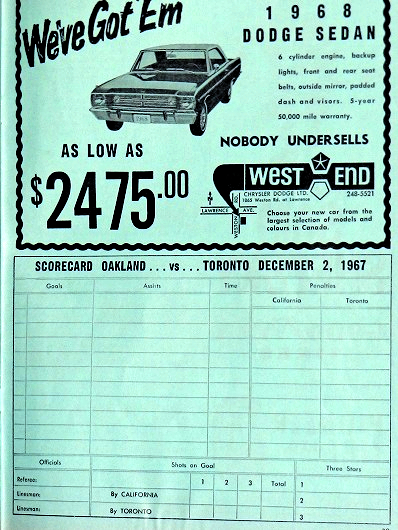 Mere days after the expansion California Seals changed their name to Oakland Seals, the club made its second appearance at Maple Leaf Gardens, losing 3–0 on Dec. 2, 1967. A watercolor portrait of Frank Mahovlich (top–left) graced the cover of the program. Returning to the Gardens (below) were defenseman Bob Baun and forward Billy Harris — teammates on the three consecutive Stanley Cup teams under Punch Imlach (1962–63–64). Despite the loss, veteran goalie Charlie Hodge of the Seals was the star of this game, getting peppered with 49 Toronto shots. He, alone, prevented a blowout. Not until 8:09 of the second period did Mike Walton of the Leafs score the eventual winning goal. Ron Ellis added a pair, at 4:32 and 18:19 of the final frame. Defenseman Tim Horton had two assists. With the win, Toronto improved to 13–7–5 after 25 games in a season it would not make the playoffs. The club was 20–25–5 after this night and became the only established team to play sub–.500 hockey against the six expansion entries. Johnny Bower stopped 38 shots for the 42nd shutout of his lengthy career. Referee Vern Buffey issued 18 penalty minutes working with linesmen Neil Armstrong and Ron Ego.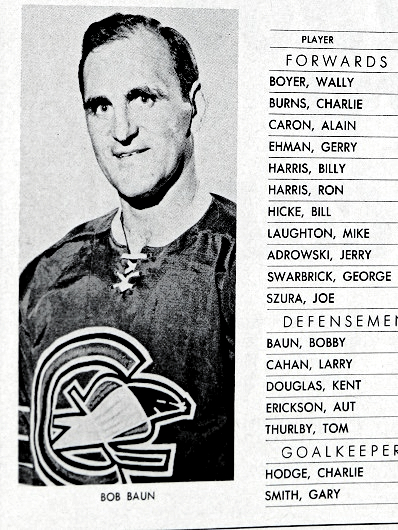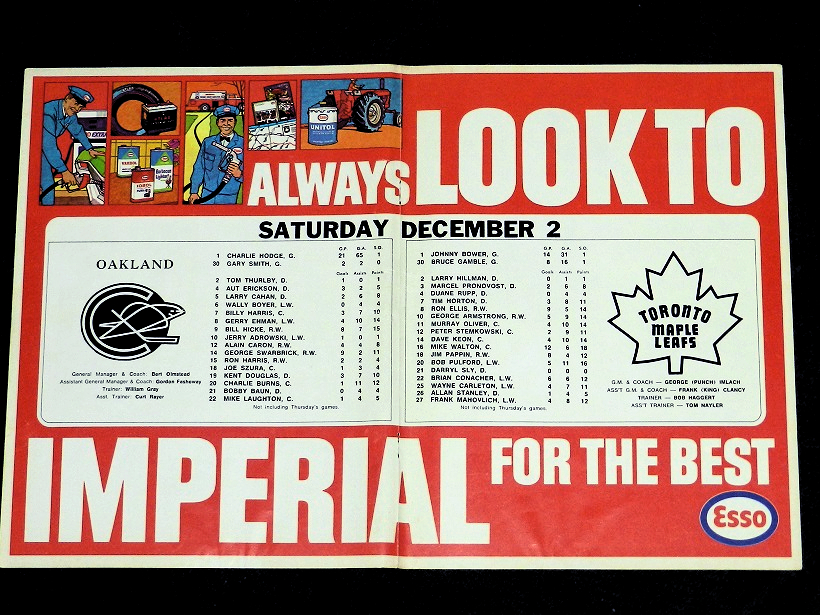 The first–year Seals (line–ups, below) were replete with former Toronto players: goalie Garry Smith (30); skaters Aut Erickson (4); Larry Cahan (5); Wally Boyer (6); Billy Harris (7); Gerry Ehman (8); Kent Douglas (19) and Bobby Baun (21). Still, the club finished dead–last in the 12–team NHL with a record of 15–42–17 for 47 points, 19 fewer than Detroit. It played before sparse audiences at the Oakland Coliseum–Arena.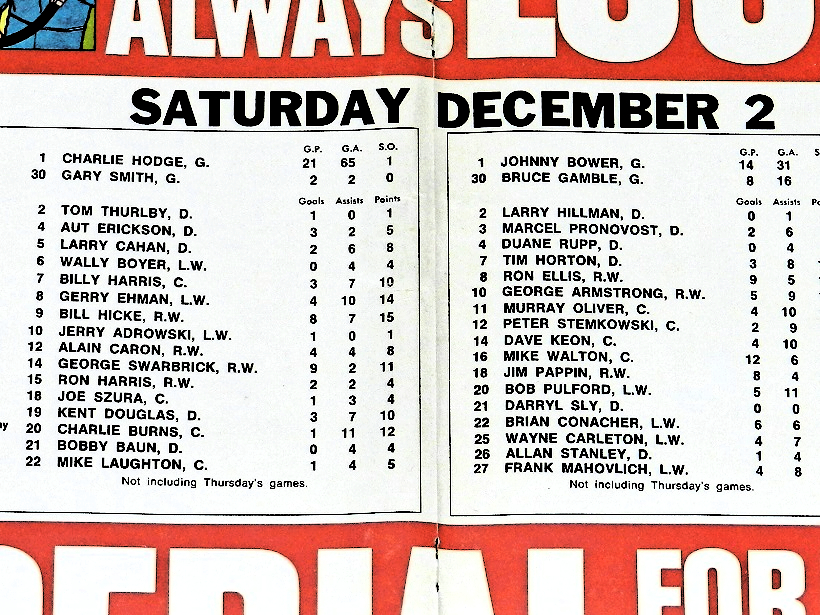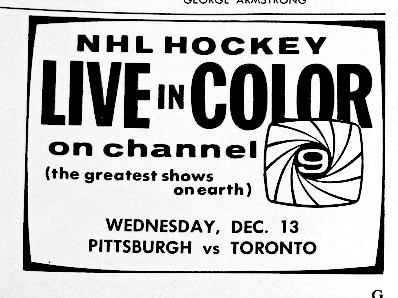 A program ad, top–left, for the first–ever game between the Maple Leafs and Pittsburgh Penguins, 11 nights later, on the Wednesday edition of Hockey Night In Canada, aired across the CTV network. The feature OLD FACES IN NEW PLACES (top–right) appeared in the Gardens program throughout 1967–68; showing NHLers in their pre–expansion and expansion jerseys. Here, Brit Selby and Leo Boivin (top); Terry Sawchuk and Bill Hicke (bottom).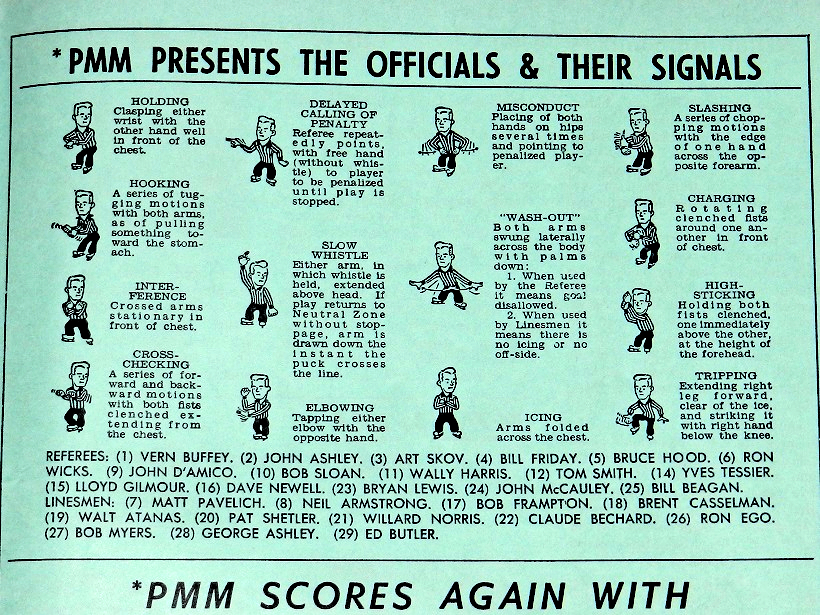 Who, of vintage, can forget the silly cartoon figures (above) of referees displaying penalty signals? The full list of NHL officials for 1967–68 appears at the bottom of the program ad. Bill Friday, Wally Harris and Bryan Lewis are among the refs still alive; Matt Pavelich, Pat Shetler and Willard Norris among the linesmen. Nearly one month of the expansion–year NHL schedule (below) was on the last page of the program.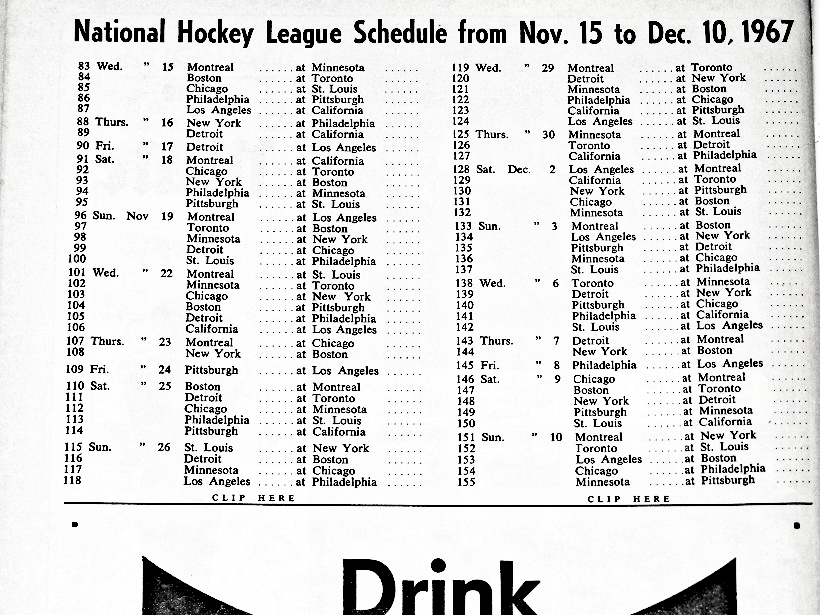 Forward Mike (Shaky) Walton was on the program–cover for the Toronto–Philadelphia Saturday night game of Nov. 2, 1968. In Montreal, that same night, the renovated Forum opened for a match between the Canadiens and Detroit. At the Gardens, the Leafs continued to have difficulty with an expansion team, now in its second year. The Flyers scored a 3–2 victory when forward Jean–Guy Gendron beat goalie Al Smith at 16:13 of the third period. Gendron and Ed Van Impe had sandwiched first–period goals around one by Toronto's Paul Henderson. Original Flyer Bill Sutherland tied the game for the Leafs at 12:01 of the final frame, setting the stage for Gendron's winner just more than four minutes later. Future Leaf Bernie Parent stopped 32 shots for the win. Referee Bill Friday issued 14 penalty minutes, working with linesmen (and future full–time referees) Bob Myers and Bryan Lewis. 

Only four members of the second–year Flyers (line–ups, below) would still be around when they became, in 1973–74, the first expansion team to win the Stanley Cup: Bernie Parent (30); Ed Van Impe (2); Joe Watson (3) and Gary Dornhoefer (12). Forbes Kennedy (22) was traded to the Maple Leafs on Mar. 2, 1969 and precipitated a famously wild brawl in a playoff game against the Bruins, at Boston Garden, exactly one month later.
Don Cherry's brother, Dick Cherry (5), played defense for Philadelphia.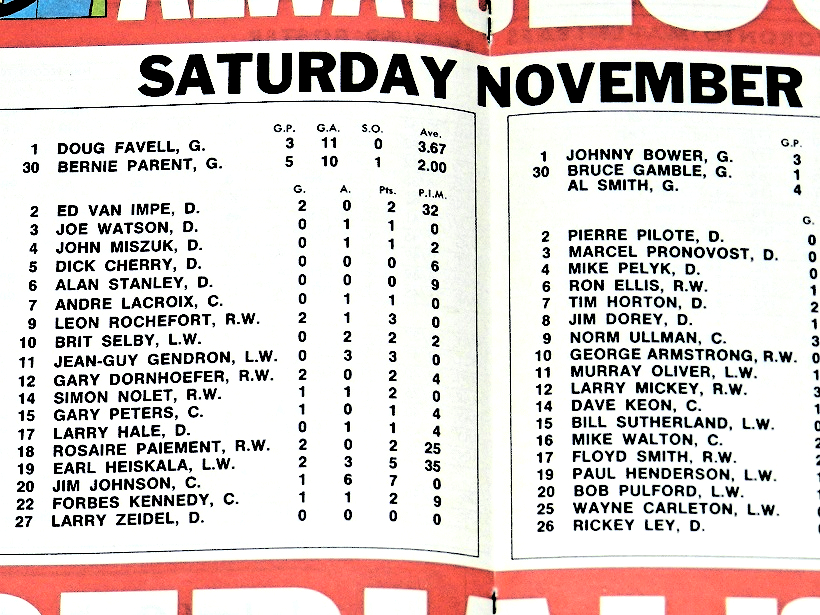 EMAIL: HOWARDLBERGER@GMAIL.COM