TORONTO (Mar. 15) — He had to run. God's voice of hockey here in Canada for two generations. Understandably, of course. At 87 years of age, if offered a COVID–19 vaccine, you go for it. Quickly. "How are you, Howard?" came the unmistakable tone from St. John's this afternoon. "Good to hear from you, but I don't have a lot of time. Need that vaccine." Questions therefore rolled quickly from this end of the telephone line.
Last we saw, and heard, from Bob Cole was his final National Hockey League telecast: Apr. 6, 2019. Season finale. Toronto at Montreal. When we never thought twice about 20,000 fans packing the Bell Centre on a Saturday night. No vaccines required then. "Yup, life has been a lot different for a lot of people since that night," Bob said. "Thankfully, it's so far, so good for me. I'm feeling well. Spending time watching curling and golf on TV. Just finished watching the Brier. But, yeah, I miss my old gig… being in the broadcast booth for Hockey Night In Canada. It was my life for so many years. And, I can still do the job, believe me. But, ahhh, no use in getting into it. They had other plans. With other people. So, I'm out here in the east. Relaxing."
For more than four decades, hockey viewers across the land grew up with Cole. He took over from Bill Hewitt as the lead voice of the Toronto Maple Leafs and the Stanley Cup final (separate entities, to be sure) on CBC and held the role, for the most part, from 1978 to 2009, when replaced by Jim Hughson. Though begrudging no person in the business, he wasn't happy with the move back then. Or, today — 12 years later. I remember sitting with Bob at Raleigh–Durham International Airport during the 2009 playoffs. He was calling the Carolina–Pittsburgh Eastern Conference final (which I covered for The FAN–590), but would give way to Hughson for the championship round. "Why?" he kept asking. "Can't I do this job anymore? I don't understand what has changed?" Which is intrinsic among the great ones in any profession. They always believe they can press on. As Cole almost–certainly could have. For a few years, anyway. "It was a difficult time for me," he admitted. "My health was good; my voice was good. But, suddenly, I wasn't good enough. Go figure."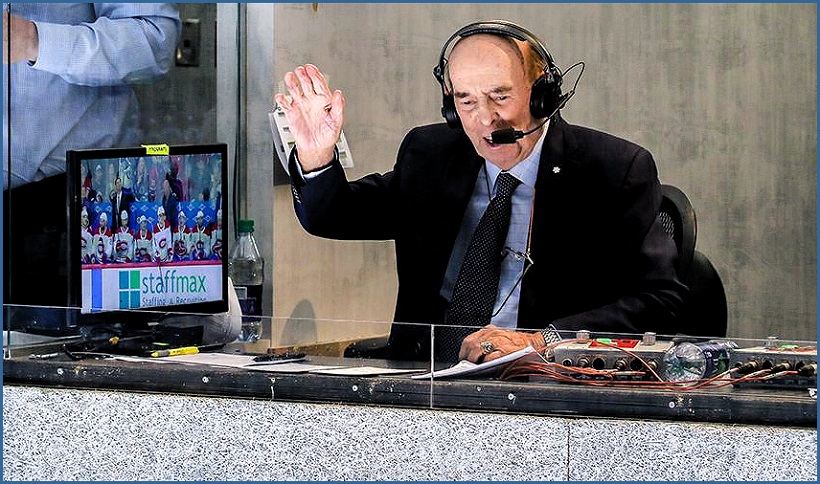 BOB COLE WAVES FROM THE TELECAST BOOTH AT THE BELL CENTRE IN MONTREAL DURING HIS FINAL GAME FOR HOCKEY NIGHT IN CANADA: CANADIENS vs. LEAFS ON APR. 6, 2009. THE CANADIAN PRESS
Though he still watches hockey on television, Cole cannot do so with the same verve. Neither could I listen to sports radio after being let go by The FAN in 2011. It bears little relation to bitterness or hostility. Instead, it's simply the change that prevails. You are so deeply involved with something for so long. Enthusiasm unavoidably wanes when not involved anymore. "Same here, no different," Bob confirmed. "It's tough to do — watch others call hockey when I know I can still handle the job. Nothing against those people, or the decision makers. But, it's different when they cut the cord. I don't have the same interest. Neither do I follow a particular team, though I like the Penguins. Sidney Crosby and I chat occasionally; he calls me or I call him. Just to see what's doing. There's no point in hanging on to anger or resentment. I had lots of good years in that job."
Which may rank highly amid the understatements of 2021.
Cole's broadcast career encompassed the Stanley Cup dynasties of the New York Islanders (1980–83) and Edmonton Oilers (1984–90). Though Vancouver hockey voice Jim Robson called the Islanders' first of four consecutive championships — won, in overtime, by Bob Nystrom on May 21, 1980 — Cole took over in 1981. Starting in 1986, he and broadcast partner Harry Neale called 20 Stanley Cup finals for CBC, including the last three won by the Oilers. In so doing, Bob developed a close bond with Wayne Gretzky and father, Walter, who passed away last week. "That was a great juncture for hockey; those Edmonton teams of the 1980's were some of the best and most exciting of all time," Cole said. "It was a sad day for me when Walter died. The last time I saw him, in the previous year, he didn't know who I was. Which was very difficult. There were few genuinely nicer people in and around the game. Which you've heard from others. Wayne actually called me out of the blue four or five weeks ago. Just to see how I was. From a golf course somewhere. He's a chip–off–the–old–block. Glen Sather (Edmonton's GM and coach in the Stanley Cup years) is also a great friend.
"Lots of memories from the Oilers of the 80's. What a wonderful group."
Cole called Gretzky's final NHL game — Pittsburgh at New York Rangers — on Apr. 18, 1999. I was privileged to be there, as well, for The FAN–590. While strolling in the lower corridor of Madison Square Garden beforehand, I watched as a crew from Hockey Night In Canada videoed Gretzky and Cole embracing outside the home dressing room; then walking down the hall. It was a moment requested by No. 99. And, why not? "Yup… remember it like yesterday," Bob said. "What a scene it was when he circled the ice at the Garden afterward, waving at the fans, followed in the darkened arena by a spotlight. It's an image I'll never forget."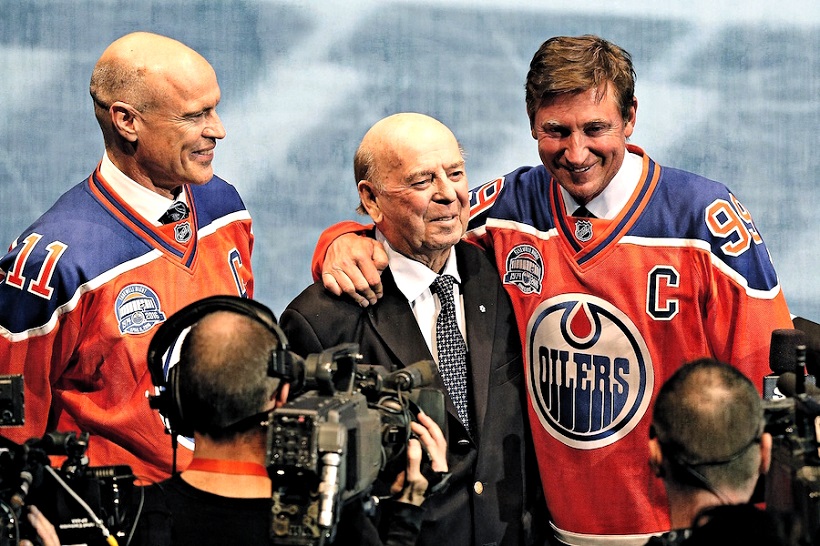 WAYNE GRETZKY EMBRACES BOB COLE AT CENTER ICE PRIOR TO THE FINAL NHL GAME AT NORTHLANDS COLISEUM IN EDMONTON, WHERE THE GREAT ONE AND MARK MESSIER (AT LEFT) WON FOUR STANLEY CUP CHAMPIONSHIPS IN FIVE YEARS (1984–85–87–88). PERRY NELSON USA TODAY SPORTS
Neither will fans of the Maple Leafs forget Cole, who called all 21 playoff games involving the club in the spring of 1993, when Pat Burns, Doug Gilmour, Felix Potvin, Wendel Clark and Co. went to Game 7 of the Stanley Cup semifinals before getting bounced by the Los Angeles Kings. With that guy, Gretzky. Included was an overtime victory by the Leafs in the decisive match of the opening round (May 1 at Joe Louis Arena in Detroit); Gilmour's legendary wrap–around goal on Curtis Joseph of St. Louis, two nights later, at Maple Leaf Gardens; and, of course, the infamous Gretzky–Gilmour–Kerry Fraser debacle of Game 6 at the Los Angeles Forum. "Gilmour was fabulous that year, but, hey, he wasn't the only great Maple Leaf," emphasized Cole. "You're forgetting Darryl Sittler. Or, the players I grew up listening to on radio, when Foster Hewitt painted the picture. My favorite was Syl Apps. Then Ted Kennedy. The Leafs won Stanley Cups back then. In my years calling Toronto games for Hockey Night, no one was closer, or better, to me than Pat Quinn. He was such a wonderful friend. Time and again, he invited me into his office at the Air Canada Center. When things were quiet. Just to chat. We lost him too young (in November 2014). Really miss Pat. Think of him all the time."
Cole also remembered George Armstrong, captain of all four Leaf Stanley Cup teams in the 1960's, who died after a brief illness on Jan. 24 of this year. "Ahhh, another good one gone," Bob lamented. "Army always made time to stop by the broadcast booth at Maple Leaf Gardens and the Air Canada Centre to say hello when I called games. He was a great guy. Fabulous captain for those teams coached by Punch Imlach."
I could have continued for minutes on end. Reminiscing with God's voice of hockey. But, he felt rushed.
"Gotta go, Howard. The needle's waiting. Miss you."
EMAIL: HOWARDLBERGER@GMAIL.COM