"If Fred has shown us anything in the 4½ seasons he has been with us, it's that he has a tremendous ability to gather himself when he may not be playing to the standard that he sets for himself. I have a lot of faith that Fred, over time, has continually shown us that he's able to find his way out of it, and that he will."
— Toronto Maple Leafs general manager Kyle Dubas
TORONTO (Mar. 17) — Huh?
Kyle Dubas isn't normally prone to gibberish. As with most general managers in professional sport, he has perfected the art of talking copiously and saying nothing. But, the above quote in reference to No. 1 goalie Frederik Andersen is abject nonsense. Words that bear no relation to fact.
What has Andersen "found his way out of" in four playoff appearances with the Maple Leafs? Perhaps concentrating when it matters most, given the easy, inopportune shots that have eluded him, thereby destroying any possibility of the team advancing beyond the first round. Otherwise, it's difficult to amalgamate what Dubas said to reporters on Tuesday with any form of reason. Did he not see what happened against Columbus last August, when Andersen — so typically — offset brilliant saves with a trio of killer softies that eliminated the Blue and White from the qualifying round? Or, the absurd blunder committed against Joakim Nordstrom of Boston, whose dribbling shot from beside the goal opened the scoring and set the tone for a 5–1 Bruins romp in Game 7 of the 2019 opening round? What about the four–goal barrage by the home team at TD Garden in Game 7 of the 2018 opening series that turned a 4–3 Toronto lead into a 7–4 Boston triumph? Or, the third–period whiff at Air Canada Centre on T.J. Oshie of Washington in Game 4 of the 2017 playoff, 59 seconds after Auston Matthews had brought the Leafs back from a 4–1 deficit, that erased a 2–1 series lead for Toronto and led to a six–game elimination? Honestly, folks… am I making up any of this?
Didn't you see it with your own eyes?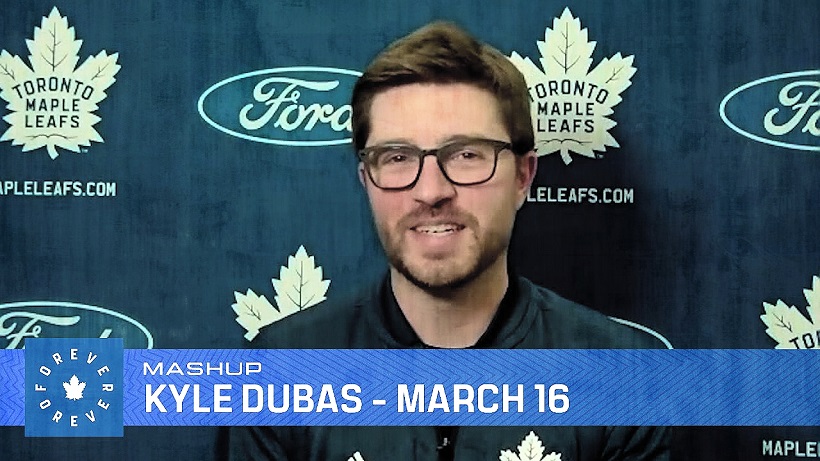 LEAFS G.M. KYLE DUBAS SPEAKS DURING A "VIRTUAL" MEDIA CONFERENCE ON TUESDAY.
So, what is Dubas talking about when he claims that Andersen will "find his way out of" difficulty? That he'll come up big against Ottawa in a late–season match? The GM certainly cannot point to any defining moment in the playoffs, other than that which helped the opposition. From my perspective, Kyle has cornered himself. What else can he offer the media, except for blather? Presumably, it was his decision to stay with Andersen for the current season, even amid the unprecedented availability of netminders in free agency. Likewise, if he is so convinced of Andersen's value to the club — and eternal capacity to rebound from travail — why hasn't Dubas granted the goalie a deserving contract extension? Andersen will be 32 when next season begins, coming off a five–year, $25 million pact that has yielded the Maple Leafs nothing of significance. He'll undoubtedly request a raise on the open market this summer. Wouldn't you pursue such an arrangement?
My old friend Terry Koshan said it bluntly, and accurately, in the Toronto Sun:
"Put it this way — teams don't often play the Leafs and bemoan the fact they were beaten by a terrific goalie, such as Toronto experienced last week with Connor Hellebuyck of the Winnipeg Jets or in the qualifying round last August with Joonas Korpisalo of the Columbus Blue Jackets," Koshan wrote yesterday.
The irony in all of this centers on what could become the most–exceptional trade by a Leafs GM in many years — that which secured Jack Campbell from the Los Angeles Kings in February 2020. A deal made by… Kyle Dubas. Still a mystery is why the Kings unloaded a young stopper that posted a superb 2.30 goals–against average in 31 games with an otherwise–terrible team in 2018–19. Los Angeles finished with 71 points, ahead of only Ottawa in the composite standings. The club surrendered 263 goals in 82 games, or 3.21 per match, well beyond the figure provided by Campbell. Yet, he became a Leaf (along with veteran Kyle Clifford) for a marginal package: forward Trevor Moore and a pair of conditional third–round draft picks. If the 2.30 GAA performance only two seasons ago is any indication of Campbell's value, would you not rather hang on to a 28–year–old netminder? Especially given that goalies, rather than skaters, can reach their prime after age 30 (which also applies to Andersen, though his playoff resume since 2015 is a major drawback)?
Logic would suggest that Campbell's nagging leg/groin injury is all that precludes Dubas from trading the final month of Andersen's contract before the Apr. 12 National Hockey League deadline. Perhaps the GM is also allured by the big Dane's splendid career mark against Canadian–based teams (66–18–16 in 100 games) during a year in which the North Division survivor qualifies for the Stanley Cup semifinals. If so, there's some merit in allowing Andersen to walk for free this summer. But, Campbell offers tantalizing potential — a 2.52 GAA and .918 save–percentage in 59 career starts; only nine, thus far, with the Maple Leafs (6–2–1 / 2.20 / .926). If smilin' Jack returns to health in time for the playoffs, there will be no excuse for Sheldon Keefe to stick with Andersen after a killer mistake. Even if the general manager is "certain" of a bounce back.
LAUDITORY HEADLINES: The newspaper and Internet stories that followed Dubas's 40–minute "virtual" chat with reporters on Tuesday appeared full of surprise. LEAFS GM KYLE DUBAS SOUNDS LIKE HE'S ALL IN FOR A LONG STANLEY CUP RUN screamed the Toronto Star. IT'S ALL OR NOTHING FOR MAPLE LEAFS GM KYLE DUBAS offered the Toronto Sun. WHY MAPLE LEAFS' DUBAS IS ALL IN AND READY TO MAKE A TRADE SOON said Sportsnet.ca. Offered TSN.ca: DUBAS READY TO DEAL AND WILLING TO MOVE A TOP PROSPECT. Only Cathal Kelly in the Globe and Mail chose to see through the remarks in his column entitled KYLE DUBAS STICKS TO SCRIPT DESPITE THE TORONTO MAPLE LEAFS' RECENT STRUGGLE.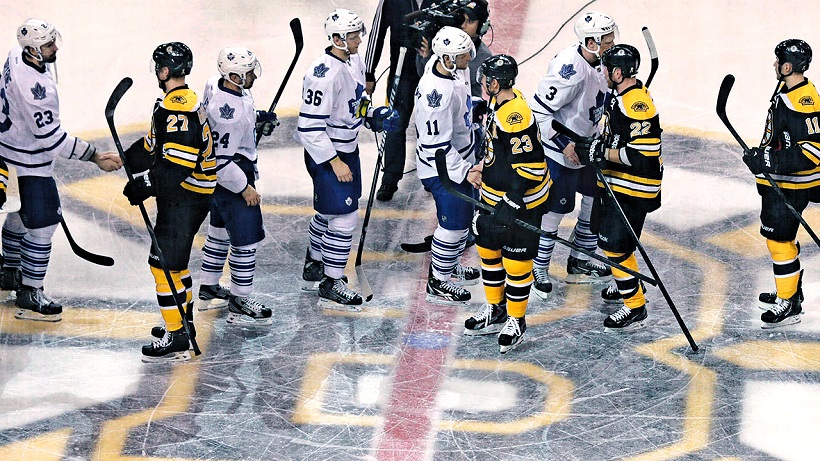 THE LEAFS HAVE DONE MORE THAN ENOUGH OF THIS EARLY IN RECENT PLAYOFF YEARS.
Most would agree that nothing in a GM's portfolio is more important than availing himself a chance to win. In spite of the recent downturn, Toronto seems equipped to conquer its 17–year playoff victory famine; perhaps go a step farther in the unique, pandemic–related setup of 2021. Adding an established forward, however, will hardly matter if the team allows horrible, untimely goals in a playoff match.
Thus, the impetus for this blog, and more than a few others, during the Frederik Andersen era.
EMAIL: HOWARDLBERGER@GMAIL.COM