TORONTO (Mar. 21) — My ol' friend, Rosie DiManno, has never needed an epiphany to write a column. About news, human–interest or sports. The headline, which she didn't write, to her Sunday Leafs story in the Toronto Star (as below) was therefore somewhat parochial. As if she'd stumbled upon an avant–garde idea.
Of course Jack Campbell must be provided an opportunity to bail out the Maple Leafs between the pipes. Had Brendan Shanahan, Kyle Dubas and Co. followed their initial impulse after the qualifying playoff loss to Columbus in August (story here: https://bit.ly/32Oxxnn), the bailing out process may not have materialized. This corner was screaming for the Leafs to follow through and replace Frederik Andersen as No. 1 stopper. But, the tall thinkers at 40 Bay St. either lost their nerve or had a change of heart. Either way, it was a colossal blunder; one that can be surmounted only by reverting to the initial plan. Which shouldn't be particularly agonizing given that obtaining Campbell from Los Angeles was a brainstorm by Dubas. As I've repeatedly pointed out, this is a goalie that posted a stellar 2.30 average in 31 appearances with the second–worst team in the National Hockey League in 2018–19. He then, amid nagging injury, brought swagger and confidence to the position in his early starts with Toronto. It's a call that should have been made last summer.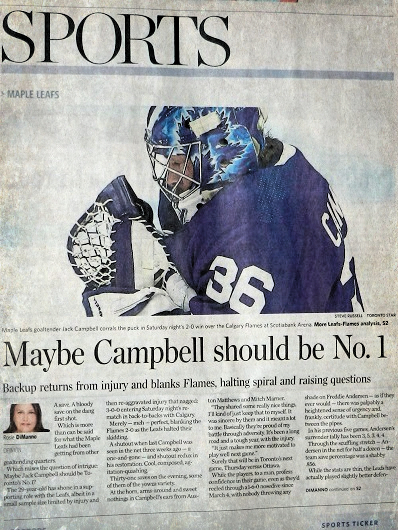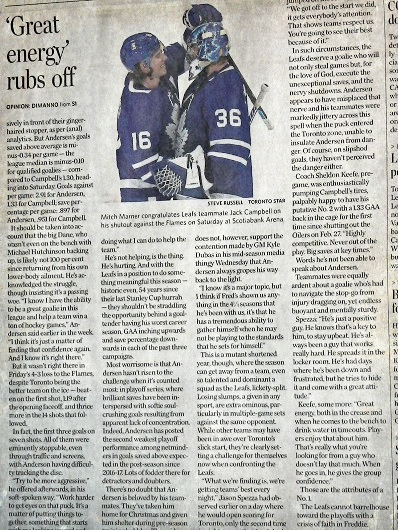 Andersen has been a good soldier for the Leafs. During regular season play, he ranks with the minuscule band of stoppers, in the post–1967 era, that has performed admirably. Alongside Mike Palmateer, Felix Potvin, Curtis Joseph, Ed Belfour and James Reimer (as I said: minuscule). In the playoffs, when goaltending truly matters, it's a different story. Palmateer, Potvin, Joseph and Belfour combined to win 12 post–season rounds for the Blue and White — 12 more than Andersen. No team with Stanley Cup aspiration should provide a four–time playoff failure in goal a fifth opportunity. That misstep rests entirely on the shoulders of Shanahan and Dubas. Brendan can at least thank himself for the plan he brought forth in 2013: to bottom out for a few years and adorn the club with elite draft talent. Thus, the nucleus of William Nylander, Mitch Marner and Auston Matthews. The free agent signing of John Tavares has also been helpful, though not commensurate with salary. An ability to out–gun the opposition lifted the Leafs into the North Division stratosphere in the first 24 games of this pandemic–shortened schedule (18–4–2). Then the goaltending bugaboo began to prevail. And, not–so–suddenly, we have a logjam atop the all–Canadian sector.
We cannot guarantee, of course, that Campbell is the answer. While hampered by a groin injury, he's appeared in a measly four matches this season. Which is too small a sample–size. Riding consecutive shutouts, however, over Edmonton and Calgary, he'll take a scoreless streak of 133 minutes and 27 seconds into Thursday night's game in Ottawa. It is virtually impossible for a goalie in the NHL to fluke such an achievement. Particularly behind a team not noted for defensive aptitude. So, Campbell shows legitimate promise.
From the first time he wore a blue and white jersey, he seemed the antithesis of Andersen (say that quickly, four times). While Freddie played deep in the crease — and often on his knees, getting beaten to the upper corners — Campbell channeled his inner–Palmateer. He stood up; moved out… and dared shooters. Which, quite frankly, shooters don't like. That swagger, as I call it, emboldens teammates and deflates the opposition. It is an absolute must in the Stanley Cup tournament. The Leafs have never had it with Andersen, who would occasionally steal a game, only to cough up a terrible goal, two nights later, in a more–critical playoff circumstance. No reasonable observer has ever considered the big Dane a "money" goalie. And, no team can challenge for the Stanley Cup in the absence of such a figure.
So, yeah, as Rosie's headline noted: "Maybe Campbell Should Be No. 1."
Methinks she knew so long before it was written.
EMAIL: HOWARDLBERGER@GMAIL.COM