TORONTO (Mar. 6) — With the exception, perhaps, of Harry Neale, he was the most–complete and informative analyst in the history of hockey on television. Certainly, here in Canada, though many good voices have resided south of the border (John Davidson, Pierre McGuire, Mike Milbury, to name three). And, make no mistake, Glenn Healy recognizes, in the Toronto Maple Leafs, what the rest of us are seeing in this unique National Hockey League season — a team sitting atop the overall standings at 18–5–2, with more depth, versatility and apparent kinship than any in the Brendan Shanahan era (dating to 2013).
But… and you knew this was coming… there's a hook.
"When the playoffs start, you suddenly need to convince 23 guys on the other side that they aren't good enough," explained Healy. "And, that's always a challenge. It's the reason there are upsets along the Stanley Cup trail virtually every year. Which shouldn't be possible over seven games — more than enough, you would think, to separate good from not–so–good. But, in the end, it matters not what a team accomplished during the regular season. The only season that counts begins once the puck is dropped in Game 1. So, anyone thinking the Leafs have an automatic pass into the semifinals this year — simply because it seems that no one in the all–Canadian group can stay with them — should wait until that first puck is dropped in May. Enjoy the ride now. The Leafs, without question, are earning the accolades. But, do not make assumptions."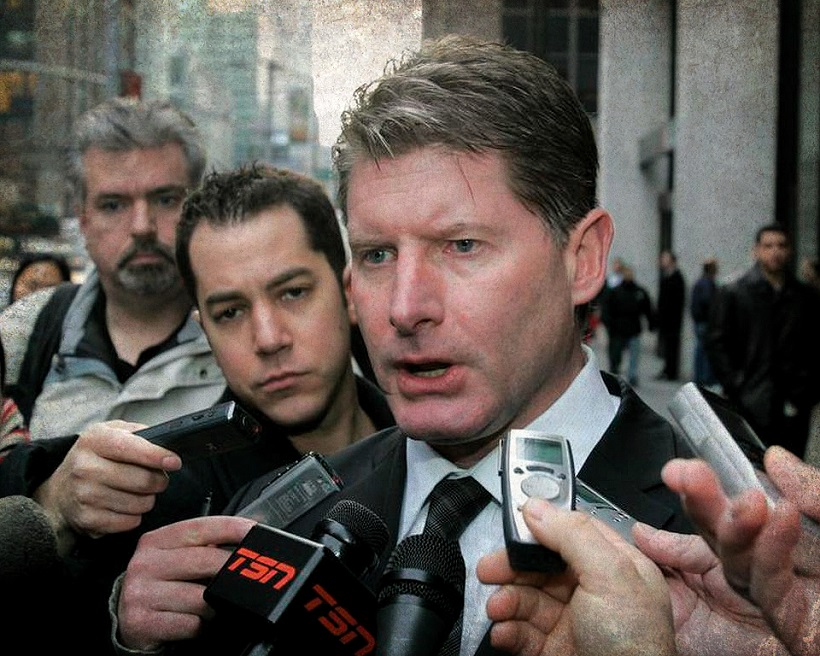 Healy, of course, reasons from first–hand experience. He played goal for the New York Islanders during arguably the biggest upset in Stanley Cup history. The Pittsburgh Penguins, two–time defending Cup champion, finished the 1992–93 NHL season with a 17–0–1 mark, winning those 17 matches consecutively (between Mar. 9 and Apr. 10), still a league standard. In the final 20 games, after legendarily returning from cancer treatment, Mario Lemieux erupted for 30 goals and 56 points to overcome a 12–point deficit (to Pat LaFontaine) for the Art Ross Trophy. Pittsburgh destroyed New Jersey in the opening playoff round, winning in five while outscoring the Devils, 23–13. Then came the Islanders, who had edged Washington in six games; three of them going to extra time. New York finished 32 points behind Pittsburgh in the standings.
"I remember thinking that we should ask the Penguin players 'is it okay for us to have the puck for a few moments? Just a little bit, now and then?"' laughed Healy. "I mean, it wasn't even close between us. They had Lemieux, [Jaromir] Jagr, [Ron] Francis, [Larry] Murphy. [Tom] Barrasso was looking at me from the other end. It was a Hall–of–Fame group playing in real time. I thought we might lose the series in three, let alone four.
"Well… look what happened."
Truth be told, even 28 years later: Who knows what happened? The Penguins, leading 3–2 and with a chance to wrap up the series in Game 6 at the Nassau Coliseum, grew complacent, defensively. They yielded seven goals and had to go home to win the series in a decisive match at the old Civic Arena. Neither did that happen. A Czech–born winger named David Volek — who scored eight goals in 56 games of the regular season — slapped the puck past Barrasso at 5:16 of overtime to kayo the two–time champs. Al Arbour was so stunned behind the New York bench, he didn't react until four or five seconds after his players had fled in euphoria. Pittsburgh rallied late in regulation from a 3–1 deficit: Francis (at 16:13) and Rick Tocchet (at 19:00) beating Healy to knot the score. The Penguins, at home, had all the momentum going into the extra frame.
Until it was David Volek time.
"Al simplified the whole thing before Game 7," Healy recalled about his legendary coach. "He said 'let's tie every shift against Lemieux and win one shift, late.' Which is exactly what happened. Though, I'm still not sure, three decades later, how it happened. But, that's the playoffs. You get involved in a two–week war against the same team. Nothing matters… elsewhere in the league or beforehand. Sometimes, the lesser team begins to play head games with the favorite. And, the favorite suddenly isn't sure how to react. So, you have an upset. We did it against Pittsburgh. Columbus (in 2019) did it just as shockingly against (62–win) Tampa Bay.
"It's the reason they schedule seven games."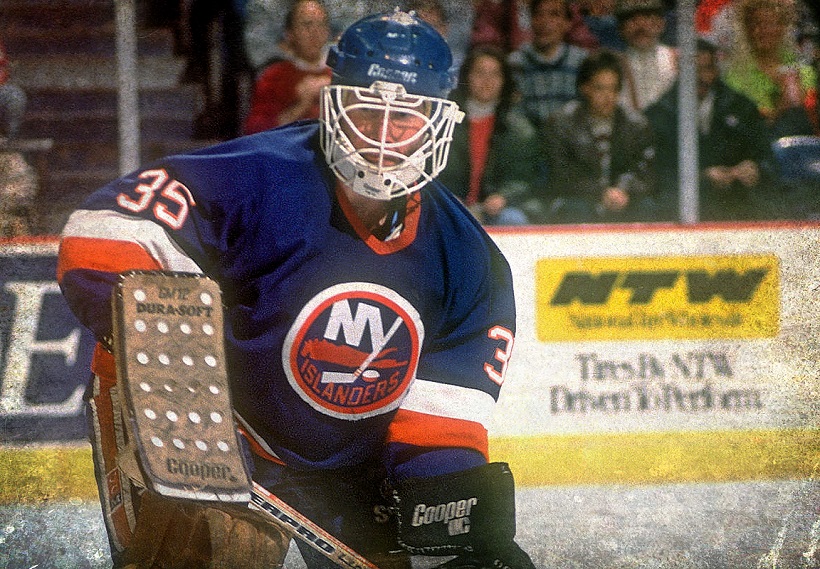 As mentioned off the top, Healy is impressed with the Maple Leafs. "They've been building this ship for a long time and it appears they finally have the weaponry to match up against teams that play varying styles," he said. "Right now, the Leafs are passing every test… over and over. They can win games that are wide open; games that are defensive struggles, and they seem capable of handling the physical grind through 60 minutes, which is truly different. They win with their starting goalie; their back–up goalie and their No. 3 goalie. Some nights, it looks like they could win with no goalie. So, Toronto has checked off most of the boxes. And, it's obvious the team is thriving under [Sheldon] Keefe. There wasn't this type of harmony in the [Mike] Babcock years. It seems he was the elephant in the room, given the stories that have been made public. So, the [coaching] change last year was obviously important. But, everything the Leafs are doing right now is a dress rehearsal for the playoffs. As I said earlier, it guarantees nothing — against their Canadian rivals in the first two rounds… and, especially, against 'uncommon' opponents like Vegas, Tampa Bay, Boston or Washington in the semifinals. But, the excitement around the team, and in the city, is legitimate."
ON COACHES: After mentioning Babcock in our phone chat on Friday, I asked Glenn about the best coach he played for. "Al Arbour. Hands down. When he spoke to the team, I would feel as if he was talking directly to me. 'How did he know that?' I would think. So would the guy next to me in the dressing room. And, the guy next to him. At other times, he would stick his shoe so far up a player's ass he could taste it. The better things were with the team, the harder Al got. When things were going bad, he'd put his arm around you like your father. That's what made him so special. He could read a dressing room perfectly. He knew precisely how to react… and when to react. It's reflected in his coaching record. Same applied to Pat Quinn when I was with the Leafs (1997–2001). He would pull up a chair and sit in the middle of the dressing room telling old war stories — about what the British did in the 1940's and how Germany was defeated. We would be enraptured for minutes on end. Then, afterward, the Russian players would all come up to me and say 'Glenn, vat did he mean by ven London vas attacked by Germany… and British two–by–fours. I don't understand.' Guys like Dmitri Yushkevich, Danny Markov and Igor Korolev. It was hilarious. I'd kill myself laughing. But, Pat always had our attention and was there to help whenever it was needed. He had such a mammoth presence."
MEDIA MADNESS: In June 2016, Glenn Healy was the first big TV name expunged by Rogers as part of the cost–cutting marathon that continues to this day. He accepted the decision like a pro; neither has he changed his tune nearly five years later. "Nope… I said at the time there is no pity party for this guy and I maintain that stance," Healy confirmed. "I obviously don't like the fact that so many good, dedicated people have lost their jobs since then, but change is inevitable. The way we watch and listen to sports continues to evolve. It used to be we'd sit glued to our TV's for three hours during Hockey Night In Canada. Now, kids are waiting for alerts on their mobile devices. They want to see the goals — 'oh, Marner scored again.' So, rightly or wrongly, the people being put on the air has also changed, which is likely reflected in their salaries.
"As for me, I feel no differently than on that June day. I had the chance to work with the best people in the world — on the air and behind the scenes — during my years with CBC and Hockey Night. Every Saturday, people saw me and listened to my views on the No. 1 hockey program of all time. How could I possibly allow that to be diminished by grousing over the business decision to let me go? I worked games with Bob Cole. BOB COLE, for heaven's sake. I'd be standing between the benches; the whistle would blow and I'd say nothing because I was listening to him like the TV viewers. 'Oh yeah, I better chime in here,' I'd remind myself.
"It was the greatest time in my post–playing career. All I take with me are those special memories."
ON JIM HUGHSON AND CHRIS CUTHBERT: "That's a pretty remarkable duo Rogers now has. People have wondered why Hughie isn't doing Leafs games this season. I assume it's because of COVID and restricting travel. Jim lives in Vancouver and is therefore working Canucks games. C.C. [Cuthbert] lives in Toronto and is doing the Leafs. Craig Simpson lives in Edmonton and flies to Toronto to team with Chris. But, Simmer would work games in Wuhan, he loves his job so much. The playoffs will be interesting to watch, especially if COVID restrictions are relaxed or lifted by then. You have to know Cuthbert has it in his contract to call a Stanley Cup final; why else would he leave that excellent gig at TSN? But, the final has been Hughie's domain since the days of Bob Cole (after 2009). They are both great guys and superb announcers."
50 YEARS AGO TONIGHT
at Maple Leaf Gardens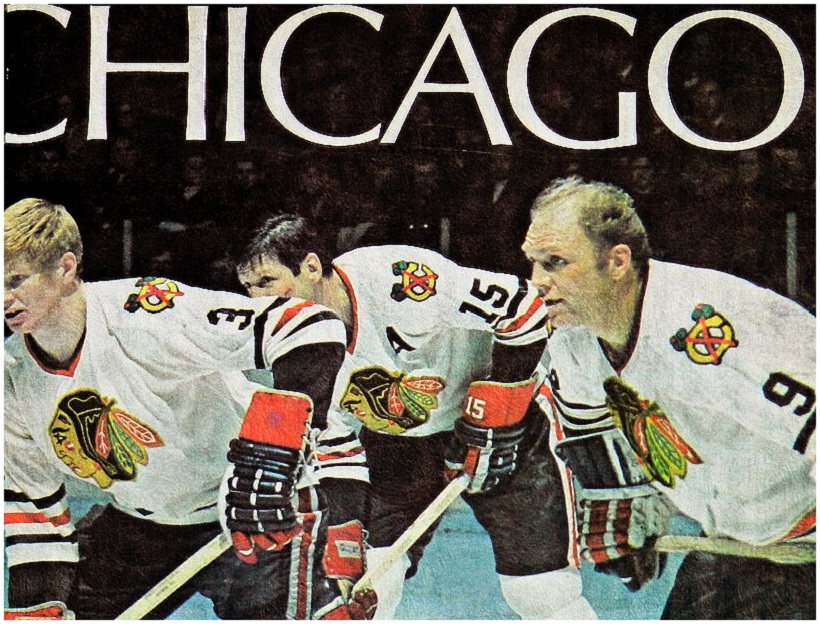 The Maple Leafs were solidly in a playoff spot in the East Division, 50 years ago tonight, when Chicago came to town. The Black Hawks had been transferred to the weaker West Division, with the 1967 expansion teams, and were predictably ahead of second–place St. Louis by more than 20 points. Above, is the cover of the Chicago team album from the 1970–71 Maple Leaf Gardens set; below, the front of the program–insert from Mar. 6, 1971 (cover–story written by Paul Dulmage of the old Toronto Telegram).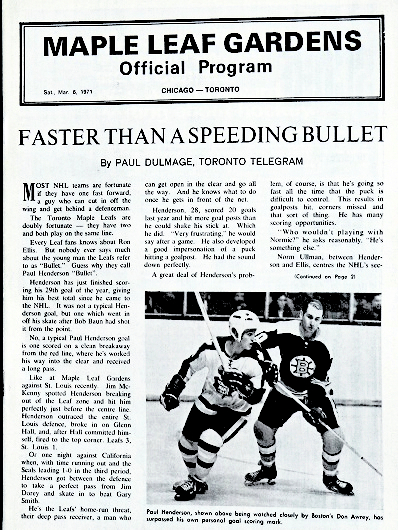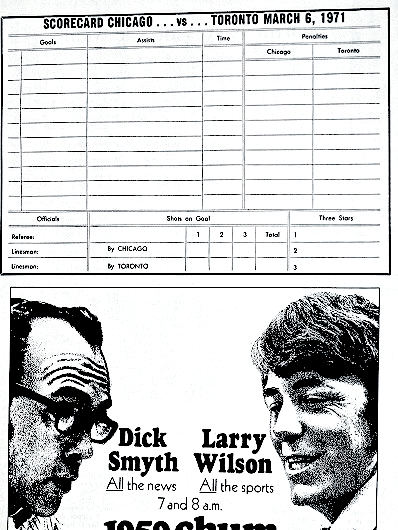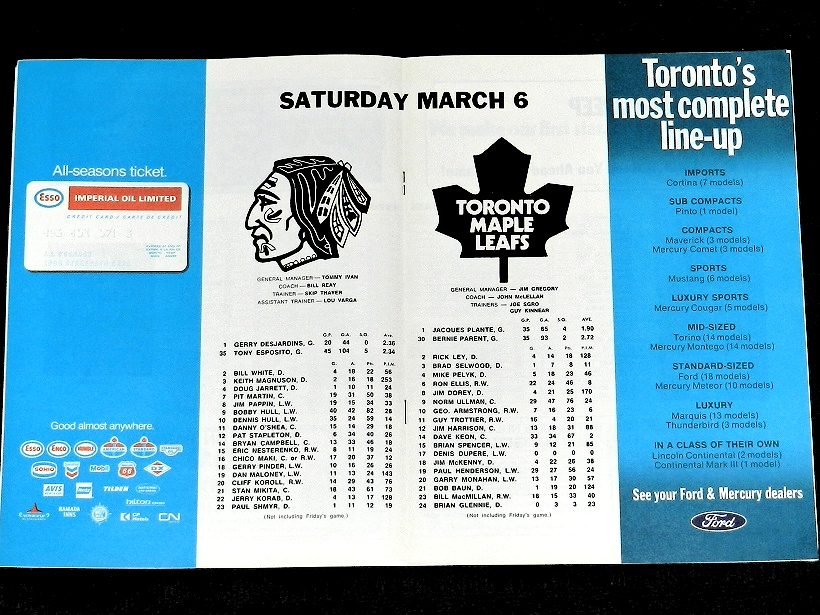 This game ended in a 2–2 draw — Dave Keon's goal at 16:50 of the second period knotting the count through a scoreless third period. Keon had set up Billy MacMillan for the opening goal just 49 seconds into the match. But, Chico Maki and Lou Angotti (wearing No. 6, not listed in the line–ups) scored 2:57 apart in the middle frame to give the Black Hawks the lead. It was a feisty affair; the tone set at 1:59 of the first period when Keith Magnuson of Chicago threw an elbow at Toronto's Brian Spencer. The most–rambunctious players on each team then squared off. Fights later occurred between Jim Pappin and Rick Ley; Magnuson and Garry Monahan; Paul Shmyr and Monahan. Referee Wally Harris, working with linesmen Pat Shetler and Ron Ego, handed out 64 minutes in penalties. Chicago outshot Toronto, 33–26 with future Hall–of–Famers Tony Esposito and Bernie Parent in goal. With the tie, the Leafs were 11–3–3 in 17 games dating to Jan. 30.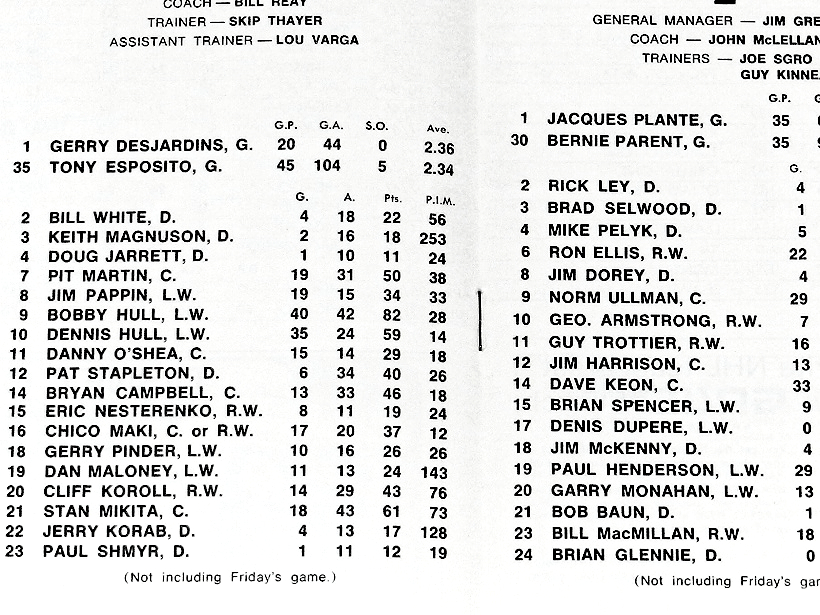 The Junior hockey story in the program, by the late Frank Orr, espoused a theory that would not unfold. Guy Lafleur of the Quebec Remparts did go No. 1 in the 1971 NHL draft — to Montreal. Marcel Dionne went second to Detroit (later Los Angeles); Jocelyn Guevremont third, to Vancouver (later Buffalo).

Boston was annihilating the NHL record book, en route to scoring 399 goals. As such, it was no surprise that four Bruins were well ahead of the pack in the race for the Art Ross Trophy. Norm Ullman and Dave Keon enjoyed their most–productive seasons with the Maple Leafs — among the top ten from start to finish.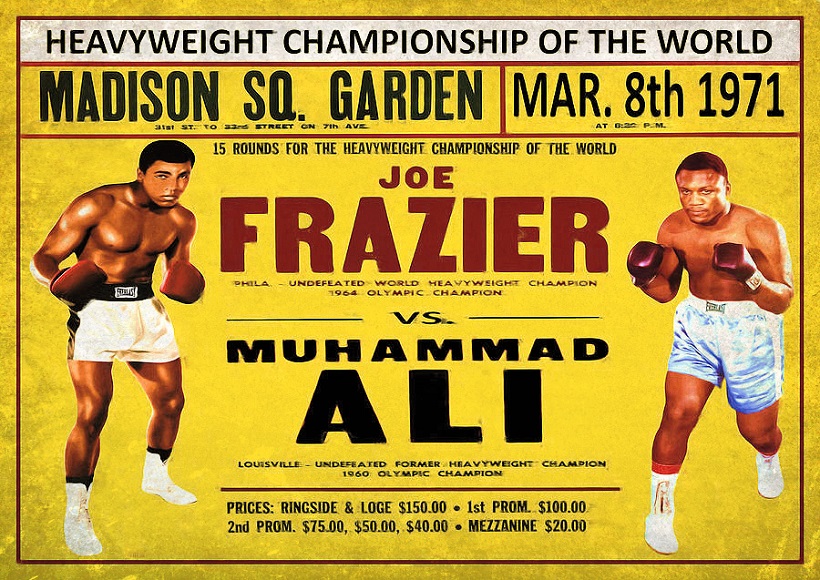 Two nights after the Toronto–Chicago game, Maple Leaf Gardens held a closed–circuit TV showing of the first clash between heavyweight champion Joe Frazier and challenger Muhammad Ali. My dad bought a pair of FLOOR seats at the Gardens for the fight, which took place at Madison Square Garden in New York. It was the first–such event I attended. Frazier knocked down Ali with a vicious left hook in the 15th round, handing the former (and future) champ the first loss of his professional career.
AND, FINALLY…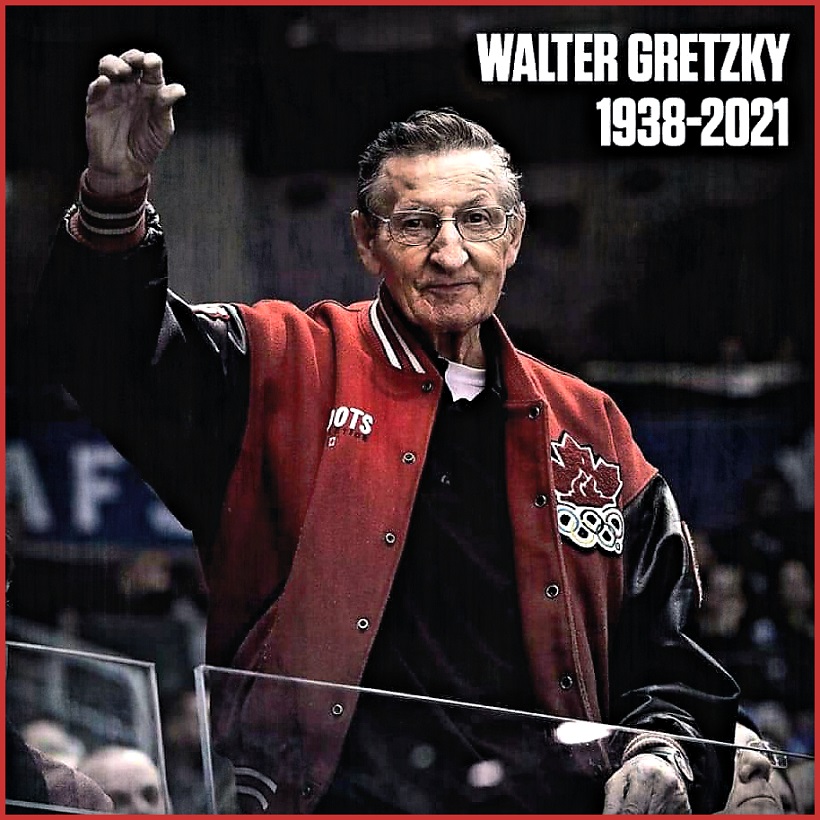 SO LONG, WALLY. A CANADIAN TREASURE. MAY HEAVEN TREAT YOU THE WAY YOU TREATED OTHERS.
EMAIL: HOWARDLBERGER@GMAIL.COM