TORONTO (Mar. 16) — It's odd, all this chatter in Leafs land about goaltending. According to flag–wavers in the mainstream Toronto media, this was not supposed to be an issue. The sub–par performance by Frederik Andersen in the abbreviated regular season a year ago — and his chronic inability to lift the club beyond one playoff round — was merely an illusion. Obviously, those running the Blue and White agreed, choosing to pass on the frenzied game of musical chairs that involved free agent netminders during the off–season.
Now, suddenly, there's a problem. The same media folk that referred to Andersen critics as "haters" agree that Toronto's puck–stopping woes are rather curable… once Jack Campbell returns to health. Imagine.
Look, folks, if I had a hundred dollars for every word of caution about Andersen in this corner the past three years, I'd be able to retire from my meaningful post at Benjamin's Park Memorial Chapel. Not to make light of the funeral industry, but Andersen has buried the Leafs, over and over, with untimely blunders in Round 1 of the Stanley Cup tournament (or, in the so–called "play in" series against Columbus last August). It was, to be polite, a miscalculation to give the big Dane yet another chance this season; the Leafs going against their initial hunch to make a change between the pipes. It provides no guarantee, of course, that Andersen won't pull himself together and finally lift the Maple Leafs into that elusive second playoff round. After all, his record against teams based in Canada is beyond spectacular. But, where, right now, is any such evidence?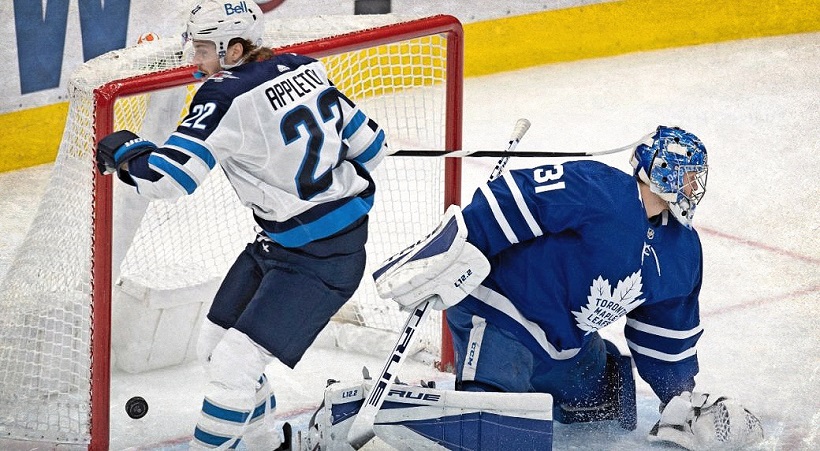 THE WINNIPEG JETS TOOK FIVE OF SIX POINTS FROM FREDERIK ANDERSEN AND THE MAPLE LEAFS IN A THREE–GAME SET, LAST WEEK, AT SCOTIABANK ARENA. FRANK GUNN THE CANADIAN PRESS 
With a mediocre save–percentage of .900, Andersen ranks behind all starting netminders other than Matt Murray of last–place Ottawa in the North Division. Among goalies, league–wide, that have started at least 20 games, only Joonas Korpisalo of Columbus (.899) and John Gibson of Anaheim (.894) sit beneath Andersen. His 2.86 goals–against average, virtually identical to the unsightly 2.85 recorded last season, is better — in the all–Canadian North — than only Mikko Koskinen of Edmonton (3.23) and Ottawa's Murray (3.84). And, it pales, rather extraordinarily, against such elite stoppers as Andrei Vasilevskiy of defending–champion Tampa Bay (1.85) and Semyon Varlamov of the second–place overall New York Islanders (2.03).
What it amounts to is this: Once Campbell recovers from the leg injury that has sidelined him for all but three games so far — and providing it happens in time for the Apr. 12 National Hockey League trade deadline — the Leafs will likely part with Andersen, obtaining a draft choice for the final month of his expiring, $5 million contract. There was never a chance, barring a sudden ascent to uber–prominence, that Kyle Dubas would re–sign the 31–year–old beyond the current schedule. Campbell, of course, hasn't appeared often enough to provide a conclusive appraisal of his NHL worthiness but there are powerful hints that he can handle an increased workload. If healthy, the Leafs would be wise to give him every opportunity of erasing the club's 17–year playoff victory famine. Andersen's somnolent showing, to this point, isn't good enough.
In fact, it's not even close.
SPEAKING OF A FAMINE: It is quite startling to comprehend that the most–recent goalie drafted and/or bred by the Maple Leafs to win the Stanley Cup was Turk Broda… in 1951. It's true. Even Johnny Bower, who starred for Punch Imlach during the Cup dynasty of the 1960's, was originally a New York Ranger; obtained by the Leafs from Cleveland of the American Hockey League. Terry Sawchuk, between the pipes when the Leafs last won the silver mug (May 2, 1967), came over from Detroit in the 1964 intra–league waiver draft. Broda, born nearly 107 years ago in Brandon, Man. (he died, young, in October 1972), backstopped the Blue and White to three consecutive Stanley Cup titles, beginning in 1947. The most–recent drafted and developed stopper to win a playoff round for the Leafs was Felix Potvin — against San Jose — in 1994. All subsequent advancements were achieved by Curtis Joseph (free agent acquisition in 1998) or Ed Belfour (free agent in 2002). James Reimer did come tantalizingly close, as you'll undoubtedly recall, against Boston in the 2013 opening Stanley Cup round, yielding a 4–1 third–period cushion in Game 7 at TD Garden.

OH, THE PAIN: JAMES REIMER IS BEATEN BY PATRICE BERGERON IN OVERTIME OF GAME 7 AT BOSTON — MAY 13, 2013 — AS THE LEAFS COUGHED UP A 4–1 THIRD PERIOD LEAD. GETTY IMAGES/NHL.COM
Only three other Leaf products have won playoff rounds for the club since 1967: Gord McRae, vs. Los Angeles, in 1975; Mike Palmateer, who prevailed in four series (1977 vs. Pittsburgh; 1978 vs. L.A. and the Islanders; 1979 vs. Atlanta) and Ken Wregget, vs. St. Louis, in 1987. Otherwise, it's been a nuclear winter for the Leafs in the development of goalies — such prospects as Ron Low (1970), Bob Parent (1978), Vincent Tremblay (1979), Wregget (1982), Alan Bester (1983), Jeff Reese (1984), Damian Rhodes (1987), Peter Ing (1988), Eric Fichaud (first round, 1994), Mikael Tellqvist (2000), Justin Pogge (2004) and Antoine Bibeau (2013) offering little or no support. Only Palmateer (85th overall in 1974), Potvin (31st in 1990) and Reimer (99th in 2006) provided some good service. The 2006 NHL draft yielded the biggest goaltending blunder in modern club history: John Ferguson trading Tuukka Rask (chosen 21st overall in 2005) to Boston for Andrew Raycroft.
SHHHH, IT'S QUIET: The championship blather, quite prevalent among Leaf reporters, has temporarily subsided. Only four days ago, Kevin McGran's lede paragraph in the Toronto Star was: "Just whetting the whistle here. This could be the Maple Leafs best chance to win the Stanley Cup in years." McGran's lede on Monday? "The Toronto Maple Leafs have learned the hard way that, this season, you're only two weeks away from disaster." Quite a contrast in a 72–hour span. But, that's the point. And, neither is McGran alone. There's been way too much Stanley Cup talk during a season in which the Maple Leafs do not encounter 24 rival clubs.
Yes, until recently, the team was running away with the North Division. But, how can anyone predict the outcome of a playoff series against Tampa Bay, Florida, the Islanders, Carolina, Washington, Vegas or Colorado when there are zero match–ups during the 56–game regular schedule?
Rather cautionary is the Leafs recent slide: 2–5–0 in seven games, with one regulation triumph. The games were played in a 12–night span (Mar. 3–14), roughly the length of a best–of–seven Stanley Cup series. And, the Leafs complained of "too much hockey" in such a brief juncture. That excuse won't resonate in May.
EMAIL: HOWARDLBERGER@GMAIL.COM