TORONTO (Mar. 31) — As a fan of the Toronto Maple Leafs, if given the hypothetical chance of your team winning the Stanley Cup this season or next, which would you prefer? The gut–response would probably be sooner rather than later, with no guarantee of either happening. Particularly after a drought of more than a half–century.
But, think about it for a moment.
Though the National Hockey League is doing its utmost — and admirably so — in the second calendar year of the pandemic, the 2021 season will have to be accompanied by a large asterisk. In no regular season, abbreviated or full (there have been two 48–game schedules resulting from labor unrest), were games postponed and rescheduled. For any reason, let alone a planet–wide contagion. Never, until this year, has the NHL schedule been extended in midstream. Also, pandemic related. Neither have clubs played 56 games in a dedicated division, without encountering roughly 70% of league–wide opponents. Some will justifiably argue that results haven't been skewed; that teams expected to perform well (Tampa Bay, Washington, Toronto, Vegas, Colorado) are at or near the top of the standings while those expected to struggle (Buffalo, Ottawa, Detroit, Anaheim, New Jersey) are bringing up the rear. The only true surprises are the Minnesota Wild — faring better than anticipated at 21–10–2 after 33 games — and the defending Western Conference–champion Dallas Stars, struggling at 11–12–2 after 33 matches. There are, however, anomalies during full, uninterrupted NHL schedules. So, why not this year?

Still, the 2021 season is undeniably distinctive. It may, in fact, provide the Leafs their best opportunity of winning the Stanley Cup, primarily for the one–year quirk that has removed the club from a division with Tampa Bay, Boston and Florida. Yes, the all–Canadian North Division survivor will gain a spot in the Stanley Cup semifinals. Would the Leafs stand as good a chance of doing so if they had to knock off the Lightning and either the Bruins or much–improved Panthers? Also, when have we started the month of April without knowing where Stanley Cup games can be played; whether Canadian and American teams can match up in both countries? And, does it even matter with arenas all but empty? Again, this is nobody's fault. It all flows out from COVID–19. But, it's therefore easy to determine why the 2021 campaign must be looked upon differently than those beforehand.
People in this city remember the incredible scene, downtown, where more than one million people descended to celebrate the Toronto Raptors winning the 2019 National Basketball Association title — the multitudes crammed in along University Ave. (as below) while the double–decker buses snaked northward from Union Station to City Hall. It was hardly the safest environment, yet there were no restrictions. Whoever wished to brave the crowds could take part. It is virtually impossible to envision a similar festival this summer, once the Stanley Cup is presented. Concentrated gatherings will remain forbidden, with the so–called "herd immunity" anticipated by the COVID vaccines not yet achieved. As a Leafs fan, wouldn't you rather partake in a blowout jubilee, similar to the basketball parade of June 2019? After 54 years of Stanley Cup famine, would it not be a shame if the Leaf players had to look down from a stage at City Hall to perhaps 200 socially distanced revelers in Nathan Philips Square?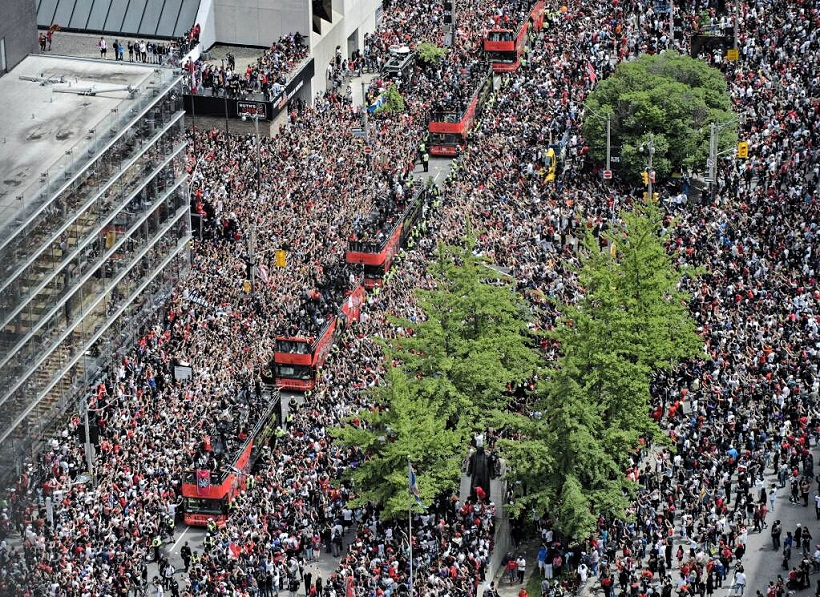 I suspect none of this would be of overwhelming concern were the Maple Leafs to finally break the NHL's longest current championship drought. Perhaps in hindsight, but not in real time. Even amid this unique regular season, there remains an enormous fluctuation of passion and fervor surrounding the team, from the euphoric highs of victory to the somber lows of defeat. It seems not to matter, right now, that John Tavares — as did Steven Stamkos last summer with Tampa Bay — would likely raise the Stanley Cup in an empty arena. Still, I wonder if, deep down, even the most–fervid follower of the Blue and White would rather avoid an artificial celebration.
One more year and our environment could return very close to normal.   
50 YEARS AGO TONIGHT…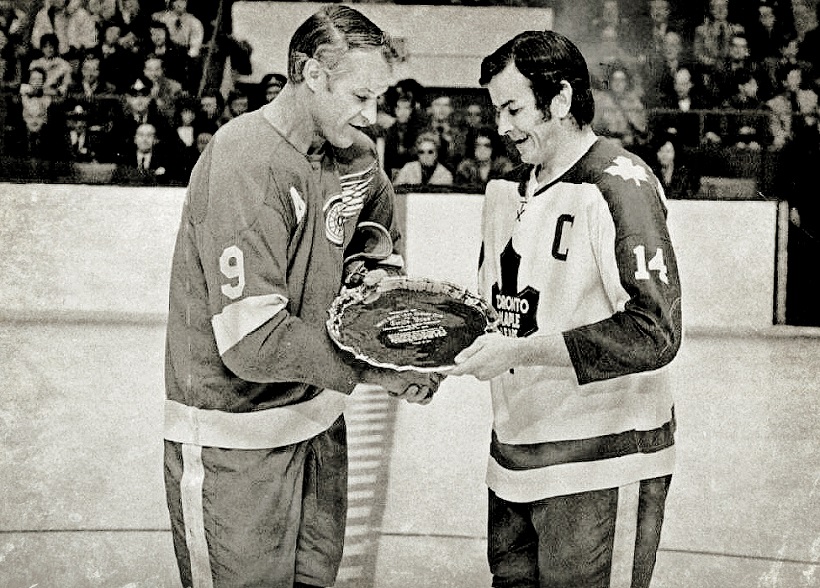 PRIOR TO GORDIE HOWE'S FINAL GAME AT MAPLE LEAF GARDENS WITH THE DETROIT RED WINGS — ON HOWE'S 43rd BIRTHDAY, MAR. 31, 1971 — MR. HOCKEY IS PRESENTED A SILVER TRAY BY LEAFS CAPTAIN DAVE KEON. HOWE WOULD TWICE RETURN TO THE GARDENS, AT AGE 52, WITH THE HARTFORD WHALERS IN 1979–80. COINCIDENTALLY, KEON WAS HIS TEAMMATE IN HARTFORD.
EMAIL: HOWARDLBERGER@GMAIL.COM