TORONTO (Mar. 20) — Today is Bobby Orr's 73rd birthday. For the first time in his long public life, hockey's greatest all–time player is affiliated with more than just the game… and his revolutionary role in it.
Since Oct. 30 of last year, when Orr bought a full–page advertisement in the New Hampshire Union–Leader to endorse incumbent United States president Donald Trump, his unassailable reputation has been compromised. Unfairly so, according to his former Stanley Cup teammate with the Boston Bruins, Derek Sanderson.
"To be honest, I didn't think Bobby would go to such lengths with his political preference, but it was completely within his right to take a stance," said Sanderson on the phone from Boston earlier today. "Especially at this time in his life, when he's in his 70's and has been out of the game for so long. Bobby was always a conservative, going back to his days as a kid with [Alan] Eagleson. He is also maybe the nicest person I've ever known — a genuine superstar on and off the ice. What the loonies on the Internet did to him after that Trump endorsement was a disgrace. They tried to demolish everything he stood for. But, friggin' social media is for cowards; everyone knows that… it's unaccountable. People can say whatever they want, whenever they want. They bully and destroy the lives of teenagers. Somehow, it has to stop. The mainstream media down here didn't bother Orr about the Trump thing. A few wackos up in Canada gave him a hard time, but it was mostly the anonymous Internet morons that tore him apart. The whole thing was disgusting, as usual."
Sanderson, 74, played with Orr and the Bruins from 1967 to 1972. It was Derek who executed the give–and–go that resulted in Orr beating Glenn Hall of the St. Louis Blues in overtime to win the 1970 National Hockey League title — a goal that spawned the most iconic image in the game's history. As per the photo, below, Sanderson stood with arms raised behind the St. Louis net as Orr was sent flying through the air by the stick of Blues defenseman Noel Picard. Boston ended a 29–year Stanley Cup drought on that Mother's Day afternoon at Boston Garden. Orr and Sanderson won another title with the Bruins in 1972. As a Canadian citizen living south of the border, Derek could not vote in the 2020 general election. But, he also favored Trump.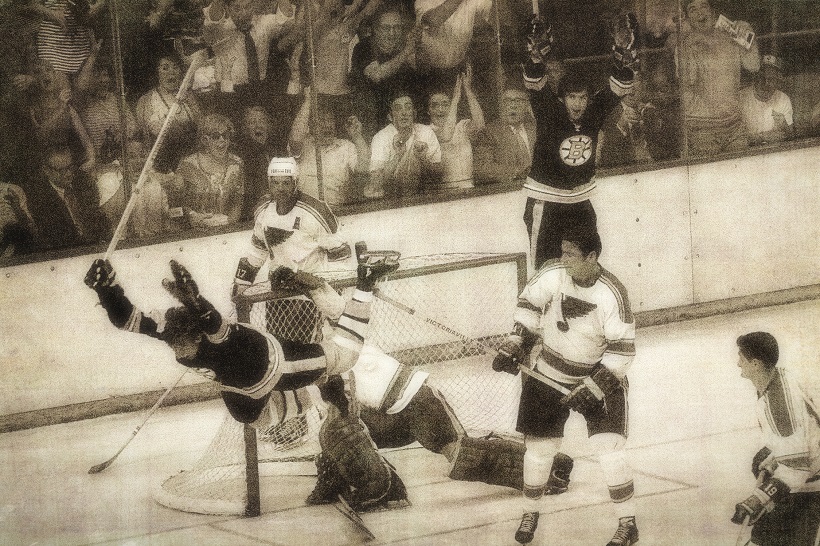 "He stood up for a lot of values down here; the problem is he talked too much," said Sanderson. "I used to watch him on TV and say 'shut the fu** up! Stop patting yourself on the back. Let someone do it for you.' But, he couldn't help it. He's a terrible public speaker. His mouth ruined what could have been a good political career. When he wasn't talking, he went to Twitter. And, that did him no favors. But, he had some pizzazz. And, he wasn't afraid of the Establishment in Washington. We live in a corrupt Liberal city and state here in Boston. It's no wonder Bobby spoke out in that newspaper ad. If I were able, I'd have voted for Trump as well. I figure [Joe] Biden will give up the ghost in about six months. Then, we'll be stuck with [Kamala] Harris.
"Politics down here is for the birds."

THE FULL–PAGE AD PURCHASED BY BOBBY ORR, LAST OCT. 30, THAT ENDORSED DONALD TRUMP.
Orr took a calculated risk by making his political intentions known. Over four tumultuous years, Trump became, arguably, the most–polarizing figure on the planet. The Hall–of–Fame defenseman had to be fully aware that his stance would create a sh** storm. "So what?" countered Sanderson. "Bobby couldn't vote either. He's also a Canadian citizen. Why can't we state an opinion without being cut to shreds? I grew up during Vietnam. We were allowed to protest back then. Everyone knew who we were. Today, all the loonies hide behind Twitter 'handles'. It's pathetic. Bobby stated a political preference. He didn't kill any babies. It was completely within his right to take out that newspaper ad. I thought the reaction was over the top."
Turning to hockey, Sanderson can still close his eyes and see Orr horizontal to the ice after the overtime marker that won the 1970 Stanley Cup. "Bobby was the best at the give–and–go, so I knew exactly where he'd be after passing to me behind the net. It was a bang–bang play. From my vantagepoint, I saw the puck go between Glenn Hall's legs. We had won the Cup. Noel Picard flipped Bobby in the air with his stick. What a beautiful moment. And, who else, but Bobby, should have gotten the goal. He won the scoring championship, for Crissakes. To even think of a defenseman doing that was laughable. But, Bobby was in a league by himself. It's too bad he wrecked his knees. There's no telling what he could have accomplished."
Orr and Sanderson were heated rivals during their Junior hockey careers in the mid–60's — Bobby with the Oshawa Generals; Derek, the Niagara Falls Flyers. "We'd play in Oshawa on or around Mar. 20 and there would he signs all over the place," Sanderson recalled. "In those days, during the warm–up, you never crossed to the other team's side of center ice. But, I was a sh** disturber so I would time it that me and Bobby were passing one another near the circle. And, I'd say 'happy birthday Bobby' in a real namby–pamby voice. It would piss him off. But, I also knew we'd be teammates one day with the Bruins. We won two Stanley Cups. We should have won a third, in 1971. That was our best team. But, we really missed Harry Sinden, who was a terrific coach. He wanted something like an $1,800 raise after we won the 1970 Cup and they were too cheap to pay him. So, he quit. Tom Johnson came in and wasn't ready to lead us. We won with him the next year, 1972. Everyone still says [Montreal goalie] Ken Dryden beat us in '71. And, he was incredible.
"But, losing Harry behind the bench was a bigger factor."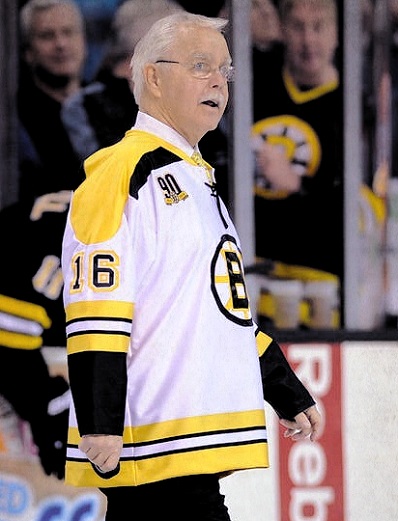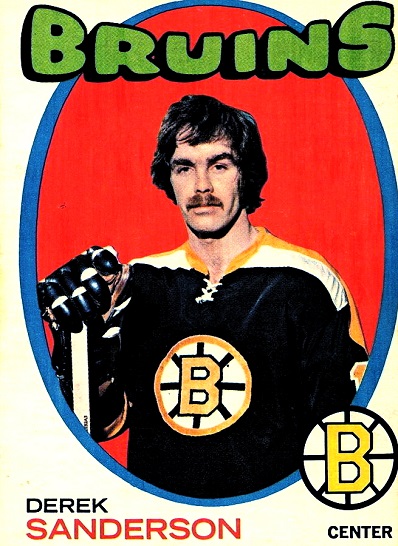 DEREK SANDERSON (LEFT) AS HE APPEARS TODAY… AND ON HIS 1971–72 O–PEE–CHEE HOCKEY CARD.
Sanderson stays in touch with Orr. "He's in Florida, playing golf, after having another operation — I think on his shoulder. My God, what he sacrificed by playing the game the way he did. Always carrying the puck. I'm biased, but, to me, he's the greatest of all time. [Wayne] Gretzky was amazing; by far, the best of his era. He skated to open ice better than anyone who ever lived and was always thinking a step ahead. Just a fabulous playmaker. But, he also had five Hall–of–Famers passing him the puck. And, there was [Mario] Lemieux for a comparison. When Bobby played, nobody could touch him. He did things never seen before, or since. Who can forget him carrying the puck to center while killing a penalty, then circling back behind our net? And, doing it a second time. The other team was on the powerplay but never had the puck. What was he one year, a plus–128 or something? I mean, there was no one close to him. I was so fortunate to be on those Boston teams. I should have never left [in 1972, for the World Hockey Association]. What a great bunch.
"When we see each other today, it's as if nothing has changed in 50 years."
EMAIL: HOWARDLBERGER@GMAIL.COM