TORONTO (Mar. 9) — This story and this blog is about the man who provides the soundtrack of sports on television in Canada. You know, instantly, that I'm referring to Chris Cuthbert; or C.C. as those in the industry call him. Only after chatting with Chris for nearly an hour on the phone, Monday evening, did I realize that I played a small role in the most–memorable half–hour of his career. Which is also the lone clue you need, as Cuthbert is immortalized in Canadian broadcasting history for his call — on Feb. 28, 2010 — of Sidney Crosby's "golden goal" that won the men's hockey tournament at the Winter Olympics in Vancouver.
Throughout that wonderful event, I was privileged to work for the radio arm of the broadcast consortium that included rivals TSN and Sportsnet. Hall–of–Famer Peter Maher, of Calgary Flames' legend, called the play of Canada's matches alongside former National Hockey League goalie, and veteran analyst, John Garrett. I worked with Dan Dunleavy (now the co–voice of the Buffalo Sabres, with Rick Jeanneret) on intermissions and providing post–game reports for the cross–country radio feed. You may recall that Team Canada was razor–close to beating the United States in regulation for the gold medal, only to have Zach Parise knot the count, 2–2, with 25 seconds left. Suddenly, there was a third radio intermission to execute.
Cuthbert and the national TV crew were across the aisle, directly to my left, at Rogers Arena (or Canada Hockey Place, as it was known during the Games). I saw Chris standing there and tenuously approached him for a live radio interview before the start of overtime. Most people in his position would have politely (or not–so–politely) declined, needing to take a breath; not knowing, of course, how much hockey lay ahead. But, Chris being Chris, he came over without a syllable of protest. "What a guy!" I thought, as I have, countless times, in the years I've known C.C. Only to find out, Monday, that I was doing him something of a favor.
"I remember that moment like it was yesterday," Cuthbert told me on the telephone. "I hadn't slept a wink the night before the gold medal game, which was normal for me. The same thing happened prior to calling Grey Cups; I was too jacked up to doze off for long. You came across and asked to interview me on radio during the intermission. Before walking over, Ray Ferraro [his TV partner] looked at me like I was out of my mind. But, truth be told, I was starting to feel kind of dopey at that point. The lack of sleep was catching up to me. Here I was, before the biggest period (or more) of hockey in my broadcasting career, and I needed to somehow keep my brain in the game. So, you actually helped me out by asking for the interview."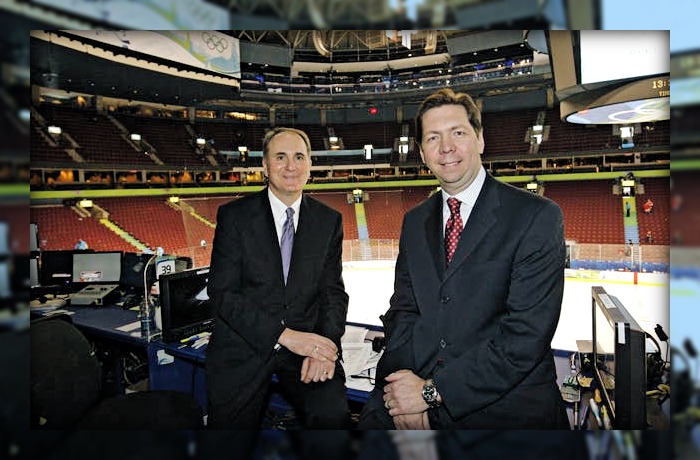 CHRIS CUTHBERT (LEFT) WITH GORD MILLER IN THE TV BOOTH AT ROGERS ARENA IN
VANCOUVER, FROM WHICH C.C. CALLED SIDNEY CROSBY'S "GOLDEN GOAL" ON FEB. 28, 2010.
What I remember about our five–minute chat, live on the air, was suggesting to Chris — and him agreeing — that Crosby had been rather quiet in the tournament. Perhaps it was time that he came through for Canada. Little did we know. I thanked Cuthbert and he went back to the TV booth. "It was after that radio interview that I said to myself 'if this was soccer, the tournament winner would be the golden goal,"' Chris recalled. "That became kind of the Eureka moment in which I decided I would use the same phrase. Then, I reminded my tired self that I needed to be at my absolute best for as long as required. To be as sharp as possible."
Perhaps thankfully for Chris, it required only 7:40 of extra time for Crosby to accept a shovel feed along the left–wing boards from Jarome Iginla and beat American goalie Ryan Miller with a quick, low shot. I was sitting 30 feet to the right of Cuthbert with a video camera rolling. That few seconds of Rogers Arena erupting in bedlam remains a sacred DVD souvenir. Cuthbert's description, on national TV before what is still a record 16.6 million viewers, is in the narrow pantheon of great Canadian sports calls — alongside Foster Hewitt bellowing "Henderson has scored for Canada!" in 1972 in Moscow… and Tom Cheek exclaiming "touch 'em all Joe!" after Joe Carter's three–run homer, at SkyDome, won the 1993 World Series for the Toronto Blue Jays.
"Iginla, Crosby, SCORES!! Sidney Crosby, the golden goal! And, Canada has once–in–a–lifetime Olympic gold."
It still brings a shiver.
"Obviously, I am proud of the call, though I can tell you I've never actually sat down and watched a replay of the telecast," Chris said. "I guess I'd rather not be disappointed by something I don't like… even if it was more than a decade ago. The comparisons to Foster Hewitt's call in 1972 started pretty quickly, but I thought 'let's not go there.' For someone old enough to remember the goal by Paul Henderson, there is nothing like 1972. After awhile, though, I began to realize that Crosby was the Henderson moment for an entirely new generation of hockey fans in our country. And, that it may have been the biggest goal ever scored on Canadian ice (though Mario Lemieux's Canada Cup winner in 1987, at Hamilton, ranks closely). I remember watching the call of Sid's moment in 16 different languages and I was the only one to use the term 'golden goal'. For a guy that just wanted to be in the [broadcasting] business, it was a remarkable experience to be part of."
After acquiring taped comments from Crosby, Iginla and others in the so–called "mixed zone", where Olympic rights–holders can assemble to interview the athletes, I came back up to our broadcast location. By then, workers were disassembling the TV and radio equipment. I looked over at Chris, who was standing in kind of a haze, roughly 45 minutes after Crosby's goal. "That must have been a cool moment for you, C.C.," I said. He was barely able to register his thoughts. "I was numb; just emotionally drained," Cuthbert remembered. "Everything sort of passed before me at that moment — calling all those games in such a brief span; working with true professionals like Ray and Pierre McGuire. I was proud of the job we did — the entire crew, on the air and behind the scenes. But, my goodness, I was fried. Three nights later, I did a game for TSN in Detroit (Red Wings vs. Vancouver). And, it wasn't pretty. The mental–fatigue level was off the charts."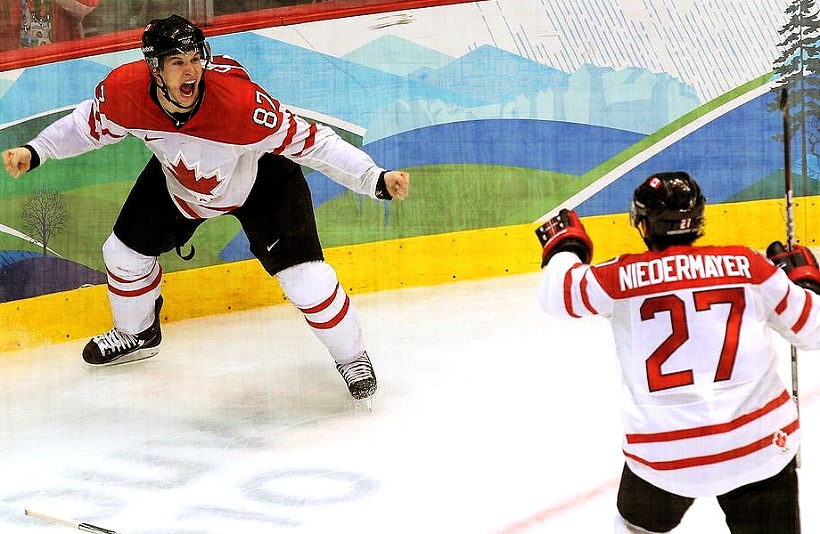 In his years with CBC and TSN (1984–2020), Cuthbert called 21 Grey Cup games, beginning with the now–legendary 1996 "Snow Bowl" at Ivor Wynne Stadium in Hamilton. In a raging blizzard that figured to repress scoring, Doug Flutie and the Toronto Argonauts defeated Danny McManus and the Edmonton Eskimos, 43–37. "I left my home in Brampton (northwest of Toronto) for the drive to Hamilton and there wasn't any snow on the ground," Chris remembered. "By the time I got to the [Burlington] Bay Bridge, however, it was really coming down. I figured 'wonderful… my first Grey Cup and it'll be a dud because of the weather.' Well, it turned out to be anything but. I still marvel at how the players put on such a show in those conditions."
Chris made significant national news last July when he left TSN after 15 years to join Rogers and Sportsnet.
"As much as I enjoyed calling CFL games, it was always my goal to return to Hockey Night In Canada," he admitted. "Early in my career at CBC, I had met and worked with people like Danny Gallivan, Don Wittman and Dan Kelly. I kind of edged my way up the ladder and thought that maybe I had a chance to step in for Bob Cole somewhere down the line. But, CBC terminated me (in February 2005), so I joined TSN. When Rogers locked up national NHL rights for 12 years (in 2013), I inquired about a move, but, the people running the network back then (Keith Pelley, Scott Moore) weren't interested. With a different group in charge, I had more discussions, three years ago, and there was mutual interest. But, I couldn't get out of my contract with TSN. Which wasn't terribly disappointing because I had the CFL gig and Bell had half the regional rights for midweek Leafs games. But, I did think a return to Hockey Night may not be in the cards. When my contract was coming to an end, last summer, I was about to turn 63 and I got in touch with Rogers once more. They said that if my deal with Bell was up, there would still be something for me. So, I made the move."
In an industry that, perhaps unavoidably, engenders massive ego, Cuthbert is among the most grounded and likable personalities. So typical of him was Monday night. I sent an email asking about an interview for this blog and he called me within five minutes. C.C. has forever managed to avoid conflict and quarrel, executing his role with unwavering consistency. "Truth be known, I was never really great at anything," he said. "All I wanted was to get into the broadcasting business. To think I would later work alongside Gallivan, Wittman, Kelly, Dave Hodge, Dick Irvin and others was kind of a dream. I regret that I never had a chance to meet Foster or Bill Hewitt; that would have been cool. But, I am so thankful my career panned out as it did.
"While at TSN, I had the chance to team with many outstanding football people, including Joe Galat, Dan Kepley, James Curry, David Archer and Chris Walby. I finished up with Glen Suitor, who may be the best in our country at his job. He's a remarkable game analyst who could likely call play–by–play just as effectively."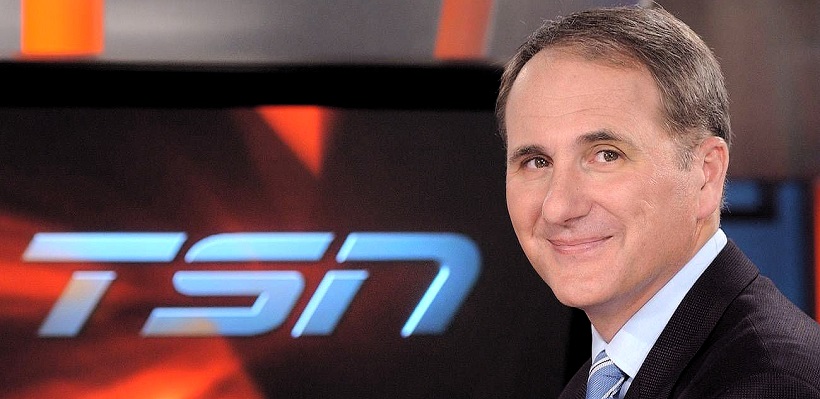 Chris signed a four–year contract with Rogers and isn't sure he'll want to work much beyond that. He and Jim Hughson provide the network a pair of Hall–of–Fame voices, though Chris told me that no decision has been made on who will call the 2021 Stanley Cup final. Sports broadcasting is a seductive, captivating business and there are examples, in Canada and the United States, of legendary names hanging in a bit too long. "I understand why that happens; there's such a passion for doing this job," Cuthbert said. "But, I'd like to try and avoid the inevitable decline. Even now, I don't feel I'm quite as effective as I was ten years ago. I have to work a lot harder at maintaining the craft. If I can stay healthy and squeeze out six or seven more years in the business, I'll be very satisfied. By then, I'll be in my early 70's and it'll be time to ride off into the sunset."
EMAIL: HOWARDLBERGER@GMAIL.COM