TORONTO (Apr. 27) — Not a single person covering the Toronto Maple Leafs on Monday could bring himself (or herself) to say it: Frederik Andersen is no longer the club's No. 1 choice for the playoffs, given how consistently unreliable he's proven in clinching games since 2015, allowing easy shots to fool him at inopportune moments.
The long–winded equivalent of "he stinks when it matters most."
Instead, reporters taking part in Andersen's first media availability since Mar. 19 "intimated" he's lost his position to Jack Campbell, but wouldn't commit to such a viewpoint. Veteran scribe Lance Hornby of the Toronto Sun came closest: "Even if [Andersen] gets a game or two in before the end of the season, that's no guarantee he can reclaim his blue–hued turf and earn the long–term contract he wants in Toronto — or elsewhere as a free agent."
Kevin McGran of the Toronto Star also struck a proper note: "Andersen was having anything but a career year [with] a 13–8–2 record, 2.91 goals–against average and .897 save–percentage (one win in his last six starts). There is no timeline for his return, and no real worry about goaltending issues with Jack Campbell's solid play."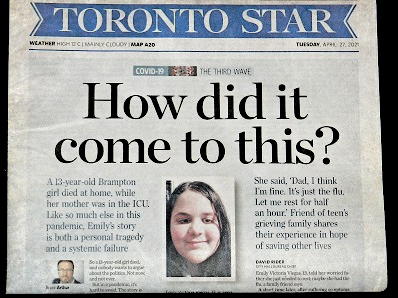 Chris Johnston of Sportsnet walked on egg–shells: "This has been a challenging campaign with the physical setbacks and underperformance — linked to some degree, no doubt — but it may also come to include blessings in disguise. Those include the emergence of Jack Campbell and his stellar 13–2–1 record, which on the surface only seem to threaten Andersen's grip on the crease." Seem to threaten?  Johnston, more accurately, added: "… the possibility of a Campbell/Andersen tandem is mighty appealing for the Leafs ahead of a Stanley Cup playoffs likely to include some back–to–back games." Chris offered a rather tepid endorsement of the big Dane: "Remember that this will be a rested Andersen and a less–pressured Andersen — two things we've never previously seen." Exactly. Toronto needs a goalie that can thrive in the Stanley Cup spotlight. Not one who fizzles.
Kristen Shilton of TSN.ca kept it straight, offering no opinion of Andersen. Rather, she stated the obvious: "Toronto currently holds an eight–point cushion at the top of the North Division standings. The team got there with the help of strong goaltending from Campbell, who the Leafs have leaned heavily on in Andersen's absence."
The Globe and Mail website made no mention of Andersen's return to practice.
Johnston's claim of a Campbell/Andersen tandem being "appealing" for the Leafs in the playoffs is likely spot–on. Though Toronto has strength in numbers between the iron (Campbell, Andersen, David Rittich, Michael Hutchinson, Veini Vehviläinen), there is virtually no Stanley Cup experience amid the current tandem (Campbell/Rittich). In fact, Hutchinson (gulp!) could present a more–tempting option, given his three starts with Colorado in the playoffs last August. Andersen has 53 starts and 27 victories in the Cup tournament, but is winless in his last eight series–clinching assignments. Including four with the Leafs (three against Boston; one against Columbus).
As such, coach Sheldon Keefe is likely apprehensive about his goaltending.
Given lack of playoff experience and subpar performance in the clutch, there is no ideal candidate for the Blue and White. By the sheer process of elimination (no pun intended), Andersen may, in fact, provide a level of comfort if he's in uniform against, likely, Montreal for the opening round of the post season. But, it's Campbell that needs to show he can be relied upon in a decisive match, where Andersen has abjectly failed Toronto since 2017.
NHL POWER RANKINGS: The Leafs are situated between fifth and tenth in most of the recent National Hockey League power rankings. The Vegas Golden Knights are the consensus No. 1 with three weeks left in the regular season. The Knights have a pair of No. 1 goalies (Marc–Andre Fleury and Robin Lehner) with a combined 172 games of post–season experience (146 by Fleury and three Stanley Cup titles in Pittsburgh). The club features a Top–6 defenseman in Alex Pietrangelo (Stanley Cup with St. Louis in 2019). It's a big, heavy team that plays a big, heavy game. And, is today perched atop the overall standings with 70 points, having won a franchise–record nine consecutive matches. Vegas will embark on the playoffs as the Stanley Cup favorite.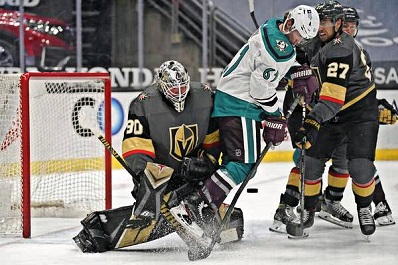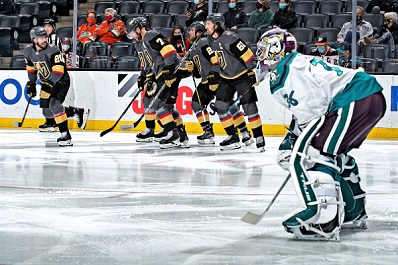 THE VEGAS GOLDEN KNIGHTS DEFEATED ANAHEIM, 5–1, ON SATURDAY NIGHT AT T–MOBILE ARENA FOR A FRANCHISE–RECORD NINTH CONSECUTIVE WIN. DEBORA ROBINSON GETTY IMAGES/NHL 
The NHL's outgoing TV rights–holder in the United States, NBC Sports, placed the Leafs in tenth spot, behind Vegas, Colorado, Carolina, Florida, Tampa Bay, Washington, Pittsburgh, Boston and Minnesota. Even Sportsnet, whose parent company (Rogers Communications) owns 37.5% of the Leafs, had the club tenth. As did veteran Buffalo News hockey writer Mike Harrington. TSN, in its most–recent listing, placed Toronto fifth, behind Vegas, Colorado, Carolina and the New York Rangers(!) ESPN — the NHL's incoming rights–holder — also had the Leafs fifth, behind Vegas, Colorado, Carolina and Tampa Bay. These subjective grades clearly show the Maple Leafs favored to emerge from the all–Canadian North Division (winning their first two playoff rounds since 2004) and appear in the Stanley Cup semifinals. But, to not advance any further. Time, of course, will tell.

GOD'S SPEED, MIRKO: He was barely recognizable in the above photo, widely circulated today upon news that former Leafs winger Miroslav Frycer had died at 61. Frycer battled severe health issues late in life, which included a liver transplant. In 329 regular–season games between 1981–82 and 1987–88, Frycer scored 115 goals for the Maple Leafs. He had three goals and 11 points in 17 playoff matches. Traded to Toronto from the Quebec Nordiques for Wilf Paiement on Mar. 9, 1982, the native of Ostrava, Czech Republic skated on a productive forward line with center (and fellow–Czech) Peter Ihnacak and left–winger Walt Poddubny. In 1982–83, the unit combined for 71 goals and 180 points. Frycer's best year was 1985–86 when he amassed 32 goals and a team–leading 75 points in 73 games under coach Dan Maloney. His utter hatred for Maloney's successor, John Brophy, prompted general manager Gord Stellick to trade Frycer to Detroit (June 10, 1988) for defenseman Darren Veitch.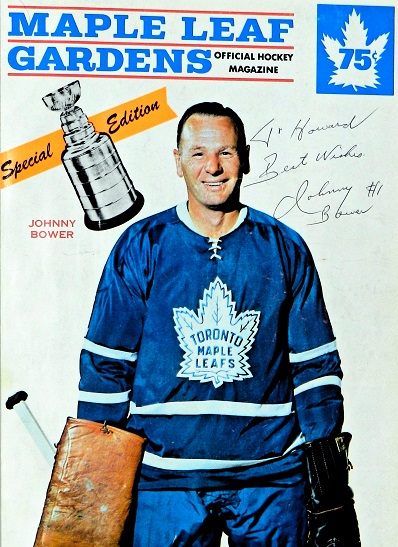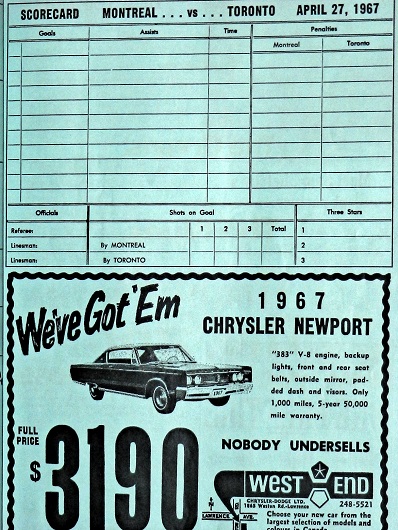 THAT DATE AGAIN: Yes, Leaf zealots, we are but five days from the 54th anniversary of the night your club last won the Stanley Cup. May 2, 1967 resonates, around here, like Nov. 22, 1963 in the United States. En route to its most–recent NHL title, Toronto and Montreal clashed in Game 4 of the '67 Cup final 54 years ago tonight (Apr. 27). Johnny Bower signed the cover of the program to me (top–left) in May 2016 — 1½ years prior to his death on Dec. 26, 2017. There are many familiar names in the line–ups, below, perched beneath Canada's Centennial logo. It marked the last defeat for the Blue and White in the old six–team NHL. The Canadiens waltzed to a 6–2 victory at Maple Leaf Gardens, but dropped the final two games of the series to the surprise champion.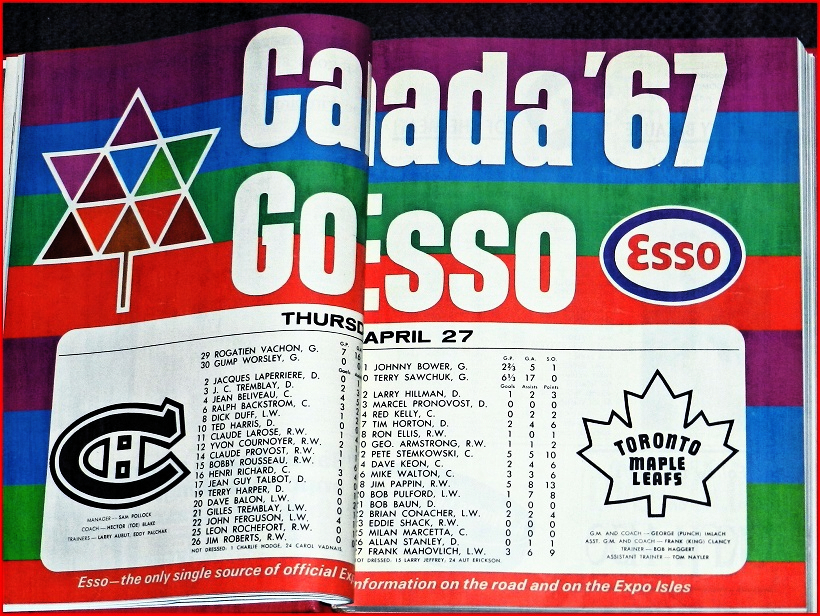 LEAFS MEDIA GUIDES
If you have these, hang onto them. Most teams halted publishing of NHL media guides a decade ago, offering digital information. The books are appreciating in memorabilia value: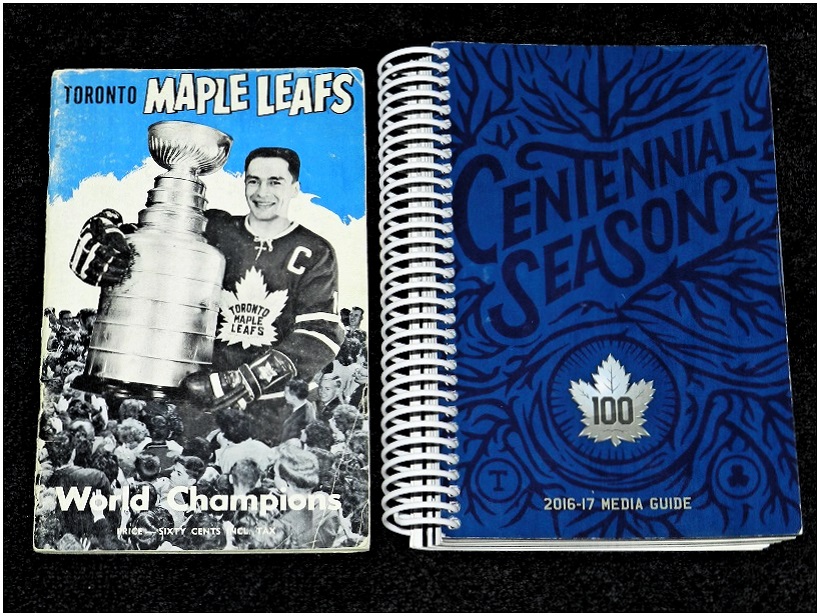 MY OLDEST AND MOST RECENT LEAF GUIDES — 54 YEARS APART: 1962–63 (AFTER THE FIRST STANLEY CUP UNDER PUNCH IMLACH) AND 2016–17 (THE CLUB'S 100th ANNIVERSARY SEASON).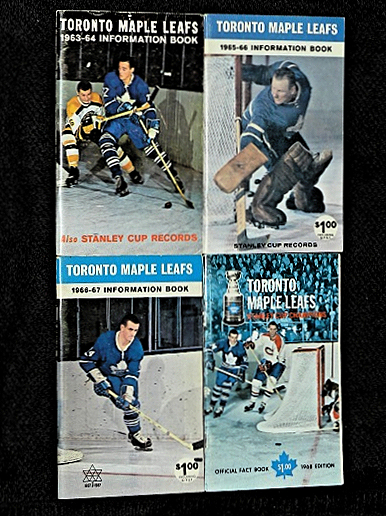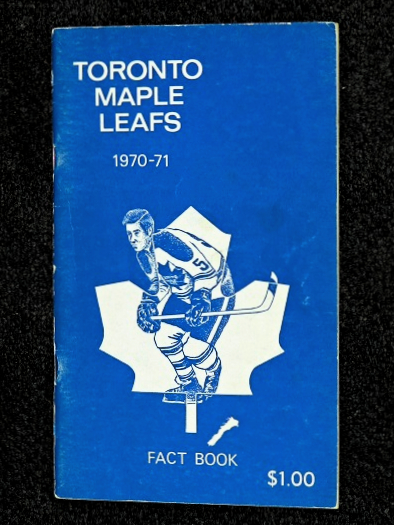 MORE FROM THE 60's (LEFT)… AND THE FIRST LEAFS MEDIA GUIDE OF THE 1970's.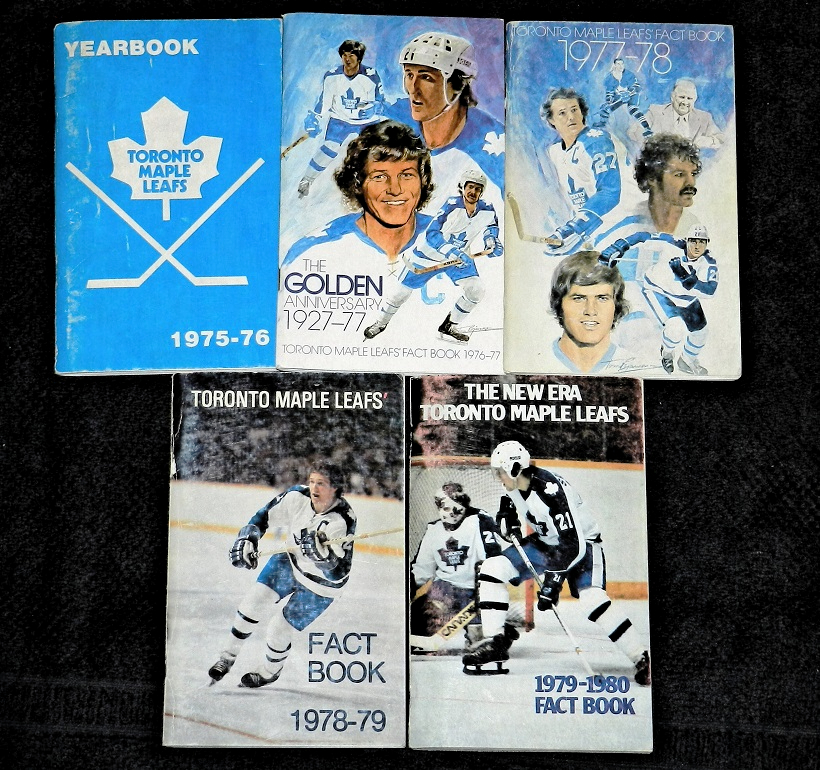 LEAFS GUIDES FROM THE SITTLER–McDONALD–SALMING ERA: 1975–76 TO 1979–80.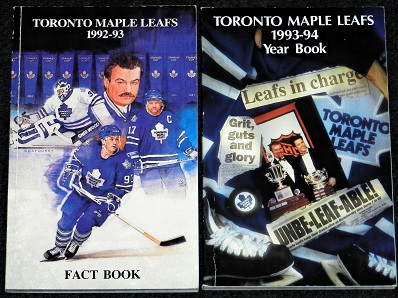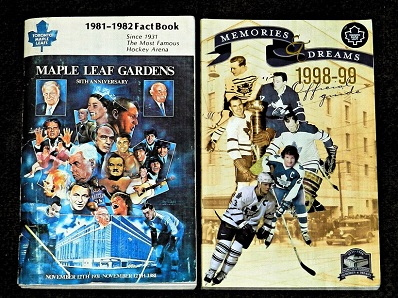 WHEN BURNSIE AND GILMOUR RULED THE ROOST (TOP–LEFT): SEASONS OF 99 AND 98 POINTS. MAPLE LEAF GARDENS HISTORY (RIGHT): THE 50th ANNIVERSARY  / THE FINAL NHL SEASON.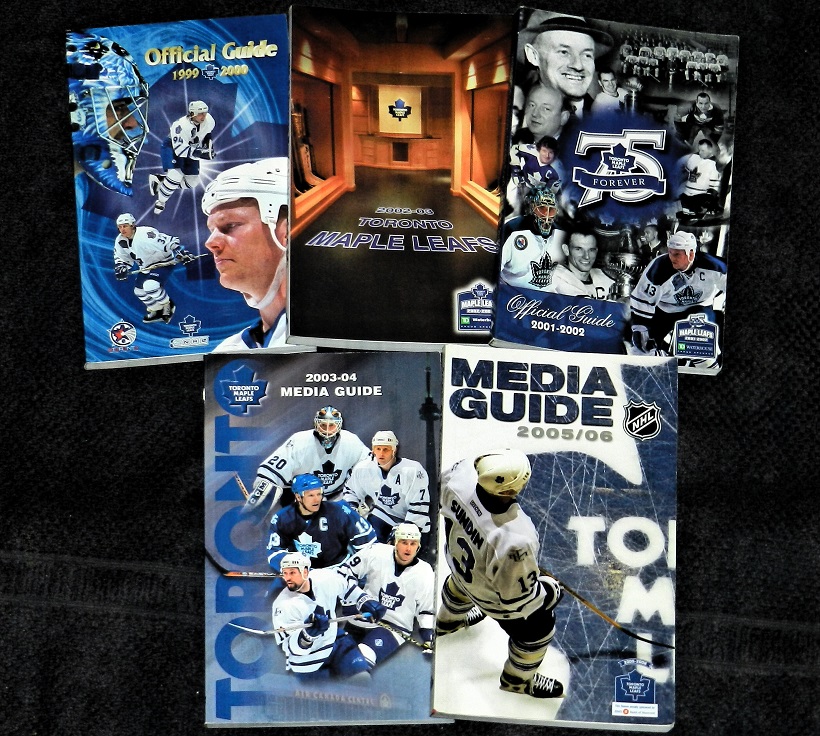 MEDIA GUIDES FROM THE MEMORABLE MAPLE LEAFS ERA OF PAT QUINN AND MATS SUNDIN.
EMAIL: HOWARDLBERGER@GMAIL.COM