TORONTO (Apr. 29) — There is a level of anticipation and excitement about the Toronto Maple Leafs that hasn't existed for nearly 20 years, since the good hockey teams coached by Pat Quinn; led by Mats Sundin and backstopped by Curtis Joseph. For the youngest Maple Leaf fans, it is therefore the first example of pre–playoff optimism. Given that Toronto has been atop the all–Canadian North Division from the outset of this pandemic–abbreviated schedule, the confidence isn't likely a ruse. The Leafs will be favored to win any playoff round involving their Canadian rivals. Which translates into a berth in the Stanley Cup semifinals for the first time since 2002.
There is however, a potential fly in the ointment. He wears No. 97; plays home games 3,473 driving kilometers (2,178 miles) from downtown Toronto, and is performing, this season, at a level not witnessed since the glorious era of Wayne Gretzky and Mario Lemieux. Which begs the obvious question: If a best–of–seven playoff clash began tonight, could the Maple Leafs overcome Connor McDavid and the Edmonton Oilers? Fans in this city will chuckle, remembering how the Maple Leafs went into Rogers Place and steamrolled the Oilers in three consecutive games by a combined score of 13–1. Between Feb. 27 and Mar. 3. But, there's been a subtle shift since then.
The Leafs, in 25 games, are 13–9–3. The Oilers, in 22 games (three consecutively against Vancouver were postponed by the Canucks' COVID–19 outbreak), are 15–5–2. McDavid has a remarkable 84 points in 47 games and a 17–point lead for the Art Ross Trophy over teammate Leon Draisaitl. Mitch Marner sits fourth, pacing Toronto with 60 points in 49 matches. Between the pipes after Mar. 3, veteran Mike Smith of Edmonton is 11–4–0 in 15 starts. At age 39, he is 17–5–2, overall, this season with a 2.32 goals–against average and .923 save–percentage. For the Maple Leafs, Jack Campbell is 14–2–1 with a 2.14 GAA and .925 SV%. So, what does it all mean?
Let's start with McDavid. The best hockey player in the world is accumulating numbers unprecedented since Lemieux erupted for 56 points in the final 20 games of the 1992–93 schedule. He has six goals and 20 points in his past eight games and an outside shot at 100 points in this 56–game schedule. Which belies rationale.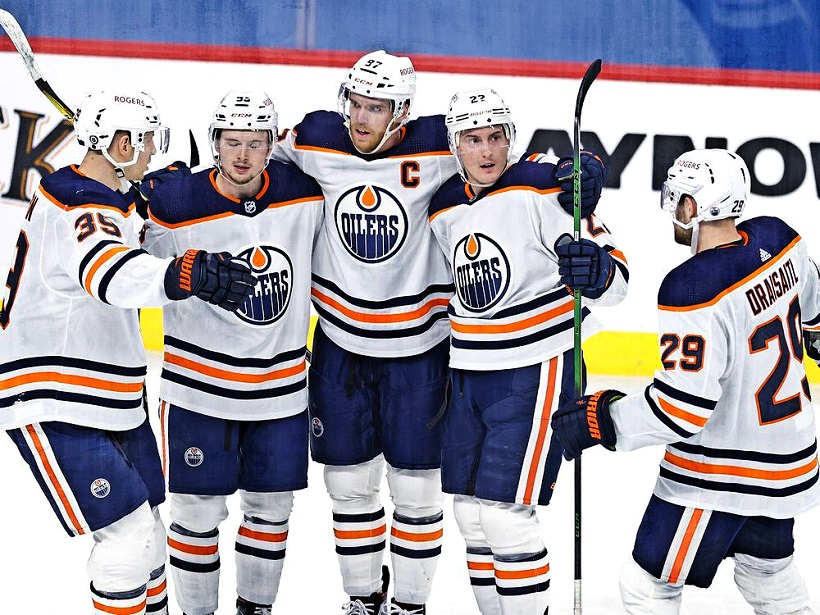 Alongside Draisaitl, the defending Hart Trophy recipient, Edmonton has a tandem the likes of Sidney Crosby and Evgeni Malkin of Pittsburgh — three times a Stanley Cup champion since 2009. "McDavid is doing things Gretzky did in the 80's, but without the same time and space," said veteran Edmonton hockey scribe, Mark Spector, on the phone today. "Defensemen are bigger and stronger than during Wayne's era. And, goaltending is far superior. No player I've seen can accelerate to top speed quicker than McDavid. It's actually amazing to watch."
Spector covered Gretzky for the Edmonton Journal; he now observes McDavid for Sportsnet.
I put the question directly to Mark: Can the Oilers beat the Leafs in a best–of–seven playoff series? For such a match–up to occur, both teams will have to survive opening–round clashes: Toronto, almost certainly, against Montreal; Edmonton against Winnipeg. "The Leafs would be favored in a series with the Oilers but, absolutely, Edmonton could prevail," Spector said. "In my view, McDavid and Draisaitl offset Marner and [Auston] Matthews of Toronto. And, I'll take Mike Smith in goal over anything the Leafs can offer right now. Not only is Smith performing like a Vezina Trophy candidate, he has an enormous edge over Campbell and David Rittich in playoff experience (25 career starts to one for Rittich; Campbell hasn't yet appeared in a Stanley Cup game). Unless Frederik Andersen returns at full health, Edmonton has the edge in net. As for depth beneath the high–end players, the Leafs are better than the Oilers. But, we've seen through the years how the best player in the game can lift a team's profile.
"With McDavid performing like no one since the early 90's — and Smith looking great between the pipes — the Oilers will be a handful for any opponent. McDavid and Smith could give Edmonton a slight edge over Toronto."
Since the Maple Leafs demolished the Oilers in that three–game set at Rogers Place, the clubs have met twice (Mar. 27 and 29 at Scotiabank Arena) — each winning in overtime. Of equal importance is Edmonton's record against Winnipeg, its first–round opponent: 7–2–0 in nine games. "If someone before the season told me Mike Smith would outperform Connor Hellebuyck, I'd have rolled around laughing," Spector admitted. "But, Smith has been far superior in head–to–head meetings. Which augers well for the Oilers in the playoffs against the Jets."
The Leafs, of course, will be heavily favored to knock off Montreal, especially if Carey Price doesn't return at top form from a concussion. Wingers Brett Gallagher (fractured thumb) and Jonathan Drouin (personal leave) will also be absent for the Canadiens. Toronto has a 5–2–0 record against Montreal this season with three consecutive matches on tap in the final portion of the schedule: May 3 at the Bell Centre; May 6 and 8 at Scotiabank Arena.
The Maple Leafs and Habs haven't met since the 1979 Stanley Cup quarterfinals.
The true intrigue, however, would begin with a second–round quarrel between McDavid, Matthews et al.
THE 10 BEST NHL'ers I HAVE SEEN
Whenever the subject of Wayne Gretzky arises, I ponder the most–gifted players (excluding goalies) I've watched in my life (essentially from the late–1960's to today). Ranking them from 1–10 isn't easy, but here's my best effort:
01. BOBBY ORR — For as long as Gretzky and Bobby Orr are alive, the debate will rage over which Hall–of–Famer deserves the top ranking. I place Orr slightly ahead for a reason I've mentioned before in this corner: though Gretzky was undoubtedly the best player in his era, others could at least be mentioned, without embarrassment, in the same sentence. Such as Mario Lemieux, Bryan Trottier, Mike Bossy, Peter Stastny and No. 99's Edmonton teammates Paul Coffey, Mark Messier and Jari Kurri. When Orr played, there was no reasonable comparison. He was farther ahead of the second–best player than any figure in the game's history. Prior to Orr, the notion of a defenseman winning the Art Ross Trophy was never considered. But. No. 4 did it twice — in 1969–70 and 1974–75. I can still close my eyes and see Orr killing a penalty. He would skate the puck to center ice. Rather than dumping it into the opposition end, he'd pull a one–eighty and carry it back behind the Boston net. If unchallenged, he would do it twice. Rival skaters rarely pressed him for fear of being made to look foolish. Heaven knows what Orr may have accomplished had today's technology for repairing knee ailments been an option.
02. WAYNE GRETZKY — Those who watched Gretzky, but never saw Orr, would scoff at a player ranking ahead of No. 99.  No one ever anticipated the next step, or fed the puck, as did Gretzky. One can also argue that no player ever shot the puck as effectively, though he wasn't primarily regarded as a goal–scorer. Neither has anyone in NHL annals compiled 200 (or more) points in a season; Gretzky did it four times (215, 212, 208, 205). Wayne still has more career assists (1,963) than any other player has points (Jaromir Jagr, with 1,921, is second). And, Gretzky did it without brawn or elite skating. I shudder to think of No. 99 with Connor McDavid's speed.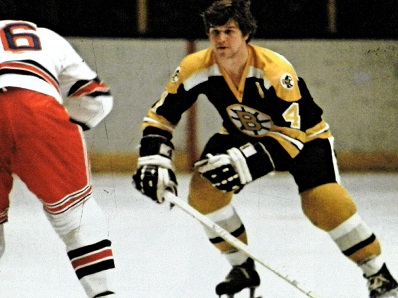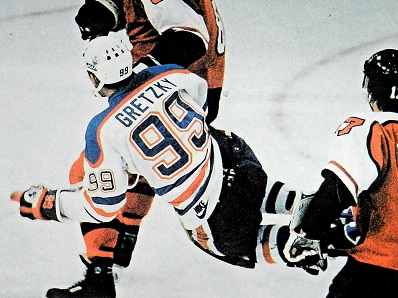 03. MARIO LEMIEUX — The most–dominant big man in NHL history, though Eric Lindros, minus the concussions, may have challenged him. Sadly, Lemieux and Gretzky were in separate Conferences and clashed only twice per season. The Penguins and Oilers were never strong enough, simultaneously, to meet for the Stanley Cup. Mario amassed the fifth–highest point total in NHL history — 199 in 1988–89 — but lost the Hart Trophy to Gretzky (168 points in his first season with Los Angeles). No feat in hockey annals can compare to Lemieux returning from cancer treatment late in the 1992–93 season. Over the final 20 games, he erupted for 30 goals and 56 points to overcome a 12–point deficit (to Pat LaFontaine) for the Art Ross Trophy. During that time, Pittsburgh won a league–record 17 consecutive starts, but was upset by the New York Islanders in Round 2 of the playoffs.
04. PAUL COFFEY — Some may deride this selection but the most–fluid skater I've ever seen was the closest facsimile, as a defenseman, to Orr. And, Orr, as pointed out, is the greatest player in my lifetime. Coffey accrued more than 100 points in a season on five occasions. His performance with Edmonton in 1985–86 — 48 goals (still a record for defencemen) and 90 assists — ranks with anything Orr accomplished in Boston. As does Paul's playoff outburst in 1984–85 for the Stanley Cup–champion Oilers: 12 goals and 37 points in 18 games. Watching him carry the puck from the Edmonton zone was spellbinding. He seemed to be floating on a cushion of air. Paul was the yin to Gretzky's yan. Without both, the Oilers would not have crafted their 1980's Stanley Cup dynasty.
05. JAROMIR JAGR — The big, Czech–born winger is No. 2 in points, all time, for a reason: there was nothing on the ice he couldn't do. And, do spectacularly. A measure of luck allowed Jagr to play in the NHL until age 45; thus the 1,733 games. But, 1,921 points reflected his unique combination of size (6–foot-3, 230 pounds) and skill.  In the latter half of the 90's, Jaromir was the best hockey player on Earth, compiling season point totals of 149, 127 and 121 with Pittsburgh. He won the Art Ross Trophy four consecutive times, beginning in 1997–98. At age 34 (in 2005–06), he put up 123 points with the New York Rangers. Clearly among the greatest NHL stars ever.
06. NICKLAS LIDSTROM — The greatest European–born defenseman of all time… yet a quiet, unflamboyant presence for the four–time champion Detroit Red Wings. Never panicked with the puck and displayed unwavering poise in every situation. He performed no differently in a late–October match against a weak opponent than during the decisive hour of a Stanley Cup final. Just steady; consistent… and seemingly always on the ice. Though not as flashy as other offensive blue–liners, Lidstrom had seasons of 80, 73, 71, 70 and 67 points. He won the Norris Trophy as top NHL defenseman on seven occasions and twice in three successive years (2000–01 to 2002–03 / 2005–06 to 2007–08). On June 4, 2008, at the old Pittsburgh Mellon Arena, Lidstrom became the first European–born captain to raise the Stanley Cup. He was as friendly off the ice as thoroughly efficient while playing.
07. MIKE BOSSY — The greatest natural goal–scorer I've ever seen. And, I doubt I'm alone in that assessment (though some would place Brett Hull in that category). Bossy and Hull had the fastest, hardest and most–accurate one–time slapshots these eyes have watched — teed up with feathery passes from Bryan Trottier and Adam Oates. A chronic back ailment forced Bossy into retirement after 10 seasons in the NHL, but his time yielded 573 goals and four consecutive Stanley Cups (1980–83) with the New York Islanders. He scored 51 or more goals in nine of his seasons and 61 or more in five of them (69 in 1978–79; 68 in 1980–81). Neither was he a slouch in the playoffs, leading all skaters with 17 goals for three consecutive years (1981–82–83). Attaining that total in just 19 games earned Bossy the Conn Smythe Trophy as playoff MVP in '82. On Jan. 24, 1981, he scored twice against Quebec at the Nassau Coliseum to become only the second NHLer (after Maurice Richard) with 50 goals in the first 50 games of a season. Gretzky demolished the record the following December with 50 in 39 games.
08. PHIL ESPOSITO — The original eye–popper of goal scoring. As with Gretzky and Coffey later in Edmonton, Esposito and Orr were essential to the Bruins winning the Stanley Cup in 1970 and 1972 (and somehow missing in '71). Whatever greatness he achieved in Boston was surpassed during one week in September 1972, when Esposito became the physical and emotional pulse of a remarkable comeback by Team Canada against the Russians — three consecutive wins, in Moscow; facing series defeat on each occasion. In 1970–71, Phil destroyed Bobby Hull's single–season record of 58 goals, passing Hull on Mar. 10 and finishing with an otherworldly 76. In an era before Bossy, Gretzky and Lemieux made it common, Esposito had four seasons of 60 or more goals. His point totals were pre–Gretzky remarkable: 152, 145, 133, 130, 127, 126. Between 1968–69 and 1974–75. In 1970, he had 27 points in 14 playoff games but lost the Conn Smythe Trophy to Orr, who famously scored the overtime Cup winner against St. Louis. Today, 40 years after his retirement, he still ranks seventh, all time, with 717 career goals, behind only Gretzky, Gordie Howe, Jagr, Brett Hull, Marcel Dionne and Alex Ovechkin.

09. GUY LAFLEUR — The most–spectacular player on the Montreal teams, under Scotty Bowman, that won four consecutive Stanley Cups (1976–79). And, among the most–stylish goal–scorers in NHL history. During that late–70's Cup dynasty, Lafleur enjoyed four remarkable seasons: goal totals of 56, 56, 60 and 52; point outputs of 125, 136, 132 and 129. He won the Art Ross Trophy in three consecutive years: 1975–76, 1976–77 and 1977–78. His 26 points in 14 playoff matches earned Lafleur the 1977 Conn Smythe Trophy. Stands alongside Maurice (Rocket) Richard as the greatest scorer in Canadiens franchise history. In a three season span (1975–76 to 1977–78), Lafleur's Montreal teams compiled an astounding regular–season record of 177 wins, 29 losses and 34 ties.
10. ALEXANDER OVECHKIN — Impossible to not include him in my Top 10 given that he'll likely come closest to Gretzky's career record of 894 goals. As of today, the Washington Capitals star has 730 (sixth place, all time). Which puts him 71 goals shy of Gordie Howe (801) for second place on the career list. Or, roughly two more healthy seasons after this. Ovie's biological clock is ticking. He'll be 37 by the time he (presumably) equals Howe. And, would likely need three or four more seasons to catch Gretzky. At age 41. Improbable, but certainly not impossible. Not for a player with goal–scoring years of 65, 56, 52, 51 (twice), 50 (twice), 49 and 48. He has led the NHL in goals on nine occasions. And, the cherry on his sundae was a Conn Smythe Trophy performance (27 points in 24 games) with the 2018 Stanley Cup–champion Capitals. Simply a joy to watch in action.
HONORABLE MENTION — Bobby Clarke, Marcel Dionne, Denis Potvin, Bryan Trottier, Peter Stastny, Raymond Bourque, Mark Messier, Jari Kurri, Steve Yzerman, Ron Francis, Joe Sakic, Sidney Crosby, Connor McDavid. 
EDMONTON OILERS
MEDIA GUIDES: 1979 to 2007
Staying with the Edmonton theme of this blog, here is a selection of Oilers NHL media guides: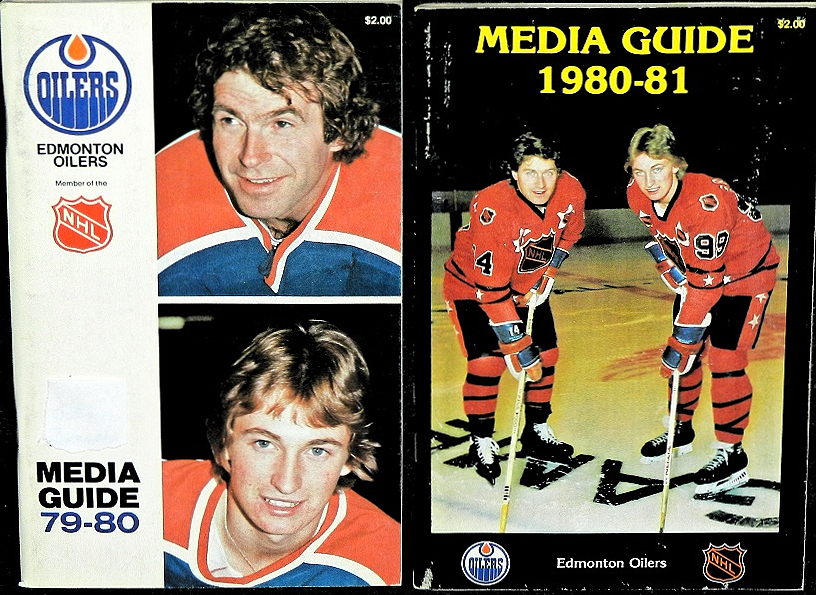 THE OILERS FIRST TWO NHL MEDIA GUIDES (ABOVE). GOALIE DAVE DRYDEN (TOP) AND WAYNE GRETZKY WERE ON THE COVER OF THE INAUGURAL BOOK, WITH GRETZKY'S FIRST NHL BIO, BELOW. NO. 99 POSED WITH LINEMATE BLAIR MacDONALD ON THE 1980–81 GUIDE FROM JOE LOUIS ARENA IN DETROIT, SITE OF THAT YEAR'S NHL ALL–STAR GAME.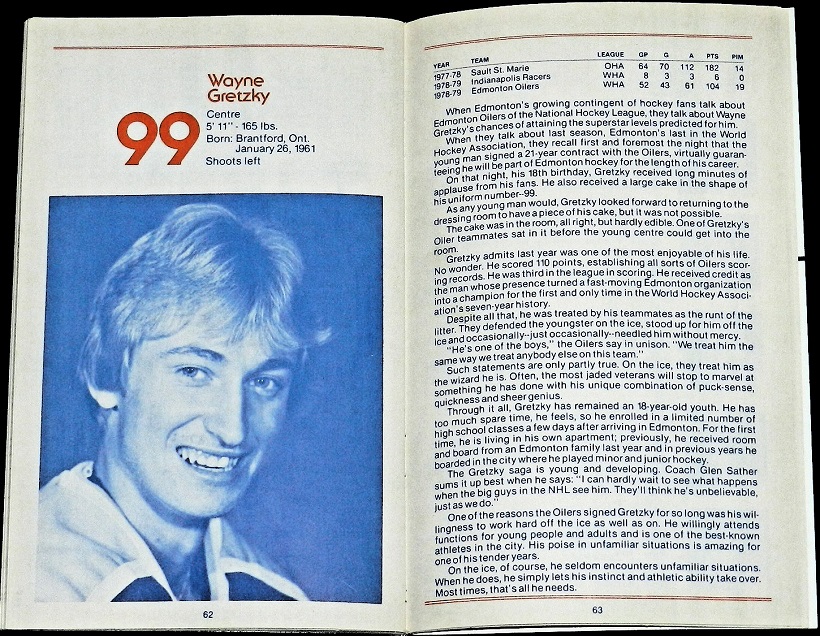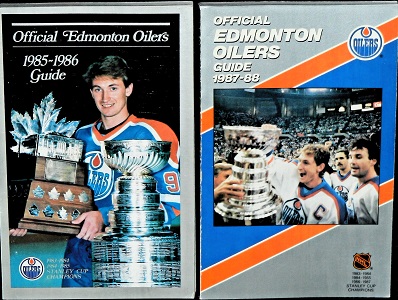 OILERS GUIDES FROM THE STANLEY CUP GLORY YEARS WITH GRETZKY: 1981–82 TO 1987–88.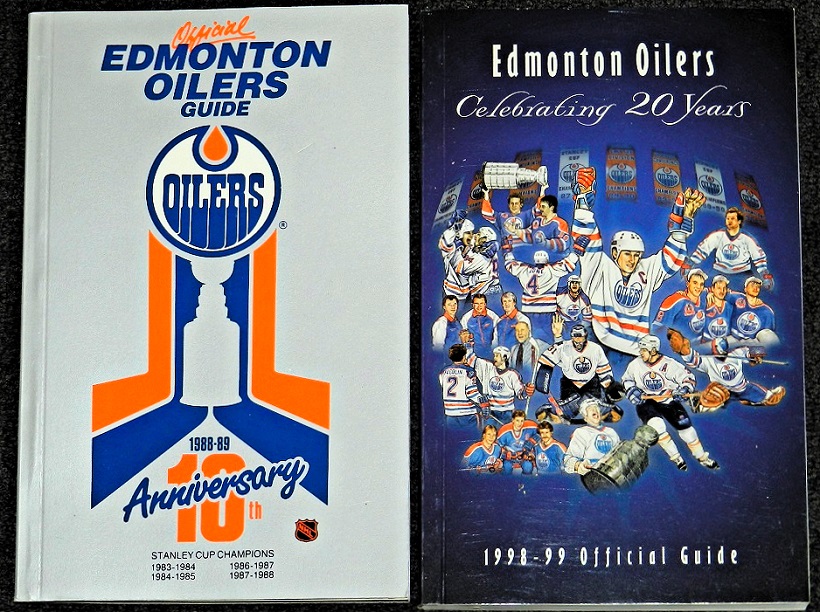 MILESTONE EDITIONS: THE 10th ANNIVERSARY GUIDE (TOP–LEFT) WAS THE OILERS FIRST SEASON WITHOUT GRETZKY, WHO HAD BEEN TRADED TO LOS ANGELES IN AUGUST 1988. GOALIE CURTIS JOSEPH LEFT EDMONTON AS A FREE AGENT FOR THE TORONTO MAPLE LEAFS JUST PRIOR TO THE CLUB'S 20th NHL ANNIVERSARY (TOP–RIGHT) IN 1998–99.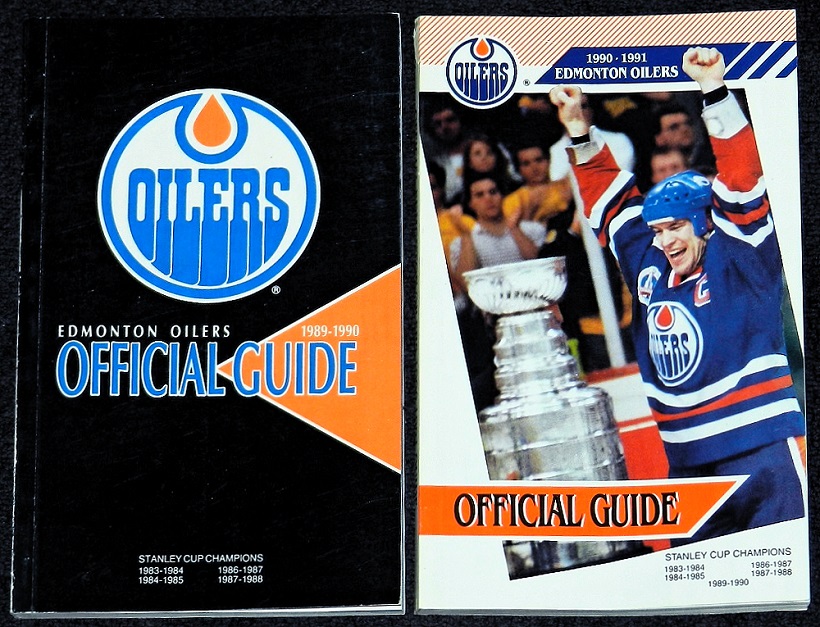 THE OILERS SECOND SEASON WITHOUT GRETZKY (1989–90, TOP–LEFT) PRODUCED A SURPRISE STANLEY CUP, AS EVIDENCED BY THE 1990–91 COVER (TOP–RIGHT) AND CAPTAIN MARK MESSIER.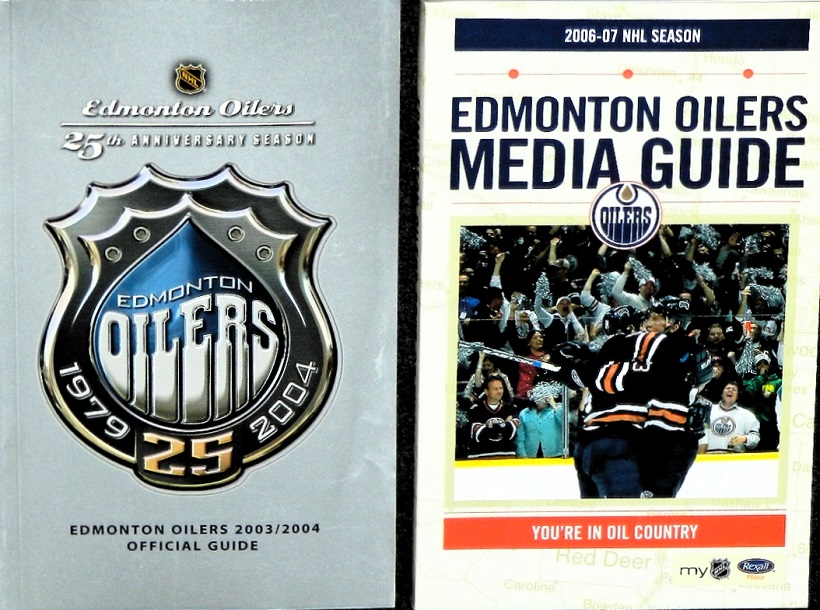 EDMONTON MISSED THE PLAYOFFS IN ITS SILVER ANNIVERSARY SEASON (2003–04, TOP–LEFT) BUT REBOUNDED, LED BY DEFENSIVE STAR CHRIS PRONGER, TO PLAY IN THE 2006 STANLEY CUP FINAL, LOSING IN SEVEN GAMESTO CAROLINA. ONE WOULD NEVER HAVE KNOWN OF THE ACCOMPLISHMENT BY LOOKING AT THE 2006–07 COVER (RIGHT).
EMAIL: HOWARDLBERGER@GMAIL.COM