TORONTO (Apr. 6) — At the risk of embellishing an observation, I contend that the TV voices of the Toronto Blue Jays — Dan Shulman and Buck Martinez — are accomplishing, this week, one of the most remarkable exploits in sports broadcasting history. Given their prominence in the industry, perhaps I shouldn't be surprised. But, I am.
With travel restrictions and safety measures in place during the COVID–19 pandemic, broadcast crews in hockey, baseball and basketball are calling road games remotely. For example, Joe Bowen and Jim Ralph, the veteran radio voices of the Toronto Maple Leafs, are in the booth at Scotiabank Arena, as always, when the Leafs play at home, but sit beside one another in the Sportsnet TV studio during road matches, describing the action off TV monitors. That, alone, is an incredible challenge… for reasons that are quite obvious. Shulman and Martinez have the added inconvenience of broadcasting the only Canadian–based team in Major League Baseball with the Canada–U.S.A. border closed to non–essential travel. Dan lives here in Toronto; Buck, in Florida. Other than having one of the two leave his family for six months and live in the opposite country, there's no way for them to sit alongside one another. As such, while the Blue Jays have opened their 2021 schedule this week with games in New York and Arlington, Texas, Shulman has been by himself in the Sportsnet studio; Martinez at home in Florida; calling the games together off monitors 2,190 kilometers apart. And, astonishingly, making it sound no different than if they were situated next to one another, as before COVID–19, at Yankee Stadium and Globe Life Field.
While preparing for Tuesday's game in Texas, Shulman returned a telephone call from his long–ago colleague at The FAN–590, who had but one question: "How the hell are you guys pulling this off so seamlessly?"
"Well, I have some experience calling games this way as I've done a fair bit of it with college basketball for ESPN," Shulman told yours truly "Me and Buck are obviously familiar with one another having worked together on Blue Jays telecasts for so many years. But, yes, it is a challenge, and every so often — completely unbeknownst to the viewer — there's a brief [satellite] delay between the two of us, which can be quite confusing. Nothing terrible, but sort of like in the old days when you'd call your aunt, long distance, in England. Just that little lag of time, almost like a faint echo, that was noticeable. Thankfully, we haven't talked over one another. We're both trying to be more definitive at the end of each sentence, so the other knows when to jump in. Otherwise, it's just something we're getting more used to with each telecast. I feel very fortunate to be working baseball during the pandemic. Countless others are experiencing much greater difficulty than me and Buck calling Blue Jays games separately."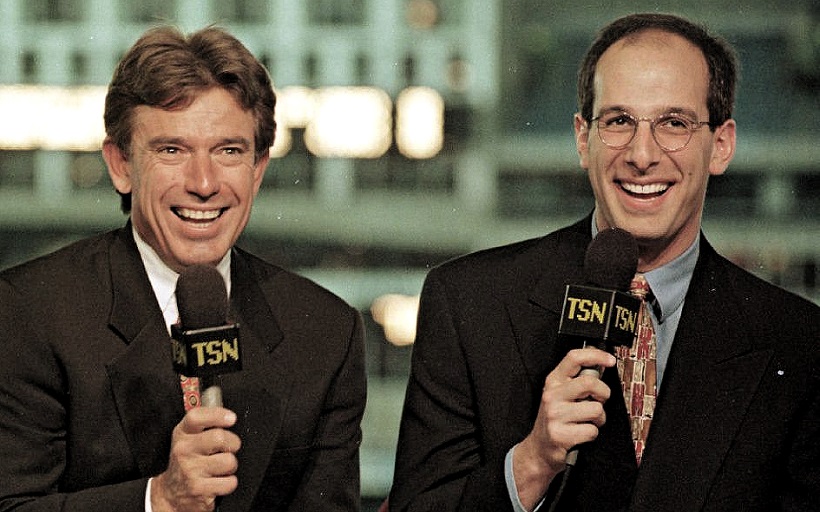 FROM THEIR EARLY YEARS TOGETHER ON TSN IN THE MID–1990's (ABOVE) TO BEING REUNITED ON SPORTSNET TODAY (BELOW), BLUE JAYS TV VOICES DAN SHULMAN (RIGHT) AND BUCK MARTNEZ HAVE BEEN AMONG THE BEST BROADCAST TANDEMS IN ALL OF MAJOR LEAGUE BASEBALL.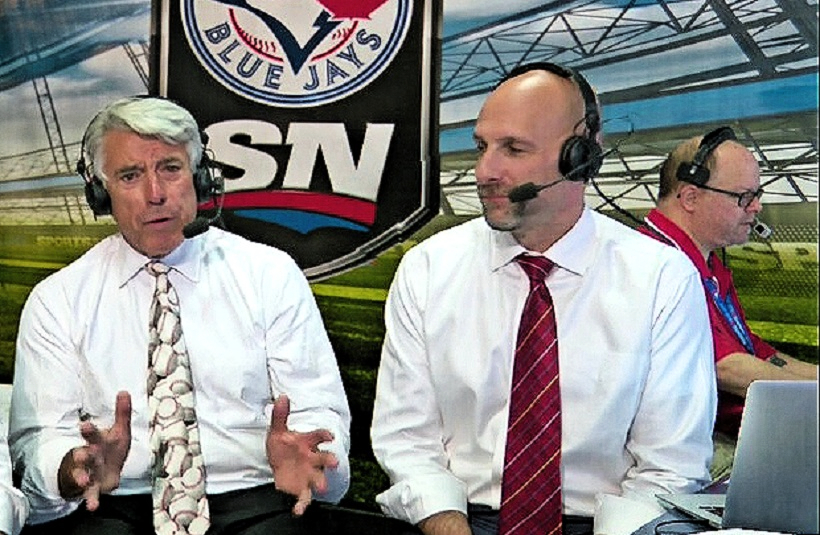 Shulman and I worked together in radio between 1991 and 1995, whereupon he left me (and others) in a cloud of dust. We were on hand at the start–up of Canada's first all–sports station (Sep. 2, 1992) when CJCL AM–1430 became The FAN–1430 (later sliding down the AM dial as The FAN–590). Dan joined TSN for the 1995 baseball season, working with Martinez on Blue Jays telecasts. He achieved cross–border fame, beginning in 2011, as the voice of Sunday Night Baseball on ESPN, stepping down after the 2017 season to spend more time with his family here in town. He has since reunited with Martinez as the primary crew for Blue Jays telecasts on Sportsnet.
As for executing the games remotely with a partner in Florida, Shulman explained he and Martinez have several tools at their disposal. "The most important is a talk–back button that we can hit to converse with one another and not be heard on the air," he said. "It's actually quite invaluable and we use it all the time. The general pace of a ballgame allows for us to do so more easily than in a continuous–action sport such as basketball. When you don't hear us chatting on the telecast, me and Buck are almost always conversing with the talk–back mechanism. It really helps. And, it often makes me wonder what we'd be doing if the pandemic had occurred 10 years ago."
Also available for Dan and Buck are cameras pointing to the stadium scoreboard; to each bullpen, and from up high behind home plate — known as the "all nine" vantagepoint. "That camera helps us see if the infield shift is on or if a runner is likely to steal a base," Shulman clarified. "Along with talking on and off air to Buck, my eyes are darting all over the place from one monitor to the next. It's kind of different but simply part of the job right now."
What Shulman didn't say is that only a select–few broadcasters could execute the three–location challenge so spectacularly. He and Martinez may be the best tandem in Major League Baseball. And, it begets a riddle that's been pondered throughout the industry during COVID–19: Have these immensely gifted play callers and analysts not become their own worst enemies? In other words, if broadcast executives recognize that Bowen and Ralph, or Shulman and Martinez, can handle their craft so splendidly that listeners and viewers do not detect a difference between studio calls and being on site, will they continue to spend big money flying their crews to road games?
"It's a legitimate question but one I cannot answer," Shulman said. "And, it's not only observers of the broadcasting industry that bring up the subject; we talk about it among ourselves. Obviously, I hope it goes back to the old, familiar way. Nothing compares to being on site for a game; to gathering information from managers, coaches and players beforehand… to feeling the atmosphere and excitement of live fans at the stadium. I think that's something we're all missing. And, let's be honest, anyone that's done this job — as you did, Howie, with the Maple Leafs for all those years — knows that it's quite enjoyable traveling through a sport; seeing the different cities and building relationships with colleagues away from home. There's no way of duplicating that in a studio. I can call a game from Texas tonight and be in my own bed 20 minutes later. That's a lot different than the normal routine."
EMAIL: HOWARDLBERGER@GMAIL.COM