TORONTO (Apr. 22) — I'm astonished by the sheer volume of goaltending experts in Leafs Land that were utterly silent about Jack Campbell's inability to play the position while he reeled off 11 consecutive wins between Jan. 16 and Apr. 10. I've looked back… and nowhere can I find even a sentence that Campbell was a bum; that his National Hockey League record for victories from the start of a season was smoke and mirrors. Where were all the geniuses that have crawled out of the woodwork to dismiss Smilin' Jack now that he's lost three consecutive matches? Surely someone would have emerged in nearly a three–month span to break the disheartening news.
As I mop up my drips of sarcasm, we should keep a close eye on Turncoat Nation. To detect the pulse of this forever wavering group, I again perused the Leafs page on the chat forum H–F Boards. And, wouldn't you know it: a poll of responders had re–anointed Frederik Andersen as the most–likely playoff hero between the iron — the same Frederik Andersen who flubbed on post–season shots that Queen Elizabeth could stop at age 95; the Frederik Andersen that is 0–for–4 in playoff assignments with the Blue and White, having not won a Stanley Cup series since 2015. Today, he's 'the man' once again. Of 139 votes cast in a poll by 8:30 a.m. Eastern today, Soft Goal Freddie led Smilin' Jack, 74–63. Poor David Rittich, the third entry, had summoned only two mercy votes after his disintegration on Tuesday night in Vancouver. Michael Hutchinson (remember him?) didn't make the list.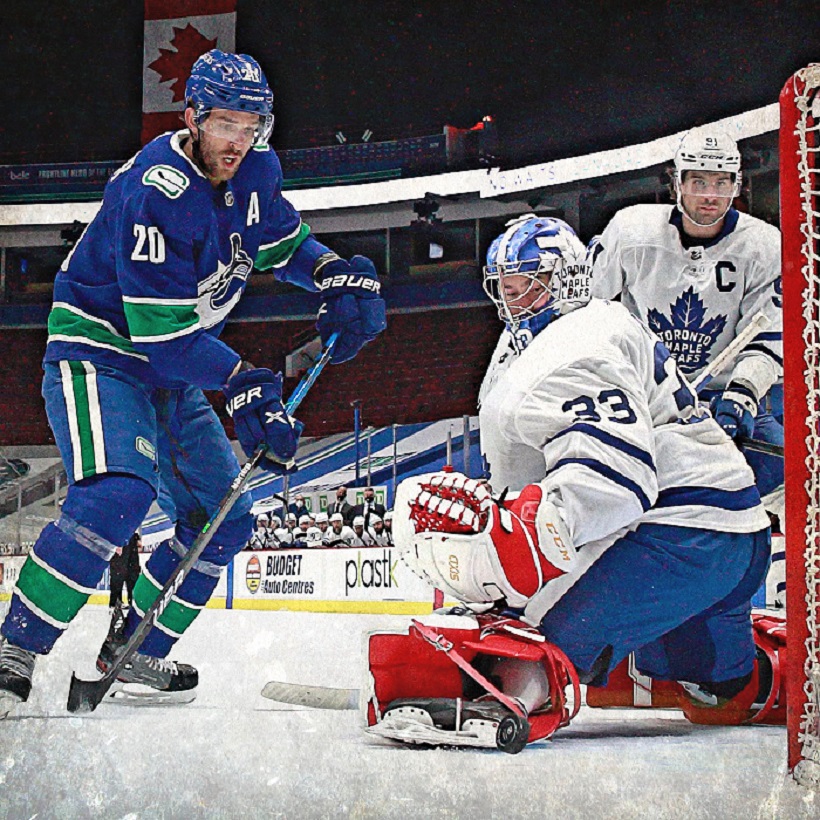 Perhaps we should go easy on the distraught. After all, a fan of the Maple Leafs needs to be closing in on 30 to have any first–hand recollection of the club winning a playoff round. Which last occurred in 2004. Necessitating a birth year in the range of 1992 to 1994. Young Leafians — aged 10–20 — are entrenched in failure. Those at the lower end of the birth scale were at least spared memory of the Causeway Street Collapse on May 13, 2013, when the Leafs excruciatingly coughed up a 4–1 third–period lead at Boston in Game 7 of the opening round, losing in overtime. My son, Shane, is 24 and still wears that emotional scar. So, really, what would a Toronto hockey follower in his or her mid–20's know about clutch goaltending? Ed Belfour and Curtis Joseph, the last to provide such assurance, have become historic figures. Felix Potvin and Mike Palmateer, if known by name, are mythical. Johnny Bower and Terry Sawchuk descended from the mountaintop with walking sticks and long, white beards.
These melancholy souls are thus left to the bare minimum: longing for a man that has routinely failed them in the post season. Call it The Frederik Syndrome. So all–encompassing is the movement that Dave Feschuk writes about it in today's edition of the Toronto Star. Under the headline IN THE CASE OF LEAFS GOALIE FREDERIK ANDERSEN, ABSENCE HAS MADE THE HEART GROW FONDER. Of course, Dave wouldn't have committed such prose as recently as ten days ago, when Campbell could have run for the Big Chair of our beloved city and routed the Beatle–haired incumbent (sorry, John). This, however, is a new week in the infernal history of Leafdom.
Back, now, to the Toronto page of H–F Boards.
And, comments from TORONTO'S GOALTENDING DILEMMA (WHO STARTS IN THE PLAYOFFS?):
Who cares anymore. They all suck right now. Throw any of them in there and the results are likely the same.
Felix Potvin still available?
Andersen is starting to get popular again because he hasn't been on the ice recently to let in goals.
If Campbell isn't on another hot streak and Freddy is 100%, you go with Freddy.
It's a disaster to even think about. The goaltending is a f***ing disgrace. Period. It will end our season early.
Freddy is a notorious slow starter. Would you really want him [to play] after several months on the shelf?
Freddy's gonna put this team on his back.
Unfortunately I think the answer might have to be Andersen.
Rookie GM does not know goaltending; he has left us high and dry.
Lol… people couldn't wait get Anersen out of the crease and now [they] want him back?
If healthy, you have to go with Andersen and hope for the best.
Two weeks ago, I would have said something different, but we need a nice fairy tale story from Andersen if we have any chance of winning. I hope the failure of the backup goalies will push Andersen's confidence back.
Andersen is the best goalie we've had since Ed Belfour. He was very good in some playoffs; less good in others. But, to say "he failed" is a joke. [I would suggest no one is laughing].
Jack Campbell is 11–2–1 with a .917 save–percentage and he's Top 10 in the league in Goals Saved Above Expected. He's had a couple of bad games, but he should be winning this poll by a landslide. Andersen has sucked for over a year–and–a–half. He's no solution.
The injuries we have right now will actually let us bring Freddy back for a few [regular–season] games. I expect him to save the day and be the Freddy we fell in love with a few years back.
Could always roll he dice on Veini Vehviläinen.
Andersen: He's been out too long to start for us in the playoffs. Plus, we've seen this movie before. If he can return and play a back-up role, then great. Campbell: He'll bounce back. Rittich: I'd give the guy a bit of a break coming to a new team and starting the next day. He can be solid.
Just because Andersen choked in the past doesn't mean he'll be a career playoff choker.
Hopefully, they all go down and David Ayers comes in.
As for the Leafs, in general, some remarks on the 0–3–2 slide:
We suck.
This club should be embarrassed… from top to bottom. Teams with heart would want to push back hard after an embarrassing loss [to Vancouver on Sunday night]. We just folded.
None of this team's flaws have been fixed.
Man, I gotta say I'm getting real f***ing sick of losing these games that we "should" be winning. I don't even give a sh** about the advanced stats; regular stats; our 40 shots to their 30. Our goalies all suck; our guys can't score… or whatever the f*** the excuse is for the night. This team just doesn't have it between the ears. What the actual hell does this group need? A goalie would be a good start, but they just don't… aw, f*** it. Why even bother. [Look up "Leafs Fan" in the dictionary and you'll see this guy's photo].
We don't have any more goalies.
 
If we lose again in the first round, Dubas and Shanny need to consider the retooling option.
These goalies are totally emberasing [sic].
I see better hockey when I turn on NHL 21; put down my Controller, and walk away.
Would be nice to see more players give a damn. When your 4th liners are coasting, you know it's rough.
Why are so many idiots writing eulogies on the team before the playoffs have even started?
Man, why am I a Leafs fan?
Which is, perhaps the most–pondered question of the past 54 years. 🙄
HOCKEY HEADLINES — Part 1
From my newspaper collection
Stories and photos dating from February 1976 to May 1984: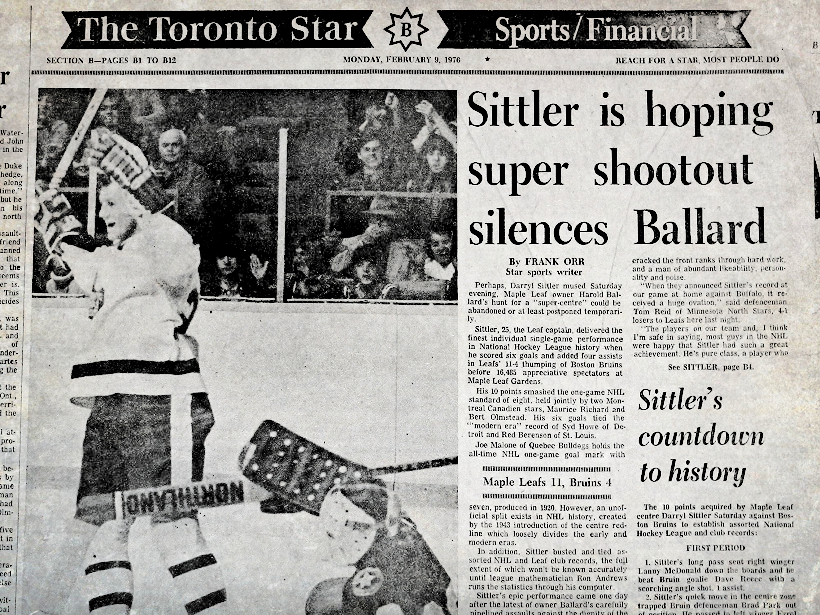 Front of the Toronto Star sports section (above) on Feb. 9, 1976 (a Monday), two days after Leafs captain Darryl Sittler erupted for six goals and four assists against the Boston Bruins at Maple Leaf Gardens. Story, below, by the late Frank Orr. More than 4½ decades later, Sittler's 10 points remains a single–game record in the NHL. An account of the achievement appeared two days afterward, as there was no Sunday Toronrto Star in 1976.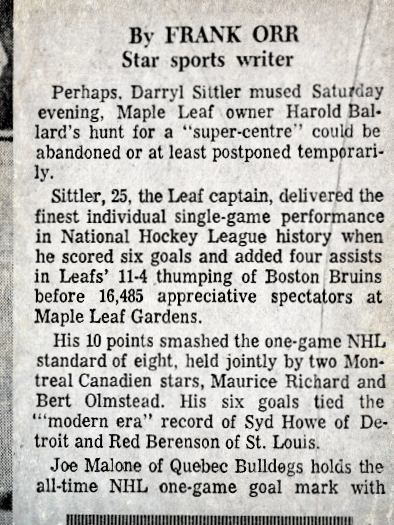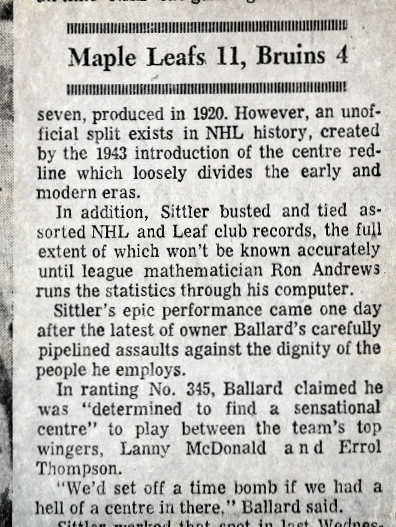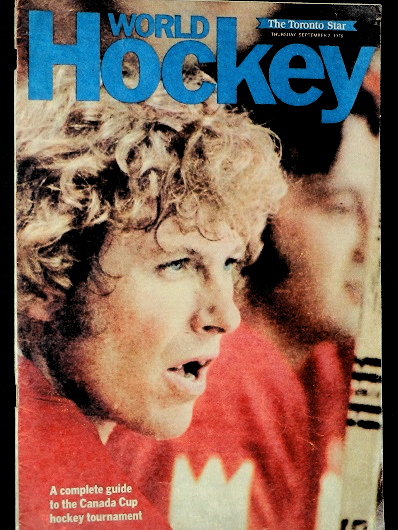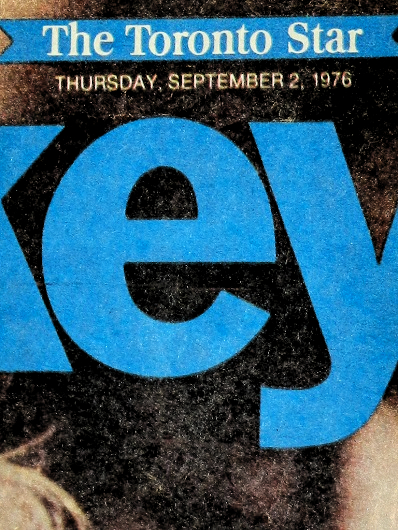 Special supplement (above and below) issued by the Toronto Star just prior to the inaugural Canada Cup hockey tournament in September 1976 (Bobby Clarke on the cover). Again, Sittler would be the hero, scoring the championship goal for Team Canada, against Czechoslovakia, in overtime at the Montreal Forum.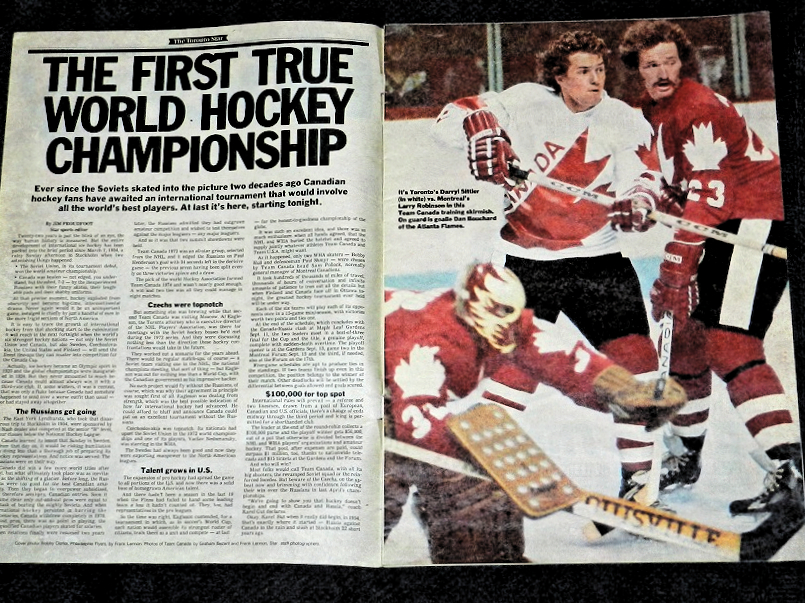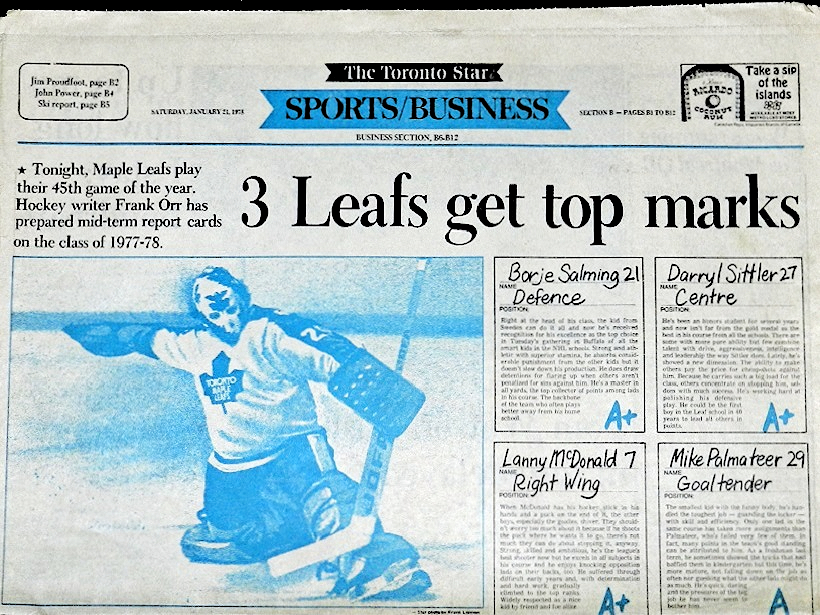 The 1977–78 Maple Leafs, under rookie coach Roger Neilson, compiled 92 points, second–most (to that time) in franchise history. Sittler put up 117 points (45 goals, 72 assists), which remains the second–most in one season by a Leafs player, behind the 127 recorded by Doug Gilmour in 1992–93. On Jan. 21, 1978, while the Leafs were in Los Angeles, Frank Orr issued his report card (above and below) on the first half of the schedule.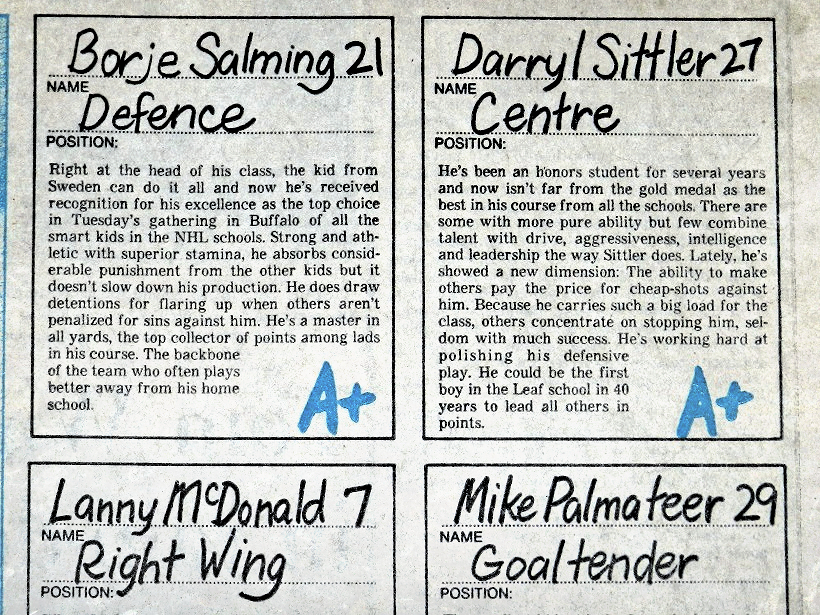 It was the end of the World Hockey Association. Frank Orr reported for the Toronto Star from a meeting in Chicago late in the 1978–79 season, the final year for the WHA. Wayne Gretzky would join the NHL the following season.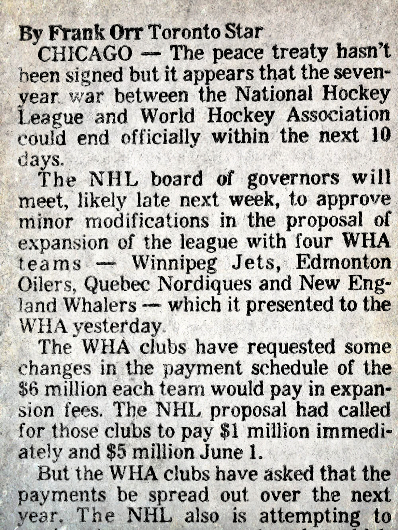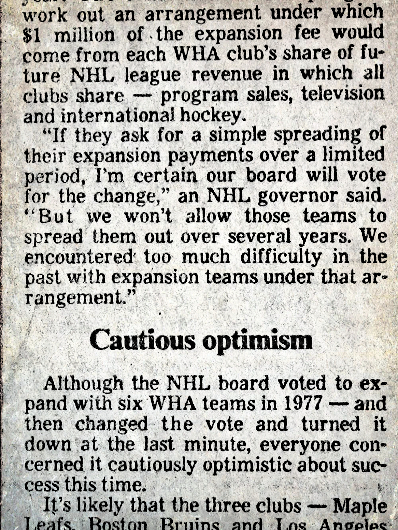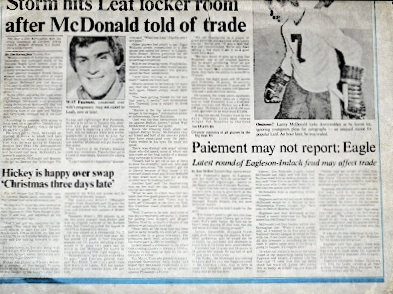 It remains, arguably, the most–unpopular and destructive trade in modern Leafs history: Punch Imlach sending future Hall–of–Fame right–winger Lanny McDonald to the old Colorado Rockies (today, the New Jersey Devils) on Dec. 29, 1979. Toronto Star coverage, above and below, by the late Jim Kernaghan.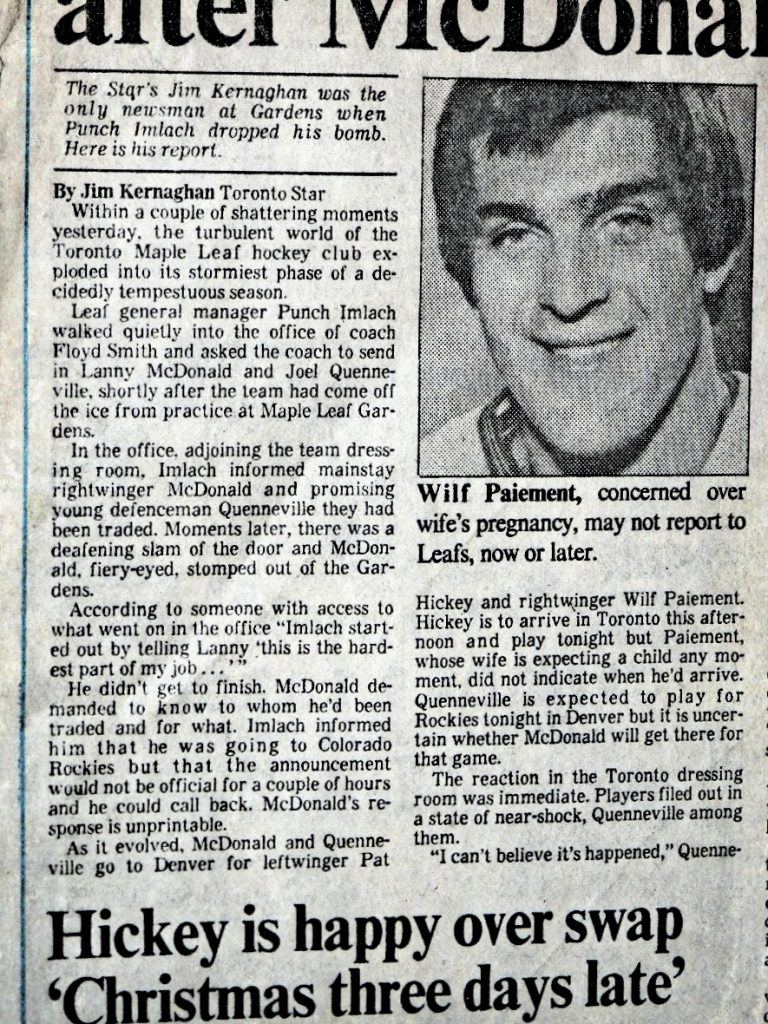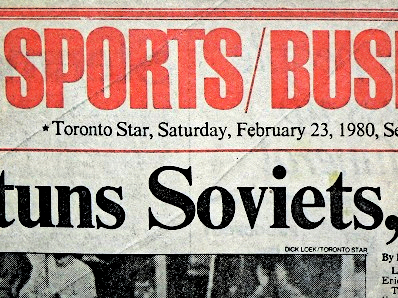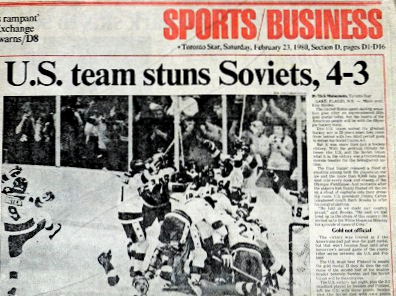 It was the "Miracle on Ice" — the United States men's hockey team, comprised of little–known college players, taking down the Russian behemoth at the 1980 Winter Olympics in Lake Placid, N.Y. (above and below).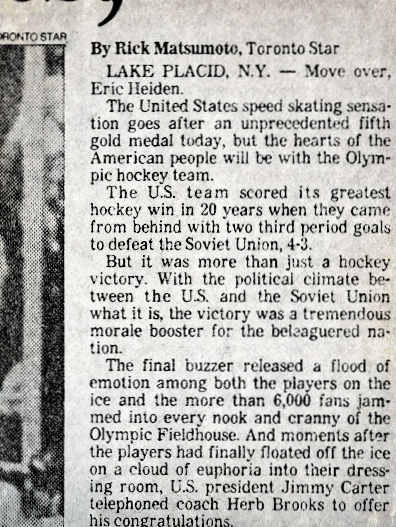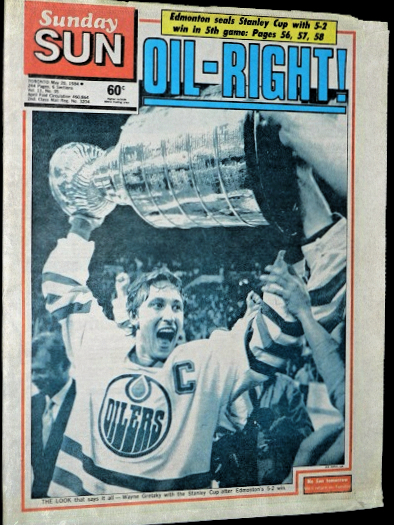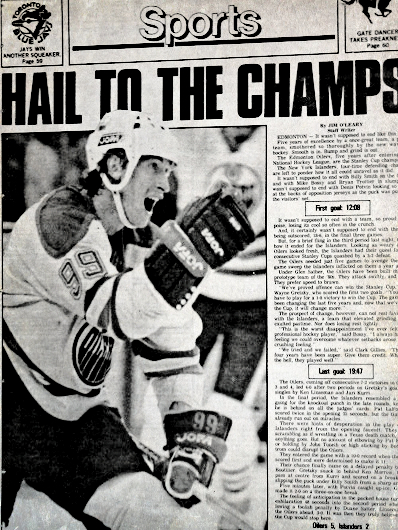 "There's a new kid on the block," Bob Cole famously told Hockey Night In Canada viewers on May 19, 1984 as Wayne Gretzky and the Edmonton Oilers defeated the New York Islanders, at Northlands Coliseum, to win the 1984 Stanley Cup and stop the Islanders' consecutive–championships streak at four. Gretzky, then 23, raised the Cup (above) on the cover of the May 20 Toronto Sun. Frank Orr's Toronto Star coverage, below.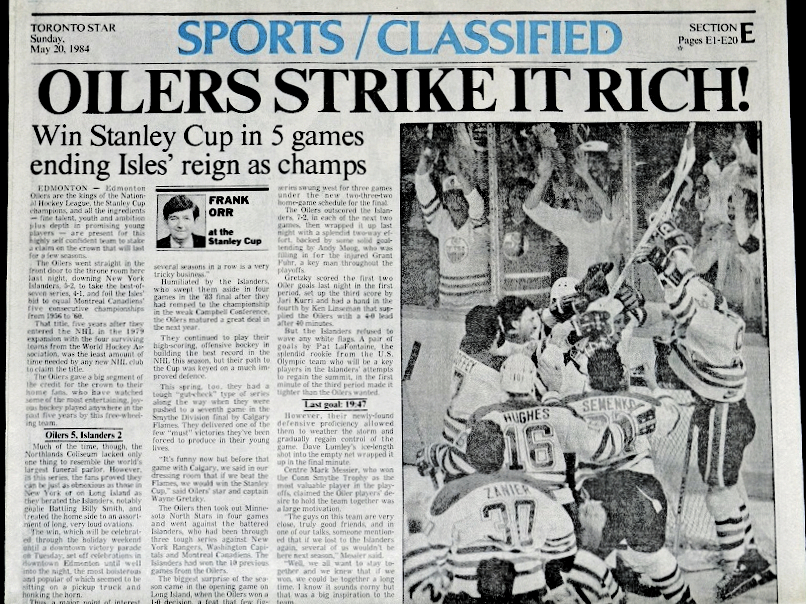 EMAIL: HOWARDLBERGER@GMAIL.COM