If [Kyle] Dubas were to aim higher, he might talk with Calgary about David Rittich, who can also become an unrestricted free agent this summer. Rittich, 28, is 4–7–1 with the disappointing Flames but won 51 games in the two prior years. The Leafs would be solid moving forward with a [Jack] Campbell–Rittich tandem.
— From my Sunday blog.
TORONTO (Apr. 12) — All boxes checked.
Whether the Toronto Maple Leafs, in this very unusual season, can end their interminable Stanley Cup drought will be determined between mid–May and early July. But, there's no longer any question about the club's legitimacy or potential. Soaring atop the North Division for all but a brief span, Toronto appears to have an uncluttered path to the Cup semifinals, which requires playoff–round victories over two rivals in the all–Canadian sector.
This was enhanced by the splendid accomplishments, on Sunday, of general manager Kyle Dubas and assistant Brandon Pridham, whose salary cap gymnastics allowed for the additions of forward Nick Foligno from Columbus and goalie David Rittich from Calgary. The latter was particularly essential given the uncertainty of Frederik Andersen, currently on Long Term Injury Reserve with a groin injury… and that No. 1 stopper Jack Campbell has also worked through a groin ailment for much of the abbreviated 2021 schedule. Rittich blanked the Maple Leafs, 3–0, at Scotiabank Arena back on Feb. 23, making 34 saves. It all–but ensures that a relapse by Campbell will preclude the Blue and White from elevating Michael Hutchinson to the starter's role — though it must be emphasized that Hutchinson has subbed rather nobly, this season, for Andersen and Campbell (4–2–1 in eight starts). Without the nine points accrued with Hutchinson in goal, the Leafs would be trailing Winnipeg and Edmonton in the North.
Instead, Toronto carries a six–point bulge over the Jets into a road game, tonight, against Montreal.
Though Andersen, 31, and Rittich, 28, can both test the open market this summer, the trade with Calgary is an unofficial "sayonara" to the club's starting goalie since 2016. The betting here is that Andersen will seek employment elsewhere as a No. 1, while Dubas will happily sign "Big Save Dave" (as Rittich was known in Calgary) at a lesser amount to share the workload with Campbell, 29. It was a superb acquisition by the Toronto GM.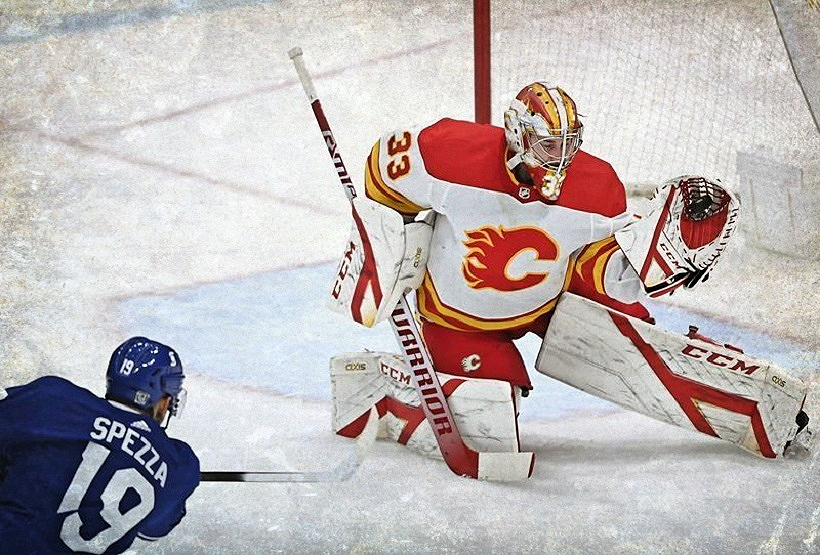 CALGARY GOALIE DAVID RITTICH STOPS JASON SPEZZA OF THE MAPLE LEAFS EN ROUTE TO A 3–0 SHUTOUT OVER TORONTO AT SCOTIABANK ARENA, FEB. 23. GETTY IMAGES/NHL
As of this morning, according to the website capfriendly.com, the Leafs have $518,383 with which to work prior to the 3 p.m. EST trade deadline. What the Leafs do not have — and are unlikely to obtain — is a Norris Trophy type on the blue line. Which has been rather mandatory amid Cup–winning teams in the post–expansion era. And, which fellow Cup contenders Tampa Bay (Victor Hedman), Washington (John Carlson), Pittsburgh (Kris Letang), Vegas (Alex Pietrangelo) and Colorado (Cale Makar) do possess. Morgan Rielly lifted himself into that realm two seasons ago with 72 points in 82 games. Hindered by a wonky back, he has since accumulated 55 points in 88 games (28 in 41 this season). Rielly needs to elevate his performance if the Leafs are to challenge for the Stanley Cup. Without a Norris Trophy threat, Toronto sits among a group of hopefuls that includes Carolina, New York Islanders, Florida, Boston, Winnipeg and Minnesota. Since 1967, only a handful of teams have prevailed through four playoff rounds in the absence of such a commodity… and, really, not since the Hurricanes of 2005–06.
The additions, however, of Wayne Simmonds and Foligno will supply playoff scrappiness the Leafs have lacked in the Brendan Shanahan era. Barring the unforeseen, the club will also enter the Cup tournament without carrying the emotional baggage of a No. 1 netminder that allows soft, untimely goals. On the flip side, neither Campbell nor Rittich are playoff tested — the former yet to appear in the post–season; the latter with just one game of experience in Calgary. But, the same could obviously be said for 2019 Cup winner Jordan Binnington of St. Louis. And, several others before him, most–notably Ken Dryden (1971) and Patrick Roy (1986) of Montreal. Johnathan Quick (Los Angeles) and Corey Crawford (Chicago) had less than 15 games of playoff toil before winning their Stanley Cups. And, none of the aforementioned prevailed in the first 11 starts of a regular season, as has Campbell, this year, with the Leafs. Smilin' Jack is prone to challenging shooters, which is also a new playoff look for Toronto.
So, kudos to Kyle and Brandon for some excellent work before the trade deadline.
Is another move in the wings before 3 p.m. today?
EMAIL: HOWARDLBERGER@GMAIL.COM