TORONTO (Apr. 1) — For the better part of a week, the cynicism that unavoidably took root during 17 years covering the Maple Leafs as a radio reporter left me wondering if the team was "protecting" Frederik Andersen.
With Jack Campbell having returned from a lengthy groin ailment — posting, as of today, a perfect 7–0–0 record with a 1.41 goals–against average and .948 save percentage — Andersen is no longer the club's No. 1 stopper. I figured maybe the Leafs were "milking" a minor injury to preclude that Andersen had "lost" his position of the past five seasons to Campbell. But, there is no longer any doubt. Given that Andersen did not accompany the team to Winnipeg for the start, Wednesday night, of a four–game road swing, my cynicism has abated. Clearly, the big Dane is struggling with his own groin malady, remaining here in town to undergo further evaluation. It appears Andersen aggravated the injury during Campbell's absence, and even with Michael Hutchinson stepping in on seven occasions. With the National Hockey League trade deadline 11 days down the road, Leafs general manager Kyle Dubas has a decision to make (perhaps an easy one): either stay with Hutchinson as Campbell's back up or deal for established goaltending help before the playoffs. It seems quite logical that Dubas will look hard at Door No. 2.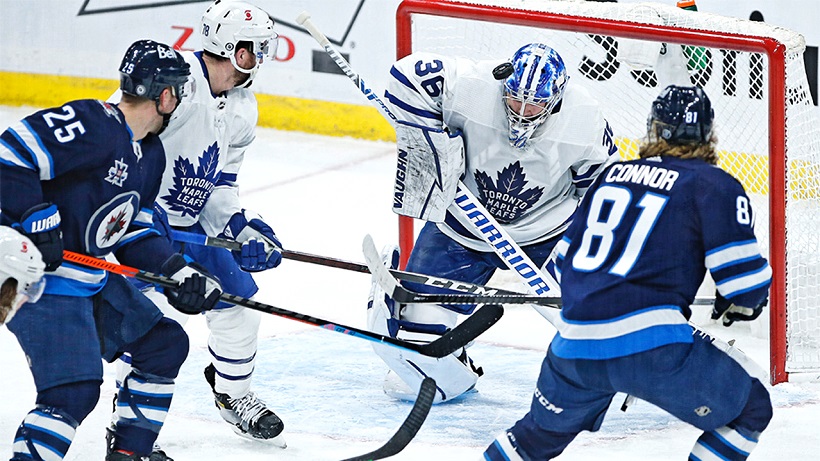 JACK CAMPBELL KEPT HIS PERFECT SEASON ALIVE IN WINNIPEG ON WEDNESDAY NIGHT, BACKSTOPPING THE MAPLE LEAFS TO A 3–1 VICTORY OVER THE JETS. SPORTSNET TV IMAGE
Andersen, of course, could recover in time for the Stanley Cup tournament, especially with COVID–19 postponements extending the start by one week (to mid–May). But, it's unlikely the Leafs will be clear on that issue before the trade cutoff. And, with Campbell's off–and–on groin difficulty, Dubas must avoid the possibility of Hutchinson assuming the No. 1 role in the playoffs, with farmhands Ian Scott or Veini Vehviläinen as No. 2. Let's also understand, clearly, that the Leafs won't be the only club seeking goalie depth before Apr. 12. Though Andersen's contract is up after this season, the club will be hard–pressed, given the salary cap crunch, to add a netminder with remaining term. Unless Dubas is willing to trade a roster player (Alex Kerfoot?) rather than a prospect. There is bound to be a last–minute scramble among several playoff–bound teams for goalies with expiring contracts.
(Quick aside: Kerfoot's name comes up a lot in trade speculation and dealing the final two years of his $3.5 million cap hit will help Dubas retain pending free agent Zach Hyman. But, every time I watch Kerfoot, he does something well for the Leafs, such as the shorthanded, breakaway goal at Winnipeg on Wednesday night. His work–boots are on for every game and he's evolved into the type of third–line center most teams would covet in the playoffs).
Among the goalies without a contract for next season that could be available before Apr. 12, a former Leaf might lead the way. Jonathan Bernier, 32, has played well for Detroit this season with a record of 8–6–0, a 2.78 GAA and .918 SV%. He's missed the past five games nursing a lower–body injury but is currently with the Red Wings in Florida and close to returning; Bernier appeared in 141 games with the Leafs over three seasons, starting in 2013–14. Up to half–a–dozen teams could pursue him before the trade deadline, with Philadelphia said to have keen interest. Colorado and Washington could also be in the mix. Veteran Ryan Miller, 40, is finishing a contract with Anaheim, though unimpressively at 3–8–1 / 3.60 /.882. But, the Ducks have been terrible this season, tied with Ottawa for the league's second–worst record, behind Buffalo. A veteran of 57 playoff games, mostly with the Sabres from 2005–11, Miller could respond well to the No. 2 role on a contending team. A bigger risk would be injury prone Antti Raanta, 31, who has appeared in 11 games this season with Arizona (5–4–2 / 3.20 / .913).
If Dubas is willing to trade a roster component, he could look (again) at either goalie with Columbus. Providing, of course, Blue Jackets GM Jarmo Kekalainen is willing to trade with his team just three points out of playoff territory in the Central Division. Joonas Korpisalo (8–10–6 / 3.02 /.899) has played more frequently, but not as impressively, as Elvis Merzlikins (6–5–2 / 2.72 / .918). Both are still just 26. Both have one year remaining on their contracts — Korpisalo at a cap hit of $2.8 million; Merzlikins at $4 million. The Leafs remember how Korpisalo neutralized their big shooters in the five–game Columbus victory during the qualifying playoff round last August.
IT'S HEWAT, NOT HEWITT
A young hockey fan here in Toronto will likely not be familiar with the name Ron Hewat. Same pronunciation, but different spelling than the father–son combination of Foster and Bill Hewitt, which invented hockey broadcasting on radio and TV. But, don't sell Ron short. He has quite a resume as the third person, after Foster and Bill, to do play by play of the Maple Leafs on radio. At 84, he is the oldest living person* to call the Leafs on radio. And, though he may require forgiveness, Ron is responsible for Bob McCown's media career, having hired McCown, in 1974, as a sales rep for CKFH–1430 Radio (today Sportsnet–590). Yeah, Ron Hewat is all of that.
He is also among the nicest people I've ever met, in or out of the radio business. When talking with him now, as I did for 45 minutes this week, you wouldn't know he's a day older than during his broadcasting prime — in the early and mid–1970's. Ron's voice is every bit as deep and strong; for a guy that somehow endured in the radio biz for 23 years with a comparatively squeaky inflection, I have long envied his pipes. At an stage in life when most people have been retired for 20 years, Hewat still regularly voices commercials and telephone greetings; he has 76 clients. He may be best–remembered for one of the earliest radio spots with the late Saul Korman of Korry's Clothiers For Men, beginning the commercial with "Saul, what's a nice Jewish man like you doing on the Danforth?" Korman, known as the "Duke of the Danforth" (or "Greektown"), died on Jan. 31 of this year.
But, it's hockey and the Leafs on CKFH–1430 that is still closest to Ron's heart. The radio station founded in 1951 by Foster Hewitt (thus the 'FH' initials) would adopt — 41 years later — the first all–sports format in Canadian history. I was privileged to be a reporter at The FAN–1430 on that day (Sep. 2, 1992); our signal would slide down the AM dial and become The FAN–590 in February 1995. Long before any such notion, Hewat found himself among the first voices of the Maple Leafs. When he handled his initial play–by–play assignment (by complete surprise, as you'll see) on Dec. 26, 1968, only Foster and Bill Hewitt had broadcast Leaf games on CKFH. Foster Hewitt, among the most–famous Canadians of all time, initiated hockey coverage in a glass booth, over a telephone, in 1923. Upon the construction of Maple Leaf Gardens, in 1931, the famous gondola was positioned on steel girders above the west side of the arena, 56 feet beyond ice level. From that perch, until it was dismantled after the 1978–79 season, Leaf games were broadcast on radio and (beginning in 1952) telecast over the CBC network.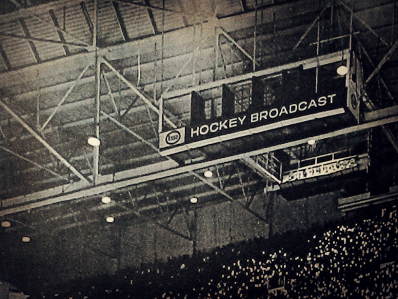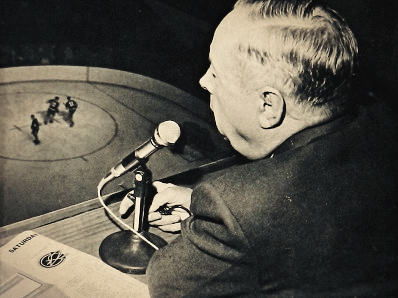 AMONG THE FEW IMAGES (TOP–LEFT) OF THE GONDOLA AT MAPLE LEAF GARDENS, CONSTRUCTED FOR FOSTER HEWITT WHEN THE ARENA OPENED NEARLY 90 YEARS AGO. HEWITT CALLED LEAFS ACTION FROM THE FAR–LEFT BOOTH, OVER THE LETTERS "ST", AS SEEN (TOP–RIGHT) ON DEC. 2, 1967, PRIOR TO A GAME AGAINST THE OAKLAND SEALS.
Ron Hewat joined CKFH out of the University of Toronto in 1961.
Initially, he handled sportscasts on Saturday and Sunday from noon to midnight but remembers not having to work particularly hard. "Well, we had the Leafs game beginning at 8 p.m. on Saturday and we carried Junior hockey doubleheaders (Toronto Marlboros and St. Mike's) from the Gardens all Sunday afternoon," Ron recalled. "So, there were many hours when I didn't have a sportscast." Though Foster Hewitt normally called games on radio without an analyst (or color commentator), Bill Hewitt preferred to work alongside a second person when handling Leafs away games. Ron, therefore, joined Bill quite often for road matches on CKFH during the 60's. As on Boxing Day 1968 at the Montreal Forum. Two nights earlier, the astronauts of Apollo 8 had been the first humans to circle the moon. Which, of course, was planned far in advance. Not so, for Hewat's first play calling assignment.
"The teams were on the ice for the start of the second period and Bill was going through his usual routine: 'The Canadiens, wearing their red home uniforms, are in the west end to my right; the Leafs, in their white and blue road uniforms, are in the east end to my left.' Then, out of absolutely nowhere, he said, 'and now, with the play–by–play of the second period, here's Ron Hewat.' He got up and left the booth; just walked straight out. I looked back at him, not knowing if it was some kind of joke. Meanwhile, the play had started and the engineer made a hand motion as if to say 'come on, let's get at it.' So, I turned around and started calling the game. From that point, on, I did play–by–play of the majority of Leafs games on radio for the next decade. But, what a way to start.
"Turned out that Foster and Bill had cooked up the whole thing so I couldn't be nervous beforehand. When I got back to Toronto, Foster called me in and said, in that deep, nasally voice, 'you know, that was pretty good, Ron. You'll have to do it more often.' Which I did. For many years. Working with a host of color commentators."
Among Ron's broadcast partners were Leafs newspaper beat–writers George Gross of the old Toronto Telegram; Red Burnett and Frank Orr of the Toronto Star and columnist Scott Young of the Globe and Mail (father of Canadian rock musician Neil Young). As mentioned, Hewat holds distinction as the third–ever person to call a Leafs game on radio. He's been followed by a select few: Fred Sgambati (on CBC Radio, which broadcast a Sunday night game, nationally, in the 60's and 70's), Peter Maher, Joe Bowen, Ken Daniels, Dennis Beyak (current voice of the Winnipeg Jets), Jon Abbott; Paul Hendrick and Todd Crocker (who split the play–by–play during four road games in 2018–19 when Bowen had laryngitis) and Dan Dunleavy (now sharing the TV/radio job with Rick Jeanneret in Buffalo). At 84, also as mentioned, Ron is the oldest living person* to call Leafs action on radio. Maher, the now–retired Hall–of–Fame voice of the Calgary Flames, is 76. Bowen turns 70 next Monday.
Foster Hewitt did play–by–play on radio until February 1976, when he was 73. He cut back on travel after the first expansion, in 1967, when the NHL doubled to 12 teams. Foster died on April 21, 1985. Bill Hewitt called the Maple Leafs on TV (CBC Saturday; CTV Wednesday) throughout the 60's and 70's, mostly with Brian MacFarlane. He did road games on radio, periodically, until 1980, when he was 52. Bill perished on Christmas Day 1996.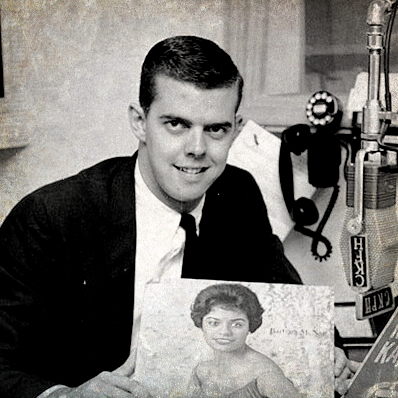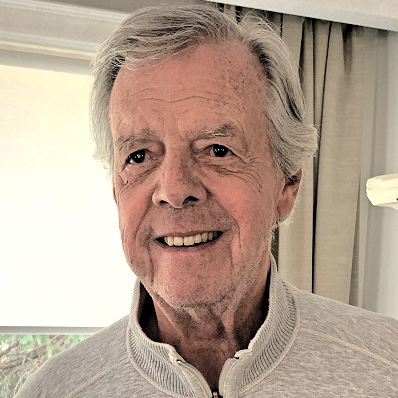 RON HEWAT IN THE EARLY–60's AT CKFH–1430 (LEFT) AND AS HE APPEARS TODAY, AT 84, WITH HIS "PANDEMIC" HAIRDO.
I remember Ron Hewat mostly from the early–70's, when only Wednesday Leaf road games from Montreal were televised. The other road matches were radio exclusives and I spent countless hours listening to his dulcet tones.
Ron remembers working amid sparse gatherings in such cities as Pittsburgh, Los Angeles and Oakland.
"We had a long–time engineer named Gerry Wilson," Hewat recalled. "He made this extensive, reel–to–reel tape of crowd noise from Maple Leaf Gardens. When I'd be calling a game in L.A. or Oakland — with 3,000 and 4,000 people on hand — Gerry would adroitly pump in the Gardens' sound on the broadcast to make it seem as if more people were in the crowd. Many of the broadcast locations back then were in among the spectators. At the L.A. Forum, the press box consumed an entire section of seats in the second level, at center ice. In Oakland, when the Seals were part of the NHL (1967–76), we sat in the first row of the second level. The old Omni in Atlanta (home of the Flames from 1972–80) was a real treat. They set up a table for us in the walkway between the first and second level of seats. People were constantly moving back and forth just behind us. It was a bit unnerving.
"As far as the best locations," Ron continued, "really, there were two. At the old Boston Garden, we were in an overhang of the balcony, closer to the ice than anywhere in the league. And, for me, nothing compared to the gondola at Maple Leaf Gardens. You were suspended directly over the penalty boxes at the perfect height to call a game. I loved working from the gondola. It's a shame [Harold] Ballard trashed it that summer (1979)."
*ADDENDUM TO STORY (as indicated by the green asterisks): Ron Hewat is the oldest living person to regularly call Leafs play–by–play. The oldest person still alive to call a single Leafs game on radio is Jim Robson, now 86, the original voice of the Vancouver Canucks in 1970–71. On Mar. 3, 1970, the season prior, Robson was commissioned by CKFH–1430 to fly from Vancouver to Oakland and broadcast the Maple Leafs–Seals game that night. Bill Hewitt, scheduled for the match, had fallen ill. It was Robson's first NHL assignment.   
OVER TO YOU, RON…
The Montreal Forum program from Ron Hewat's first NHL play–by–play assignment: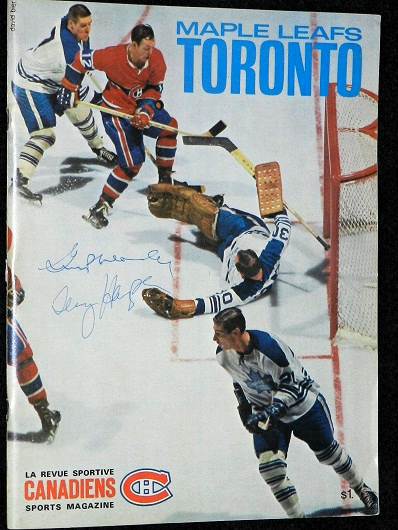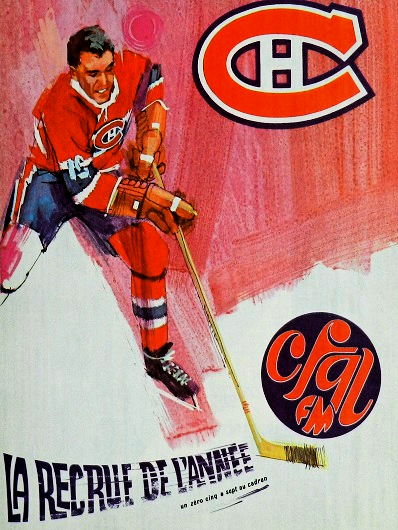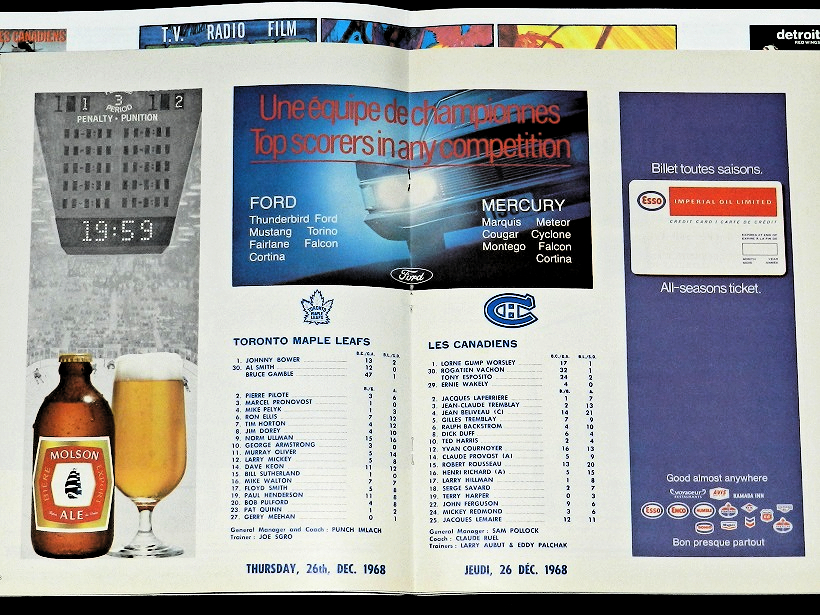 Ron Hewat received quite the post–Christmas surprise when Bill Hewitt unexpectedly turned over the microphone to him for the second period of the Maple Leafs–Canadiens encounter at the Montreal Forum (line–ups above and below), Dec. 26, 1968. It required only 1:43 of playing time for Ron to call his first goal, as Norm Ullman took a pass from Ron Ellis and beat Tony Esposito in the Habs net to give Toronto a 2–1 lead. Ultimately, the visitors would cough up the final three goals of the match and lose, 4–2, to the defending Stanley Cup champion. Henri Richard and Bobby Rousseau scored on Bruce Gamble 5½ minutes apart in the middle frame to reestablish the lead for Montreal. John Ferguson added an insurance goal in the third period. Murray Oliver (Toronto) and Ralph Backstrom had traded markers in the opening period. Both teams were playing exceptionally well. The Canadiens improved to 18–7–6 for 42 points; the Maple Leafs dropped to 17–9–6 for 40 points. Toronto outshot Montreal, 36–35. After this season, Tony Esposito would be left unprotected by the Habs and go on to a Hall–of–Fame career in goal for Chicago. Vern Buffey officiated the match with linesmen Bob Frampton and Claude Bechard.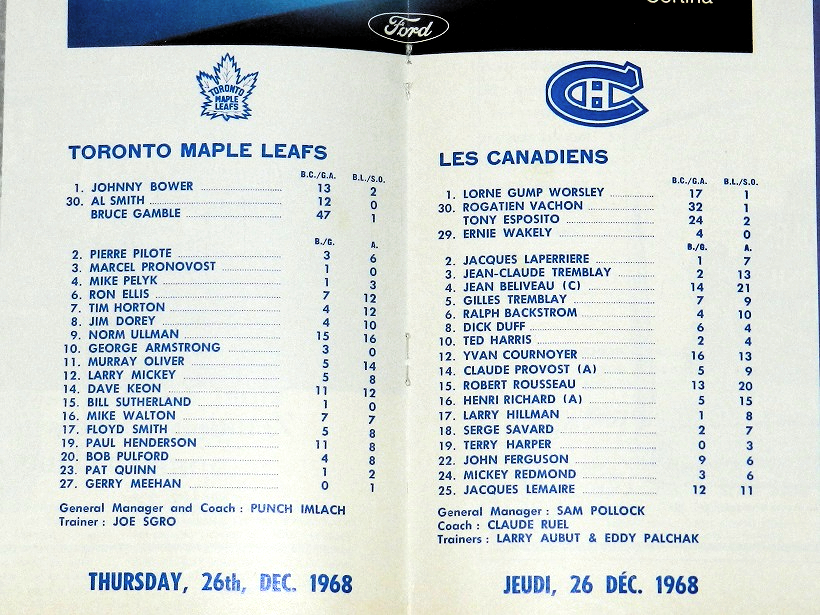 EMAIL: HOWARDLBERGER@GMAIL.COM