TORONTO (Apr. 14) — Doesn't it figure?
For more than 20 years, since Ken Dryden successfully re–located the Maple Leafs into the Eastern Conference, fans of the oldest rivalry in the National Hockey League have been clamoring for a Stanley Cup playoff match up.
Barring the unforeseen, it's finally going to happen this spring… in a pair of empty arenas. Oh, the agony.
Not since Apr. 22, 1979, when Larry Robinson beat Mike Palmateer on the powerplay at Maple Leaf Gardens with a slapshot in overtime — and then restrained Dave (Tiger) Williams from attacking referee Bob Myers — have the Leafs and Montreal Canadiens been on the same ice in the post season. Myers had called a marginal high–sticking penalty on Williams, allowing the Canadiens an extra man. After Robinson scored to end the quarterfinal series in a four–game sweep, the Tiger burst from the penalty box and made a bee–line for the referee. He was tackled by teammate Dan Maloney; then lectured by Robinson, himself (as per the photo sequence, below).
Between 1981 and 1998, Toronto and Montreal could not have met until the Stanley Cup final, as the Leafs were in the Western (or Campbell) Conference. The much–anticipated scenario came to within a whisker in 1993, when the Leafs went into overtime at Los Angeles in Game 6 of the Conference final, needing a goal to eliminate the Kings and move into the championship round against the Habs. But, Wayne Gretzky (with an alleged assist by referee Kerry Fraser) scored for L.A. and followed, two nights later, with a hattrick at Maple Leaf Gardens, ending the Toronto–Montreal dream. Nearly 28 years later, it appears the Leafs and Habs will finally battle once again.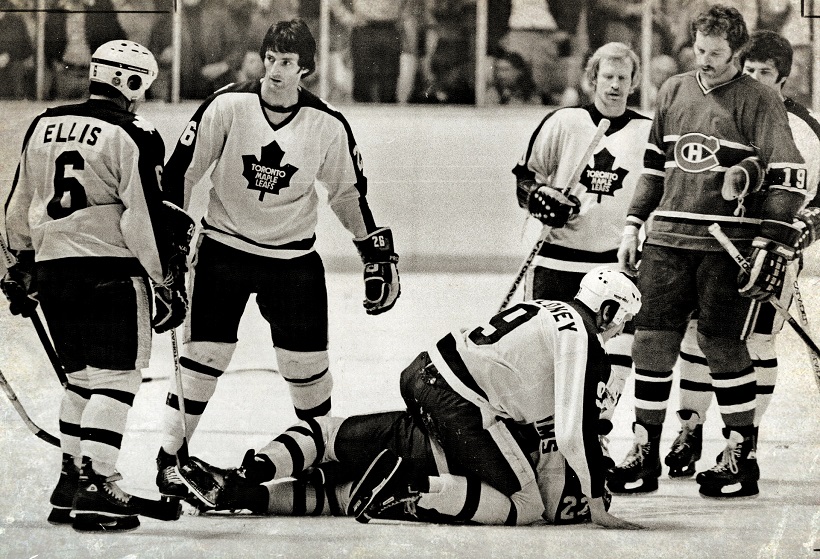 APR. 22, 1979 — MAPLE LEAF GARDENS: DAN MALONEY OF THE LEAFS SITS ON TEAMMATE DAVE (TIGER) WILLIAMS, ABOVE, TO PREVENT HIM FROM ATTACKING REFEREE BOB MYERS. LARRY ROBINSON OF THE CANADIENS, HAVING JUST SCORED IN OVERTIME TO COMPLETE A FOUR–GAME SWEEP OF TORONTO, WATCHES ALONG WITH LEAF PLAYERS (LEFT–TO–RIGHT) RON ELLIS, DAVE BURROWS, JOHN ANDERSON AND IAN TURNBULL. SECONDS LATER (IN CBC IMAGE, BELOW), ROBINSON MOVES IN AND TELLS WILLIAMS THAT GETTING AT MYERS ISN'T WORTH RISKING HIS NHL CAREER.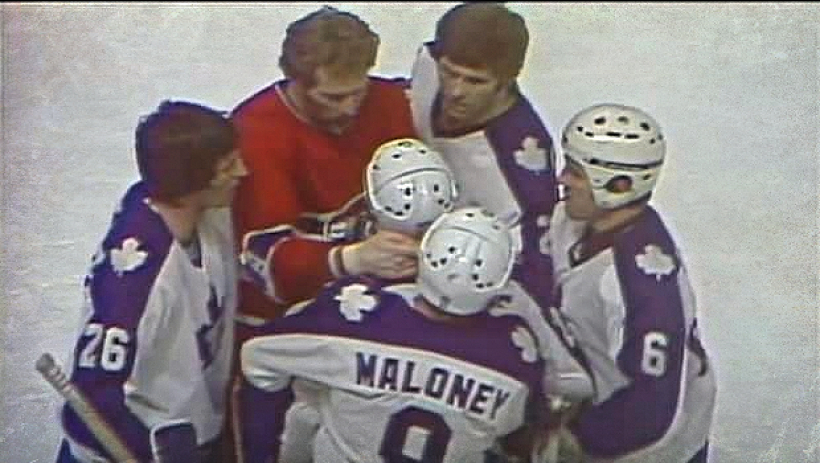 As of today, with the No. 1 and No. 4 seeds in the North Division to clash in the 2021 opening round, the Maple Leafs and Canadiens are virtually locked into a best–of–seven series. Toronto leads the all–Canadian sector by seven points over Winnipeg. Fourth–place Montreal is six points up on Calgary and seven in arrears of third–place Edmonton. The tragedy, of course, is that neither Scotiabank Arena nor the Bell Centre will be permitted to house spectators. There is always an added buzz here in stoic Toronto when the Canadiens visit. And, as I've written on numerous occasions, no hockey environment in my 17 years covering the Leafs for The FAN–590 equaled a Saturday night Leafs–Habs game in Montreal. One can easily envision the clamor of 20,000 zealots in the Bell Centre during a playoff encounter with the Maple Leafs — perhaps one–quarter of the audience shrieking for the visitors.
Sadly, hockey fans in both cities will have to settle for artificial noise this spring. What a shame.
But, that alone is hardly a disaster scenario for the Blue and White. Much worse would be the Canadiens rising up and bouncing Toronto from the opening round; the Maple Leafs exiting quickly for a fifth consecutive year. Can you imagine the distress here in the Big Smoke after such a calamity? Not since 1962–63 — the last time the clubs met with Toronto having finished ahead of the Habs in the regular season — were the Leafs favored in a playoff match up. As they would be, rather substantially, this spring. In six subsequent playoff clashes (1964–65–66–67–78–79), Montreal was the favored team, prevailing in all but the '67 Cup final. The Leafs, right now, are 15 points ahead of the Canadiens, though Montreal has played four fewer games after a COVID–19 outbreak in the third week of March. Toronto is 4–2–0 against the Habs thus far in 2021, with four more games on the schedule — Apr. 28 at the Bell Centre, then three in succession: May 3 in Montreal; May 6 and 8 at Scotiabank Arena.
Of all the conceivable story lines in a Leafs–Canadiens Stanley Cup quarrel, few are as credible as Carey Price becoming impossible to beat over a two–week span. Nor is it unthinkable that Toronto's big shooters could be silenced again in the post season; heck, it happened only eight months ago, against Columbus. After a season of hoarding points from fellow Canadian rivals — and amid the apparently adroit acquisitions at the trade deadline — what if the Leafs cannot score in the playoffs? How would fans and media react to Montreal bouncing Toronto in five or six games? It's a rhetorical question. The entire summer would be destroyed for the immense posse of Leaf supporters with no social life or interaction other than commiserating in chat forums. The comments posted after a Toronto defeat on such websites as H–F Boards and Maple Leafs Hot Stove are comically regrettable. We could multiply the anguish a hundred–fold if the Canadiens were to prevail in a Stanley Cup series this spring.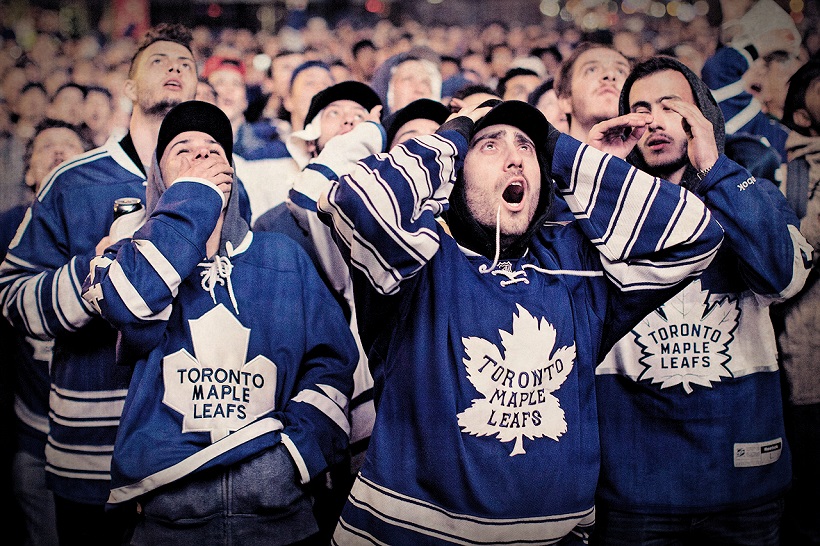 How would such misfortune impact Maple Leafs management? Right now, general manager Kyle Dubas is basking in the glow of deadline additions Nick Foligno and David Rittich. His acquisition of goalie Jack Campbell from Los Angeles, a year ago February, appears to be a considerable theft. But, what if Carey Price becomes the ultimate party pooper? What if the Maple Leafs are condemned to watch a second–round match–up between Montreal and Winnipeg (or Edmonton)? How would such a fate influence the summer for Dubas, who is saddled with 13 unrestricted free agents: Foligno, Rittich, Zach Hyman, Wayne Simmonds, Alex Galchenyuk, Jason Spezza, Scott Sabourin, Joe Thornton, Zach Bogosian, Ben Hutton, Martin Marincin, Frederik Andersen and Riley Nash? Some of the aforementioned will be summarily and easily discarded. Hyman, in particular, needs to be retained. Complicating matters is that Campbell, Morgan Rielly and Ilya Mikhayev are up for renewal after next season.
But, what happens this summer if the Maple Leafs are embarrassed by the Canadiens?
It is truly a disaster scenario for all with emotional attachment to the Blue and White.
RITTICH BECOMES NO. 71
What a great story David Rittich will tell his grandchildren one day about flying to Toronto on a charter jet with his former team… to face his former team. With commercial travel pared during the COVID–19 pandemic, the Calgary Flames offered Rittich a ride as they flew east to play the Maple Leafs Tuesday night. Just hours earlier, the Czech–born goalie had been traded to Toronto for a third–round draft pick. Rittich arrived here in plenty of time to watch, on TV, as his new club lost, Monday night, in Montreal. Probably knowing that with Jack Campbell between the pipes for the 12th consecutive game, he would debut against his ex–teammates the following night. What a delicious quirk in the all–Canadian schedule. Johnny Gaudreau spoiled Rittich's first Toronto appearance with a goal early in overtime and Calgary prevailed, 3–2, at Scotiabank Arena. Wearing No. 33, Rittich became the 71st man to play goal for the Maple Leafs since the club last won the Stanley Cup — on May 2, 1967.
Here is the full chronological list of Toronto goalies, beginning with the 1967–68 season:
JOHNNY BOWER, BRUCE GAMBLE, AL SMITH, MARV EDWARDS, GERRY McNAMARA, JACQUES PLANTE, BERNIE PARENT, MURRAY McLACHLAN, GORD McRAE, RON LOW, DOUG FAVELL, DUNC WILSON, EDDIE JOHNSTON, PIERRE HAMEL, WAYNE THOMAS,  MIKE PALMATEER, PAUL HARRISON, JIRI CRHA, CURT RIDLEY, VINCENT TREMBLAY, JIM RUTHERFORD, MICHEL (BUNNY) LAROCQUE, BOB PARENT, RICK ST. CROIX, ALLAN BESTER, KEN WREGGET, BRUCE DOWIE, TIM BERNHARDT, DON EDWARDS, JEFF REESE, MARK LaFOREST, PETER ING, DAMIAN RHODES, GRANT FUHR, FELIX POTVIN, RICK WAMSLEY, DARREN PUPPA, DON BEAUPRE, MARCEL COUSINEAU, GLENN HEALY, CURTIS JOSEPH, COREY SCHWAB, TOM BARRASSO, SEBASTIEN CENTOMO, ED BELFOUR, MIKAEL TELLQVIST, TREVOR KIDD, JEAN-SEBASTIAN AUBIN, ANDREW RAYCROFT, SCOTT CLEMMENSEN, VESA TOSKALA, MARTIN GERBER, JUSTIN POGGE, JEAN-SEBASTIEN GIGUERE, JONAS GUSTAVSSON, JOEY MacDONALD, JAMES REIMER, BEN SCRIVENS, JUSSI RYNNAS, JONATHAN BERNIER, DREW MacINTYRE, GARRET SPARKS, FREDERIK ANDERSEN, JHONAS ENROTH, ANTOINE BIBEAU, CURTIS McELHINNEY,  CALVIN PICKARD, MICHAEL HUTCHINSON, KASIMIR KASKISUO, JACK CAMPBELL, DAVID RITTICH.

DAVE RITTICH FOLLOWS THE PUCK DURING HIS MAPLE LEAFS DEBUT, TUESDAY NIGHT. HIS FORMER TEAM SCORED A 3–2 OVERTIME WIN AT SCOTIABANK ARENA. FRANK GUNN THE CANADIAN PRESS
EMAIL: HOWARDLBERGER@GMAIL.COM