TORONTO (May 9) — This is an open letter to Ron MacLean and Don Cherry…
Dear Ron and Don: I often think about the years I spent on your periphery while covering the Toronto Maple Leafs for The FAN–590. Then, all four rounds of the Stanley Cup playoffs — frequently without the Maple Leafs. If I had a hundred dollars for every Air Canada flight we shared during that time, I'd likely be enjoying retirement. Though you both treated me very nicely (and continue to do so today), I was never more than a casual acquaintance.
Most often, whether at the arena; in a hotel lobby; on a plane or in the Air Canada lounge at an airport, I would say hello and keep walking. You were pestered by enough people while on the road; never, in my experience, turning away an autograph request or being standoffish to someone who wished to meet. Don, I honestly pitied you, at times, when staying at the Chateau Champlain in Montreal. I remember walking back from the Bell Centre after a morning skate one time to deposit my radio equipment. There you were, surrounded by an enormous crowd in the lobby; posing for photos and signing autographs. I went for lunch; took a walk along Ste. Catherine St., and returned more than 90 minutes later. You were still accommodating the fans. I could only shake my head. Ron, you've never been any different around admirers. I always held in high regard your close friendship with Don and your enduring chemistry on television each Saturday night. It was an honor to become your acquaintance.
I've therefore been asking myself why I feel so strongly and deeply about the estrangement that has now grown to 1½ years, since the weekend, Don, that you were fired by Rogers and that you, Ron, felt compelled to apologize for Don's "you people" comment the previous night. Off the top of your Sunday Rogers Hometown Hockey telecast. When we spoke on the telephone this past Saturday night, Don, and you told me you and Ron have talked only once in the interim, a sadness overcame me. More profoundly, I would think, than it probably should have.
As such, this emotional plea… to be read by anyone that logs onto my website.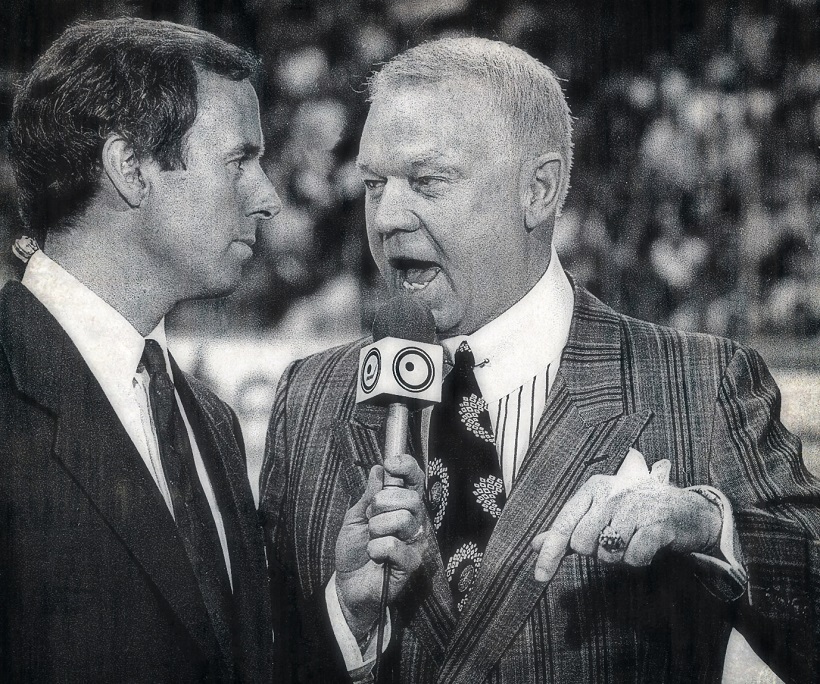 Guys: It's time to put that painful 24 hours behind you. To reach out and resume your friendship. I've always been one to manage disputes between family members and friends. I have a fairly even temperament and inherited, from my father, the ability to diffuse. If I had a wish, I would get you both in a room and spend as much time as necessary mediating your squabble. I'm not sure if anyone else has proposed intervention, or if you've accepted such an offer. All I know is your kinship isn't worth throwing away forever. And, time Is undoubtedly of the essence.
Don, you are 87. Ron, you are 61. None of us is promised tomorrow. One of you is going to die before the other… and, Don, chronology isn't your ally. My father is also 87 and I consider his presence a daily gift. Don't leave your years of friendship to eternity's mournful hand. Your dispute is not insoluble. It can be resolved.
Time is also a healer. Don, you lost your beloved Rose nearly 24 years ago. I remember you coming into the radio station the following week, with Brian Williams, to tape episodes of Grapeline. You were crying. I felt so badly. You were only 63 at the time; same age as my dad when I lost my mom to cancer (on New Year's Day 1996). It's a scar you'll carry for the rest of your life. No one can "replace" the mother of your children. Yet, you found the strength to move forward and married Luba in 1999. If you were able to rebound from Rose's death, surely you can consider re–opening your heart to Ron. Eighteen months is a long time. Ron, I don't know all the details of what happened on that weekend in November 2019. But, I suspect you encountered a gut–wrenching choice: either denounce what Don said about immigrants to Canada or join him as an ex–Hockey Night In Canada employee. You chose to continue your career. Which I think Don, 26 years your senior, begrudgingly understood.
But, you definitely hurt your long–time partner. Especially after giving a "thumbs–up" to his fateful commentary on Coach's Corner. It seemed as if you had turned against him, though you did sound conflicted — perhaps even tormented — when talking about your decision the following week. When you had your contract dispute with the CBC in 2002, Don solidly backed you. He stood by your side. I think, given the benefit of time, he realizes you had less than 24 hours to make perhaps the toughest call of your life. Even if Don can be a crusty, old coot, you know that he's got a soft heart. Just like yours. And, soft hearts are easily broken.

Professionally, Ron and Don, you each would have made the big time separately. But, you were so good for each other on Coach's Corner. No television segment lasts for more than 30 years with the same two people unless there's an intractable bond. In your case, that affinity extended well beyond the arena and TV studio. I saw it with my own eyes. Over and over. For 17 years. Don't throw it away over an episode that neither of you foresaw when you began Coach's Corner that Saturday night. You know the old saying that "sh** happens". Well, it happened to both of you. Unplanned. Unrehearsed. And, with virtually no wiggle room in its wake.
My dad has always told me: "Take the high road. Let others go to the curb if they wish, but do not join them." So, I'll say it to both of you: get to that high place again. It is not a sign of weakness, but of resounding strength.
You cannot pick up the phone simultaneously. So, Ron, it's your move. You made the call on that Sunday night. Now, make another important call… to your long–time friend. If that attempt has already been made, without success, then it's up to you, Don. Let it go. Remember what you meant to each other as colleagues and friends. And, what you meant to the nation during the longest–running TV segment in Canadian history.
Do it today. Don't wait. That way, you'll never have a moment's regret.
Love you both, Howard.
NEWSPAPER FRONTS
From my collection — Part 2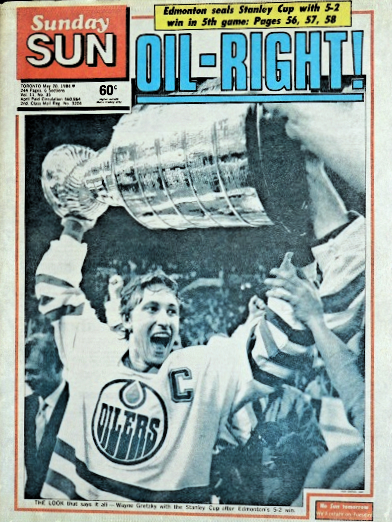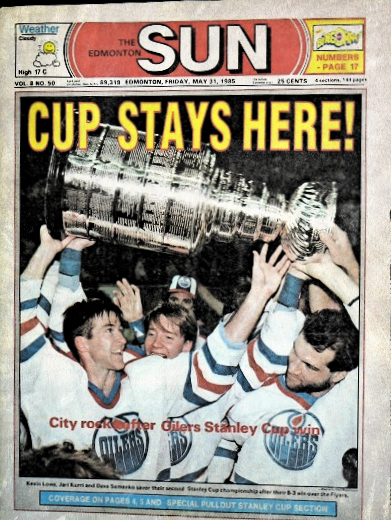 COVER OF THE TORONTO SUN (TOP–LEFT) AFTER WAYNE GRETZKY AND THE EDMONTON OILERS WON THEIR FIRST STANLEY CUP CHAMPIONSHIP, DEFEATING THE NEW YORK ISLANDERS ON MAY 19, 1984. AND, FRONT OF THE EDMONTON SUN (RIGHT) AFTER THE OILERS WON THEIR SECOND, KNOCKING OFF THE PHILADELPHIA FLYERS ON MAY 30, 1985.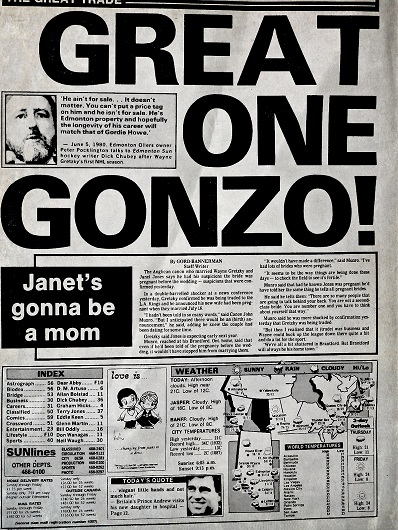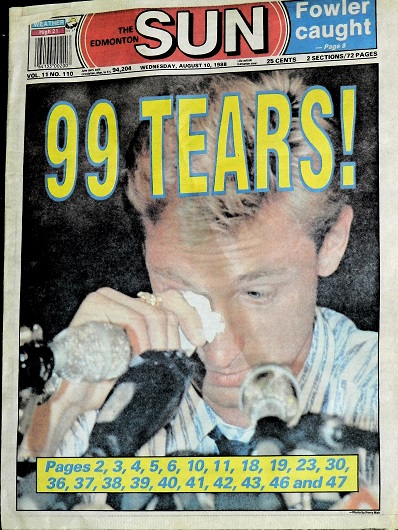 A BIT WEATHERBEATEN ARE THE EDMONTON NEWSPAPERS (ABOVE AND BELOW) FROM AUG. 10, 1988, THE DAY AFTER GRETZKY WAS TRADED FROM THE OILERS TO LOS ANGELES. IT WAS AN UNHAPPY DAY IN NORTHERN ALBERTA.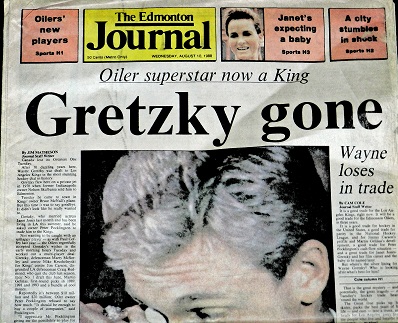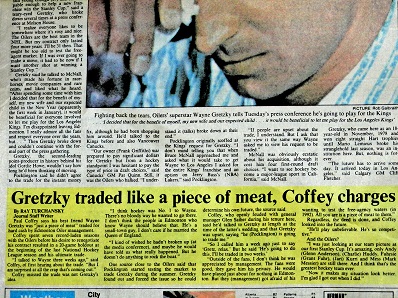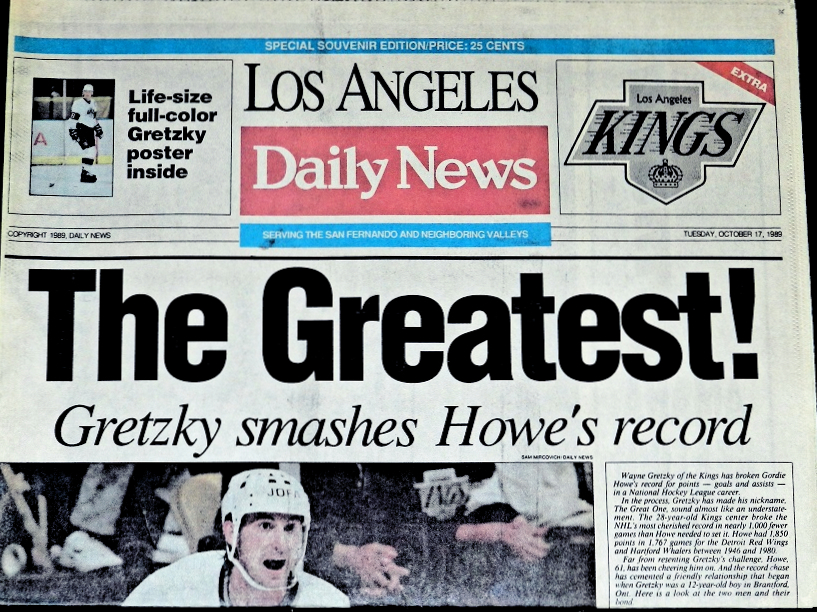 WHILE PLAYING FOR THE LOS ANGELES KINGS ON OCT. 16, 1989 — IN EDMONTON, AGAINST HIS OLD TEAM — WAYNE GRETZKY ECLIPSED GORDIE HOWE ATOP THE NHL ALL–TIME POINTS LIST, SCORING IN OVERTIME AND FINISHING THE NIGHT WITH THREE POINTS; 1,852 FOR HIS CAREER. COVER (ABOVE) OF THE LOS ANGELES DAILY NEWS FROM THE FOLLOWING DAY. COVER AND SPORTS FRONT (BELOW) FROM THE TORONTO SUN.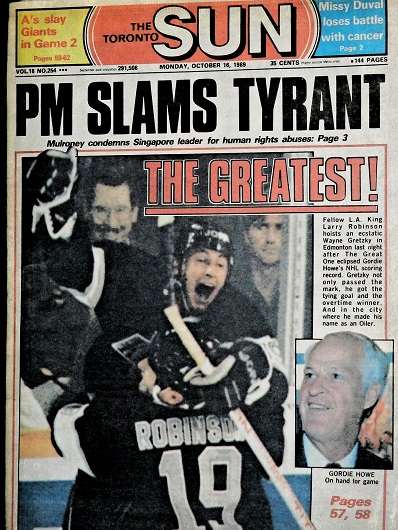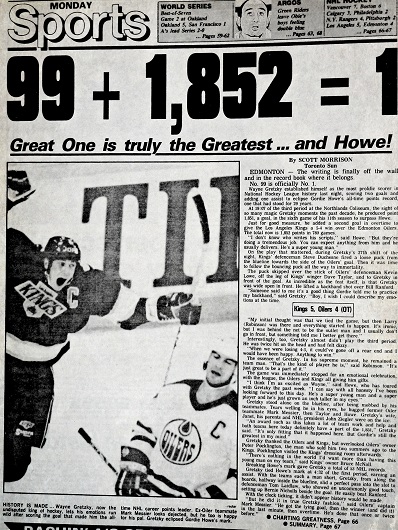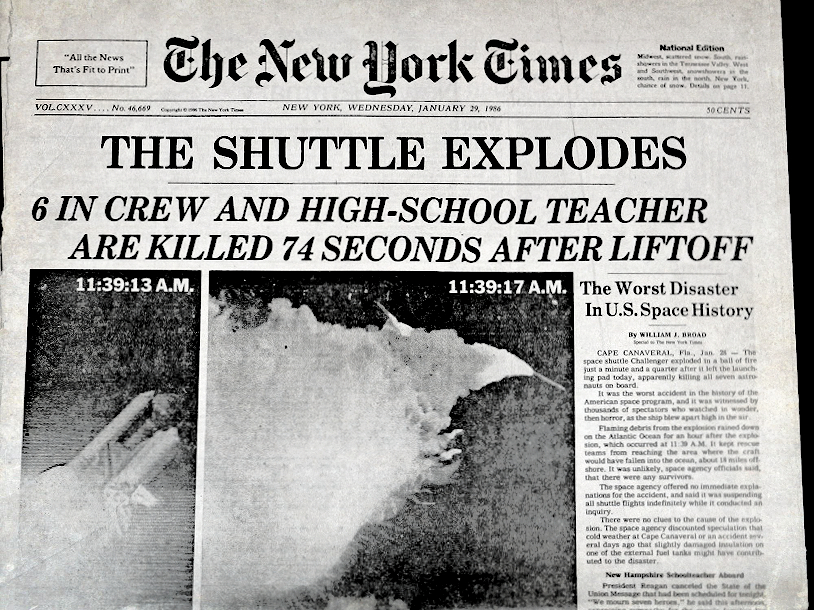 IT WAS THE FIRST OF TWO DISASTERS IN THE U.S. SPACE SHUTTLE PROGRAM — THE CHALLENGER EXPLODING INTO A MASSIVE FIREBALL JUST MORE THAN A MINUTE AFTER LIFTING OFF FROM CAPE CANAVERAL. JAN. 28, 1986. ALL SEVEN ASTRONAUTS WERE KILLED. THE INCIDENT OCCURRED BECAUSE OF BELOW–FREEZING TEMPERATURES IN FLORIDA THAT WEAKENED THE O–RINGS HOLDING TOGETHER SECTIONS OF THE TWO SOLID–ROCKET BOOSTERS ATTACHED TO THE EXTERNAL FUEL TANK. HOT GASES LEAKED FROM AN O–RING AND IGNITED THE GIANT TANK, OBLITERATING THE ENTIRE STRUCTURE. I HAVE NEWSPAPERS (ABOVE AND BELOW) FROM NEW YORK AND TORONTO.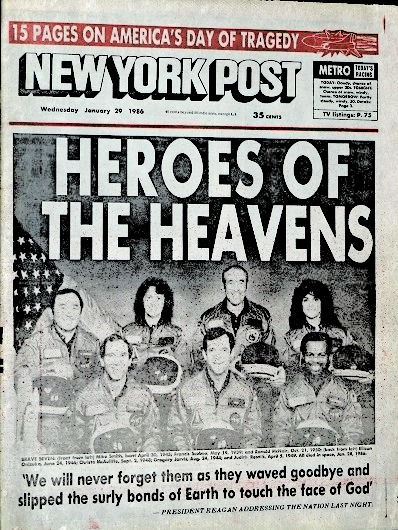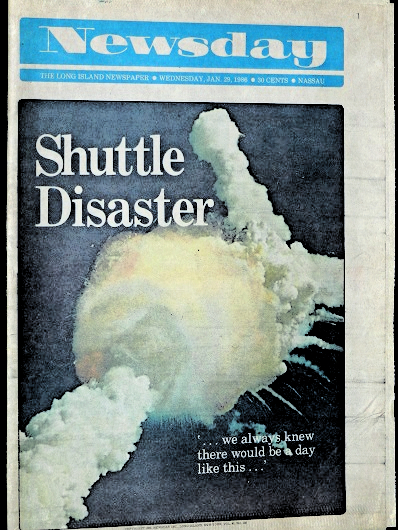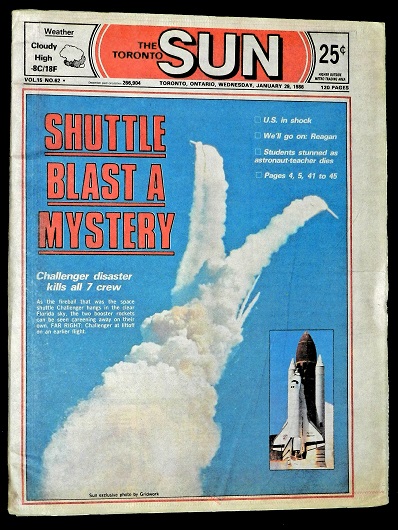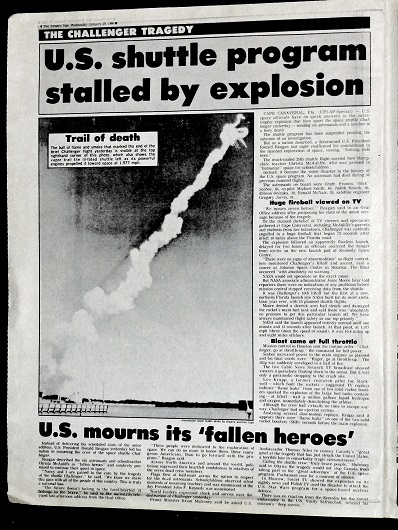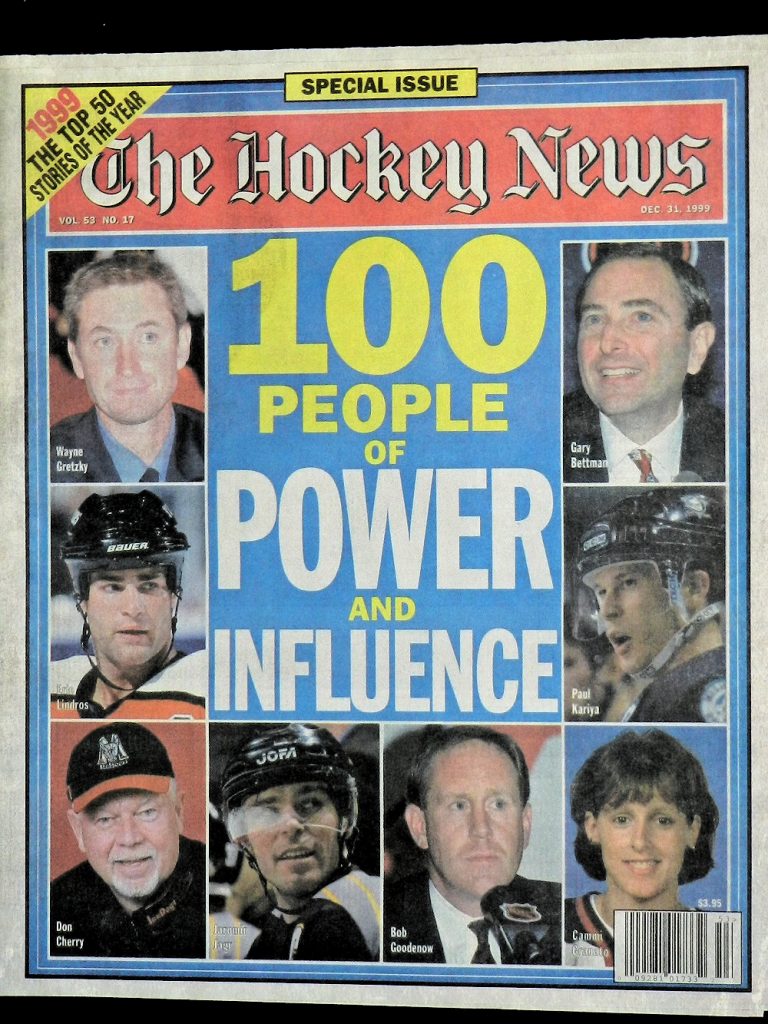 THE LAST EDITION OF THE HOCKEY NEWS FOR THE 1990's. LOTS OF POWER AND INFLUENCE.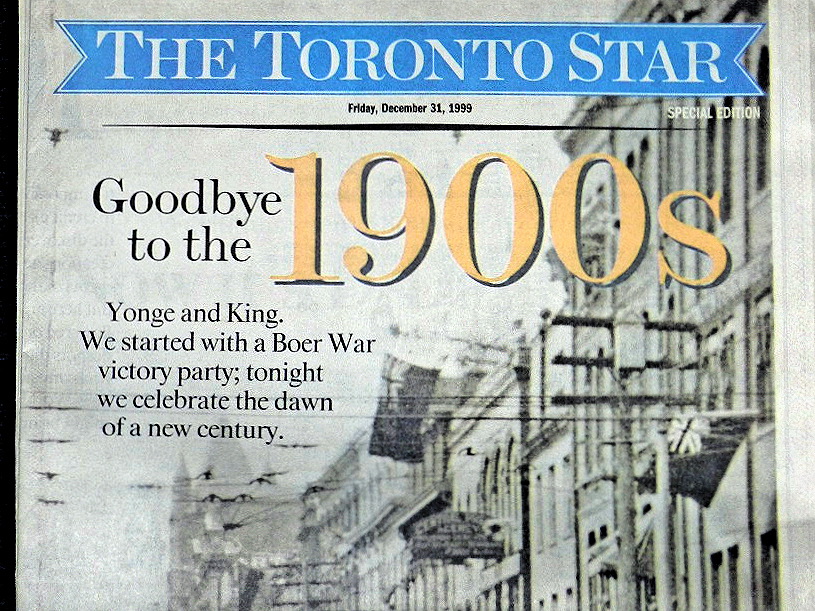 COVER OF THE LAST TORONTO STAR FROM THE 1900's. NO GROUP CELEBRATIONS RIGHT NOW.
EMAIL: HOWARDLBERGER@GMAIL.COM