TORONTO (May 13) — In a perfect world, I would follow up my Sunday blog, which was a heartfelt plea to Don Cherry and Ron MacLean to resolve their differences, with a detailed postscript. The submission here went rather viral and warranted an epilogue. But, I will not do that today. I have great affinity for both men and want to avoid, at all costs, pitting one against the other. Holding back, if you will, isn't easy or natural. It goes against every journalistic tenet I have followed, but this is simply too personal. So, I apologize for a more–vague encapsulation.
Suffice to say I've communicated with a number of people intimately involved with Don and Ron. Several of whom have also attempted, rather diligently, to end the estrangement that resulted from the weekend of Nov. 9–10, 2019. For readers hibernating in the past 18 months, Cherry was fired by Rogers Communications for referring to Canadian immigrants as "you people" in an awkward denouncement of those not wearing poppies in the lead–up to Remembrance Day. He made the comment during his Coach's Corner segment in the first intermission of the Philadelphia at Toronto National Hockey League game. Viewer backlash, though severe, was handled lamentably by Sportsnet president Bart Yabsley and his lieutenants, who put the proverbial gun to MacLean's head and ordered him — allegedly at the threat of his continued employment — to denounce Cherry's remark the following night off the top of the Sunday Rogers Hometown Hockey telecast. I say "allegedly" because I wasn't there and am simply reflecting what I've been told over the past few days by people that know Cherry and MacLean.
Dreadfully conflicted, but with a family to support, Ron, still 59 (Cherry was 85), followed the company directive.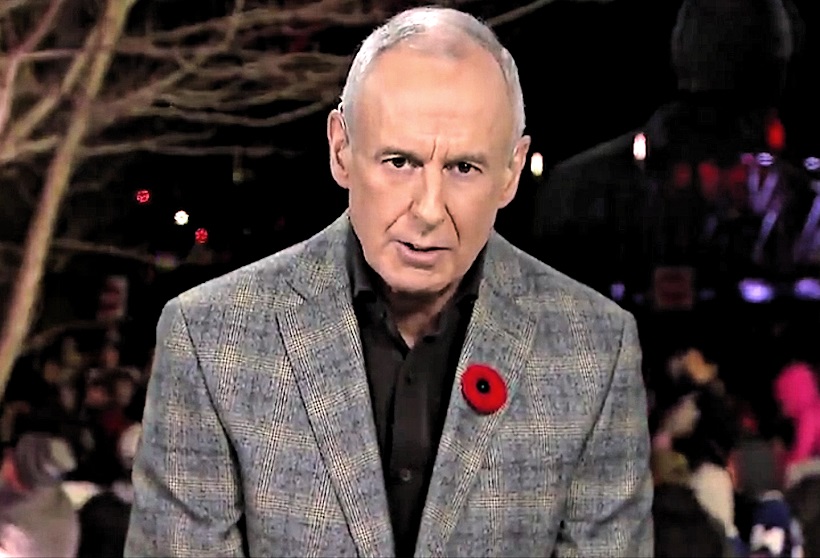 GRIM–FACED RON MacLEAN APOLOGIZES TO SPORTSNET VIEWERS ON NOV. 10, 2019.
"During last night's broadcast, Don made comments that were hurtful and prejudiced and I wish I had handled myself differently," MacLean first posted on Twitter. "It was a divisive moment and I am truly upset with myself for allowing it." To begin the telecast, and looking as if he were mourning a death, Ron continued. "Don Cherry made remarks which were discriminatory and flat–out wrong…. I sincerely apologize and I wanted to thank you [the audience] for calling me and Don out on that last night. I have worked with Don for 30 years and we both love hockey. But, last night, I know we failed you." It was important that MacLean use the word "we", for he had visibly sanctioned Cherry's remark with a thumbs–up gesture. Still, the apology was viewed by many as MacLean turning against his long–time cohort — some called it "back–stabbing" — and Cherry confessed he was blindsided. Don and his wife, Luba, were angered and hurt by the very public atonement and a rift immediately arose.
Cherry was officially terminated by Rogers on Monday, Remembrance Day in Canada. Such irony.
When I spoke to Don this past weekend, nearly 1½ years since the episode, he told me that he and MacLean had talked "only once" in the interim. Which saddened me and prompted the appeal blog, here: https://bit.ly/33tsxFn.
In my ensuing research, it's been determined that MacLean has often ventured to iron out difficulties with Cherry, only to hit repeated roadblocks. Unquestionably, Cherry has been influenced by those in his immediate circle, yet neither has he closed the door on a reconciliation. One acquaintance told me, rather emphatically, that the bond between the men has been exaggerated. Though they appeared inseparable while traveling for many years throughout the NHL, there was limited or no contact during the summer months. Another source claimed that Luba Cherry, Don's wife since 1999, is dead–set against a renewal of friendship with MacLean; that her constraint is governing the situation (Cherry's first wife, Rose, died of cancer on June 1, 1997). A close confidant of both men told me that Donald S. has often considered letting go of the pain caused by the November 2019 weekend… but still feels conflicted, emotionally. Which is precisely how he sounded when I spoke with him last Saturday.
"If it's going to happen, I think it will take place quietly and with no other person aware of it," the confidant said. "Ron has tried in many different ways to mend the hard feelings. But, without success. Don isn't stupid. He knows, at age 87, that he doesn't have unlimited years for it to come to a resolution. My bet is he'll ultimately want to make peace with Ron. And, more importantly, do it while both men can still enjoy the moment." Amen to that.
TWO–GOALIE REQUIREMENT UNSUPPORTED
The return of Frederik Andersen from a knee injury has prompted some in the Toronto media to insist that the Maple Leafs will "need" two healthy goaltenders to threaten for the Stanley Cup this spring. Jack Campbell is the presumptive starter for the opening playoff round against Montreal with incumbent Andersen favored, if healthy, to supplant David Rittich as back up. The two–goalie compulsion may prove accurate with this Toronto team, but there is little evidence that such a requirement exists. When Tampa Bay won the first "pandemic" Stanley Cup last summer, Andrei Vasilevskiy played every minute of the club's 25 games, posting a 1.90 goals–against average and .927 save–percentage. Two years ago, when St. Louis captured its first NHL title, rookie Jordan Binnington tended goal in 26 of 27 games; spelled only once by Jake Allen (currently with the Canadiens).
Here's a look at the appearance split among other champions in the new millennium:
2018 WASHINGTON — Braden Holtby 23 / Philipp Grubauer 2.
2017 PITTSBURGH — Marc–Andre Fleury 15 / Matt Murray 11.
2016 PITTSBURGH — Matt Murray 21 / Marc–Andre Fleury 2 / Jeff Zatkoff 2.
2015 CHICAGO — Corey Crawford 20 / Scott Darling 5.
2014 LOS ANGELES — Jonathan Quick 26 / Martin Jones 2.
2013 CHICAGO — Corey Crawford all 23 games.
2012 LOS ANGELES — Jonathan Quick* all 20 games.
2011 BOSTON — Tim Thomas* all 25 games.
2010 CHICAGO — Antti Niemi 22 / Cristobel Huet 1.
2009 PITTSBURGH — Marc–Andre Fleury 24 / Mathieu Garon 1.
2008 DETROIT — Chris Osgood 19 / Dominik Hasek 4.
2007 ANAHEIM — Jean–Sebastien Giguere 18 / Ilya Bryzgalov 5.
2006 CAROLINA — Cam Ward* 23 / Martin Gerber 6.
2004 TAMPA BAY — Nikolai Khabibulin 23 / John Grahame 1.
2003 NEW JERSEY — Martin Brodeur 24 / Corey Schwab 2.
2002 DETROIT — Dominik Hasek 23 / Manny Legace 1.
2001 COLORADO — Patrick Roy* 21 / David Aebischer 1.
2000 NEW JERSEY — Martin Brodeur all 23 games.
* Won the Conn Smythe Trophy as playoff MVP
COMBINED TOTALS SINCE 2001 — No. 1 Goalie 444 / No. 2 Goalie 47.
AVERAGE GAME APPEARANCES — No. 1 Goalie 22.2 / No. 2 Goalie 2.35.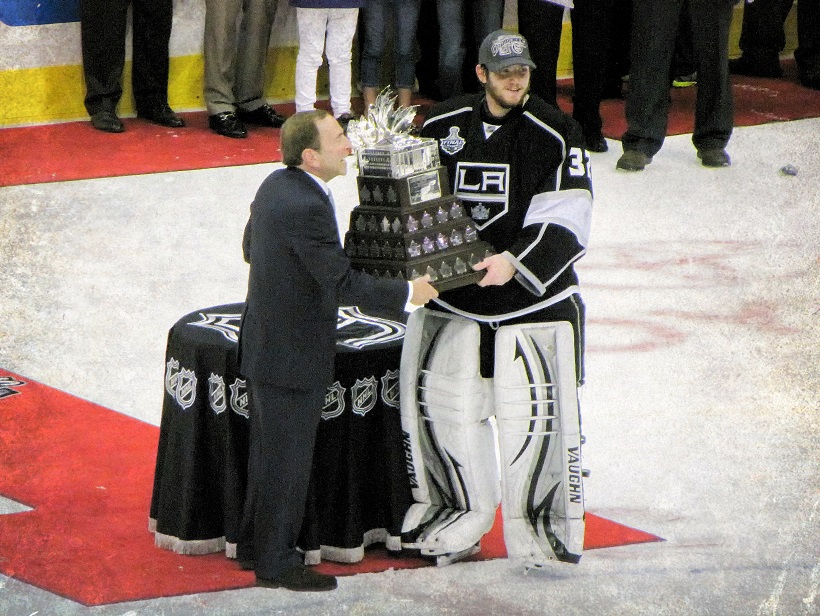 NHL COMMISSIONER GARY BETTMAN PRESENTS THE 2012 CONN SMYTHE TROPHY TO KINGS GOALIE JONATHAN QUICK.
What these numbers show — with but one exception — is that a Stanley Cup champion requires an indisputable No. 1 goalie. Only the 2017 Pittsburgh Penguins shared playoff chores among two men (Marc–Andre Fleury and Matt Murray). In five of the springs (2000–12–13–14–20), the starting netminder played every minute. On five other occasions (2001–02–04–09–10), the No. 2 goalie appeared only once. Moreover, the vast majority of appearances by the No. 2 goalie came in relief of the starter during the same match. To therefore claim the 2021 Maple Leafs "need" two goalies to win the Stanley Cup is unsupported by evidence in the past 20 years.
SORRY, LEAFS NATION: Yeah, this happened eight years ago tonight.
May 13, 2013 at the TD Garden in Boston. Do you remember?

NEWSPAPER FRONTS
From my collection — Part 3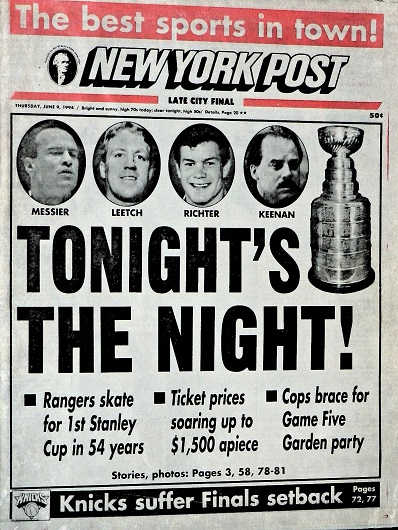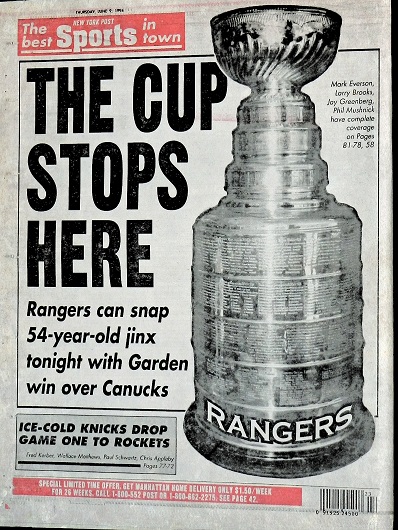 Rarely, has a tabloid newspaper incurred foot–in–the–mouth disease to the extent of the New York Post on June 9 and 10, 1994. With the New York Rangers leading the Vancouver Canucks 3–1 in the Stanley Cup final — and Game 5 at Madison Square Garden — the Post awarded the NHL title to the home team on its front and rear covers (above). Imagine waking up in New York that Thursday if you were Pat Quinn and seeing the Post. Any of us familiar with the big Irishman, who managed and coached the Canucks, can envision him hoarding the tabloid from a street corner and ensuring each player had a copy sitting at his Garden locker for that morning's skate.
What resulted, perhaps not coincidentally, was among the greatest hockey games I covered in my years at The FAN–590. Goals by Geoff Courtnall and Pavel Bure, early in the third period, inflated Vancouver's lead to 3–0. But, the Rangers roared back to knot the match in a 5:35 span on goals by Doug Lidster, Steve Larmer and Mark Messier. With the Garden still in an uproar over Messier's tying score, David Babych generated instant and utter silence by reclaiming the lead, just 29 seconds later (at 9:31), for the visitors. Courtnall and Bure added their second of the night at 12:20 and 13:04, topping off a 6–3 Canucks triumph. Denying the Rangers their championship.
Covers of the Friday Post (below) were far–less cocky.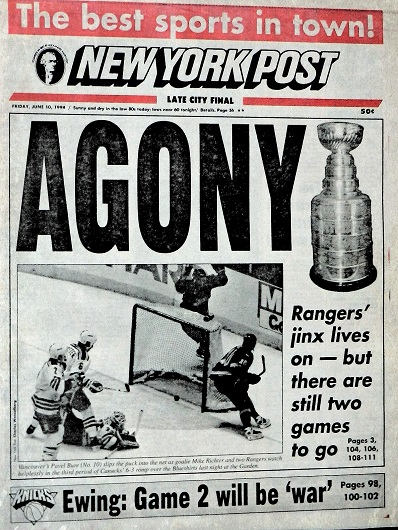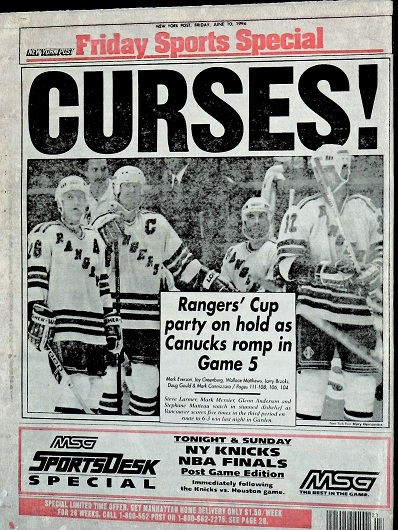 BUT, THEN…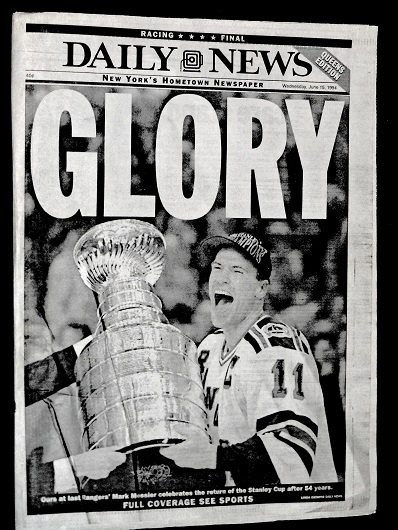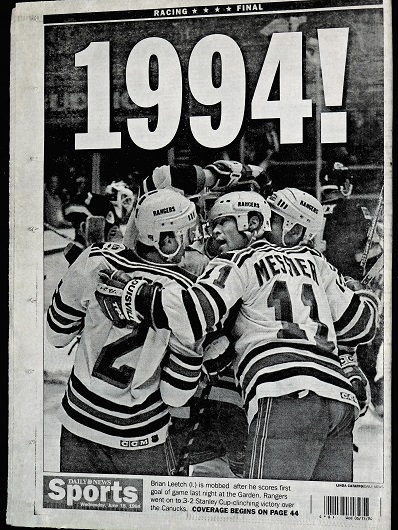 … the 54–year drought ended in Game 7 at the Garden. The Rangers edged Vancouver, 3–2. Another uber–memorable night in my time at The FAN–590. Front and rear covers (above) of the June 15 New York Daily News.

I covered the 1996 Summer Olympic Games for The FAN–590. And, I'll never forget spending my first night in Atlanta (July 18) glued to the television watching CNN reports about the crash of TWA Flight 800: a Boeing–747 bound for Paris from John F. Kennedy Airport in New York. It erupted in a fireball at 8:31 p.m. Eastern Time, 14 minutes after takeoff, and crashed into the Atlantic Ocean near East Moriches — a town in Suffolk County (Long Island) — killing all 230 souls on board. Though terrorism was initially suspected, a four–year–long investigation by the National Transportation Safety Board concluded the jetliner broke apart as the result of an explosion between the wings, in the center fuel tank. I kept the New York Times (above) from the following day: July 19, 1996.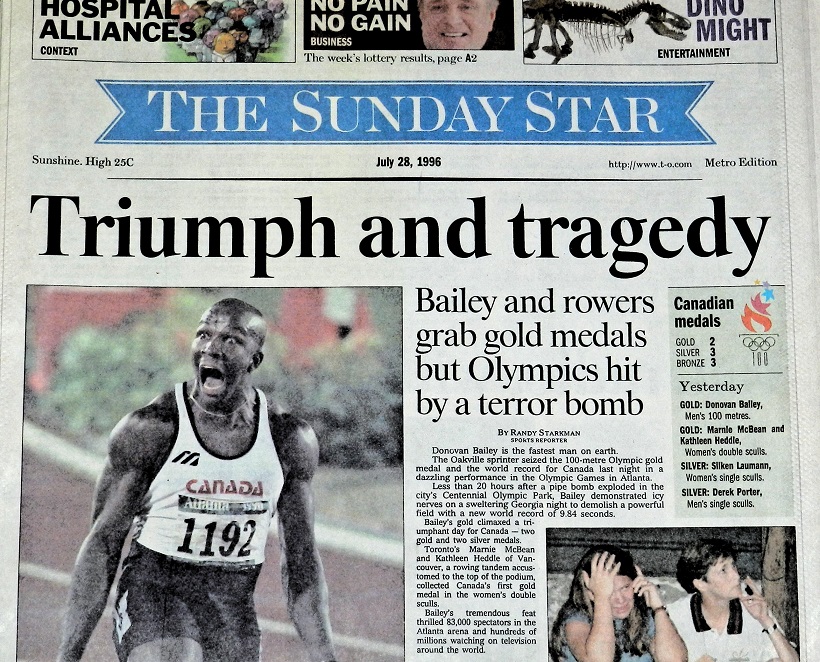 The weekend of July 26–27, 1996 was bittersweet. Around 2 a.m. on Saturday, I was awakened in my Atlanta hotel room with news that a bomb had exploded downtown, in Centennial Olympic Park. Several hours later, I stood on the sixth floor of the Main Press Center and filed a report while gazing down at the blood–stained area in which the bomb detonated. Two people were killed. Later that night came an exhilarating moment. I was seated in the upper deck of Atlanta Olympic Stadium — at roughly the 80–meter mark of the 100–meter race final. Donovan Bailey of Canada passed directly beneath me, from left to right, while winning the feature event of the track and field competition. My ex–wife, Susan, kept the Sunday Toronto Star and Toronto Sun (above and below).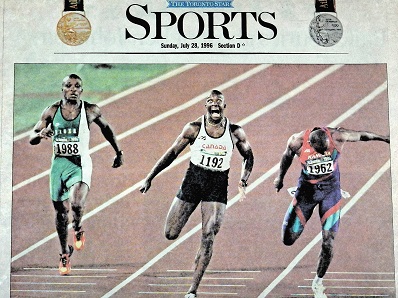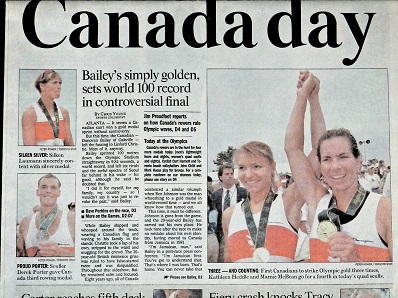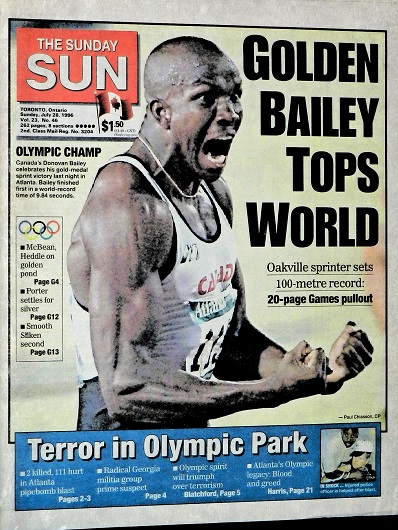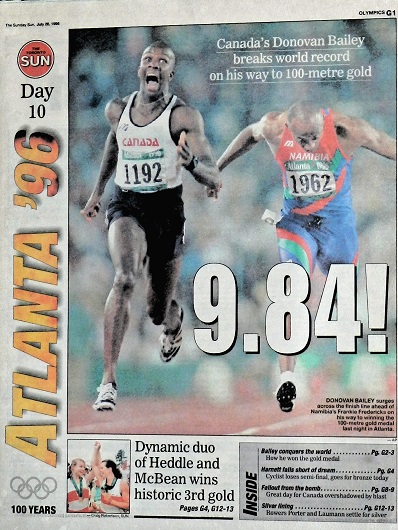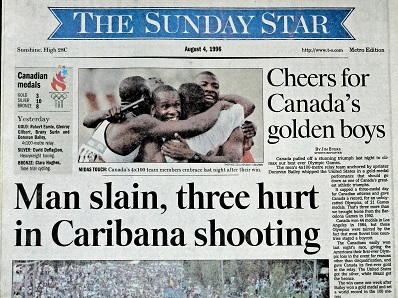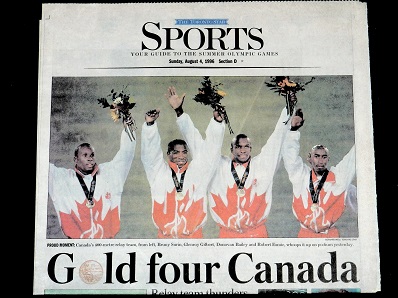 I was also at Olympic Stadium the following weekend when Canada's 4×100–meter relay team (Donovan Bailey, Bruny Surin, Robert Esmie, Glenroy Gilbert) won gold. The Toronto papers, above and below.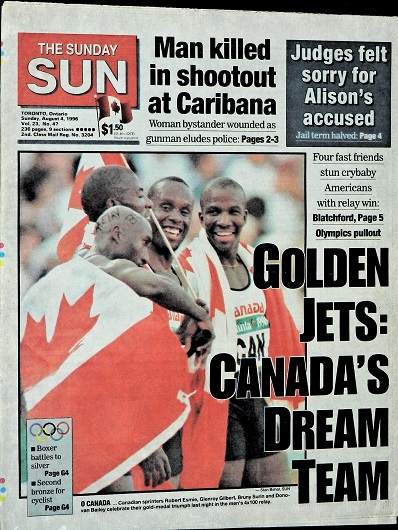 EMAIL: HOWARDLBERGER@GMAIL.COM