TORONTO (May 8) — During the nearly four decades in which he became the most–recognizable face in our country, Don Cherry was an unabashed supporter of the Maple Leafs. "I like 'T–ronna,' I want them to win," he would tell Ron MacLean and his TV audience during Coach's Corner on Hockey Night In Canada.
Throughout many of the years between 1981 and 2019 — Cherry's remarkable tenure at Hockey Night — the Leafs had no chance to win anything. But, here we are, 1½ years since Rogers Communications booted Donald S. from his Saturday night perch, and the Leafs have captured a Division title for only the second time since 1963. They will embark on the 2021 Stanley Cup tournament favored to survive the North Division and appear in the Cup semifinals for the first time since 2002. Riding the National Hockey League's top goal–scorer, Auston Matthews. Yet, Cherry wasn't prepared to anoint his favorite club when we spoke on the phone Saturday night.
"The Leafs look really good but the playoffs is an entirely different ballgame," said Donald S. "To me, the regular season means practically nothing; I felt that way in all my years as a coach and a broadcaster. When I coached the Boston Bruins (1974–79), I just wanted us to finish first in the old Adams Division. But, then we had the Canadiens to deal with. Jeezus, they lost only one game at home [in 1976–77]. If you scouted them late in the regular season, you wouldn't want to start the playoffs. [Steve] Shutt with 60 goals. [Guy] Lafleur with 56. And, those three monsters on defense [Larry Robinson, Serge Savard, Guy Lapointe]. We took 'em to six games in the finals that one year [1977], which was pretty good. And, we should've beaten them in the semis my last year [1979].
"But, hockey was a lot different back then. You cannot have a runaway best team in this era. That's why it's nearly impossible to predict what'll happen in the playoffs. The Leafs are talented and they've toughened up a bit. But, still, no one knows what they are capable of. And, don't pay attention to anyone who thinks they know. Especially in this season, where teams haven't played outside their Divisions. It's a crapshoot, for sure."

As with many others, Cherry is sold on Matthews… yet unconvinced about other elements of the Blue and White.
"Matthews may be the greatest natural scorer in Leafs history; he's definitely the best I've seen in my years around the NHL," said Donald S. "Lanny [McDonald] was pretty good. So was [Rick] Vaive and [Wilf] Paiement. But, Matthews is at a different level. I think he has the ability and drive to continue his scoring into the playoffs. I really do. He won't have as much room to maneuver and the checking will be tighter. But, he's too good a shooter.
"Whether the Leafs, as a group, are big and heavy enough to go four rounds, I cannot say. Playing teams like Montreal, Winnipeg and Edmonton will be a challenge. But, it'll be different if they get up against bigger opponents like Vegas or Colorado in later rounds. Jeez, that Nathan MacKinnon (of the Avalanche) is something else. I'm not sure the Leafs have what it takes to win the whole shootin' match. Not yet, anyway. But, again, who really knows?"
Not surprisingly, Cherry believes that goaltending will decide the issue. As it routinely does in the post season. The Leafs are in a bit of a quandary given that starter Jack Campbell has never appeared in a Stanley Cup game; that back–up David Rittich has just one game of playoff experience, and that Frederik Andersen, the club's No. 1 stopper since 2016, is coming off a three–month injury absence and has been unreliable in clutch playoff moments.
Cherry is more of an Andersen supporter than yours truly, but he did not hesitate when asked about the Toronto goaltending rotation. "Jack Campbell is the starter and he looks pretty good," Don said. "You go with him until, or if, he falters. Then you come back with Andersen, who can still be dynamite. But, it's Campbell's net right now. He has earned the No. 1 role. We don't know how he'll fare in the playoffs because he's never been there. But, lots of young goalies have done well in their first Stanley Cup year (Ken Dryden, Partrick Roy and Jordan Binnington won the Cup as NHL rookies). Campbell looks pretty confident to me. I think he'll do a good job."
Gabbing with Cherry on the blower Saturday night — rather than watching him on nationwide TV — still seemed rather foreign. It has been nearly two NHL seasons since Don, now 87, was fired by Rogers for his "you people" comment about immigrants to Canada (and their dearth of poppies heading toward Remembrance Day). Cherry doesn't find it difficult to watch Hockey Night in his absence, yet neither has he completely rinsed Coach's Corner from his system. "Oh, I'd still like to go down there on Saturday and talk to the people across Canada," he admitted, "but it would have to be under my rules, like always, and not someone else's. As a result, no one wants me to come down and talk to the people. Which is fine. Heck, 40 some–odd years on the TV. I think I did pretty good."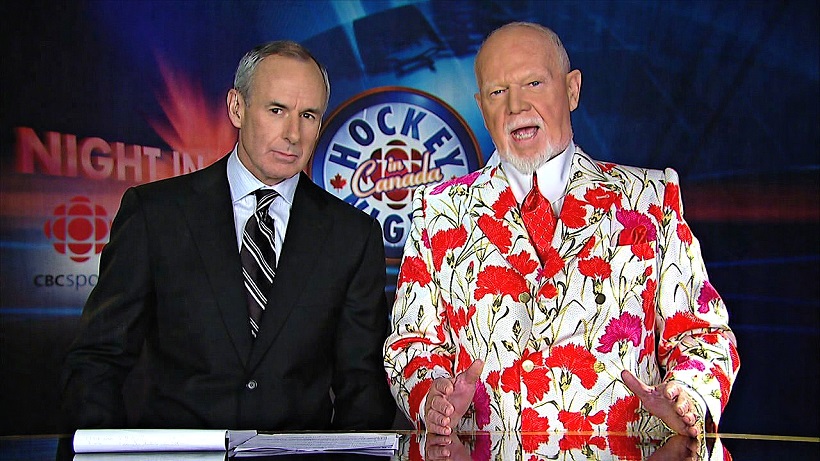 I ended our chat by wondering if Don has patched up his differences with MacLean. He and Ron had a falling out after MacLean apologized for Cherry's remark on a Hometown Hockey telecast the following night. Many interpreted the atonement as MacLean throwing his long–time friend and cohort under the proverbial bus. Cherry was among them… and deeply hurt. "Ah, Ron's okay; we were together for a long time. We've still spoken only once since that weekend. It's too bad, but that's the way she rolls. We had a pretty good run though, didn't we?"
NEWSPAPER FRONTS
From my collection — Part 1
Through the years, I have kept newspapers from significant, now–historic moments. They are maintained in large, plastic bags for preservation. In the first of a blog–series, here are several that represented long–awaited professional sports championships. Games and series I attended: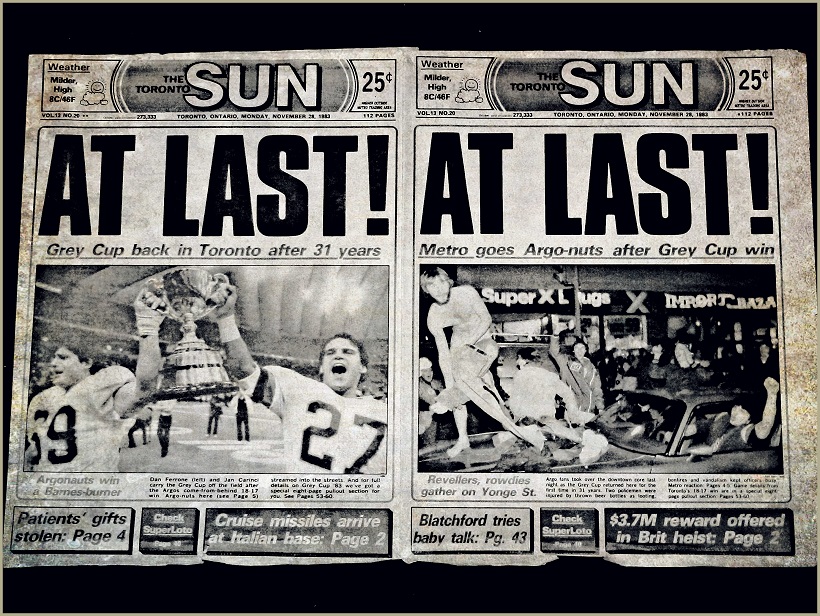 It is still rather monumental that the Toronto Argonauts failed to win the Grey Cup in a span of more than three decades (1952–1983). While playing in a nine–team league. Yet, the seemingly impossible did happen on Nov. 27, 1983 — a Sunday afternoon at the new air–supported dome in Vancouver — when the Argos, coached by Bob O'Billovich, defeated the hometown B.C. Lions, 18–17. I attended the game, at age 24, in my role with the company that published Canadian Football League game programs. It was the first Argo championship of my life and rather difficult, for several hours, to comprehend. It avenged a bitter defeat in the rain at Exhibition Stadium the previous year (below), when the CFL's MVP, Condredge Holloway, and the Argos were demolished by Edmonton; the Eskimos winning a record fifth consecutive Cup. From the 1983 Argo win, I have both front–page editions of the Nov. 28 Toronto Sun (above) and the other Toronto papers (below). Also, the Monday Vancouver Province.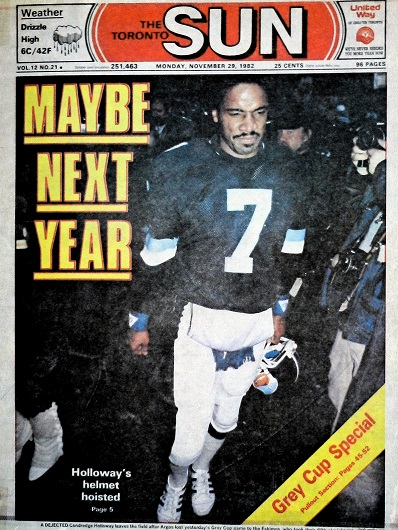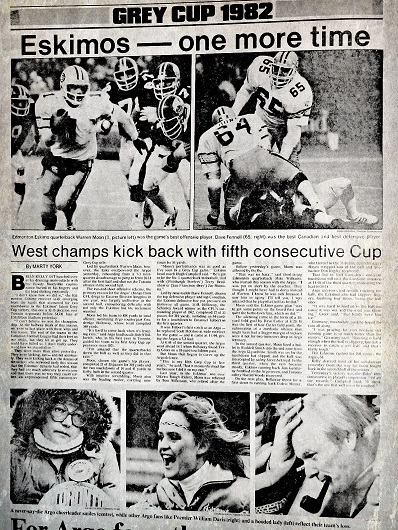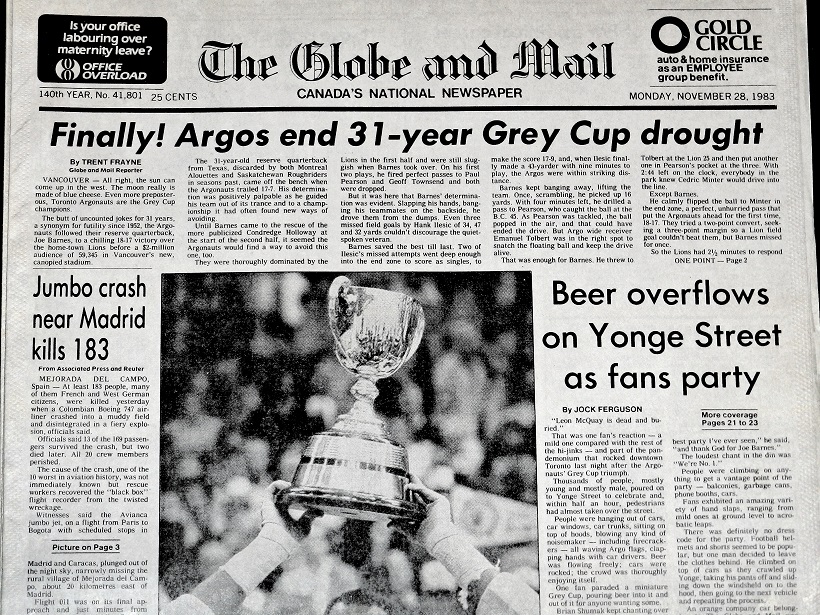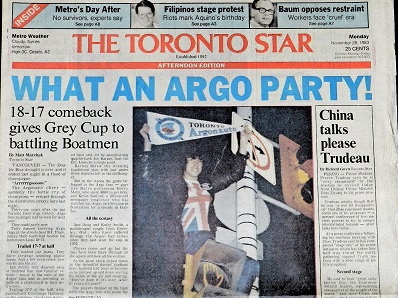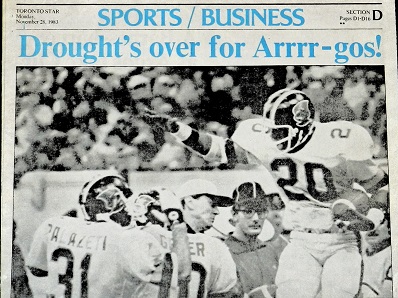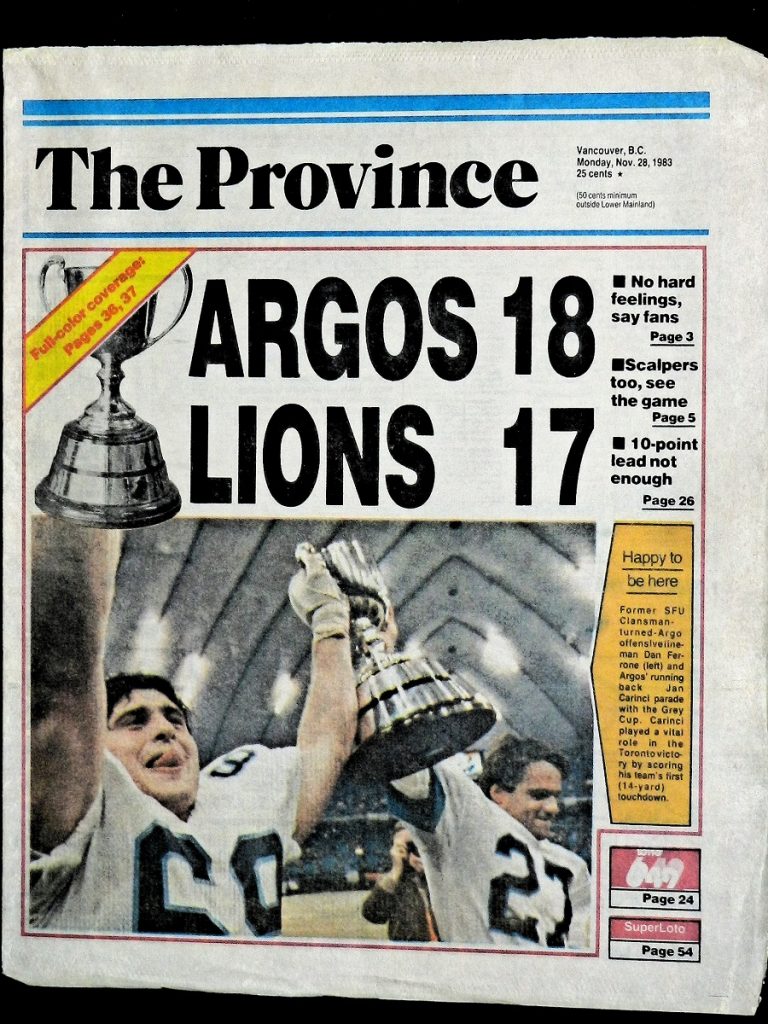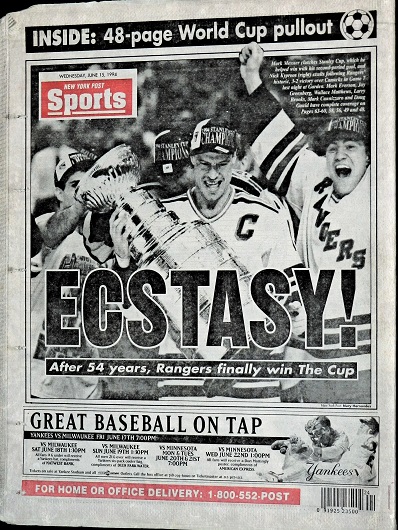 Also difficult to fathom was the New York Rangers winning the Stanley Cup for the first time in more than half–a–century (1940–1994). But, I was at Madison Square Garden the night it happened (June 14, 1994) as the Rangers, coached by Mike Keenan and captained by Mark Messier, eliminated the pesky Vancouver Canucks (coached by the late Pat Quinn) in Game 7. It remains the most–thrilling Stanley Cup final I covered in my 23 years as a reporter at The FAN–590. And, I'll never forget how the news about a much–bigger, developing story (headline at bottom of the New York Post front cover, top–left) began to filter through the Garden that night. Coincidentally, the Toronto Maple Leafs are about to embark on their 54th year without a Stanley Cup. Hmmmm.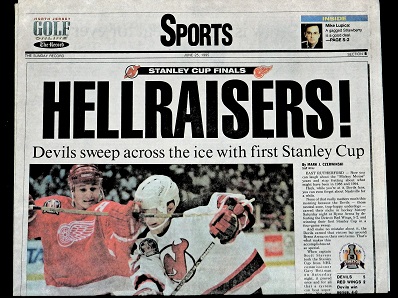 Not quite as mammoth or historic as the Rangers 1994 Stanley Cup was the first of three NHL titles, the following year, won by the New Jersey Devils. I was at Continental Airlines Arena in the Meadowlands for The FAN–590 on June 24, 1995 when the Devils, coached by Jacques Lemaire, completed a four–game sweep of Detroit. This occurred after the January–to–May schedule of 48 games, abbreviated by an owners' lockout. With goalie Martin Brodeur and the unrivaled defense tandem of Scott Stevens and Scott Niedermayer, the Devils would win the Cup twice more: in 2000 and 2003 (the latter club coached by the late Pat Burns). Newspapers, above and below, from the June 25, 1995 editions of the Bergen Record, Newark Star–Ledger and New York Daily News.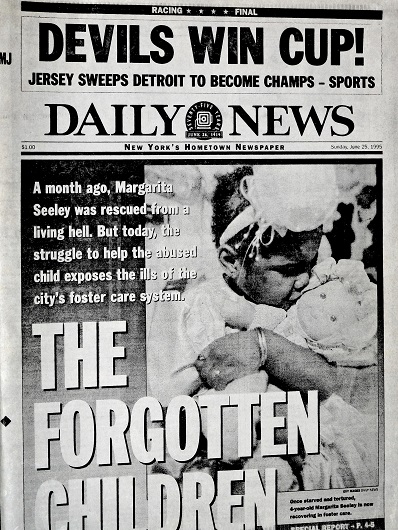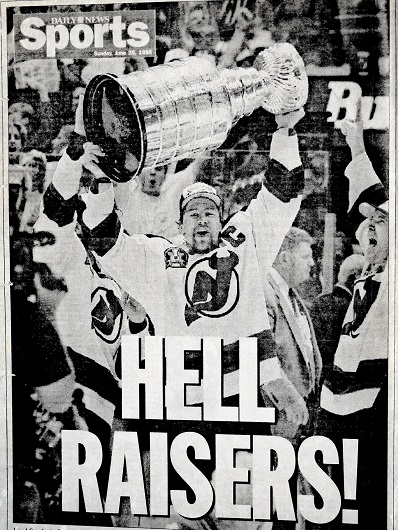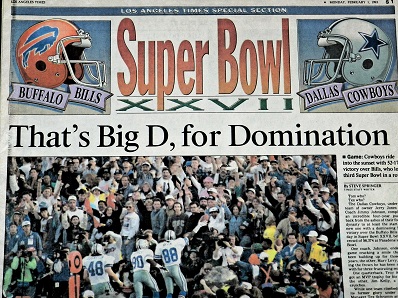 The only National Football League championship I covered for The FAN–590 was Super Bowl XXVII, in Pasadena, Calif., on Jan. 31, 1993. The Dallas Cowboys won their first of three NFL titles in four years with quarterback Troy Aikman, trouncing the Buffalo Bills, 52–17, at the Rose Bowl. It was the third of four consecutive Super Bowl games lost by the Bills of Marv Levy, Jim Kelly, Thurman Thomas and Bruce Smith. I kept the Los Angeles Times (above) and Los Angeles Daily News (below) from Feb. 1, 1993. Also, the Toronto Sun (at bottom).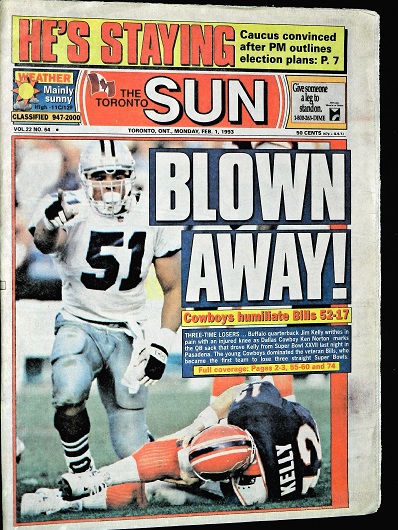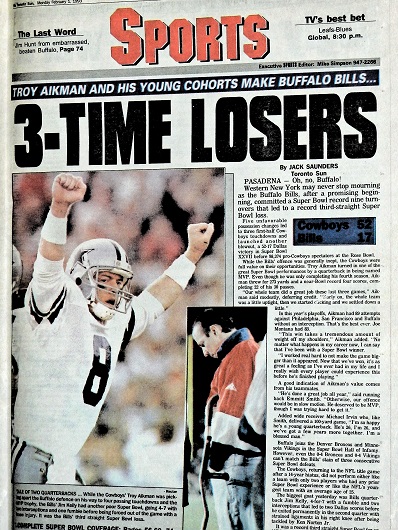 EMAIL: HOWARDLBERGER@GMAIL.COM