TORONTO (May 22) — I respect Maple Leafs general manager Kyle Dubas, but he was out of line criticizing the Toronto Sun for its Friday cover. As pictured, below, the Sun ran a photo of a bloodied John Tavares being tended to by medical personnel after his freak, Game 1 collision with Montreal veteran Corey Perry.
Truth be known, the incident generated such broad attention that it transcended sport and crossed the line into news. It was not the fault of the Sun, or any media outlet, that Perry's knee to the face of Tavares drew blood. That, unavoidably, was the scene on the ice at Scotiabank Arena and was caught on camera by a photographer from USA Today. It made total sense for the Sun to feature the image. Though slightly disturbing, it perfectly depicted the moment. Perhaps the headline writer could have come up with something less–flippant than CAPTAIN CRUNCHED. But, the Sun is a tabloid newspaper and such a broad, front–page title is entirely consistent with that form of journal. "It's our opinion, as an organization, that the Toronto Sun — with its cover — lacked compassion and respect for John and his family," Dubas told reporters earlier today. "Quite frankly, we found it disgusting."
For the record, the scene was replayed over and over — as justified — by TSN and Sportsnet.
I guess Kyle couldn't bash media outlets owned by the same company as Maple Leaf Sports and Entertainment.
Get over it, people.
I suspect, if perfectly honest, Tavares would shrug off the controversy. He spent most of a decade in the New York metropolitan area, which is served by a trio of tabloid papers — the New York Post, New York Daily News and Newsday (based in Long Island). During his years with the New York Islanders (2009–18), Tavares was surely witness to images more–shocking than that of his injury on Thursday. Had there been no blood visible on his face, an outcry over the photograph would not have transpired. But, neither would Tavares have been bloodied if not crashing violently into Perry's shin–guard. Again, the incident became news. Nor would there likely have been such opposition to the photo of blood on an accident victim not worshipped by an immense posse of fans.
Dubas channeled his inner–Donald Trump by playing up to over–sensitive, holier–than–thou Leaf supporters.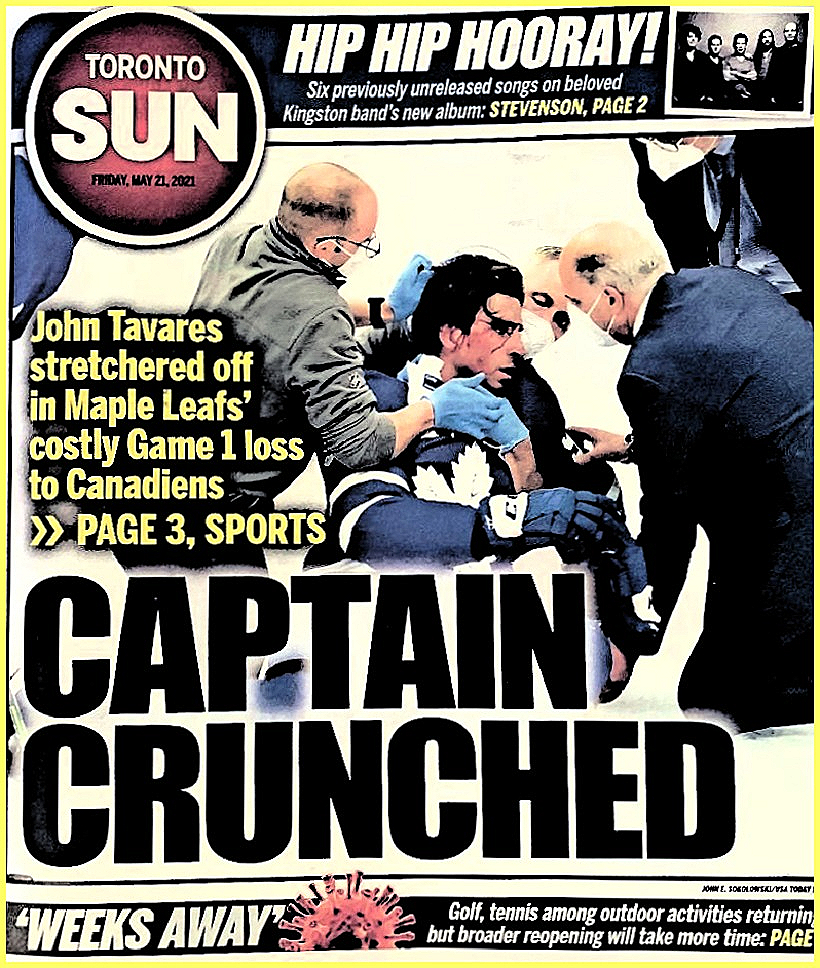 LOSE THE SCHMALTZ: If the Maple Leafs have any intention of winning their series against Montreal, they'll get back to business — and strictly business — for Game 2 tonight at Scotiabank Arena.
Since midway through the first period of Thursday night's series opener, the club has been enveloped in, and surrounded by, a large heaping of schmaltz. Naturally, there was concern for Tavares after his knee–to–the–face collision with Perry. Bloodied and dazed, the captain was wheeled from the ice on a stretcher and transported to nearby St. Michael's Hospital. "It's about life, not hockey," was the oft–repeated lament in the Toronto dressing room after the match, won by the visitors on Paul Byron's spectacular shorthanded goal in the third period.
It also proved a convenient distraction for the perennial playoff underachievers wearing blue and white. Rather than the spotlight shining on yet another power outage amid the $40 million men (less $11 million when Tavares went down) — and even if a person conscious; moving his extremities and alert enough to flash a thumbs–up gesture will more–than–likely survive — Game 1 was still "about life, not hockey." Given that priority sequence, the Leafs will remain winless in Stanley Cup competition since the opening round of 2004. Under no circumstance, and still with a remarkably deplorable powerplay, can the unanimous favorite in this 2021 all–Canadian match–up prevail by worrying about "poor John." Or, by getting out–hammered, physically… yet again.
Predictably, local media outlets (print and electronic) offered up syrupy accounts of the Tavares–Perry incident. Everyone, it seemed, but the player's immediate family was quoted with a version of "the game lacked importance after the injury." It isn't my intention to sound like an insensitive lout — I admire Tavares as much as anyone and live with compassion for others — but, dammit, this is the Stanley Cup playoffs. And, a series involving apparent rivals that haven't won a thing in nearly 30 years (Montreal), or more than a half–century (Toronto). Hockey is a fast, often–violent sport. When the stakes are increased in the post–season, bad stuff occasionally happens. Such as with Tavares on Thursday night and defenseman Jake Muzzin during the qualifying round last August against Columbus. Emotional scars must quickly heal. There is no time, in a best–of–seven series, to be mentally distracted by anything that consumes 2½ periods of a game. As with the disheartened Maple Leafs in the opener.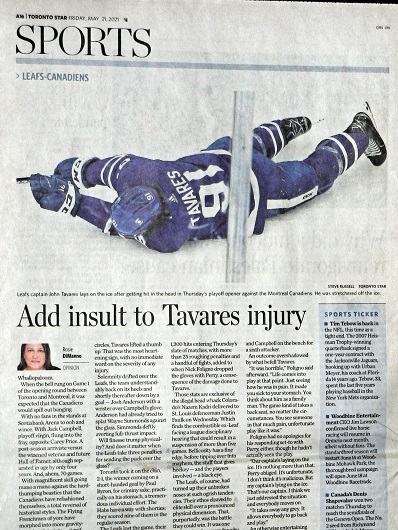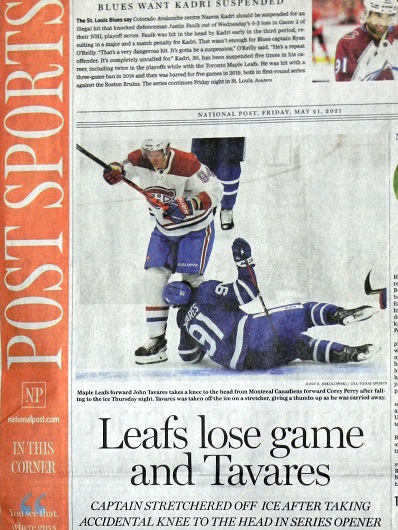 I remember being at Game 4 of the Toronto–New York Islanders quarterfinal series in 1978 at Maple Leaf Gardens. The Leafs most–gifted player, defenseman Borje Salming, nearly lost an eye when accidently clipped by the stick of Islanders forward Lorne Henning. I can still close my eyes and see Salming writhing on the ice near the Toronto bench, just inside the south blue line; a mass of blood forming beneath his face. I wanted to vomit. And leave the building. It was an horrific scene, complicated by Salming's irreplaceable stature with the 1977–78 club. As on Thursday night with the current group, the Toronto players were troubled and demoralized by the incident. Yet, they were somehow able to refocus and win the game, 3–1, knotting the series, 2–2 (the Leafs would eventually prevail, without Salming, when Lanny McDonald scored in overtime of Game 7 at the Nassau Coliseum).
Entirely unlike that rugged edition of the Maple Leafs — and even while fully engaged — the current team is prone to being dominated by a physical opponent. With its collective minds wandering, it was easy for the Canadiens to ramp up the body work on Thursday. Mental diversion also led, absurdly, to three delay of game penalties for lifting the puck over the glass. Frankly, it was a vintage performance by the opaque Toronto club that is dubious for failing to win a post–season series in the past four attempts. Another such comedown tonight will severely jeopardize all that the Maple Leafs appeared to accomplish during the 56–game regular season.
There's no time for schmaltz in the playoffs. Only the strongest survive.
GIVE YOUR HEADS A SHAKE: I feel pity for the too many observers that still believe Perry's knee to the face of Tavares was an act of intent. "The human brain cannot process that quickly," said a neurologist friend of mine who saw the incident. "Once Tavares fell and turned toward Perry, the Montreal player had no time to contemplate either ramming into Tavares, or avoiding him. Anyone who contends otherwise is a fool." Which paints, with a wide brush, any number of partisan Leaf followers. Get over it, people. It was an accident. Nothing more; nothing less.
THE NHL SHOULD ACT (EVEN IF IT WON'T): Poor Nick Foligno. At the start of his career, in 2007–08 with the Ottawa Senators, the respected winger would likely have been embarrassed at the notion of fighting Corey Perry for "revenge." In that era, players could deliver clean, pounding body checks (in open ice and along the boards) without having to defend themselves by dropping their gloves. Today's sad and infantile NHL code decrees otherwise. A by–the–book collision — intrinsically part of the game since its inception — is now an act of apparent war. As I've pondered rhetorically in this corner, why not ambush a rival shooter for being so brazen as to score a goal? That, too, is an essential component of the rulebook. The league, if so inclined, could quickly and easily abolish the ridiculous trend… by calling for a game misconduct against any player that confronts an opponent after non–penalized body contact. It's my belief that challenging a rival player for a clean, honest tactic will not be worth getting thrown out of a game. Why the NHL allows the unwritten code to prevail is a deep mystery.
NEWSPAPER FRONTS
From my collection — Part 6
I was privileged to be at Madison Square Garden for the historic final game of Wayne Gretzky's NHL career.
April 18, 1999 — a Sunday afternoon.
I had not intended to cover the match, but while in Montreal the previous day for the Maple Leafs season finale, I got a call from the radio station requesting that I fly to New York. A media credential had been arranged by The FAN–590. I booked into the LaGuardia Airport Marriott, which proved fortunate. When I arrived at the hotel, mid–morning, I bumped into veteran referee Bill McCreary, chosen by the league to officiate the Pittsburgh at New York game that afternoon… and also staying at the Marriott. I had known Bill for a number of years and he invited me to drive into Manhattan with him. A town–car had been arranged for the ride from LaGuardia. It was a memorable experience. Bill had officiated numerous big games in his career — including those at the 1998 Nagano Winter Olympics — yet he admitted to unprecedented butterflies. "Yup, I'm a little anxious about this one," he said. "Can you imagine if Wayne accidentally cuts an opponent with a high stick and I have to assess a game misconduct? I suppose anything is possible." We arrived at the Garden 2½ hours before the match. I wished Bill good luck and he went to the officials' dressing room, I headed directly for a souvenir stand in one of the arena hallways and coerced a man to pre-sell me a half–dozen programs. Given the enormous media presence, I had no chance of being assigned a seat in the upper–33rd St. press box, from where I usually covered Leafs games at the Garden.
But, Howard being Howard, I ventured up there anyway and the friendly usher in front of the box pointed to a seat. "I don't think this person is coming today," he told me. "If his seat is empty halfway through the first period, it's yours." Which delightfully (and astonishingly) transpired. Situated just to the left of center–ice, I comfortably watched the game; the brief overtime session decided by Jaromir Jagr of the Penguins and the unforgettable scene afterward as Gretzky circled the Garden ice wearing his blue Rangers jersey — bathed by a spotlight in the darkened arena — and waved to the sold out crowd. It's a career highlight I'll take with me the rest of my life.
Of course, I collected the New York newspapers before flying home on Monday morning:

GRETZKY ADORNED THE FRONT AND REAR COVERS OF THE NEW YORK POST AND HIS LAST NHL GAME WAS FEATURED IN A PAIR OF TWO–PAGE SPREADS (BELOW). VETERAN COLUMNIST JAY GREENBERG WROTE ABOUT THE OCCASION.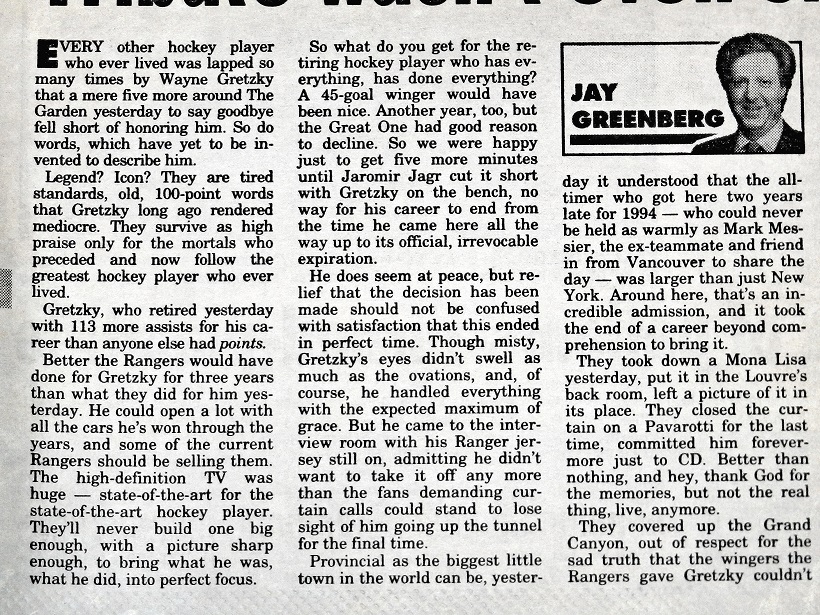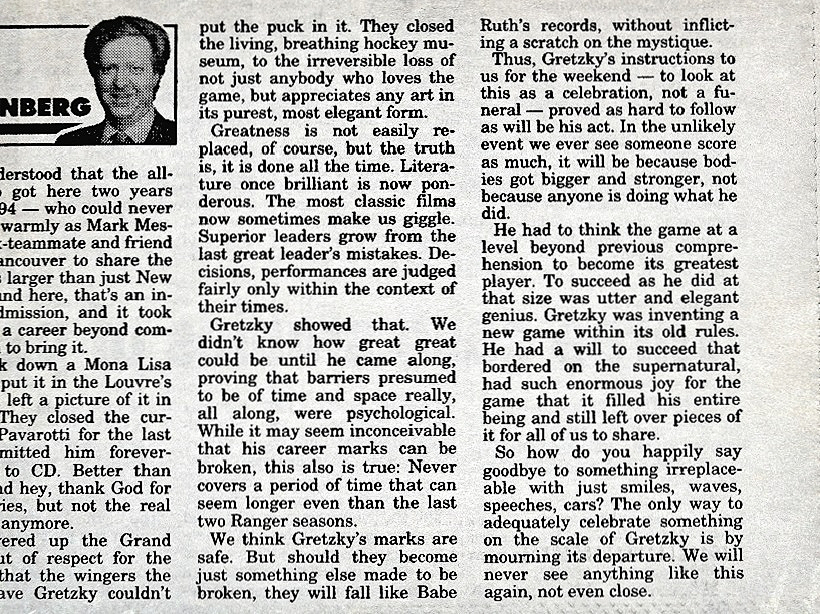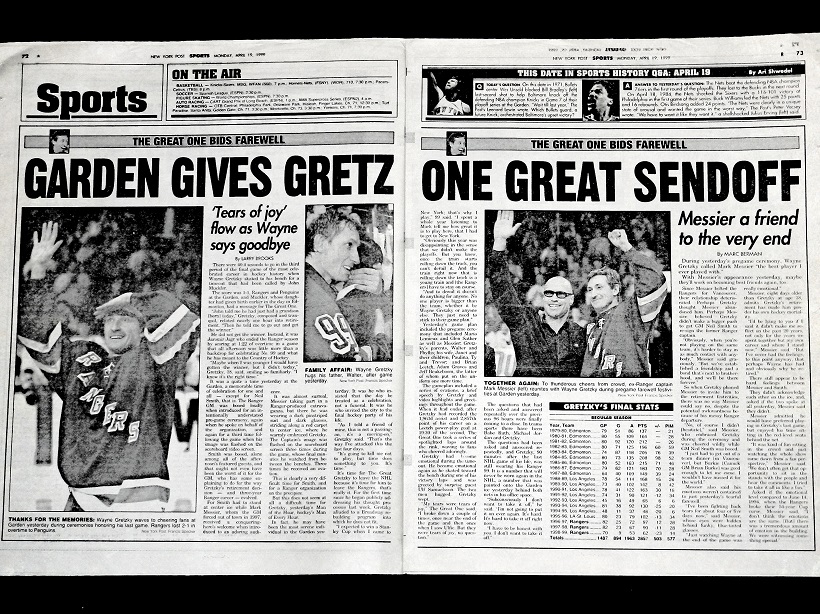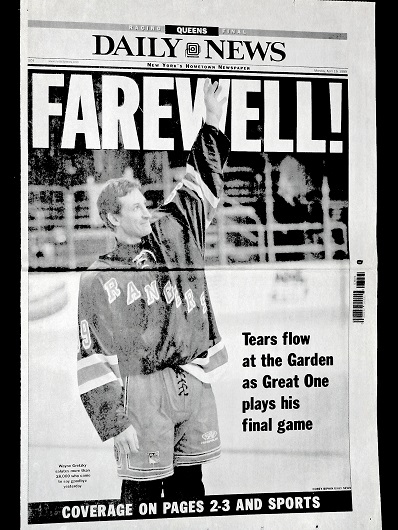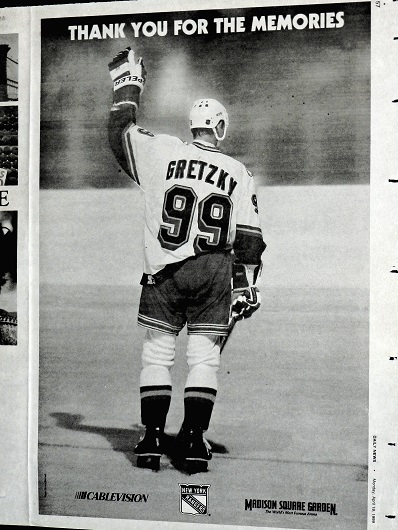 THE NEW YORK DAILY NEWS PLACED A WRAPAROUND COVER ON ITS MONDAY EDITION (UNFOLDED, TOP–LEFT). MADISON SQUARE GARDEN TOOK OUT A FULL–PAGE AD (TOP–RIGHT) IN ALL THE AREA PAPERS, THANKING GRETZKY. THE DAILY NEWS ALSO DEDICATED A PAIR OF TWO–PAGE SPREADS (BELOW) TO THE HISTORIC EVENT.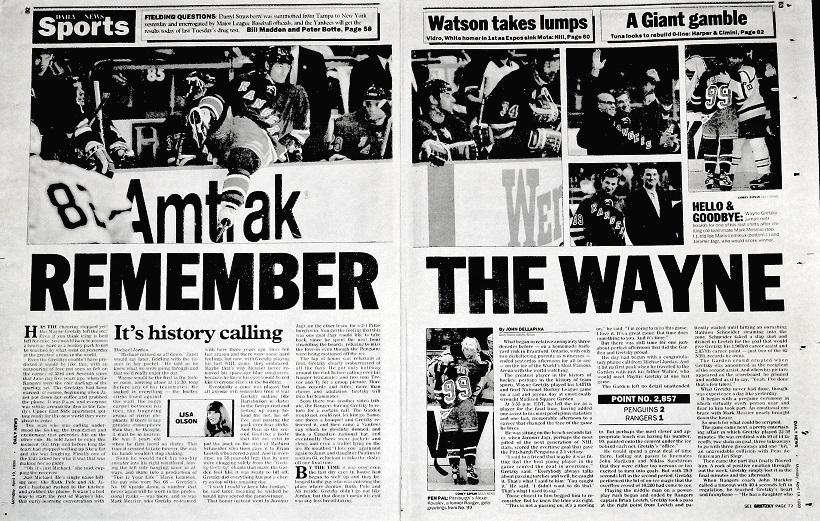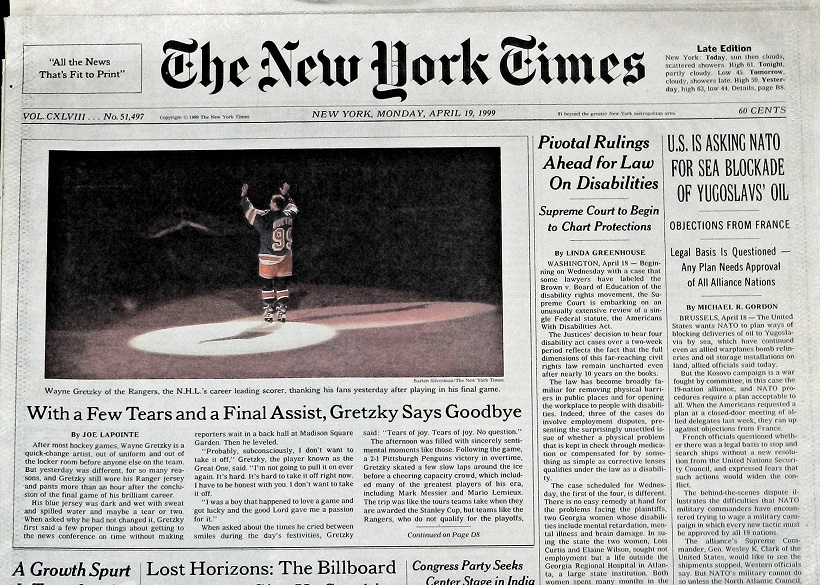 GRETZKY'S FINAL GAME WAS ALSO FEATURED ON THE COVER OF THE NEW YORK TIMES.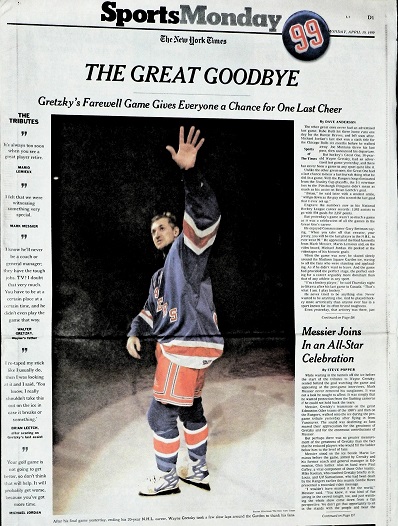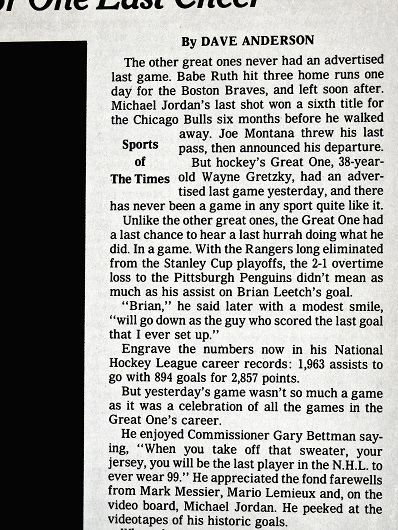 SPORTS FRONT OF THE TIMES (TOP–LEFT) SHOWED GRETZKY WAVING TO THE GARDEN CROWD, BATHED IN A SPOTLIGHT. VETERAN SCRIBE DAVE ANDERSON PROVIDED THE LEAD STORY (TOP–RIGHT AND BELOW).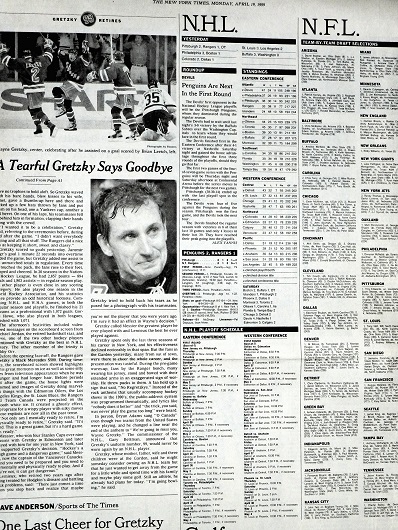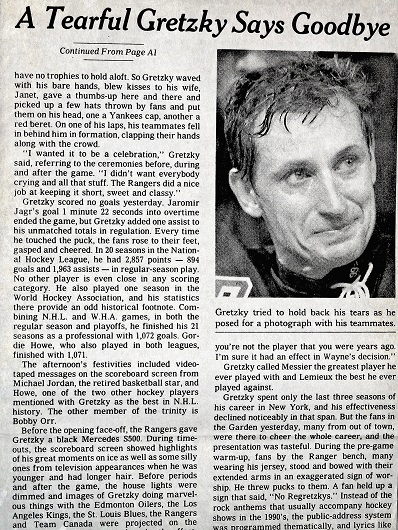 EMAIL: HOWARDLBERGER@GMAIL.COM