TORONTO (May 27) — It was a look of disbelief. Or, in this case, disbe–LEAF.
Alexander Galchenyuk did not plan to send his ex–teammates on a 2–on–0 breakaway early in overtime Thursday night. That's what you get, however, when you make a blind cross–feed from along the boards. There is no forgiveness in sudden–death competition and the Montreal Canadiens nearly had it too easy with Cole Caulfield and Nick Suzuki bearing down, unchallenged, on Jack Campbell. Suzuki finished off the give–and–go relay and Montreal survived Game 5 here in town. Game 6 is back at the Bell Centre on Saturday night. With a decisive match, if required, Monday night on Bay Street. Galchenyuk, as pictured (below) from the Hockey Night In Canada feed, stared blankly at the Scotiabank Arena videoboard after his blunder allowed the Canadiens to win the match at 0:59 of the extra frame. And, of course, the summary will show that Suzuki and Caulfield availed themselves of the giveaway. Any person watching the game, however, will know that Montreal truly prevailed in the first period, when Carey Price stopped everything fired in his direction, making a half–dozen dazzling saves. It allowed for a couple of relative cheapies to elude the Habs goalie later in the match. And, the Leafs — beyond all else — want to preclude Price from attaining "can't beat me" confidence. Which a Game 7 showdown could manufacture.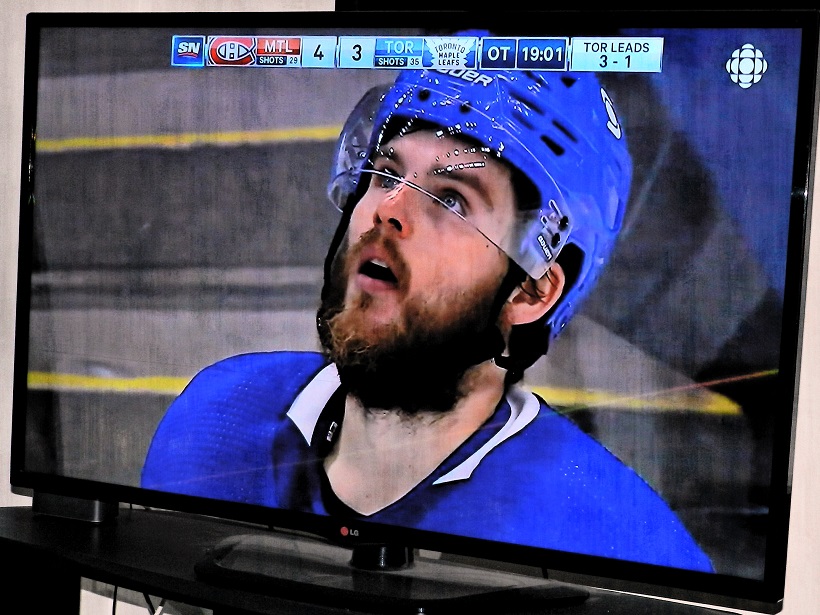 LEAFS FORWARD ALEX GALCHENYUK CAN HARDLY BELIEVE IT AFTER THE CANADIENS WON GAME 5 (BELOW) ON A 2–on–0 BREAKAWAY GENERATED BY HIS BLIND PASS FROM THE BOARDS. SPORTSNET/HOCKEY NIGHT IN CANADA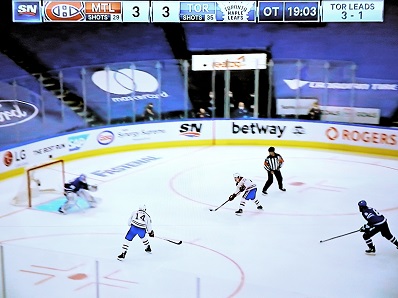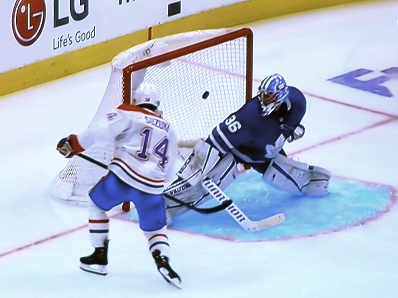 Otherwise, and as per this entire playoff round, the Leafs dominated long stretches of action and nearly won the series with eight seconds left in the third period when Alex Kerfoot fanned on a close–in opportunity. Leafs rookie Rasmus Sandin had a dreadful night, giving up the puck on two of Montreal's regulation scores. But, playing defense in the Stanley Cup tournament requires experience, both good and bad, which Sandin has encountered against the Habs. Media appraisal of the Swedish blue–liner has, typically, been all over the map. After a good game, he's the second coming of Borje Salming. And, he'll likely be considered a latter–day Anders Erickson (remember him?) after Thursday's misadventure (Erickson, though a wonderful chap, was the first giveaway machine in past Leaf years that came to mind among Swedish–born defensemen). If the Maple Leafs are more careful and engaged in their own territory than during the first period of Game 5, they'll stand a good chance to eliminate the Habs on Saturday. Toronto was way too casual and indifferent with the puck in the opening minutes on Thursday.
Hockey fans in Toronto are intrinsically apprehensive… and with good reason, historically. A preponderance of Leaf rooters will have their shorts in a knot after the Game 5 defeat. To spend all day Friday and most of Saturday fretting, however, will be a waste of energy. It is nearly impossible to comprehend the Leafs spitting up a 3–1 lead and blowing this series against such an inferior opponent. Even with Jake Muzzin outscoring Auston Matthews so far, 2–1. Almost certainly, the Canadiens delayed the inevitable with that two–man breakaway in overtime.
EMAIL: HOWARDLBERGER@GMAIL.COM