TORONTO (May 23) — Yes, folks, the planets have aligned. There is so much giddiness in and around Leafs Land after Saturday night's bounce–back romp over Montreal that Adrienne Batra, the Toronto Sun's editor–in–chief, has been invited to spend Victoria Day brunching with Kyle Dubas. Steve Simmons and Auston Matthews have planned to cheerfully discuss the coronavirus in a long, Sunday stroll through High Park. Lance Hornby has foregone a clandestine visit to his own barber so that "Rabbi" Joe Thornton can have his beard neatly trimmed.
Rarely has there existed such tranquility and kinship between a hockey club and a tabloid newspaper.
All is forgiven as it pertained to the gut–churning cover of the Sun on Friday, which depicted a dazed and bloodied John Tavares in the moments after his face–to–knee collision with Corey Perry. The fact Tavares was dazed and bloodied in the moments after his face–to–knee collision with Corey Perry did not enter the equation. All that mattered was the Sun's temerity to feature such nationwide news. The CAPTAIN CRUNCHED headline — a play on words for my favorite cereal as a kid — may have been over the top, even if quite mild when compared with titles on such curmudgeonly tabloids as the New York Post… or any of a half–dozen in the United Kingdom. We are so intrinsically well–mannered as Canadians that even the slightest parody renders us aghast, particularly when concerning a beloved hockey hero. As a veteran Sun employee told me: "I have seen smashed cars on Page 1 that killed people, sickening scenes, that didn't get the reaction Tavares did." True, indeed… however irrelevant to worshippers of the Blue and White. But, as mentioned, all of that is yesterday's news. The Sabbath pancakes and syrup went down more pleasantly for all affiliated with the Maple Leafs: executives, coaches, players and fans.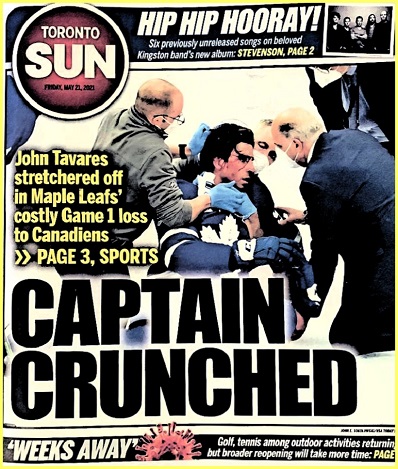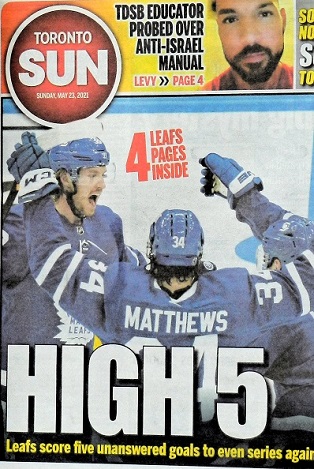 MAJOR IMPROVEMENT. RIGHT? FRIDAY TORONTO SUN COVER (LEFT) COMPARED WITH TODAY'S.
Heck, the Sun even issued a quasi–mea culpa which, while noble, was unnecessary. Directly from editor–in–chief Batra: "Many readers were upset by the Toronto Sun's front–page picture of Maple Leafs Captain John Tavares prior to being stretchered off the ice during Thursday night's game against the Canadiens under the headline Captain Crunched. This was our coverage of a major news event that had already been witnessed live by millions of Canadians. We meant no disrespect to Tavares, his family, the Maple Leafs' organization or our readers, and we wish the Leafs' captain a full and speedy recovery." Only in Conservative, upstanding Toronto would this require clarification; Batra responding to the predictable outcry among the righteous. Examples of letters to the editor:
I am writing to express my outrage and great disappointment in your choice of a front–page pic for the May 21 issue of the Toronto Sun. I cannot believe this was seen as the best choice. Why not a picture of Tavares giving the thumbs up? In the midst of the suffering, we finally have something to cheer with this playoff series. This injury to our captain is devastating but the thumbs up is such a hopeful sign; a gesture that could have been shared across the city. Instead, your paper chose to focus on a horrific moment. Please consider a retraction and especially an apology to John Tavares, his wife, family, teammates and Leafs Nation. — Holly Davies, Oshawa.
Well, of course. Insulting Leafs Nation is part of the national forbiddance.
I would like to express my deepfelt concerns for your lack of basic dignity on the front page. It's totally disgraceful and reflects what desperate lengths you will go to for sensationalism. Whoever gave the green light to say it's OK to put this on the front should be fired. Your paper is unfit for the bottom of a dog pen. Get your sh** together and grow some integrity balls. — Bob Williams, Mississauga.
Oh my. Is it disrespectful to propose anger management?
Your cover of May 21 was insensitive and disgusting. When John Tavares was wheeled off the ice, I had tears running down my face. I didn't imagine that one of your writers would find his injury amusing enough to caption it "Captain Crunched." You should be ashamed of publishing that picture and caption. — Michael Faux, Ajax.
Pass the Sunday syrup.
The media love fest that followed Saturday night's 5–1 victory over the Canadiens, knotting the best–of–seven series 1–1, should assuage the tender hearts. From the Sun: Sandin and family thrilled to see blueliner notch first playoff goal. From the Toronto Star: 'The win means a lot.' Leafs get long–awaited playoff win vs. Habs, with their captain top of mind. / The Maple Leafs show what they're made of in Game 2 win over Canadiens. From TSN: Matthews demonstrates his unstoppable will in Game 2. From Sportsnet: Leafs make good on promise to play for Tavares with assertive Game 2 win. / Matthews dedicates win to Tavares: 'This one's for him.'
Any syrup left?
Of personal chagrin was Simmons electing to not advocate for the newspaper that employs him in his Sunday notes column. If anyone could explain the controversy with perspective, I figured it was Steve. Yet, there was nary a mention of the incident. I asked Simmons about it via email… and, let's just say he had his reasons for avoiding the topic. None of them a directive from above. Though I respect Steve's decision, I felt a bit disenchanted.
As for the Maple Leafs and their fans, there shouldn't be such palpable comfort and appeasement after the series–tying rout of the Canadiens. Not against such an inferior opponent. Maybe the club did win Game 2 "for John", but it allowed emotion to dictate the result of Thursday's opening match. At the moment, that failure seems not quite as alarming, but it'll come back into play, big time, if the Habs get rolling on home ice in Games 3 and 4.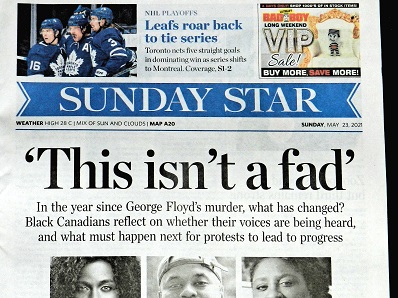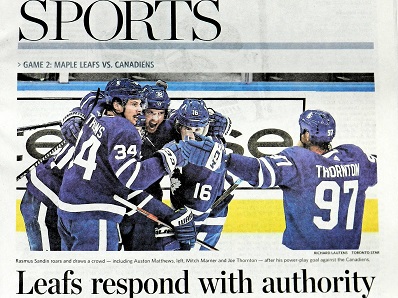 The events of Saturday night were compulsory for the heavily favored Leafs — particularly the aggressive comportment of Mattews, with and without the puck. If the National Hockey League's top goal–scorer is engaged, physically, the Leafs become much more difficult to subdue. The truly great players make their mark in the Stanley Cup playoffs, not the regular season. The performance, on Saturday, by No. 34 was an indisputable benefaction for the Blue and White. Now, he's got to up the ante and become even more of a challenge to govern at the Bell Centre, where a scattering of partisan fans may be in attendance… and the Canadians have last line change.
EMAIL: HOWARDLBERGER@GMAIL.COM