TORONTO (May 21) — No, the Maple Leafs are not in trouble against the Canadiens in their opening–round playoff quarrel. Not yet, anyway. Check back after Game 2 on Saturday and I may feel differently.
It is nonetheless irrefutable that 19,742 days have passed since Toronto last defeated Montreal in a playoff match. Or… 473,808 hours; 28,428,480 minutes; 1,705,708,800 seconds (yes, that's billion). May 2, 1967 was quite awhile ago. In the ensuing half–century–plus, the Leafs have now lost nine consecutive Stanley Cup encounters with the Habs. Though there was quite a gap between the eighth and ninth defeats: 42 years and 28 days, to be exact. Dating to Apr. 22, 1979 and Larry Robinson's powerplay goal in overtime at Maple Leaf Gardens against Paul Harrison. Robinson, right now, is 15 days shy of his 70th birthday; Harrison (remember him?), well into his 67th year. Heck, it's been more than 22 years since the Gardens hosted a National Hockey League game.
Time kinda flies… until you look at the numbers.
Also irrefutable? A team built to score has struck for all of 16 goals in its last nine playoff matches, dating to Game 5 of the 2019 opening–round series against Boston. Placing into perspective the gaudy regular–season stats.
In no way am I minimizing the horror of the injury to John Tavares in the first period on Thursday. It was a sick–to–your–stomach moment for anyone watching: a Leafs fan; Habs fan or neutral observer. The Toronto players were completely justified to be on their heels in the immediate aftermath of the captain — his face bloodied — getting stretchered from the ice. But, the Tavares–Corey Perry collision doesn't account for the home team scoring only once in the remaining 49½ minutes of regulation time, or yielding a shorthanded goal in the third period that proved decisive. It doesn't account for a head–shaking three delay of game penalties for lifting the puck over the glass or another disastrous night on the powerplay (0–for–5 with the shortie). This may sound crass and insensitive, but a Stanley Cup contender needs to quickly part with an emotional irritant, no matter the cause.
Which compels the Maple Leafs, rather imperatively, to rebound and win Game 2 here in town.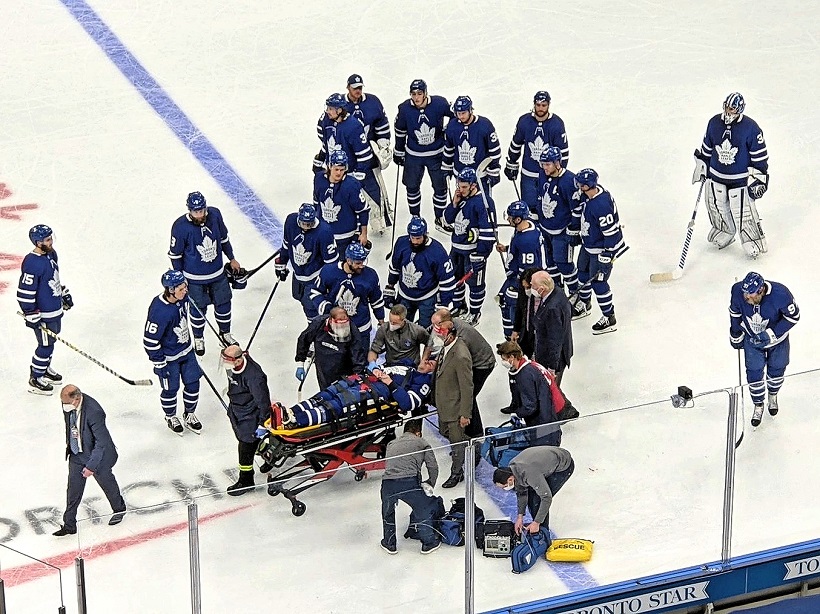 VIEW FROM THE PRESS BOX AT SCOTIABANK ARENA AS JOHN TAVARES IS WHEELED FROM THE ICE MIDWAY THROUGH THE FIRST PERIOD OF GAME 1. CHRIS JOHNSTON SPORTSNET
Hockey's biggest star, Gordie Howe, was nearly killed when slammed to the boards by Ted Kennedy of the Leafs at the Detroit Olympia on Mar. 28, 1950. It was Game 1 of the Stanley Cup semifinals and the Red Wings were throttled, 5–0. During the night, Howe underwent a life–saving operation to relieve fluid build–up on his brain. The Red Wings shook off the mental scar in time to win the second match, 3–1, and the series in seven. Though Tavares's life probably wasn't in jeopardy on Thursday night, the sight of their captain in such obvious difficulty had a demoralizing effect on the players. As it did everyone involved. My 24–year–old son, Shane, a rabid Leafs fan, called to say he'd lost his ardor for the match. But, Shane wasn't on the ice trying to help break a 17–year playoff famine, dating to 2004. Only those in the blue and white uniform — teammates of Tavares — could erase such a lengthy drought. Which will not happen if they are sidetracked by anything over the span of 2½ periods.
Hockey is a fast, violent sport. There are people stupid enough to actually believe that Perry kneed Tavares in the face with malice aforethought. But, the play happened at speed that precludes any such allegation. Slow–motion replays on TV distort reality. When viewed in real time, there was no chance for Perry to avoid Tavares. Sadly, in today's warped NHL mentality, any perceived indiscretion is accompanied by a fistic challenge. Be it a clean body check or a fluke collision. As such, Nick Foligno of the Maple Leafs absolutely had to tangle with Perry (sigh). It's the most infantile evolution in the game over the past decade… and one the NHL could abolish, if so inclined.
What it all amounts to is this: The Leafs cannot extend their playoff losing streak against Montreal to 17,744 days. Going down 2–0 in a best–of–seven series is practical suicide. That's what is on the line Saturday night.
NEWSPAPER FRONTS
From my collection — Part 5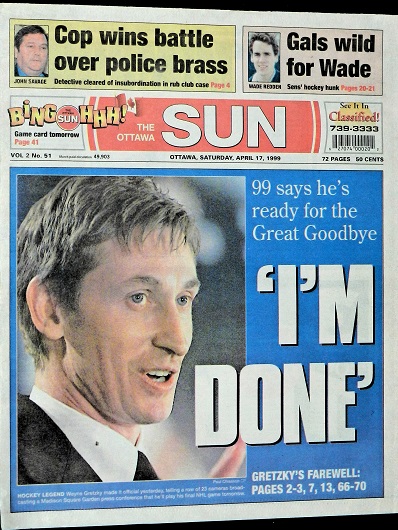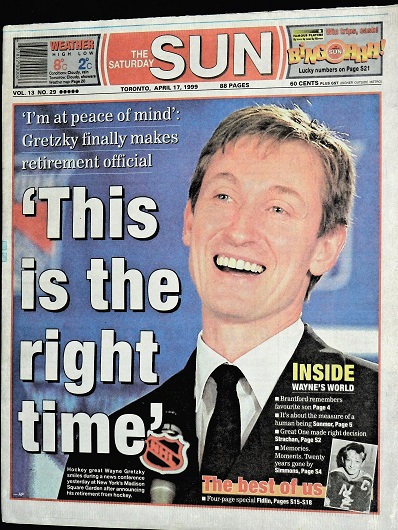 It was shocking news on Apr. 16, 1999 when Wayne Gretzky held a press conference in New York to confirm speculation he was retiring after 20 NHL seasons. His final game would be Sunday afternoon, at Madison Square Garden, when the Rangers hosted Pittsburgh. Needless to say, newspapers across Canada plastered Gretzky on their Friday covers. Such as the Ottawa Sun (top–left) and Toronto Sun (top–right). Edmonton Sun columnist Terry Jones, who had covered all of Gretzky's Stanley Cup years with the Oilers, provided a postscript (bottom–right).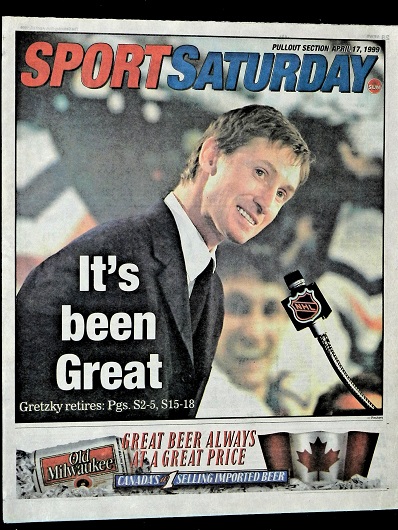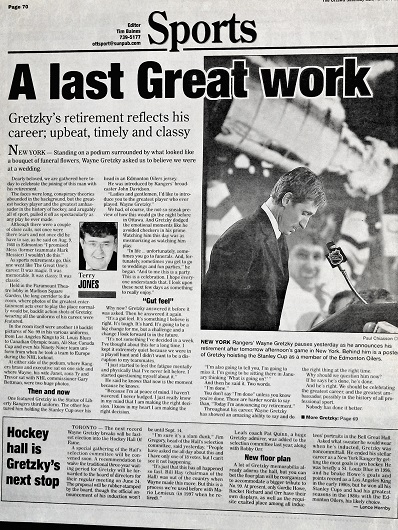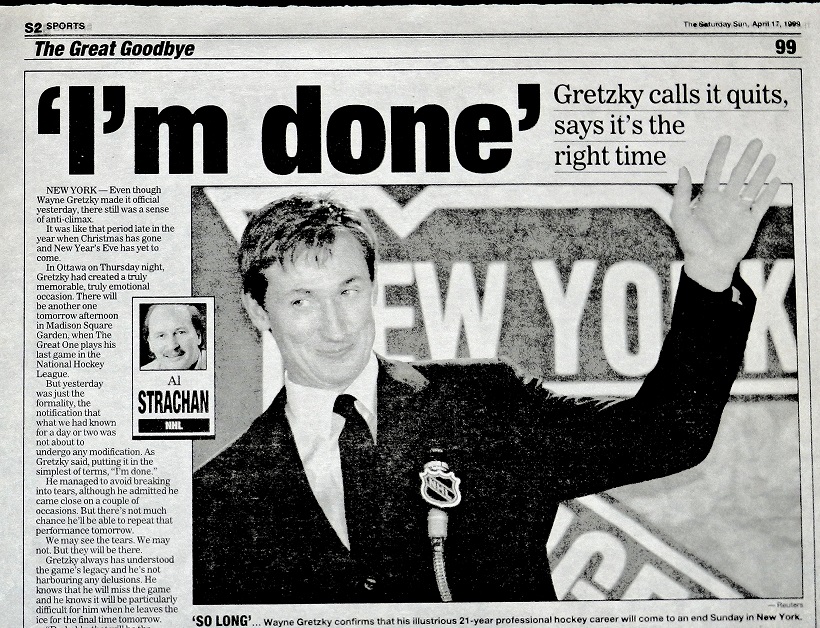 Gretzky's friend, Al Strachan, covered the New York media gathering for the Toronto Sun.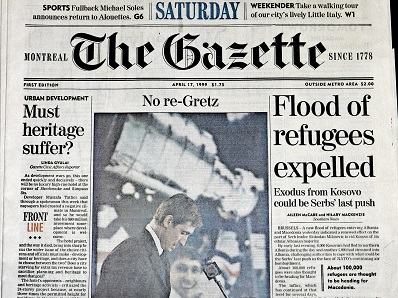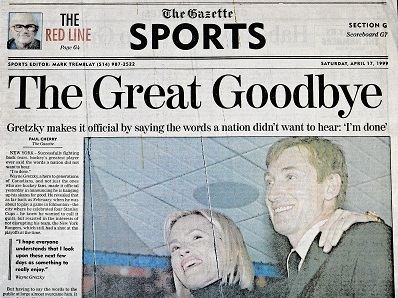 I was in Montreal covering the Leafs season finale of 1998–99 (Apr. 17) for The FAN–590 and made sure to collect copies of the Montreal Gazette (above) and Le Journal de Montreal (below), both featuring The Great One.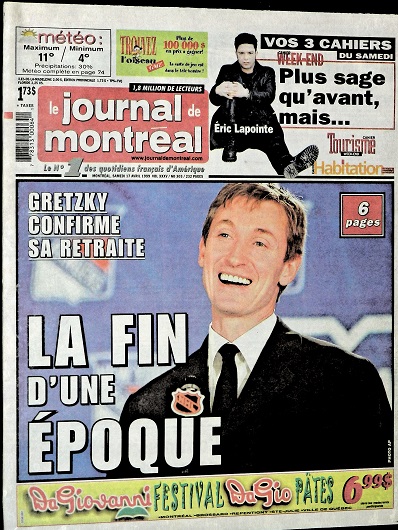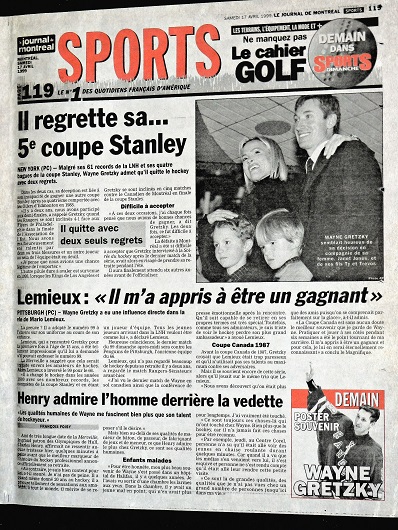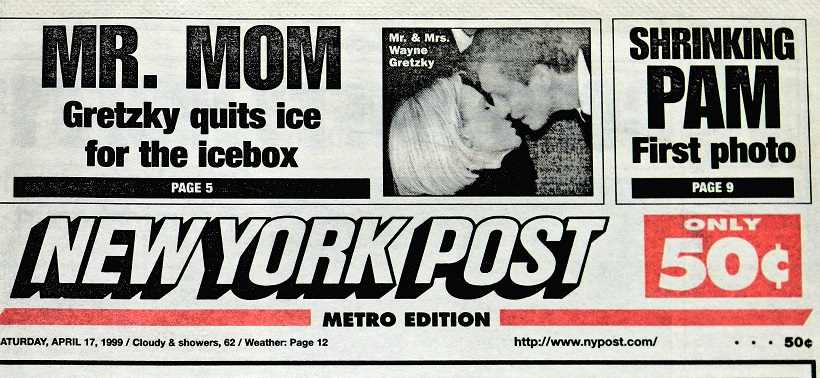 Gretzky's retirement was featured at the top of the Apr. 17 New York Post, above the tabloid's logo. And, on the rear–cover of the Sports section (bottom–left). Columnist Jay Greenberg (bottom–right) provided lead coverage.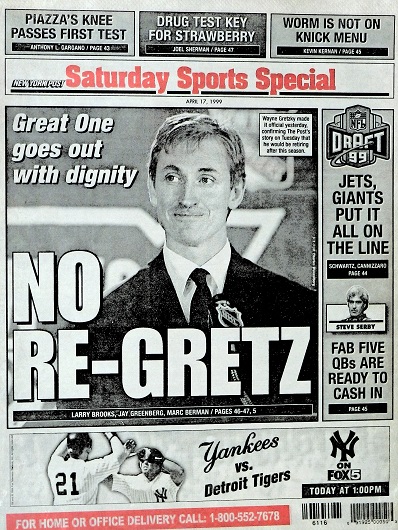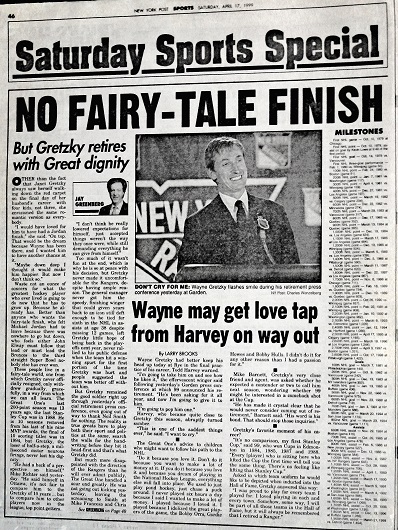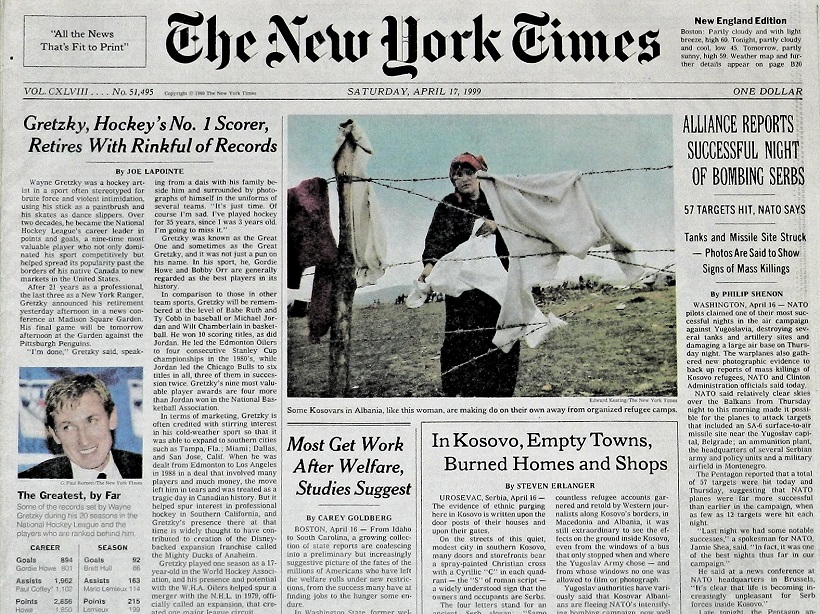 Also, the front page of the Apr. 17 New York Times (above); hockey writer Joe Lapointe providing details (below).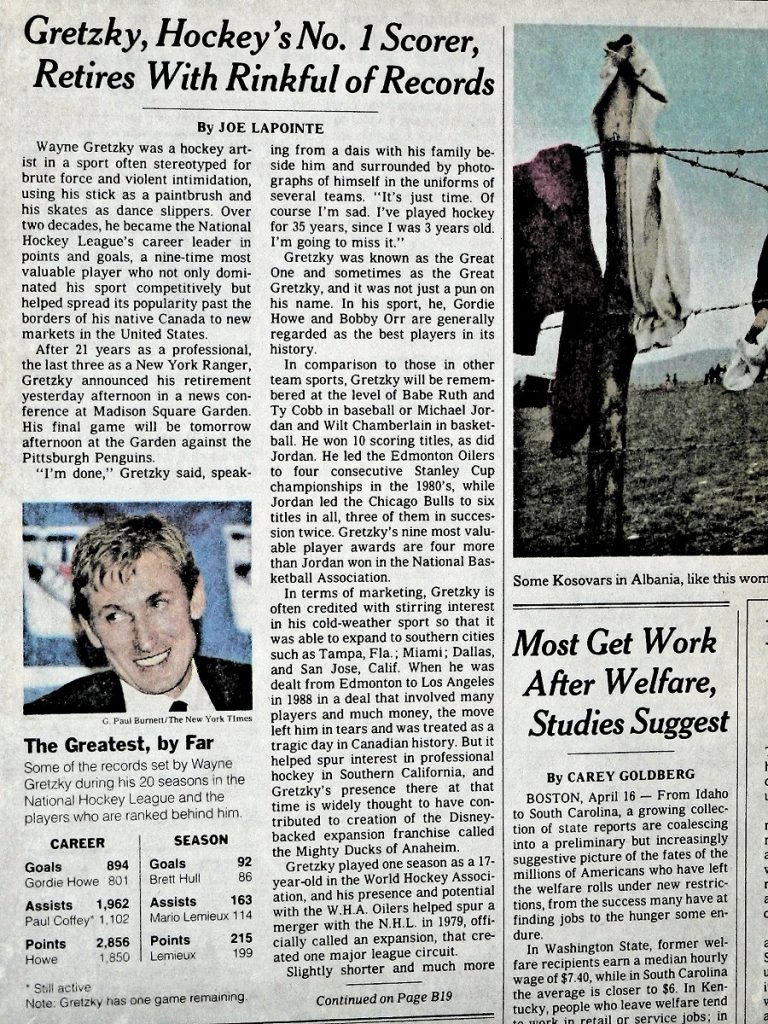 IN MY NEXT BLOG, NEWSPAPERS FROM THE DAY AFTER GRETZKY'S FINAL GAME.
EMAIL: HOWARDLBERGER@GMAIL.COM