TORONTO (May 28) — The biggest off–ice news in the National Hockey League this week was that Wayne Gretzky had signed a multi–year contract with Turner Sports to provide studio commentary. Turner and ESPN take over from NBC next season as the NHL rights–holder in the United States. Gretzky, forever seeking a new challenge — and a return to the spotlight — resigned as vice–chairman of the Edmonton Oilers. More than 22 years since retiring as a player, the Great One is still the most instantly recognizable hockey name in the world. Even if he'll need to be less polite in order to properly execute the role of studio analyst (I wouldn't wager a hefty sum on that transformation). Still, Gretzky provides the American network undeniable star power and credibility.
Up here in the wilderness, Hockey Night In Canada is sorely lacking such a figure. Neither is that breaking news. The firing of Don Cherry and the departure of Brian Burke to the Pittsburgh Penguins eliminated flair and spark from intermission segments. I've made my opinion clear on the people currently deployed: Kelly Hrudey, Jennifer Botterill, Kevin Bieksa, Anthony Stewart and Colby Armstrong are knowledgeable, trustworthy voices that provide splendid insight. But, the production is dull as dishwater. It desperately needs a strong, central figure to retain even a portion of the viewership lost with Cherry. Hosting is perfectly fine, with Ron MacLean, David Amber and Jeff Marek. Elliotte Friedman is the premier hockey insider on the planet. But, there's virtually no entertainment value. And, entertainment has forever been the hallmark of good television. For nearly 40 years, Hockey Night had the precise formula with Cherry and Coach's Corner. Donald S. was a polarizing presence who often infuriated his audience. But, people watched. Without fail and in massive numbers across the land each Saturday.
Burke was among the precious few in the game capable of following Cherry with strong, contestable opinion. Yet, the tall foreheads at Rogers Communications deliberately, and irrationally, chose to refrain from building another intermission superstar. They repressed Burke, easily enabling him to depart for a return to NHL management.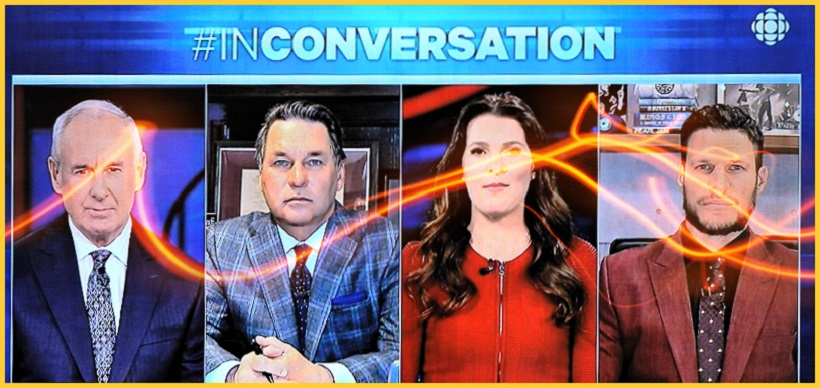 INTERMISSIONS ON HOCKEY NIGHT IN CANADA CLEARLY NEED A BOLT OF LIGHTNING.
Owing to events of the past month, there's a categorically perfect candidate to spice up the Hockey Night intermissions. Rogers should offer a boat–load of cash to John Tortorella; enough to dissuade him from seeking further employment as a coach. In the first intermission each week, Tortorella and his one–time nemesis — New York Post hockey columnist Larry Brooks — should duke it out over the NHL issues of the day. With a moderator, of course, to prevent an exchange from becoming the TV version of Spittin' Chicklets. A Stanley Cup–winning coach (Tampa Bay, 2004) and a veteran of New York tabloid hostility would return some mandatory zeal to the vanilla Hockey Night telecast. And, likely many more eyes than are currently staying tuned for the first intermission.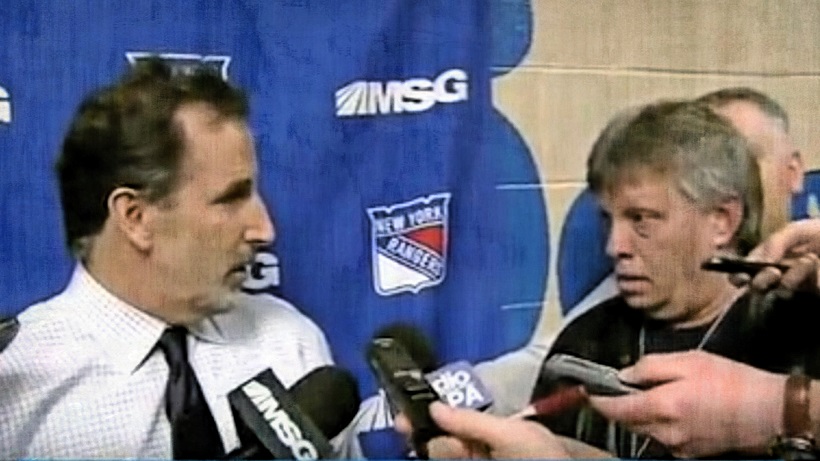 JOHN TORTORELLA (LEFT) AND LARRY BROOKS CONSTANTLY BICKERED IN MEDIA SCRUMS DURING THE YEARS WHEN TORTORELLA COACHED THE NEW YORK RANGERS AND BROOKS COVERED THE TEAM FOR THE NEW YORK POST.
LEAFS NEED A CLOSER: It has been nearly two decades since the Toronto Maple Leafs possessed a goaltender capable of repeatedly closing out a playoff series. Not since the four–season term of Curtis Joseph (1998–99 to 2001–02) has a Toronto stopper won more than a single Stanley Cup round. Cujo, signed as an unrestricted free agent from the Edmonton Oilers, appeared in ten playoff series under Pat Quinn, prevailing in six. His successor, Ed Belfour, recorded the most–recent triumph, over Ottawa, from Apr. 8–20, 2004. Since then, the Leafs have deployed, for varying lengths, 25 goaltenders — none, as yet, capable of closing out a Cup series.
Here's the full, post–Belfour list, chronologically, since the 2006–07 season: MIKAEL TELLQVIST, JEAN-SEBASTIAN AUBIN, ANDREW RAYCROFT, SCOTT CLEMMENSEN, VESA TOSKALA, MARTIN GERBER, JUSTIN POGGE, JEAN-SEBASTIEN GIGUERE, JONAS GUSTAVSSON, JOEY MacDONALD, JAMES REIMER, BEN SCRIVENS, JUSSI RYNNAS, JONATHAN BERNIER, DREW MacINTYRE, GARRET SPARKS, FREDERIK ANDERSEN, JHONAS ENROTH, ANTOINE BIBEAU, CURTIS McELHINNEY,  CALVIN PICKARD, MICHAEL HUTCHINSON, KASIMIR KASKISUO, JACK CAMPBELL, DAVID RITTICH.
For four years in the post–season, prior to this, the Maple Leafs called on Frederik Andersen, who failed to backstop the club beyond the opening (or qualifying) round. Andersen hasn't closed out a series since 2015, with Anaheim. Now, the chore has fallen to Jack Campbell, who struck out in his first attempt on Thursday night — Montreal defeating Toronto, 4–3, in overtime to avoid elimination in the North Division semifinal. Campbell's second attempt comes tomorrow at the Bell Centre. Game 7, if required, goes Monday night at Scotiabank Arena.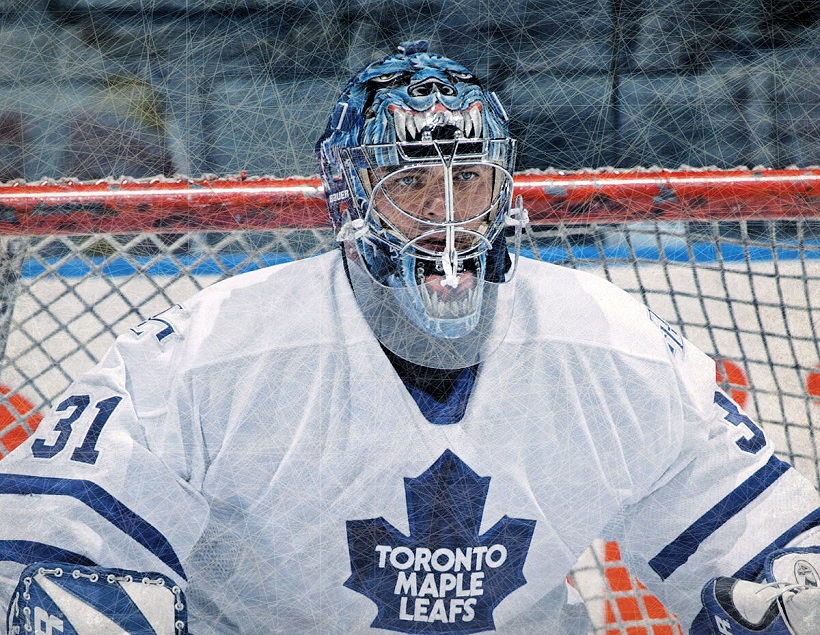 LEGENDARY LEAF GOALIES CURTIS JOSEPH (ABOVE), TERRY SAWCHUK (BOTTOM–LEFT) AND MIKE PALMATEER CLOSED OUT 11 STANLEY CUP PLAYOFF SERIES. NOW, IT'S JACK CAMPBELL'S TURN.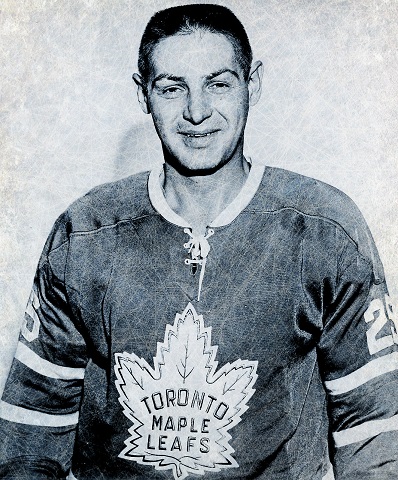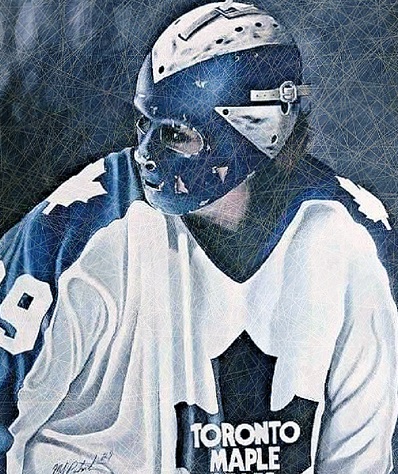 I felt Sheldon Keefe's remark that Campbell "wasn't at his best" in Game 5 — though obvious and accurate — pointed the finger inappropriately. Keefe, of course, didn't volunteer the opinion; he answered a reporter's leading question. Still, Campbell was largely hung out to dry; victimized by sloppy work from his teammates, particularly rookie defenseman Rasmus Sandin. To his credit, Campbell took perhaps more than his share of the blame, and did so graciously, telling the Toronto media "I've got to be better [in Game 6] and I will be." But, so must the players in front of him. Until the Maple Leafs vanquish a playoff opponent for the first time in 17 years, their fans will remain justifiably skittish. Especially those too young to have witnessed a series triumph. The nightmarish visions of James Reimer allowing the infamous comeback by Boston in Game 7 of the 2013 opening round — and of Andersen, time and again, permitting routine shots to beat him in clinching encounters — continue to haunt Leafs Nation. Campbell seems fully capable of busing off the franchise–record playoff drought, but neither he nor his teammates should tempt a Game 7 fate against Carey Price, who performed brilliantly for much of Thursday's elimination match. One can barely imagine the city wide angst if the Canadiens are still alive after the weekend.
FOR THE RECORD…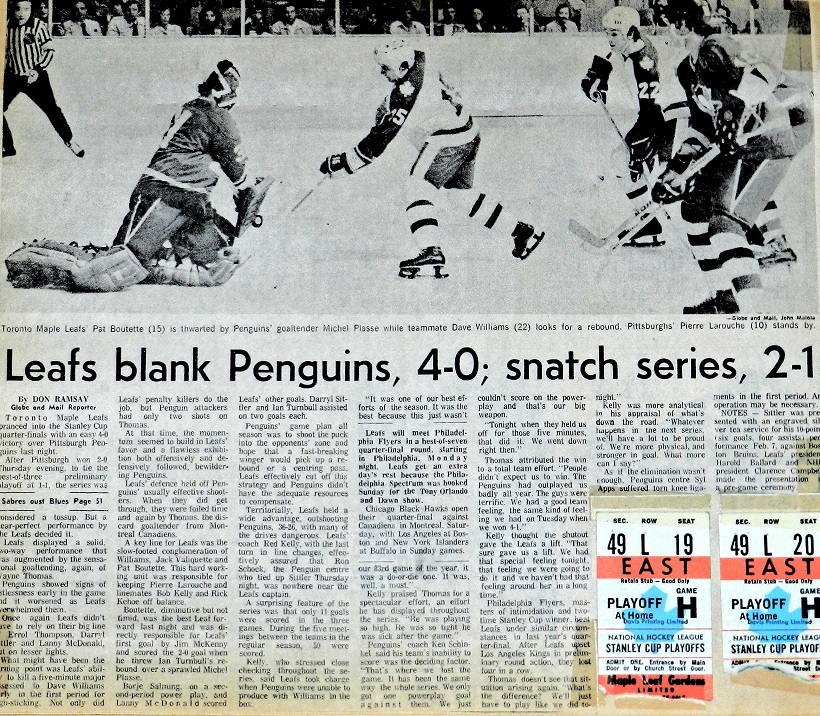 THE MAPLE LEAFS HAVE WON 19 STANLEY CUP ROUNDS SINCE THEIR LAST NHL TITLE, IN 1967. FOUR OF THEM OCCURRED IN THE BEST–OF–THREE PRELIMINARY SERIES THAT WERE CONTESTED FROM 1975 TO 1981. INCLUDING THE 1976 MATCH–UP AGAINST PITTSBURGH. I STILL HAVE MY TICKET STUBS (IN MY SCRAPBOOK, ABOVE) FROM THE DECISIVE THIRD MATCH, AT MAPLE LEAF GARDENS, ON APR. 9 OF THAT YEAR. WAYNE THOMAS SLAMMED THE DOOR ON THE PENGUINS IN A 4–0 VICTORY THAT SENT THE LEAFS UP AGAINST PHILADELPHIA IN THE BEST–OF–SEVEN QUARTERFINALS. THE FLYERS, IN A MEMORABLE, RAUCOUS ENGAGEMENT, PREVAILED IN THE SEVENTH MATCH, AT THE SPECTRUM.
EMAIL: HOWARDLBERGERGMAIL.COM