TORONTO (May 15) — When CJCL AM–1430 became the first all–sports radio station in Canada (Sep. 4, 1992), I was provided a directive from two of the highest–ranking executives, Doug Ackhurst and Allan Davis: "We want strong opinion from you on a daily basis. Opinion is the backbone of sports–media coverage." The execs knew they wouldn't need to prod me with much effort. From the beginning of my radio career, in 1988 — a full seven years before I began covering the Toronto Maple Leafs, full time — I offered a distinct point of view on most subjects. Which didn't always endear me to listeners… even if it kept the bosses happy. And, neither did I care.
Sports–media bosses today are different. Unavoidably so, as it pertains to the two broadcasting behemoths in our country — Rogers Communications and Bell Canada — and their co–proprietorship of Maple Leaf Sports and Entertainment. I've said it before and I'll repeat it now: This is the most–egregious conflict–of–interest in Canadian media history. That coverage of the most–widely followed National Hockey League team in our land (the Leafs) is presented through the prism of "branding" and business partnership is nothing shy of a travesty. It is no–less apparent with games of the Rogers–owned Toronto Blue Jays being televised on Rogers–owned Sportsnet. As it relates to electronic media in Canada (TV, radio and corresponding mobile platforms), there is virtually no framework for objective commentary. How can there be when providers of information are owned by the teams they cover? This isn't to imply that on–air personnel are incompetent or devoid of opinion. On the contrary, Canadian sports fans are enthroned with many fine broadcasters. But, there are bold lines that simply cannot be crossed.
Inexcusable pandering to the home team — rather commonplace in the new millennium — rests with the local newspaper industry. Once upon a time, the Toronto Star, Toronto Sun and the Globe and Mail were replete with authoritative, instantly recognizable sports reporters and columnists. With few exceptions, they did not cajole any of the Big 4 professional franchises in town — the Maple Leafs, Argonauts, Blue Jays or Raptors. Never was this more apparent than during the decade (1983–93) in which the Blue Jays caught up to, and briefly surpassed, the Maple Leafs as the hottest team in town. As the Jays painstakingly built toward their consecutive World Series championships (in 1992 and 1993), the local dailies spewed forceful opinion. From such legendary scribes as Jim Proudfoot, Milt Dunnell, John Robertson and Dave Perkins (the Star); Jim Hunt, Wayne Parrish, Steve Simmons and Ken Fidlin (the Sun); Marty York, Larry Millson and Al Strachan (the Globe).
Ardent viewpoints erupted like never before in 1988, when the Blue Jays encountered a major controversy in spring training (American League MVP George Bell refusing to compete in a game while protesting a switch from left–field to designated hitter) and then struggled during the season; general manager Pat Gillick apparently powerless to improve the club. These wonderful media outbursts are preserved, below, in scrapbooks I maintained: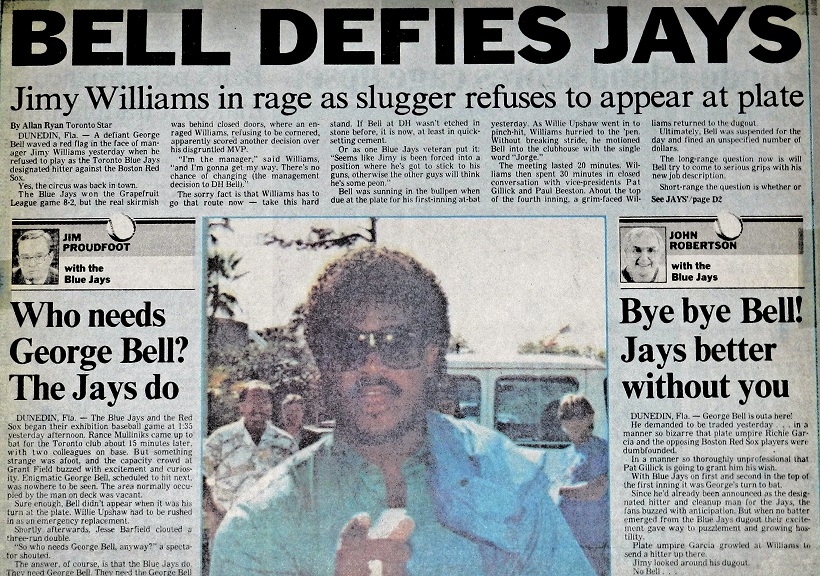 HARD SPORTS OPINION WAS RAMPANT IN THE TORONTO NEWSPAPERS WHEN THE BLUE JAYS STRUGGLED EARLY IN THE 1988 SEASON — SPARKED BY GEORGE BELL'S INFAMOUS TANTRUM (ABOVE) AT SPRING TRAINING IN DUNEDIN.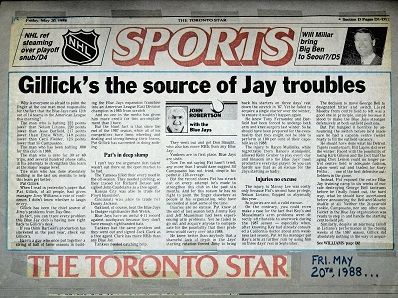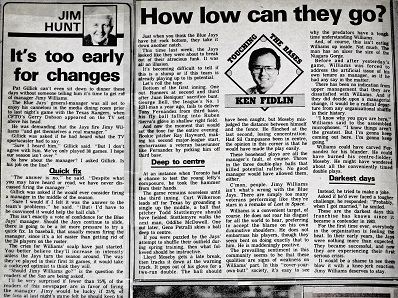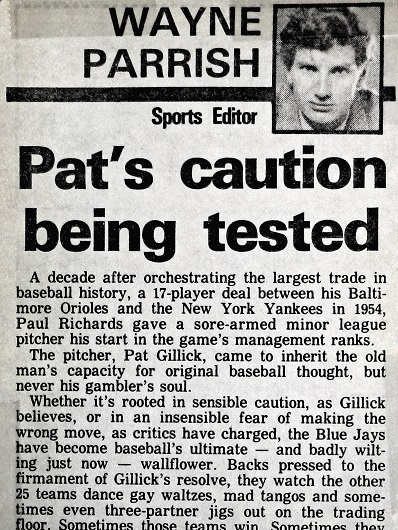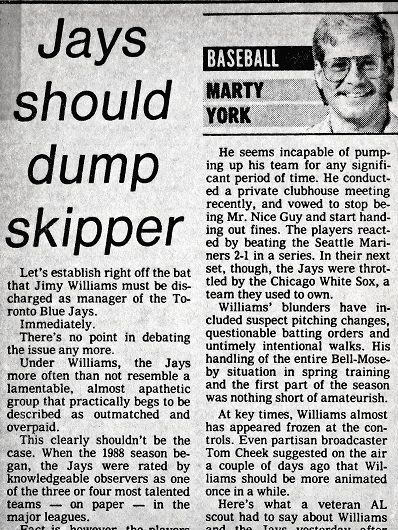 Throughout the 1970's, 80's and 90's, hockey reporting in Toronto took on a similar tone. The Leafs, during much of that time, were a laughingstock and rarely blandished by those covering the team. In my years following the club on radio (1994–2011), I felt constantly nudged by the local hockey writers and columnists. Theirs' was a standard to maintain. No prisoners were taken by Damien Cox and Paul Hunter at the Star; Simmons and Strachan at the Sun; David Shoalts at the Globe. Prior to that, the Leafs were capably and objectively covered by such men as Frank Orr and Jim Kernaghan (the Star); John Iaboni and Scott Morrison (the Sun); James Christie, Donald Ramsay and Trent Frayne (the Globe). I consider several of the aforementioned among the media heroes of my youth.
The Hockey News, a weekly publication since 1947, also bulged with strong opinion — primarily during the mid–80's, the apex of the Wayne Gretzky era — from such scribes as Orr, Strachan, Simmons, Bob McKenzie, Terry Jones, Jay Greenberg and Stan Fischler. It was merely a sign of the times. A true journalist soft–soaping the club he (or she) covered would stand out like a rusty nail. Fawning over athletes was far–less common than today; Gretzky, of course, a justifiable exception, as were Gordie Howe, Bobby Hull and Bobby Orr beforehand.
By comparison, current–day hockey fans are being denied. Perhaps even bilked. This is partly the result of contraction in the newspaper industry and largely, as mentioned, the cross–pollination of electronic media and team ownership. Sadly, news is uniformly distributed among more than a half–dozen outlets at a time when sports fans dedicate much effort, each day, to browsing the Internet for variety. Example: On the day veteran Joe Thornton, earlier this season, returned to the Maple Leafs from an injury absence, those logging onto websites of the Toronto Star, Toronto Sun, TSN, Sportsnet, Sports Illustrated, The Athletic, or such an independent site as HockeyBuzz.com, were offered identical information. This, somewhat tragically, is a daily occurrence.
You can summon, on a given afternoon, any of Kevin McGran and Mark Zwolinski (the Star); Lance Hornby and Terry Koshan (the Sun); Mark Masters and Kristen Shilton (TSN); Chris Johnston (Sportsnet); David Alter (Sports Illustrated), Jonas Siegel (The Athletic) and Mike Augello (HockeyBuzz) and encounter the same lead story with the same quotes. Augello, a Leafs fan living in Buffalo, has the world at his feet with a popular rumor–based website. He understands the game and could offer much–needed opinion with his daily Maple Leafs column. Instead, he settles for posting news that readers can find anywhere else on–line. And, usually beforehand. Unlike his newspaper counterparts, Alter, another knowledgeable scribe, has attended (on behalf of S.I.) every Leafs road game this season. Often with nothing exclusive to provide. So, I ask: How is this properly serving the industry?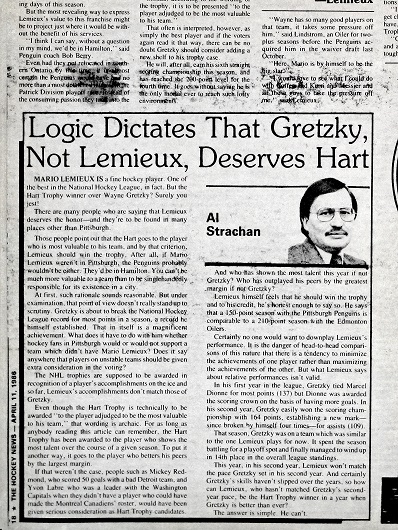 COLUMNISTS AL STRACHAN AND FRANK ORR KEPT THE HOCKEY NEWS LIVELY IN THE MID–1980's.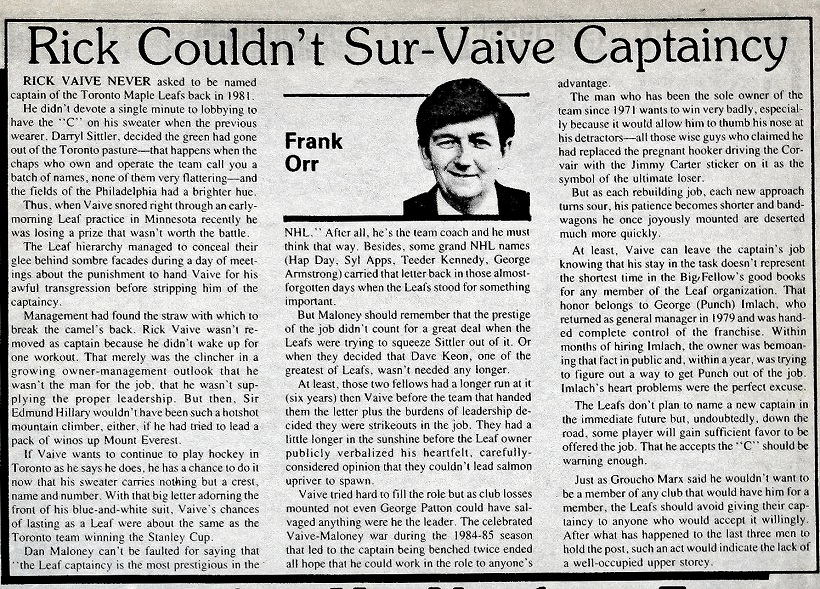 Now, I can hear my former Maple Leaf colleagues screaming at me: "What do you expect — and what else can we do — in such a tightly controlled environment?" Which is very much a factor in covering the team today. Long before COVID–19 precluded reporters from invading the dressing room after practices and games, the Leafs effectively shielded the public from information. Even dating to my latter years around the club, media relations personnel would march out one player at a time for a scrum session. Resulting in all outlets (print and electronic) acquiring the identical quotes and comments. Others, including the coach, were marched to a nearby podium to similarly tell everyone the same story. Throughout the pandemic, this "control" has been complicated by players and coaches available only via Zoom conference. The idea of sitting down with an athlete to obtain an exclusive angle — quite liberal in most of my years covering the Maple Leafs — is altogether foreign. The relic of a bygone era.
Which brings me back to my original, perhaps–futile, point.
The one privileged element that each and every reporter maintains is an opinion. Even if shared by others, it is unique. Yet, we are rarely treated to such individuality in today's submissive media environment. Instead, there are any number of so–called "puff" pieces in print and on line virtually every day. Stories that lionize the Maple Leaf heroes and almost never view the club with a critical eye. Often, it resembles abject cheerleading. Which should never be the purview of a print journalist. Whether this is the choice of the reporter, or an edict handed down from above, I do not know. I've been out of the mainstream media for nearly a decade. All I do know is that readers, today, aren't served nearly as efficiently as during my era around the team. Which is lamentable.
Today, local sports readers can regularly count on two figures to offer stout opinion: Simmons at the Sun and Cathal Kelly at the Globe and Mail. Even Simmons, the most–veteran; most–widely read (and vilified) sports columnist in the country, often becomes ensconced in poetry. Unlike his earlier years, a big sporting event in Toronto is the most–grandiose event of all time. Still, Steve can be relied upon to tell you how he feels. Unfiltered. Kelly is the best pure writer of sports English I've ever read. Nor will he shy from rankling readers and subjects.
Others contribute to the void
Rosie DiManno, the veteran Star columnist, is relentless in her coverage of news and current events, yet more restrained when writing sports. Perhaps because sports isn't as widely relevant as news. Her Star colleague, Dave Feschuk, knows hockey up and down; back and forth. He, too, can bring it when moved to strongly declare. Same with Michael Traikos of the Sun, who has waded slowly and carefully into the opinion game.
ONLY ONE HOPE FOR THE CANADIENS: Based on results from the 56–game regular season, the initial Toronto–Montreal playoff series since 1979 should be rather brief. The first–place Leafs finished 18 points ahead of the fourth–place Habs in the North Division. Toronto won the 10–game season series, 7–2–1. The clubs are not equal in any way except, potentially, one: between the pipes. The only prayer the Canadiens have of crafting a major, first–round upset lies with Carey Price; his ability to shake off rust and the after–affects of a concussion. Price hasn't seen action since Apr. 19. He was injured in the first period of Montreal's 4–1 loss at Edmonton when bumped by Oilers forward Alex Chiasson… on a goal by Connor McDavid that was eventually disallowed.
Jake Allen has since carried the load, making 10 starts and recording a 4–4–0 record. Though Allen is a competent back–up, Montreal has no chance of extending the Leafs beyond five games… unless Price comes in healthy and stands on his head for nearly two weeks. Which isn't entirely out of the question. Especially given that the Maple Leafs–Habs best–of–seven affair doesn't open until next Thursday, affording Price extra recovery time.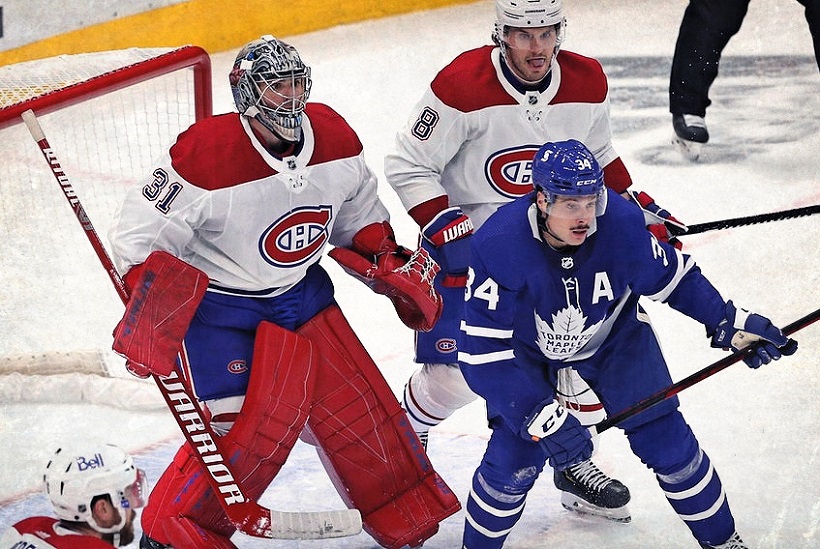 CAN HABS GOALIE CAREY PRICE REBOUND FROM A CONCUSSION AND MAKE LIFFE DIFFICULT IN THE PLAYOFFS FOR AUSTON MATTHEWS AND THE TORONTO MAPLE LEAFS? GETTY IMAGES/NHL
Of all the goalies in the Maple Leafs–Canadiens series (Jack Campbell, David Rittich, Frederik Andersen, Allen), only Price has the capacity to suddenly get hot and stop cold a superior opponent. In his past four playoff years (2013–14 to 2019–20), while making 40 appearances, his goals–against averages were 2.36, 2.23, 1.86 and 1.78. His save–percentages were .919, .920, .933 and .936. In other words, remarkable. As such, the Maple Leafs and their fans must be hoping that Price is still bothered by the head injury and will not be able to regain top form. Should that be the case, Toronto will eliminate Montreal in five games. If Price is able to play at, or near, his best, all wagers are off. Particularly considering that the big Toronto shooters — Auston Matthews, John Tavares, Mitch Marner, William Nylander — have not, as yet, been able to distinguish themselves in the post season.
STILL SHY ON BLUE LINE: If the Leafs pose a legitimate Stanley Cup challenge this spring, they'll do so unconventionally. While the consensus favorites to win the NHL title — Vegas (Alex Pietrangelo), Colorado (Cale Makar) and Tampa Bay (Victor Hedman) — each possess a Top 6 defenseman, Toronto breezed to the North Division crown without a reasonable facsimile. Though Morgan Rielly displayed elite tendency in the past, he endured a disappointing season (35 points) in which he rarely performed as a No. 1 blue–liner (Montreal's top defenseman, Jeff Petry, out–pointed Rielly by seven). In fact, the entire Toronto back end was, yet again, average… even if the club, under Sheldon Keefe, committed to a much–improved defensive structure. How the Leafs can win the Stanley Cup without anyone performing close to a Norris Trophy ranking is a mystery. Outgunning rival teams in a generally weak Division for 56 games will become a more–difficult task as the playoffs evolve. Here's betting the Stanley Cup finalists will each possess an elite defenseman. Which the Leafs can neither develop nor acquire.
CATHAL CALLS IT: Returning to the subject of strong media opinion, sports columnist Cathal Kelly of the Globe and Mail — among the few willing to irritate the hockey establishment — offered an unassailable fact late this week. Under a headline NORTH DIVISION A RESULT OF GERRYMANDERING FOR CANADIAN FANS, Kelly wrote: "[The division] had only one certain result – guaranteeing this country a spot in the semi–final stage of the Stanley Cup playoffs. It wouldn't seem so brazen if Canadian franchises had shown any ability over the past decade to manage this by themselves. But they haven't." It's true. In the past nine playoff tournaments (dating to 2012), Canadian franchises have made the Final Four only three times (Montreal 2014; Ottawa 2017; Winnipeg 2018). Not since 2011 has a team from north of the 49th played for the Stanley Cup (Vancouver lost in seven to Boston). And, as most hockey fans are likely aware, the 1993 Montreal Canadiens are the most–recent NHL champion from the Great North. So, yes, the built–in semifinalist of 2021 will garner much attention in our land.
EMAIL: HOWARDLBERGER@GMAIL.COM