TORONTO (May 5) — Mitch Marner turns 24 today. By the standard of professional hockey, he is no longer a kid.
In 352 National Hockey League games, Marner has 354 points. Line–mate Auston Matthews has 348 points in 330 games. Which equals 702 points in 682 games. A pretty fair combo. No Leafs player since Mats Sundin — the all–time franchise leader — has performed at better than a one–point–per–game clip: Sundin with 987 points in 981 matches between Jan. 20, 1995 and April 5, 2008. Given his remarkable skill, Matthews already ranks among the top half–dozen Leaf shooters in history. He's the best natural goal–scorer to wear a Toronto jersey since Rick Vaive (1980–87). But, Marner provides the fuel for Matthews' combustion. Only Connor McDavid, Leon Draisaitl and Patrick Kane have accumulated more than Marner's 46 assists in this "pandemic" season. He is an extraordinary skater and playmaker — the most–integral component of the best NHL team north of the border.
Question is: Are we seeing the best of Mitch Marner? Or, does he have another gear? Can he put up 70 assists and 100 points in a full, 82–game schedule? Placing him alongside the other Leafs with triple figures, Darryl Sittler and Doug Gilmour? All indications prove affirmative… if only Marvelous Mitch could avoid his early career interruptions: a foot injury that cost him 11 games of last season's 70–game schedule. And, the two NHL seasons, including this one, that have been impacted by COVID–19. Toronto is playing 56 games, none in front of a live audience. Last season was abruptly halted on Mar. 12; the Leafs falling 12 games shy of a full schedule. Marner hasn't participated amid "normal" circumstances since 2018–19, when he amassed 94 points in 82 games, the highest total for a Leaf since Sundin registered the same number in 1996–97. Who knows what he is fully capable of until (or if) the NHL reestablishes a pattern of 41 home and 41 road games amid arenas filled with spectators?
The prospects, however, are tantalizing.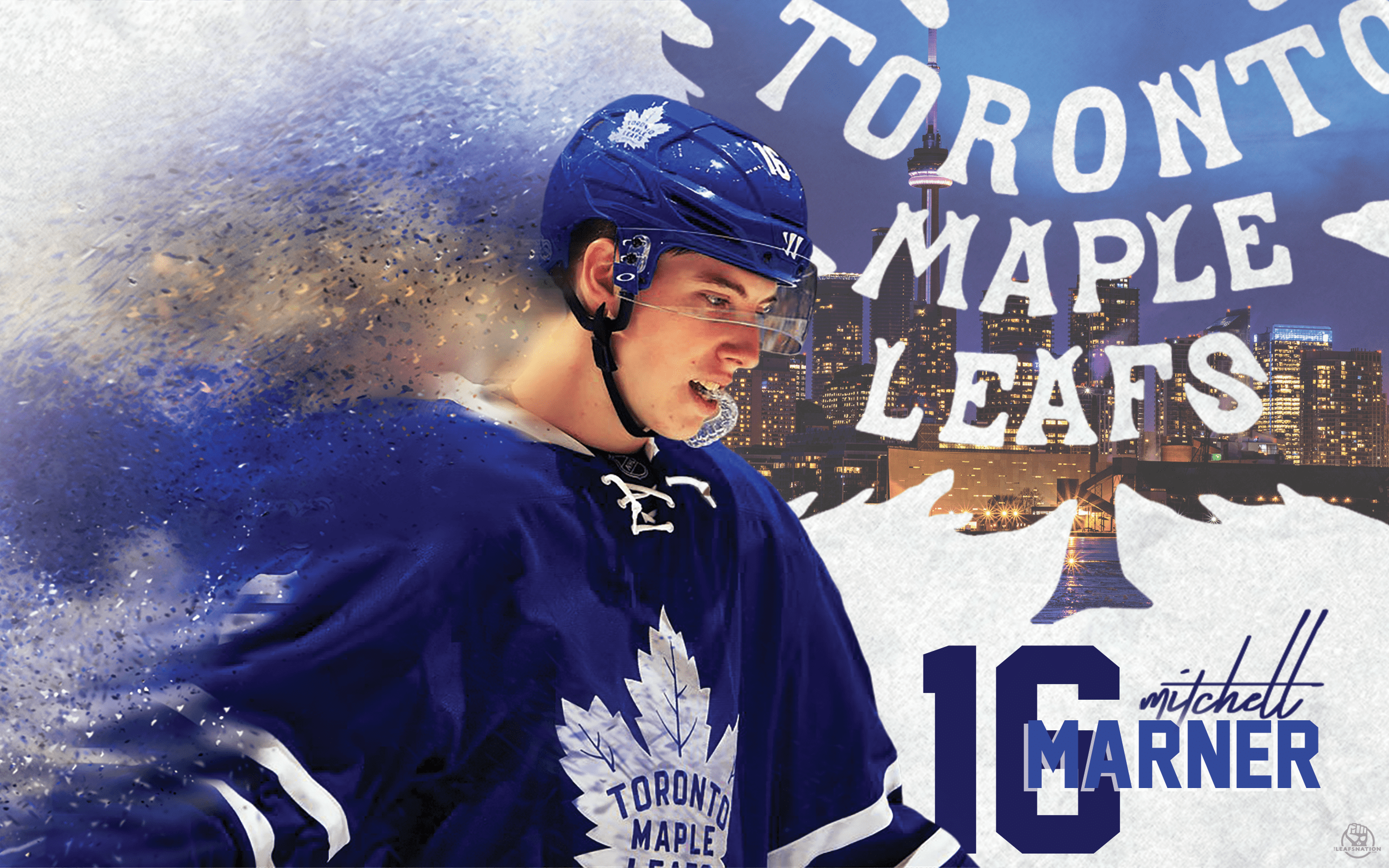 Marner was an absolute phenomenon in his final season of Junior with the London Knights — by many miles, the best player in the Canadian Hockey League. He had 116 points in 57 regular–season matches; then erupted for 44 points in 18 playoff games as London defeated Rouyn–Noranda of Quebec to win the 2016 Memorial Cup. Marner had 14 points in four games of the tournament. Naturally, he was named Memorial Cup MVP. The previous summer, it appeared as if the Maple Leafs had a difficult decision regarding the No. 4 slot in the NHL draft: select the most–gifted forward available (Marner) or the top–rated defenseman (Noah Hanifin of Boston College).
Strongly encouraged by Director of Player Personnel Mark Hunter, whose family owned the London Knights (his brother, Dale, was coach), the Leafs chose Door No. 1. And, a half–decade of history offers evidence that Hunter was correct. Hanifin went next, to Carolina. He currently plays for the Calgary Flames and though competent, his career has never attained the anticipated trajectory. The Arizona Coyotes, given hindsight, erred by selecting Erie Otters' forward Dylan Strome ahead of Marner. Strome now plays for Chicago. His best NHL season was 2018–19 when he put up 51 points in 58 games with the Blackhawks. And while there was no debate at the time, one can even argue, today, that Buffalo would have benefitted from choosing Marner in the No. 2 slot ahead of Jack Eichel, whose injury plagued career has yielded totals of 82 and 78 points, fewer than Marner's 94 in 2018–19.
There is, of course, no second–guessing of McDavid as the first pick of the 2015 draft.
In this season, limited to Division quarrel, Marner sits fourth, and Matthews sixth, for the Art Ross Trophy (which McDavid will win for the third time). The M&M boys have combined for 57 goals (Matthews leading the NHL with 39) and 107 points. These totals have been accrued in the tepid North Division, where only the Leafs and Oilers have performed at an elite level. So, they are distorted to some degree. Still, Marner and Matthews have the ability to mirror the other prolific Leaf tandems of the modern era (some just briefly): Red Kelly and Frank Mahovlich; Norm Ullman and Paul Henderson; Darryl Sittler and Lanny McDonald; Bill Derlago and Rick Vaive; Vincent Damphousse and Gary Leeman; Doug Gilmour and Dave Andreychuk; Mats Sundin and Alexander Mogilny.
Again, totals will be more arduous to compile once the NHL returns to its conventional structure, with the Leafs in the Atlantic Division alongside Tampa Bay, Florida and Boston, while facing all other league opponents. Same applies to playoff tournaments in the years after this, when the Maple Leafs may not be favored to emerge from divisional competition into the Stanley Cup semifinals (though McDavid and the Oilers will surely supply a stiff challenge if Toronto and Edmonton survive the opening round). It provides Marner and Matthews an enviable platform from which to effectively launch their post–season careers. They were far–less of a factor than needed when the Maple Leafs were bounced by Columbus in the qualifying round of the playoffs last August.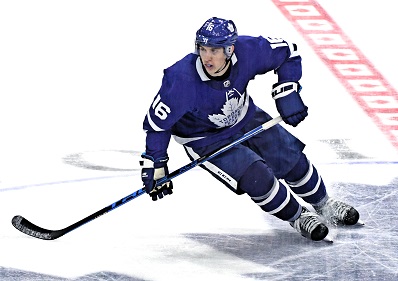 CAN MITCH MARNER ELEVATE HIMSELF, OVER THE SPAN OF YEARS, TO THE LEVEL OF FORMER LEAFS CAPTAIN DARRYL SITTLER (LEFT), THE SECOND ALL–TIME LEADER IN FRANCHISE POINTS?
What will be saying and writing about Marner a year from today, when he turns 25?
Ate that age, Sittler (in 1975–76) became the first Maple Leafs player to amass 100 points in a season.
Can Marvelous Mitch upstage the Hall–of–Fame center? Undoubtedly, there is potential.
BOBBY HULL'S WHA DEBUT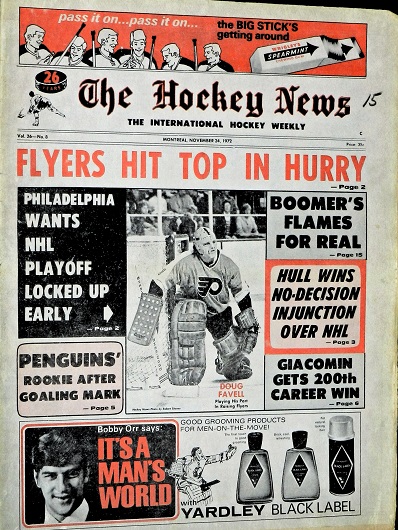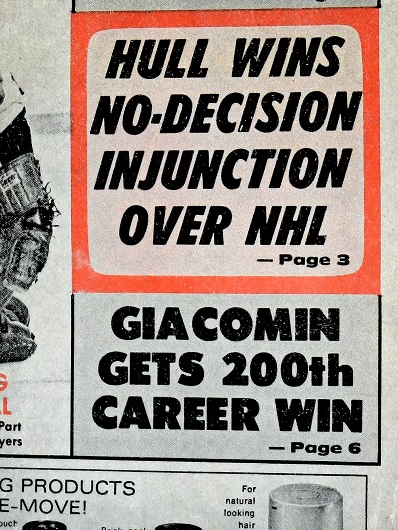 I came across some history, today, while looking at the Dec. 24, 1972 edition of The Hockey News (above). On Page 3 was the story of Philadelphia District Court judge Leon Higginbotham, whose decision prevented NHL teams from executing the so–called Reserve Clause, which bound a player to a club in perpetuity, or until traded. Higginbotham's ruling paved the way for Bobby Hull to leave the Chicago Black Hawks at the end of his contract and join the Winnipeg Jets of the new World Hockey Association. The Jets had signed Hull to a 10–year, $2 million pact in the summer of '72, but were precluded from dressing him by a court injunction the Black Hawks obtained. As outlined, below, Hull and the WHA overcame the injunction on Nov. 8 of that year. And, Hull played his first game with the Jets, later that night, at the Colisee in Quebec City, against the Nordiques.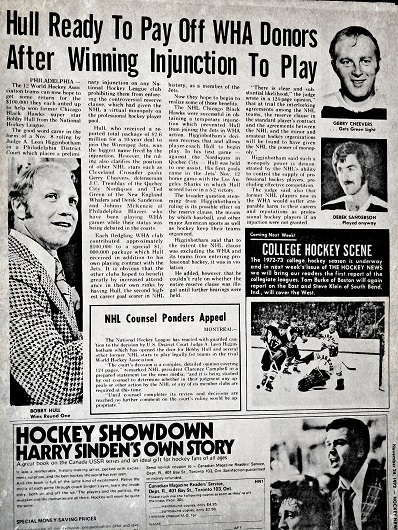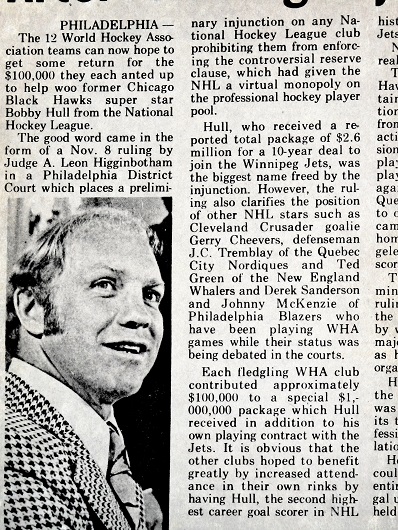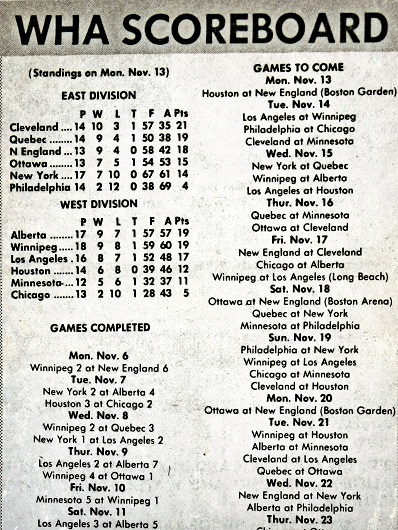 Hull recorded his first WHA point — assisting on a goal by Danny Johnson with five seconds remaining (bottom–left) — in his debut with the Jets, before a sellout crowd of 10,126 at the Colisee (Johnson died young, at 48, in March 1993; he played one game with the Toronto Maple Leafs, in 1969–70). Hull scored his first two of 303 WHA goals in a Nov. 14, 1972 home game at Winnipeg Arena (bottom–right) against the Los Angeles Sharks. He beat goalie George Gardner (d. Nov. 6, 2006) early in the first period and late in the third. Neither of Hull's first two games in Winnipeg sold out. The crowds were 7,500 (vs. Minnesota Fighting Saints, Nov. 10) and 7,563 for the Los Angeles visit. The Winnipeg Arena capacity (pre–NHL) was 9,500, though 9,800 people jammed the building in September 1972 for Game 3 of the legendary Canada–Russia series. Hull turned 82 on Jan. 3 of this year.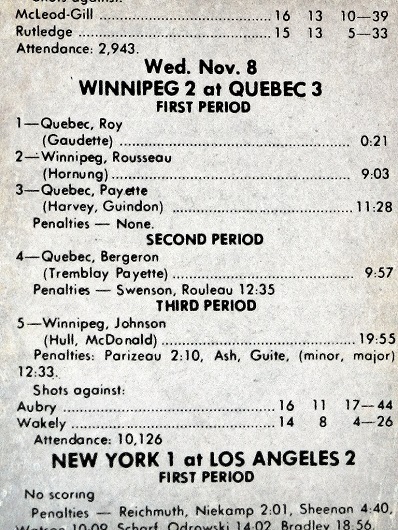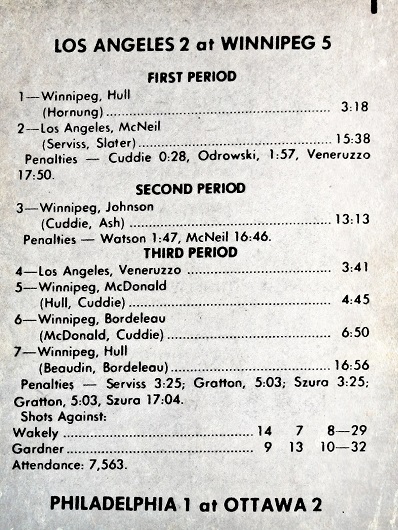 EMAIL: HOWARDLBERGER@GMAIL.COM