TORONTO (June 2) — I wanted to write this blog earlier, but the playoff collapse of the Leafs got in the way.
Tuesday, just after noon, represented 10 years since Don Kollins, program director at The FAN–590, told me my "services were no longer required", thus ending a mostly wonderful, 23–year career in radio.
Though I lost my composure and stormed out of the Rogers building at 1 Mount Pleasant Drive — a silly, uncharacteristic eruption for which I apologized to Kollins on the phone two days later — I neither held the decision against Don nor experienced more than those few seconds of outward bitterness. How could I, after spending 16 years doing what no one before me had: following the Maple Leafs, home and away, as a radio beat–reporter?
I was the luckiest guy on Earth — attending all but a handful of Leafs games between the playoff run of 1994 and the 2009–10 National Hockey League season. Along with such team broadcasters as Foster Hewitt, Ron Hewat, Peter Maher and Joe Bowen; adding in newspaper beat–men such as Red Burnett, Frank Orr and Paul Hunter (Toronto Star); John Iaboni, Scott Morrison and Lance Hornby (Toronto Sun); James Christie, Donald Ramsay and David Shoalts (Globe and Mail), there are roughly 15 other people, in history, that have followed the Maple Leafs as I did over a span of years. With untold thousands of others merely able to dream about such an assignment.
So, angry or bitter? Hell no. More like thankful and blessed for such a rewarding opportunity.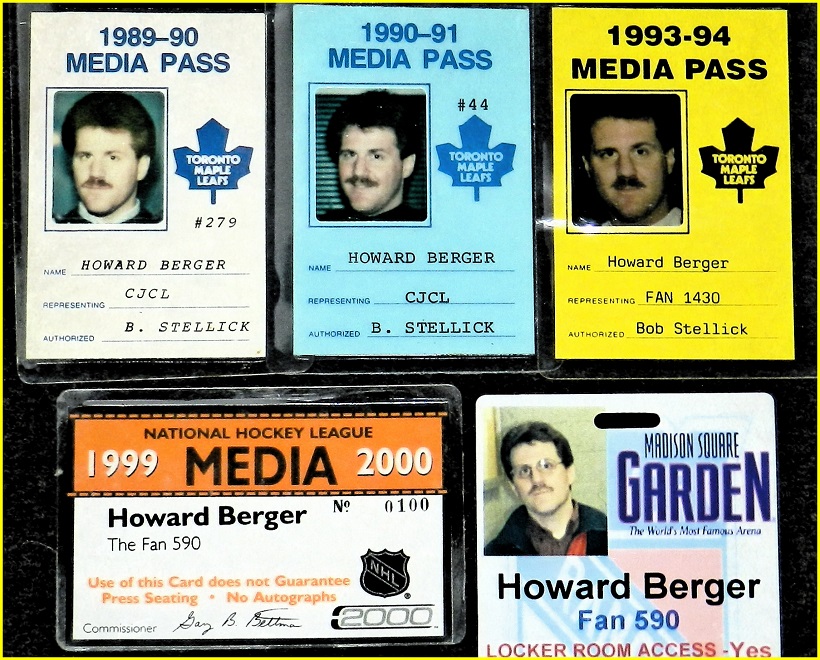 I COVERED THE MAPLE LEAFS OVER MANY YEARS (AND HAIRSTYLES) DURING MY RADIO CAREER.
My time covering the Maple Leafs virtually coincided with the career of Mats Sundin in a Toronto jersey.
Sundin came over from the old Quebec Nordiques in a trade (for Wendel Clark and others) at the 1994 NHL draft in Hartford. He played his first game for the Leafs, at the Los Angeles Forum, on Jan. 20, 1995, after the owners' lockout that resulted in a 48–game schedule. It was the same night that I began covering the team, full time.
Sundin's era, mostly as Leafs captain, ended after 2007–08 (he joined Vancouver as a free agent). I continued in my role through the following season (2008–09), at which point my travel privileges were reduced by roughly 60 percent; then eliminated. With half–responsibility gone, I spent the last couple of years doing nothing at The FAN but collecting my salary. I remember it as an unhappy time and it came as mostly a relief to be terminated (June 1, 2011) without cause… and with nearly two years of severance salary (the result of a minor, legal challenge).
When I emailed Kollins today and asked what, if anything, he remembered about firing me, he replied: "Hmmmmm… it was a sad day. Never wanted to do that and have never liked the idea of letting veterans in the industry go. But, it was part of the job and, as you know, there were others that had similar meetings. This has been a consistent move for radio companies through the years – cuts, cuts, cuts. For you my friend, from what I can remember, it was a move to save money…that's it. The move away from reporters traveling with or following teams."
I appreciated Don's reply and there's no disputing his account. Though Dan Dunleavy and David Alter continued as "Leaf reporters" for The FAN, neither traveled, full time, to cover the team. Nor has anyone in the interim. I vehemently disagree with the trend. At a sports–radio station in our city, there should exist a dedicated person following the Leafs all over the map. Even if it isn't possible to cover the team as I did: with a critical eye and independent of affiliation. Not since Sportsnet–590 fell under ownership of Maple Leaf Sports and Entertainment when Rogers Communications acquired 37.5% of the company (along with Bell Canada's 37.5% and Larry Tanenbaum's 25%) on Dec. 9, 2011. Today, it's about "branding"; about "partnership" between media and team… and about carefully worded criticism of the "product." Given that criteria, I would have lasted 16 days, not years.
So, yeah, I got out at the right time.
Today, and since November 2017, I am blessed to enact the most–meaningful role of my life as a funeral director's assistant at Benjamin's Park Memorial Chapel, the largest–such Jewish entity in Canada. Working for a mensch (Marc Benjamin), I spend time helping others through darkness and grief. Not always easy, but forever rewarding. And with the fondest memory of living my dream–job in hockey at Canada's first all–sports radio station.
LEAFS POST–MORTEM: PLAYERS AND EXECUTIVE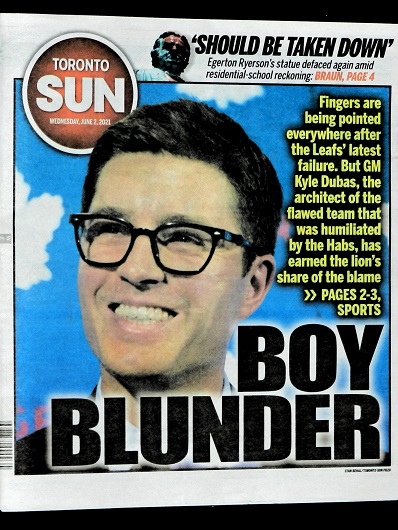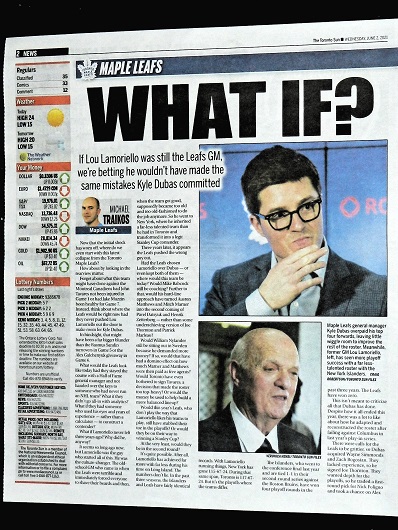 I don't agree with the cover of today's Toronto Sun (above), or the headline.
Kyle Dubas hasn't "blundered" his way through three years as general manager of the Maple Leafs. And, as much as I admire Michael Traikos, his "what if" column surmising about the Leafs retaining Lou Lamoriello in 2018 was way too easy. Woulda… coulda… shoulda is yesterday's news, replete with dollops of hindsight. More of a challenge is a columnist looking to the future and opining whether Dubas should retain his position. As I made clear in yesterday's blog (https://bit.ly/3fFSLLF), and given that managing a team in the NHL is about results, I contend the Leafs must make a change. Particularly before a proven veteran, Jim Rutherford, is off the market. I did not advocate for the Leafs to "get rid of" Dubas, though I'd imagine yielding the GM's role would be feel as such for Kyle.
There is no denying that he made one of the best trades in recent Maple Leaf annals by acquiring goalie Jack Campbell from Los Angeles. But, his big decisions — chewing up half the salary cap on four players, all forwards; the inability to construct a playoff winner around the nucleus — demand that the club looks elsewhere.
Leafs president Brendan Shanahan, unsurprisingly, offered no hint of change when addressing reporters today. The stunning collapse against Montreal occurred less than 48 hours prior. And, it was only on Tuesday that word got around about Rutherford receiving permission from the Pittsburgh Penguins to shop his services, which include three Stanley Cup titles as GM (2006 Carolina; 2016, 2017 Pittsburgh). To expect the Leafs would make an immediate switch is implausible. Same with Rutherford accepting a new role, though it's doubtful the veteran hockey executive will "hold up" a potential employer with unreasonable financial demands. Which should farther enhance his appeal after more than a full season of mostly empty arenas in the NHL owing to the pandemic.
So, let's give it a bit more time before consigning the Leafs to ultimate failure once again.
EMAIL: HOWARDLBERGER@GMAIL.COM