TORONTO (June 18) — I've been asked by several blog readers why I seem particularly down on the Toronto Maple Leafs right now. It's a fair question, though the concept of being "up" or "down" on a sports team connotes emotional engagement. And, while I will never squander my passion for writing or talking about the Leafs, whether they win or lose games doesn't affect me… and hasn't since my earliest time covering the team for The FAN–590.
There is far–too–much cheerleading and subjective involvement today amid those entrusted to follow the club professionally, in electronic and print media. If this corner is therefore worthy of anything, a critical eye governs what is written. As it did what was said about the team during my radio career. Whether or not you approve of it.
My objection toward the Leafs is nothing new, though it was largely exacerbated by the nonchalance of president Brendan Shanahan in the wake of the playoff collapse against Montreal. Through the ups and downs of his proprietorship, Shanahan maintained adaptability and lofty ambition — both of which were demolished by a sudden turn toward inflexibility. If the Leafs of the past half–decade were on trial for lack of playoff performance, even amid the lesser burden of "beyond reasonable doubt", there'd be ample evidence for conviction. Yet, Shanahan stubbornly disregarded the mountain of proof against his team and vowed to stay the course. "We will get this done," he assured all those in the absence of rationale; which, sadly, represents most fans of the team and some of those in mainstream media. As such, Brendan hasn't yet been called out by any person collecting a salary to cover the Leafs. His apathetic remark that the club lacks "killer instinct" was similarly neglected; as if he could alter such a crisis by casting a spell over the players entrenched in long–term salary. Finding a way out of this morass involves an onerous evaluation of the roster and the people that comprised it. Fundamental change is required.
Not some pompous, trivial guarantee that everything is fine… and what we've all seen is an illusion.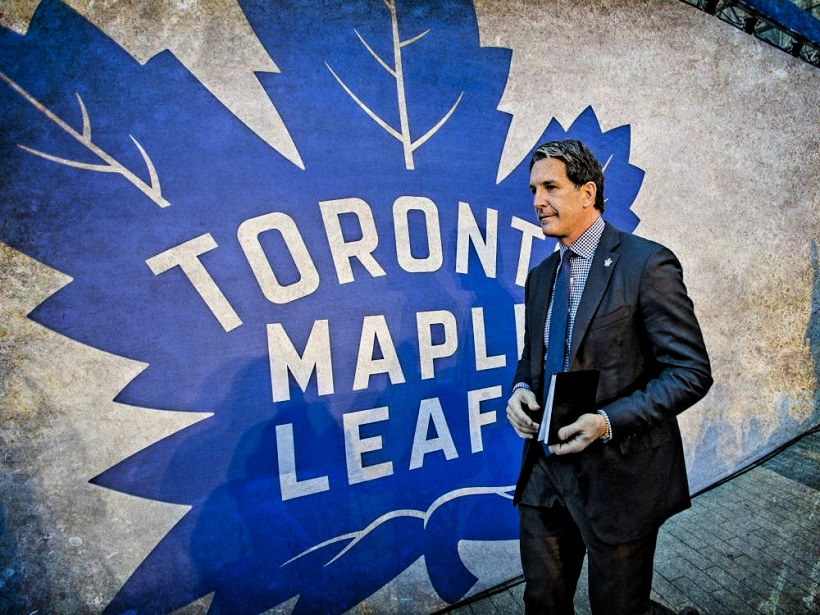 So, yeah, by the definition of some readers, I'm a little "down" on the Leafs. The reason? Shanahan's declaration showed that the club is still more–than–happy to exploit the unconditional devotion of its enormous following.
This, you can be sure, will be heightened by a carefully timed announcement that the cost of the National Hockey League's most–expensive tickets are to increase. Maple Leaf Sports and Entertainment — undoubtedly working on the language of such a memorandum (as if it matters in Corporate Toronto) — will cry poor as a result of lost revenue from the pandemic. No part of the announcement will include that Bell and Rogers, which comprise 75% of MLSE, are among the most–profitable enterprises in North America; that they received a combined $205.2 million in support as part of the Canada Emergency Wage Subsidy (CEWS) or that both companies abused that gift by laying off countless employees. Neither will it tell you that Larry Tanenbaum, a 25% shareholder in MLSE and a kind, philanthropic man, is among the wealthiest individuals in Toronto; his former company, The Warren Paving & Materials Group Limited, having pored most of the concrete for the office buildings that dot the skyline. All you will read and hear is that MLSE has lost revenue during the pandemic. Which is indisputable; the hidden message that profit margins must be restored. And, most automatically, that MLSE is raising ticket prices because it can.
These are not the frugal, negligent Leafs of the Harold Ballard era. Shanahan came aboard with a blueprint that MLSE impeccably bought into. There was nothing cheap about bottoming out; drafting the best–available talent over a three–year span… and, ultimately, paying that talent NHL–commensurate wages. The addition of an established forward (John Tavares) for an intractable $77 million over seven years was not part of the plan and became a greedy accession. It also complicated the process, immeasurably, in the event the initial approach didn't work.
Which, today, seems irrefutable.
There is mounting evidence that the Leafs drafted the wrong people to deliver a Stanley Cup challenge, even if they wouldn't have known it at the time. Virtually nothing demonstrates that William Nylander, Mitch Marner and Auston Matthews, chewing up roughly $29 million of a flat salary cap, are capable of prolonging regular–season brilliance. If anything, the past four years have shown they wither, as a group, amid the added burden.
Ignoring such proof, as Shanahan vowed to all, is a derelict of responsibility.
And, if that, as an observer of the Leafs, doesn't get you "down" on the team, nothing ever will.
EMAIL: HOWARDLBERGER@GMAIL.COM