TORONTO (June 26) — I will watch hockey for the rest of my life and fail to understand how it happened. Just as I remember sitting in the basement of my next–door neighbor on the afternoon of Apr. 18, 1971 (2½ months after my 12th birthday) and gawking at his black–and–white TV screen. The best hockey team of my young life was losing Game 7, at home, to this lanky guy named Ken Dryden. In my view, it remains — half–a–century later — the biggest upset in Stanley Cup history. For, the 1970–71 Boston Bruins are still the greatest club, ever, in relation to the rest of the National Hockey League. And, undoubtedly, the finest collection to not capture Lord Stanley's mug.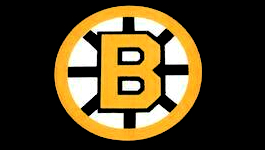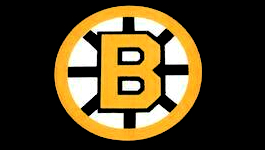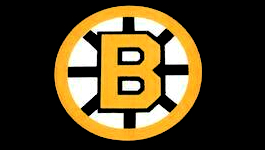 Just look at the 14–team NHL standings from 1970–71: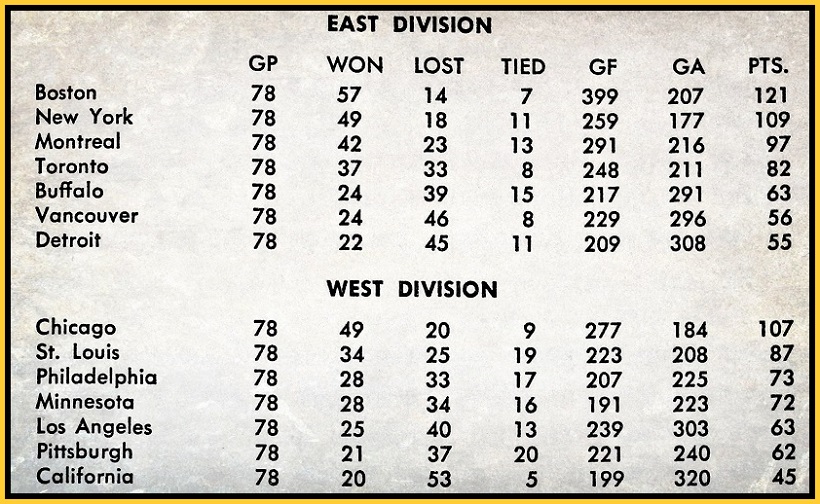 The Bruins established records for most wins, fewest losses, most goals scored and the largest–ever gap (192) between goals scored and allowed. That discrepancy, alone, was only seven goals fewer than the California Golden Seals managed in the full, 78–game schedule. The Montreal team that astounded the hockey world by taking out the Bruins in the opening playoff series was 24 points inferior and scored 109 fewer goals, for second place in the NHL. The four players pictured below — (left–to–right) Bobby Orr, Phil Esposito, Ken Hodge and Johnny Bucyk — occupied the top four positions in the points race and combined for more goals (207) than the entire Golden Seals roster (25 skaters). Orr, Esposito, Hodge and Bucyk put up 512 points; a record 152 of them by Esposito to win the Art Ross Trophy. Orr became the first player to record triple figures (102) in assists. Three other Bruins (Wayne Cashman, John McKenzie and Fred Stanfield) also had career seasons, giving Boston seven of the top 11 point producers in '70–71. But, the Canadiens, Chicago Black Hawks, New York Rangers and Minnesota North Stars all advanced farther than the Bruins in the Stanley Cup tournament. Yes… the Minnesota North Stars — 49 points inferior to Boston — extended Dryden and the Habs to six games in the Cup semifinals before bowing out. Thereby appearing in five more playoff matches than Orr, Esposito and Co. Even the godforsaken Toronto Maple Leafs, 39 points in back of the Bruins and having scored 151 fewer goals, competed in only one less playoff match, losing to New York in six. More than 50 years later, all of this continues to boggle the mind.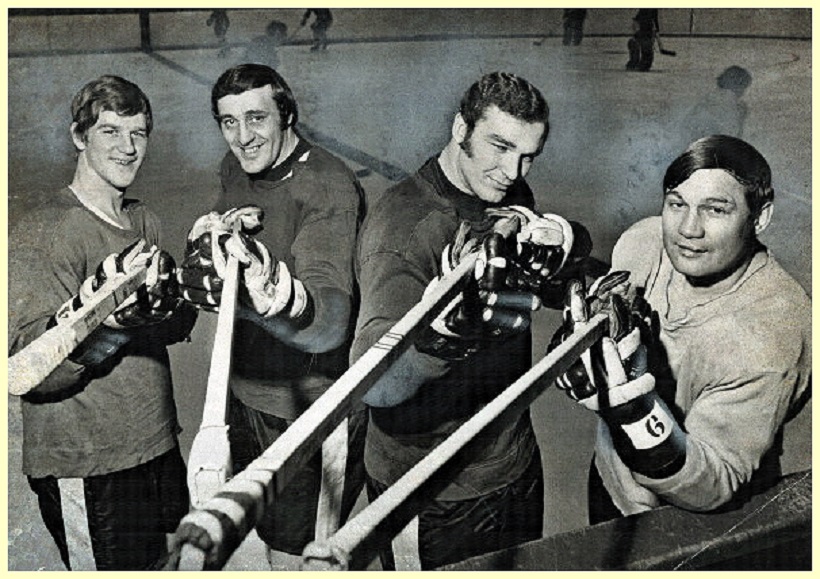 Here are the final scoring totals for the Boston juggernaut: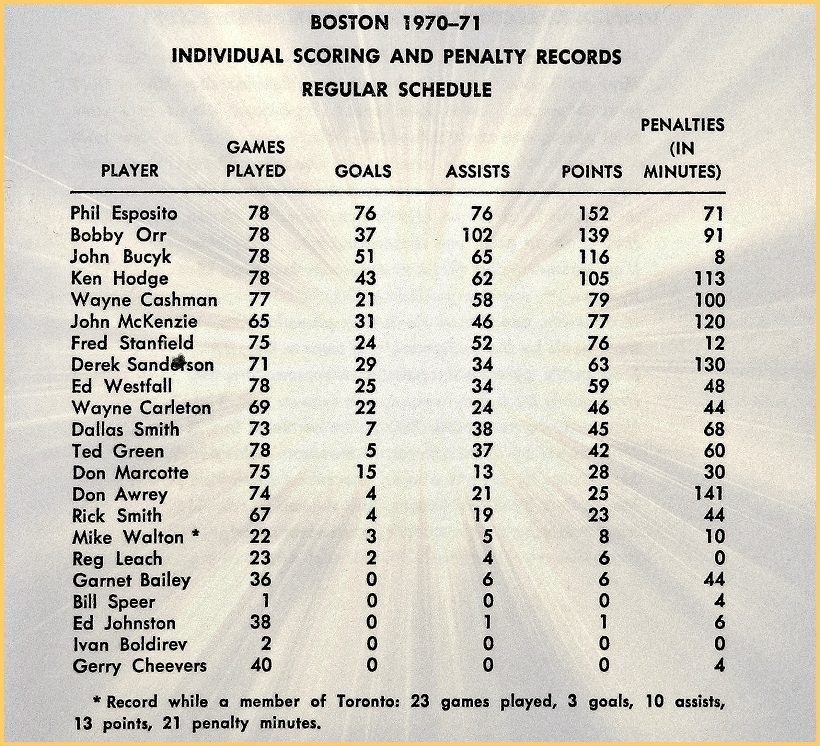 While compiling their record of 399 goals in one season, the Bruins — on 11 occasions — scored at least eight goals in one game. Here is a brief summary of those matches: 
WED. OCT. 14, 1970 — Boston 8 at Los Angeles 5
The big period for the Bruins, at the L.A. Forum, was the second — the visitors erupting for five goals on Denis DeJordy: Esposito (at 0:28), Hodge (7:14), Stanfield (14:46), Hodge (15:40) and Esposito (16:11). The Kings actually led after 20 minutes, 2–1, as Gord Labossiere and Larry Mickey beat Cheevers; Sanderson replying for Boston. Esposito completed a hattrick in the third and Cashman scored the Bruins eighth goal. Eddie Joyal and ex–Leaf Bob Pulford counted late tallies for Los Angeles. Boston outshot the Kings, 45–35. Lloyd Gilmour refereed the match with linesmen Neil Armstrong and Malcolm Ashford.
WED. NOV. 18, 1970 — Boston 8 at Minnesota 4
The North Stars kept this game close at the Met Center until midway through the second period, trailing only 4–3. Bucyk (with two) Hodge and Stanfield scored for Boston; J.P. Parise, Bobby Rousseau and Buster Harvey for the home side. But, the Bruins scored the next four to blow it open: Hodge (his second), Esposito (twice) and Sanderson beating rookie goalie Gilles Gilbert. Danny Grant scored a late powerplay goal for Minnesota. Hodge and Ted Harris fought just 1:03 into the match, officiated by Bruce Hood, with linesmen Pat Shetler and Rob Waddell.
THU. DEC. 10, 1970 — Buffalo 2 at Boston 8
This is not a typo: the Bruins outshot the expansion Sabres, 72–28. It still represents the second–highest total in the NHL's so–called "modern era," which began in 1943–44 with the introduction of the center–ice red line. The Bruins also hold the single–game record of 73 shots in a 3–3 tie with the Quebec Nordiques, at Boston Garden, on Mar. 21, 1991. In the Buffalo onslaught, Joe Daley of the Sabres encountered all 72 shots, stopping 64. Remarkably, the game was tied, 2–2, after the second period: Eddie Shack and Phil Goyette twice giving Buffalo the lead; Orr and Stanfield replying for Boston. Daley finally wilted in the third, as the Bruins pored in six unanswered markers — Stanfield (at 2:15), Bucyk (2:54 and 8:17), Esposito (9:34), Hodge (10:00) and McKenzie (18:39). Johnston was in goal for the Bruins. Dave Newell officiated the match with linesmen Pat Shetler and Rob Waddell.
FRI. DEC. 25, 1970 — Pittsburgh 4 at Boston 8
It was hardly a Merry Christmas for Penguins goalies Al Smith and Les Binkley, who combined to face 51 shots at the Boston Garden. Andy Bathgate and Dean Prentice actually had Pittsburgh in front, 2–0, after only 4:40 of play before Boston got serious, scoring the next six — Espoisito and Bucyk with two; Marcotte and Hodge with singles. Rookie Greg Polis beat Cheevers twice in the third, with Cashman and Marcotte (his second) replying for the Bruins. Referee Dave Newell assessed the Bruins 35 penalty minutes; the Penguins only 15. Orr and Sanderson were given 10–minute misconducts. Newell worked with linesmen Dave Shewchyk and future NHL ref Bob Kilger.
FRI. JAN. 1, 1971 — Boston 9 at Buffalo 4
Happy New Year, Joe Daley. How about another 40 Bruin shots… and nine goals? This time, Boston didn't waste time, bolting to a 4–1 first–period lead at the old Memorial Auditorium — McKenzie and Hodge each scoring twice; rookie–of–the–year Gilbert Perreault replying for the Sabres. Dallas Smith and Sanderson increased the lead to 6–1 in the middle frame before the home side came alive: Eddie Shack (with two) and Gerry Meehan lifting Buffalo to within 6–4 by 1:29 of the third. But, Stanfield (with two) and Marcotte scored on Daley to widen the final margin. Bob Sloan refereed the match (handing out 22 penalty minutes) with linesmen Ron Ego and Rob Waddell.
THU. JAN. 14, 1971 — Los Angeles 5 at Boston 9
The Bruins fired 47 pucks at L.A. goalies Jack Norris and Denis DeJordy in a shootout at the Boston Garden. Esposito scored three goals for the Bruins, bringing his total to 41 in 46 games. Carleton (with two), Stanfield, McKenzie, Cashman and Hodge had the others. Juha Widing scored twice for the Kings on Cheevers; Bill Flett and Lucien Grenier had singles. Boston led 6–1 by 13:29 of the middle period. The referee was John McCauley (handing out only 10 penalty minutes); the linesmen, Pat Shetler and Malcolm Ashford.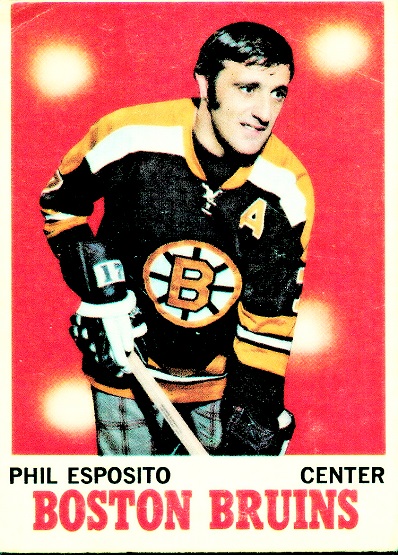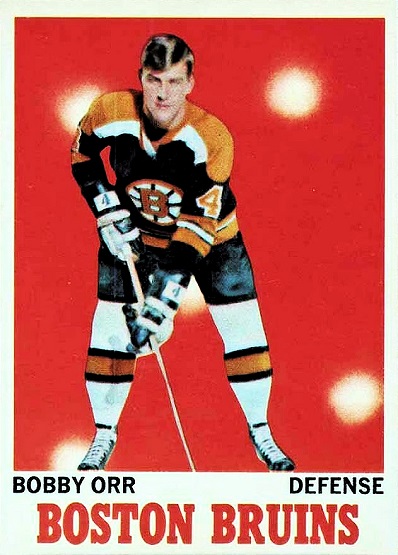 SUN. JAN. 17, 1971 — Toronto 1 at Boston 9
The beat continued just three nights later, at the Garden, as the Bruins victimized poor Bruce Gamble for 54 shots and nine more goals. The home team had a 4–0 cushion by 14:45 of the first period: Hodge, Bucyk, Marcotte and Cashman beating Gamble. Dave Keon got the Leafs on the board early in the second, but Esposito and Marcotte scored 22 seconds apart later in the period. Orr, Westfall and Stanfield made it a laugher in the third. It was quite a turnaround for the Leafs, who had demolished the Kings, 8–1, on home ice the previous night. Referee Bruce Hood was busy in this game, doling out 80 minutes in penalties. There were two fights: Hodge and Bob Baun in the second period; Hodge and Jim Dorey during a wild outbreak at 9:15 of the third, in which Hood also gave Hodge and Dorey 10–minute and game misconducts. Pat Shetler and Dave Shewchyk were the harried linesmen.
THU. FEB. 25, 1971 — Vancouver 3 at Boston 8
To show they weren't favoring either of the expansion teams, the Bruins lathered Canucks goalie Dunc Wilson with 60 shots. Again, it took awhile for the Bruin juggernaut to get motoring at the Garden, as the visitors actually led, 2–0, nearing the midway mark of the second period; Rosaire Paiement and Murray Hall beating Ed Johnston. Stanfield and McKenzie tied the match after two. And, the Bruins erupted for six goals in the third period — Bucyk, Westfall and Green victimizing Wilson in a 20–second span to break the tie and set a league record that still exists for fastest three goals by one team. McKenzie and Ray Cullen later traded goals. Bucyk completed a hattrick with two more, 1:35 apart, in the dying minutes. Orr and Paiement twice fought; the Vancouver rookie winning both scraps. Referee Bill Friday handed out 54 penalty minutes, working with linesmen Matt Pavelich and Rob Waddell.
WED. MAR. 10, 1971 — Boston 8 at California 1
This game is best remembered for Esposito tying Bobby Hull's NHL record from 1968–69 of 58 goals in one season. Esposito scored unassisted on Gary Smith at 13:39 of the second period to give the Bruins a 5–1 lead at the Oakland Coliseum–Arena. Orr scored twice with singles going to Awrey, Bucyk, Walton, Carleton and McKenzie. Dennis Hextall scored California's only goal on Cheevers, briefly tying the match, 1–1, early in the second. The Bruins came into the game with 105 points; the Seals, 41. Referee Ron Wicks assessed only 14 penalty minutes in the tame affair, working with linesmen Rob Waddell and Matt Pavelich. Esposito would eclipse Hull's season goal mark the following night, beating Denis DeJordy in a 7–2 Bruins victory at the Los Angeles Forum.
TUE. MAR. 16, 1971 — Boston 11 at Detroit 4
Ned Harkness, the first–year coach of the Red Wings, was hugely unpopular with his players. No wonder, after keeping poor Roy Edwards between the pipes for this entire 48–shot, 11–goal barrage at the the old Detroit Olympia. The game, actually, was close after two periods with Boston ahead, 5–3, on goals by McKenzie, Bucyk, Carleton, Stanfield and Rick Smith. Nick Libett, Gordie Howe and Guy Charron replied for the Wings against Cheevers. A 6–1 Bruins onslaught in the third made it a rout. Bucyk, Carleton and Smith scored their second of the night. Westfall, Hodge and Esposito (with No. 62) also connected; Mickey Redmond replied for Detroit. Referee Bruce Hood had a quiet night, doling out 12 penalty minutes with linesmen Willard Norris and George Ashley.
SAT. APR. 3, 1971 — Boston 8 at Toronto 3
I attended this game at Maple Leaf Gardens on the final weekend of the season. Goalies Ed Johnston and Bernie Parent were busy, as Toronto outshot Boston, 42–40. Otherwise, it was no contest. Esposito had two more goals, upping his record haul to 73. Carleton notched a hattrick against his first NHL club. Orr set up three goals and became the first player to record 100 assists in a season when Hodge beat Parent at 10:19 of the third period. Bucyk (his 51st) and Stanfield also struck for the visitors; rookie Darryl Sittler (his 10th), Billy MacMillan and Norm Ullman replied for Toronto. Lloyd Gilmour officiated the match with linesmen Claude Bechard and Leon Stickle.
THE PLAYOFFS… IN THEIR OWN WORDS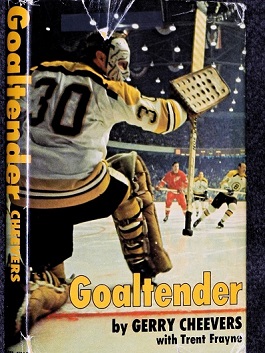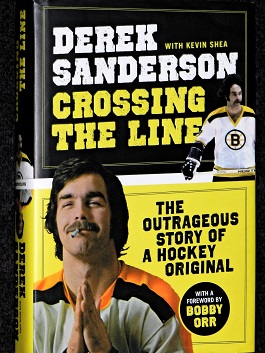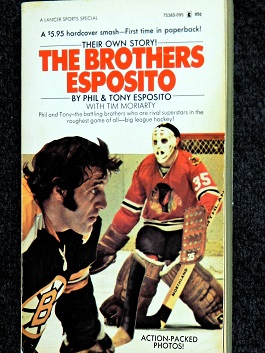 In these books, Gerry Cheevers, Derek Sanderson and Phil Esposito reflected on the shocking, first–round defeat against Ken Dryden and the Montreal Canadiens. Particularly, about blowing a 5–1 lead at the Boston Garden in Game 2 and losing, 7–5. Here are examples…
How the hell does anyone know what will happen in the playoffs? If the Canadiens can handle us, they'll have to come up with a super effort — which is not impossible, but is unlikely. — Gerry Cheevers, GOALTENDER
The Canadiens weren't the team I expected at this time of the year [Apr. 1, 1971]. But, they've got a real conniver in Sam Pollock, their general manager, and maybe they are just playing possum… they dipped into their farm system and brought up Ken Dryden from the [AHL] Montreal Voyageurs. He won something like six straight games. — Gerry Cheevers, GOALTENDER
We went into our opening playoff series against Montreal supremely confident. And, why not? We had breezed to the East Division championship while the Canadiens finished third, 24 points behind us. We had rewritten the record book, setting 18 team and 19 individual marks. And, the odds were 4½–1 in our favor. We couldn't lose. — Phil Esposito, THE ESPOSITO BROTHERS
We weren't worried about the Canadiens. Our strategy was to let them come up with a plan to beat us, and that kind of rattled me. Confidence is one thing, but cockiness is different. And, after all, they were the Montreal Canadiens, a team you could never underestimate. — Derek Sanderson, CROSSING THE LINE
We whipped the Canadiens five times in our six games this season, outscoring them 29–14. We know we can handle them. We [also] know that crazy things can happen in the playoffs. The Canadiens certainly will not roll over and play dead. — Gerry Cheevers, GOALTENDER
The series would open at the Boston Garden on Apr. 7. In our final practice, I was seized by a strange feeling and I discussed it with Fred Stanfield. "I don't know what's wrong with me, Fred. I feel weak and a little tired. How about you?"  Fred replied: "I don't feel right, myself. But, we've got to shake this off real fast." We won the series opener, 3-1, but I must admit we were lucky. We played lousy. All of us except Gerry Cheevers. He was sensational in goal and kept us in the game. Ken Dryden was just great in the Montreal net. He was a rookie in his first playoff game, but he didn't seem too nervous. — Phil Esposito, THE ESPOSITO BROTHERS
Ken Dryden was highly overrated, in my opinion, but he was the first big goaltender. It took awhile to get used to that; we hadn't seen it [with Rogie Vachon]. We won the first game, 3–1, and Cheevers played really well, so we were surprised when [coach] Tom Johnson named Eddie Johnston [for] Game 2. We went into the third period leading, 5–2, and then we blew it. It may very well have been the greatest comeback in Montreal's history. They scored five unanswered goals. We just couldn't do anything right and Dryden couldn't do anything wrong. They [won] 7–5 and completely knocked the wind out of us. — Derek Sanderson, CROSSING THE LINE
The second game was a nightmare; the turning point of the series. We were skating rings around the Canadiens and leading, 5–1, in the second period. To this day, I don't know what the hell happened that night. I looked into the faces of some of our guys afterward and there was utter disbelief. They couldn't understand either how we had blown a four–goal lead. — Phil Esposito, THE ESPOSITO BROTHERS
The Canadiens appeared ready for burial shortly before 10 p.m. We had them, 5–1, [with] only about five minutes left in the second period. Then, in a turnaround to boggle the senses, Montreal scored the next six goals. God knows, it's not something new for the Bruins to pile into a big lead this season and let up a little. [But], letting up against the California Seals or Buffalo Sabres is not the same as [doing so] against the Flying Frenchmen. [During the comeback], it was Henri Richard and big [Jean] Beliveau, 74 years old between them, acting as if there was some kind of law against anyone else winning. — Gerry Cheevers, GOALTENDER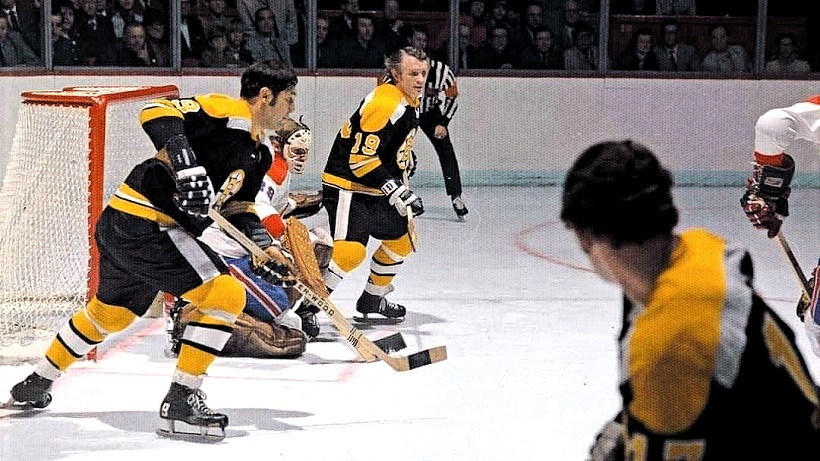 Then, reflections on losing the series at home in Game 7 by a 4–2 final, despite directing 48 shots at Dryden:
So, it all came down to the decisive seventh game on the afternoon of Apr. 18. When Ken Hodge put us ahead [at 6:50 of the first period] with an unassisted goal, the whole bench came alive. But, we lost that momentum when the Canadiens went ahead on goals by Frank Mahovlich [14:48] and Rejean Houle [17:38] before the end of the period. Now, we had to play catch–up and got a little sloppy. J.C. Tremblay scored for Montreal in the second period [15:44] after Jacques Lemaire stole the puck from Rick Smith. In the third period, Lemaire took the puck away from Orr and set up another goal by Mahovlich [0:14]. That did it. The Canadiens skated off with a 4–2 victory [John Bucyk scored the final goal of the series for Boston at 1:02 of the third] and we skated back to the dressing room in a state of shock. The Boston Bruins had been eliminated from the playoffs and it happened in our own rink, where we'd played like champions [33–4–2] all season. — Phil Esposito, THE ESPOSITO BROTHERS
Dryden didn't provide the stellar goaltending everyone continues to talk about. He wasn't that good; just different. In Game 7, he stopped us in our tracks. — Derek Sanderson, CROSSING THE LINE
As I pull the towel away from my neck and get ready to go out for the second period, I find I'm thinking about that bastard, Dryden, how he lies down across the goalmouth when we're pressing; all 6–feet-4 of him sprawled out on his side, filling half the net with sheer bulk. An amazingly cool kid under these conditions. Between assaults, he rests on one foot, places the point of his stick–blade on the ice and leans his arms across the top [of the shaft]; chin resting on his big gloves. He picked one hell of a time to play the best goal of his life. The long–legged son–of–a–bitch [is] taking money out of my pocket. — Gerry Cheevers, GOALTENDER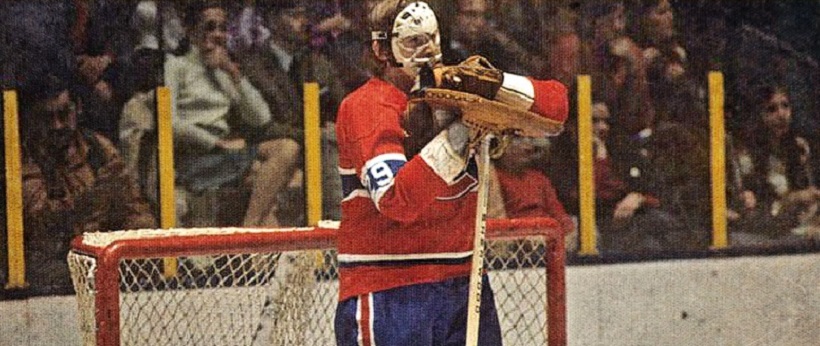 It was a huge upset. We were the [defending] Stanley Cup champions, for God's sake! We sat quietly in that dressing room; still in our [full gear] with our heads hung, almost as though someone had died. It had been a serious mistake to underestimate Montreal. That should have been our third Stanley Cup in a row [including the Game 6 semifinal defeat against the Habs in 1969]. — Derek Sanderson, CROSSING THE LINE
So, now we're down to the last 20 minutes. It's 3–1 against us, but it's been 3–1 against us before and maybe, just maybe, we can pull it off with a typical Bruin finish [Mahovlich scores 14 seconds into the third period]… I'll say this for us: We will not quit. We're down, 4–1, and it's a bitter body blow after all these months, but we will not quit. But, the Canadiens are not a team that rattles easily. Beliveau and little Henri Richard and Bad John [Ferguson] and [Jacques] Laperriere and Terry Harper just keep lobbing the puck out of their zone to center ice.It's the classic defense and it saps, blights and blunts. — Gerry Cheevers, GOALTENDER
What happened? Many things, really. I didn't play as well as I had during the regular season, getting three goals in the seven games. I was frustrated many times by Dryden, who played one helluva series. But, the thing that really hurt us was allowing the Canadiens to [control] play after that awful defeat in Game 2. They played their game and we didn't play ours. It was that simple. — Phil Esposito, THE ESPOSITO BROTHERS
So, the clock keeps ticking and with 10 minutes left, in the draining frustration, Derek [Sanderson] piles into John Ferguson, swinging and grunting and hoping his example will start a little fire that will bring us back. But, it is too late and though we've scored exactly 425 goals in the 85 games played since last Oct. 11, it turns out that we have scored three too few. — Gerry Cheevers, GOALTENDER
As I sat in the dressing room after the game, I cried. I turned away from the other players so they couldn't see me. And, I wept. — Phil Esposito, THE ESPOSITO BROTHERS
Now, it's all over. Tommy [Johnson] has locked the door to our [dressing] room to give us some time before we make our alibis for the newshounds. There is hardly a voice to be heard in the room. Nobody has taken off a single pad. We're just sitting here, staring at the floor. We're shocked, more than anything. It's a hard thing to absorb. And, let's give Montreal credit. In four or five games, they were a great hockey club, too. We know we can beat their ass, but it just happened they beat us this week. Give 'em credit. It's nearly 7 o'clock and the room isn't empty yet. When you know [it's over], I guess you want to keep the [equipment] on as long as you can. I wanted to tell Dryden when it was over that he'd done a big, big job, but I didn't. When the teams met in a straggly line at center ice and shook hands, I wasn't among them. I've never congratulated a guy for beating me and I sure as hell didn't feel like gripping Mahovlich's paw, and Harper's, and little M's [Peter Mahovlich], and Laperriere's, and Lemaire's. They put lumps on me and took my money. Why should I applaud them? Then Jacques Beauchamps, the sports editor of Le Journal de Montreal, came into our room for the deathless quotes. "Jacques," I said, "when you get on the plane, tell that giraffe [Dryden] he had a hell of a series." — Gerry Cheevers, GOALTENDER
COMPARABLES…
In the half–century since the 1970–71 Bruins were startled by Ken Dryden and the Canadiens, other playoff upsets have occurred. Among the most shocking involved the 2018–19 Tampa Bay Lightning, which tied an NHL record for most wins in a season by breezing to a 62–16–4 mark for 128 points, 21 more than second–place Boston. T–Bay's first–round playoff opponent, Columbus, was hardly a pushover, compiling 97 points one season after a franchise–record 108. No person on Earth, however, figured the Lightning would tie a Stanley Cup mark for fewest wins: zero. In fact, the Blue Jackets rolled over Tampa Bay in a four–game sweep, with a 19–8 edge in goals scored. Another 62–win team, the 1995–96 Detroit Red Wings, knocked off Winnipeg in six games in the opening round, then edged St. Louis by the narrowest of margins in Round 2 on an overtime goal by Steve Yzerman in Game 7 at Joe Louis Arena. The Colorado Avalanche, playing their first season in Denver after re–locating from Quebec City, traded for Hall–of–Fame goalie Patrick Roy in early December and soared to second place in the NHL standings with 104 points, still 27 fewer than Detroit. But, Mike Keane scored in overtime of Game 1 and the Avs swept the first two matches in MoTown, ultimately downing the Red Wings in six.
Roy and his 'mates then swept the surprising Florida Panthers in the Stanley Cup final.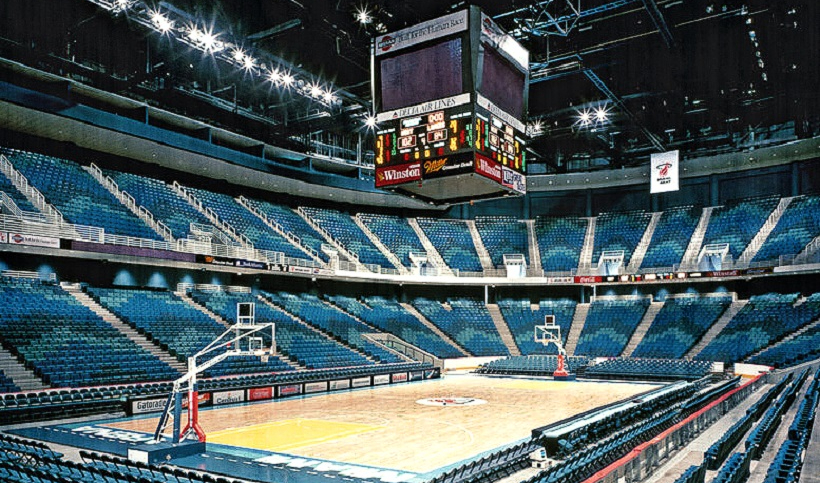 COLORADO WON THE 1996 STANLEY CUP IN OVERTIME OF GAME 4 AT THE OLD MIAMI ARENA.
The Edmonton Oilers, with Wayne Gretzky as the most–prolific scorer in NHL annals, were involved, consecutively, in stunning playoff results. In just their second season (1980–81) after being absorbed from the remnants of the World Hockey Association, the Oilers offered a jarring portent of their remarkable future. Edmonton (29–35–16) had finished 29 points behind Montreal (45–22–13) in the regular season. But, Gretzky and Co. rolled over the Canadiens in the best–of–five opening playoff round, outscoring the Habs, 15–6, in a three-game sweep. The following spring (1982) was Edmonton's turn to be confounded. After soaring to 111 points, second only to the New York Islanders, the Oilers were expected to easily subdue Los Angeles, 48 points inferior, in the best–of–five first round. From my perspective, only this playoff outcome rivals the Montreal defeat of Boston in 1971.
In a whacky first game, the Kings outgunned the Oilers, 10–8, at Northlands Coliseum. Gretzky salvaged Game 2 at 6:20 of overtime, Edmonton prevailing 3–2. But, the third match — Apr. 10, 1982 at the Los Angeles Forum — remains iconic as the "Miracle of Manchester" (the Boulevard on which the arena, in Inglewood, is located).
Trailing 5–0 early in the third period, and allegedly being laughed at by the visitors, the Kings roared back to send the match into overtime on unanswered goals by Jay Wells (2:46), Doug Smith (5:58), Charlie Simmer (14:38), Mark Hardy (15:59) and Steve Bozek (19:55, on the powerplay). At 2:35 of the first extra period, directly from a face–off, Daryl Evans slapped a puck over Grant Fuhr's shoulder, capping the extraordinary comeback. Edmonton prevailed in Game 4 at the Forum (3–2) but lost the series back home, two nights later — Simmer's two early goals propelling L.A. to a 7–4 triumph… and one of the greatest upsets in Stanley Cup history.
THE 1970–71 BRUINS TODAY…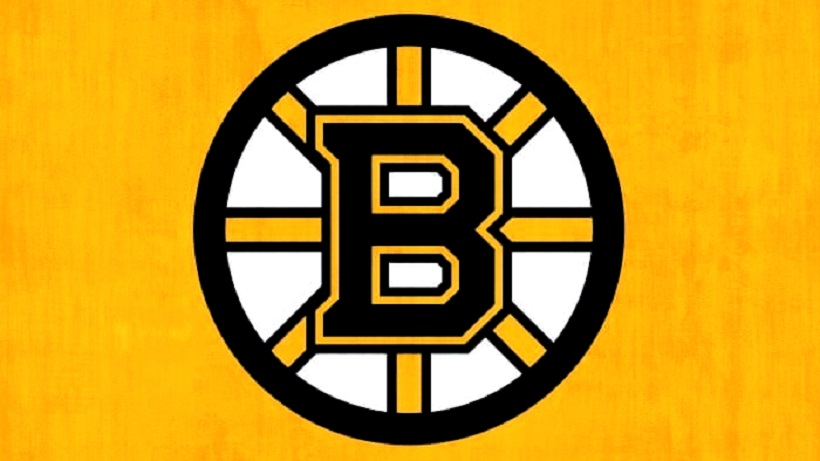 PHIL ESPOSITO (age 79), BOBBY ORR (73), JOHN BUCYK (86), KEN HODGE (77), WAYNE CASHMAN (76), JOHN McKENZIE (d. June 9, 2018 / age 80), FRED STANFIELD (77), DEREK SANDERSON (75), ED WESTFALL (80), WAYNE CARELTON (74), DALLAS SMITH (79), TED GREEN (d. Oct. 8, 2019 / age 79), DON MARCOTTE (74), DON AWREY (77), RICK SMITH (72), MIKE WALTON (76), REG LEACH (71), GARNET BAILEY (d. Sep. 11, 2001 at the World Trade Center aboard United Airlines Flight 175 / age 53), BILL SPEER (d. Feb. 12, 1989 / age 46), ED JOHNSTON (85), IVAN BOLDIREV (71), GERRY CHEEVERS (80).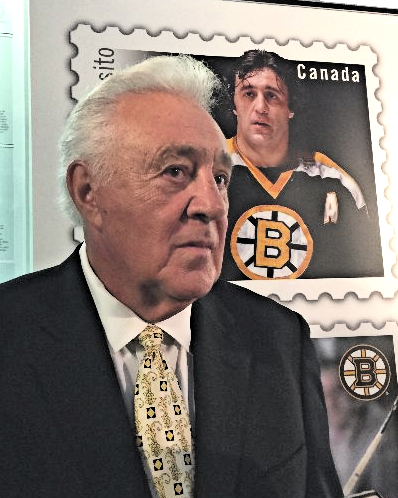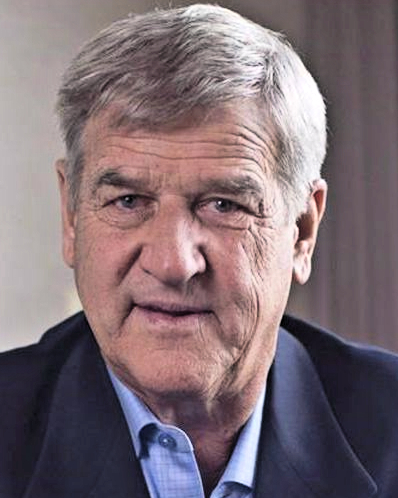 PHIL ESPOSITO (LEFT) AND BOBBY ORR, AS THEY APPEAR TODAY.
EMAIL: HOWARDLBERGER@GMAIL.COM