TORONTO (June 3) — Let me begin by repeating what I have written in this corner on several occasions: I respect Brendan Shanahan. I respected him as a hard–nosed, Hall–of–Fame power forward with a mean streak; exactly the type of player his underachieving hockey club needs at the moment. I respected the well–conceived plan he successfully pitched to Maple Leaf Sports and Entertainment more than eight years ago. I respected that he ended Dave Keon's long estrangement by finally retiring the most–significant jersey numbers in franchise history. I respected that Shanahan hired Lou Lamoriello to set the table, then elevated his protégé, Kyle Dubas, to the role of Maple Leafs general manager. But, sadly, and for the first time, I lost some of that respect on Wednesday.
I didn't figure Brendan to come before the media less than 48 hours after the collapse against Montreal and announce a knee–jerk, rash decision. But, neither did I think he would tell broken Leaf supporters that everything of import in the organization will stay the same… that the current group "WILL get this done," without a shred of evidence it can happen. By so doing, he invoked the old–style Leafs method made infamous by Harold Ballard, Steve Stavro and the Ontario Teachers' Pension Plan: offer any load of bullsh** to the people of Toronto and they'll swallow it. Whole. In a less–forgiving market, I'm convinced Shanahan would have stepped to the podium and said, "Look, I've come to speak with the media, as always, after a playoff elimination. But, given how this particular series unfolded — and with our underachievement of the past four years — I'm not going to make any promises or proclamations today. Instead, we owe our loyal fans a thorough review of the entire hockey operation. That's something we'll begin to undertake immediately. Our lack of progress in the Stanley Cup tournament is unacceptable and cannot continue. Once we've determined the direction moving forward, I'll make an announcement. But, until then, I will not get into any specifics about management, coaching or players. I hope you all understand."
Would that not have buoyed the mangled spirit of Leafs Nation better than another hollow "promise?" Wouldn't Shanahan have appeared entirely sincere about providing his utmost to fix whatever ails a team that, without question, is unfit for Stanley Cup competition? Instead, he came across far–more concerned about protecting, for at least one more year, his job with MLSE and those directly beneath him. To hell with what anyone else thinks or cares about. "We WILL get this done. Even with Jake Muzzin outscoring Auston Matthews and Mitch Marner. I can't tell you how, or when. Just keep spending those hard–earned dollars. We'll announce our annual ticket–price hike at another time. As for now, continue to believe in this group. We're not going to change anything."
Lovely, wasn't it?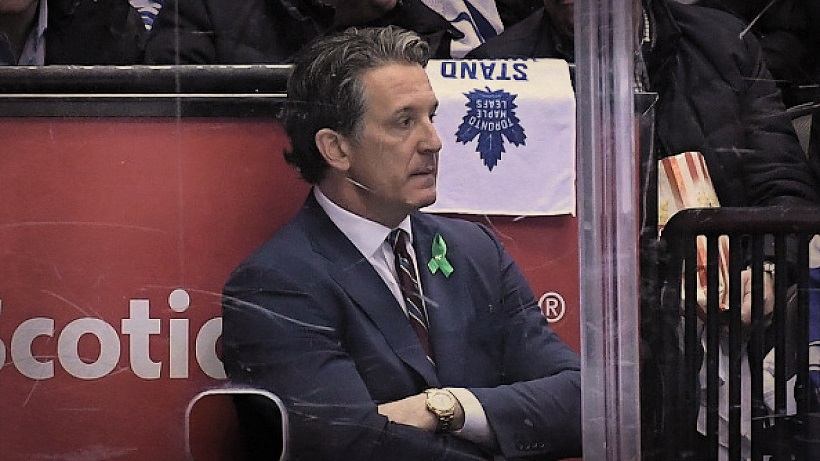 Until his underwhelming performance on Wednesday, Shanahan had never proven willing to take advantage of the Toronto hockey behemoth, as did those that callously operated the Leafs prior to his arrival. And, I can tell you this, without going out on a limb: If the Leafs return next season with Dubas as GM; Sheldon Keefe as coach; John Tavares, Auston Matthews, Mitch Marner and William Nylander consuming half the salary cap — and in the interminable, four–decade–long absence of an elite defenseman — they will lose in the first round of the Stanley Cup playoffs. Providing, of course, they qualify once back in a Division with Tampa Bay, Boston, Florida, Montreal and the improving Ottawa Senators. You cannot continue, in professional sport, with the same, flawed approach and expect a different result. It took the Leafs half–a–decade to figure that out with Frederik Andersen in goal.
Now, it appears the club will beat its head against the wall with a GM incapable of building around his overcompensated core by signing cheap, washed up players — the only type he can afford — and with a pair of "regular–season" superstars whose contracts are immovable. It is imperative that Shanahan seek out a manager with no emotional attachment to the Big 4, thereby capable of making tough decisions that can move the Leafs off their treadmill. And, if he can't do it, MLSE should replace Brendan with someone who can. Enough with this malarkey about "getting it done" with the current group. Ain't gonna happen. Not next year or any in the future.
Jim Rutherford is out there. He would probably welcome a chance to remedy the club he grew up watching. Rutherford successfully built around an expensive core in Pittsburgh (Sidney Crosby, Evgeni Malkin, Kris Letang), winning back–to–back Stanley Cup titles just four and five years ago. He was smart enough to realize that Phil Kessel — if not called upon to be "THE guy", as here in Toronto — would flourish. Kessel won his first Cup in 2016; brought it to our city and shared it with adorning youngsters at Sick Kids Hospital. Such an immaculate gesture. At 72, Rutherford isn't looking for a 10–year contract. I'm sure he'd sign for two or three years; try to spin his playoff magic, and happily retire. Perhaps after nudging the Leafs toward an actual Stanley Cup challenge.
Instead, it appears the Leafs will stay with a losing formula in a hockey city that habitually allows for such inaction. Already, there are chat room threads looking forward to the draft and the club's prospect camp. It is way too easy to stand pat with the Blue and White. Which Brendan Shanahan has evidently figured out after eight–plus years.
What a crying shame.
EMAIL: HOWARDLBERGER@GMAIL.COM