TORONTO (June 6) — Warning: This blog is an hypothesis… until the inert Brendan Shanahan acknowledges that sitting idly leads to another brick wall at playoff time. But, let's proceed, nonetheless.
Though I'm not advocating the Toronto Maple Leafs throw away Mitch Marner's $10,903,000 salary–cap hit — or, his obvious skill, which comes in handy between October and April — there is a trade for the 24–year–old winger worth considering. But, only if John Davidson and Jarmo Kekäläinen, in Columbus, are willing to listen. Which is not inconceivable, given the Blue Jackets will almost surely have to unload top defenseman Seth Jones before the National Hockey League trade deadline next March. Jones, 26, and entering the prime of his career, has indicated he'll move on, if still with Columbus, upon attaining unrestricted free agency next summer (in 2022, as Elliotte Friedman of Sportsnet reported last weekend). It so happens the Blue Jackets couldn't have scored at the Playboy Mansion this season, counting only 137 goals (better than only Anaheim and Detroit), thereby missing the playoffs for the first time since 2015–16. A point–producer such as Marner would help alleviate the issue… providing Columbus can take on his cap burden (the Leafs would likely retain a portion of Marner's salary). At the moment, according to capfriendly.com, Kekäläinen has a mere $1,677,972 of projected wiggle room. On the surface, however, it's a win–win. The Blue Jackets would obtain one of the most–creative forwards in the NHL; Toronto, the elite blue–liner it has lacked since Borje Salming… and, at a bargain cap–hit of $5,400,000 for next season.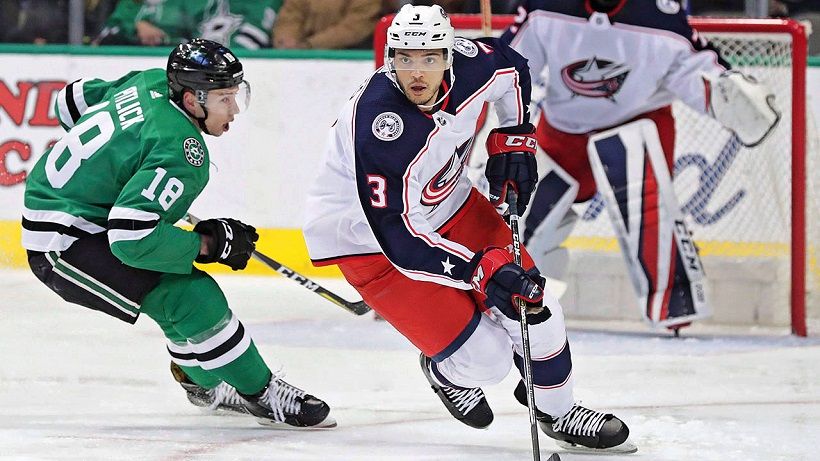 COLUMBUS DEFENSEMAN SETH JONES, IN ACTION AGAINST THE DALLAS STARS. GETTY IMAGES/NHL
Now, you may be thinking: If Columbus is willing to trade Jones to the Maple Leafs, why not ask for the more–economical William Nylander, who drains $3,940,634 fewer cap dollars per season than Marner? And, was the only Toronto forward with proof of a heartbeat in the playoff collapse against Montreal. There are two answers: a) Marner brings more to the table than Nylander, even if not having shown as much in the post season. And, b) Kyle Dubas would likely nail himself to a cross upon repudiating the silly vow to never trade Nylander as general manager of the Maple Leafs. Which is another reason Toronto should seek a person with no emotional attachment to the current nucleus. An experienced man with a proven track record, such as Jim Rutherford, who is readily available. But, I digress. Even Dubas is capable of negotiating an equitable swap for Jones — providing, of course, there's an appetite on Bay St. to alter the current mix. And, no–such evidence emerged from the post–playoff remarks by Shanahan, or his hand–picked GM. If that doesn't change, there's no way the Leafs can enhance their blue line… or even stay the same. Morgan Rielly is up for renewal after next season. Barring the unforeseen, he'll expect a raise on his $5 million salary — probably toward $7 million. Unless the salary cap for 2022–23 increases commensurately, how can the Maple Leafs accommodate five players earning close to $48 million?
That's why going all in to acquire Jones is so logical. He becomes part of the Big 4, which allows the Leafs to pursue trade options for Rielly. Exchanging Rielly for Jones may be equitable from a competitive standpoint, but it still doesn't free up enough cap room for the Leafs to retain Jones after next season. Unless, again, the payroll limit largely increases with fans permitted back in NHL arenas. The Leafs, in their desire to not change a thing, probably envision Rasmus Sandin progressing as a front–line defenseman in 2021–22. Thereby allowing for more time to assess their possibilities concerning Rielly. But, there's no guarantee Sandin will fulfill his promise; neither will the Blue Jackets sit around and wait for the Leafs to make that determination. Even if the Leafs switch gears (imagine!) and become willing to trade one of Marner or Nylander, interest around the league for Jones will be abundant. Though Toronto, by dangling one of the aforementioned, would become a very attractive trade partner.
That the Leafs obtain roster balance in their nucleus seems inarguable. But, it cannot happen if Shanahan remains obstinate. After a fifth post–season calamity, all options should be on the table for the Blue and White.
FEDS FINALLY BENDING: I'm sure the Toronto Raptors and Toronto Blue Jays, who have been confined to the United States during the COVID–19 pandemic, are thrilled that the federal government of Canada, with cooperation from provincial authorities, has granted a cross–border travel exemption for the last two rounds of the Stanley Cup playoffs. Which means that Montreal — favored, right now, to emerge from the all–Canadian North Division — can host an American–based team at the Bell Centre… and compete against that club in the U.S. Without players from either side having to isolate for 14 days upon crossing the border. Precautions similar to the "bubble" scenario last August will be in place, restricting players to the arena and hotel. But, the Blue Jays must be wondering why it is necessary to play home games in Buffalo. Or, does this now open the door for cross–border baseball travel? Either way, I'm not sure I like the decision. It seems hypocritical and governed by financial concern.
ON THIS DAY — IN 1967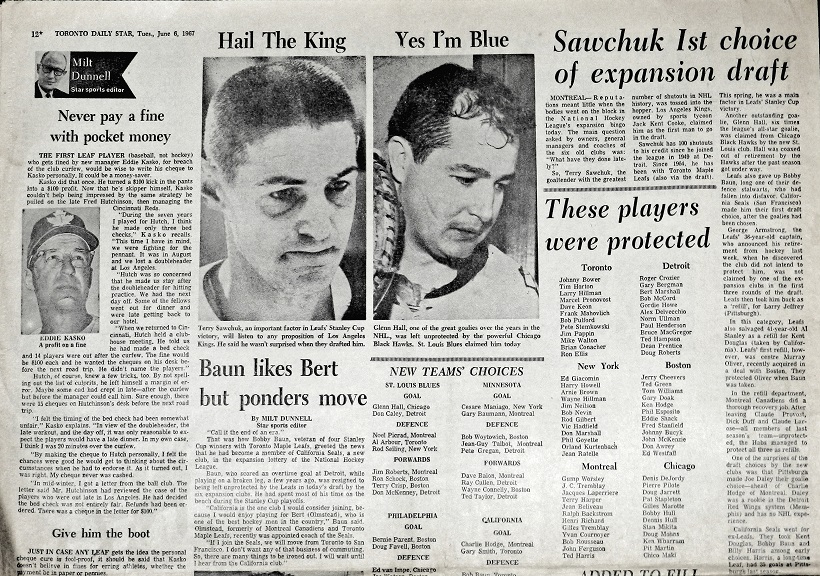 From my newspaper collection, the Sports front of the Toronto Star (above) from 54 years ago today (June 6, 1967) after the National Hockey League had conducted its first expansion draft. The six incoming teams — California Seals, Los Angeles Kings, Minnesota North Stars, Philadelphia Flyers, Pittsburgh Penguins, St. Louis Blues — selected players from the pre–expansion clubs: Boston, Chicago, Detroit, Montreal, New York, Toronto. Each existing team could protect 11 skaters and one goalie. The Toronto Maple Leafs, fresh off their most–recent Stanley Cup triumph, kept Johnny Bower and exposed Terry Sawchuk, who became the first overall selection (below), by Los Angeles. The draft was held at the Queen Elizabeth Hotel in Montreal.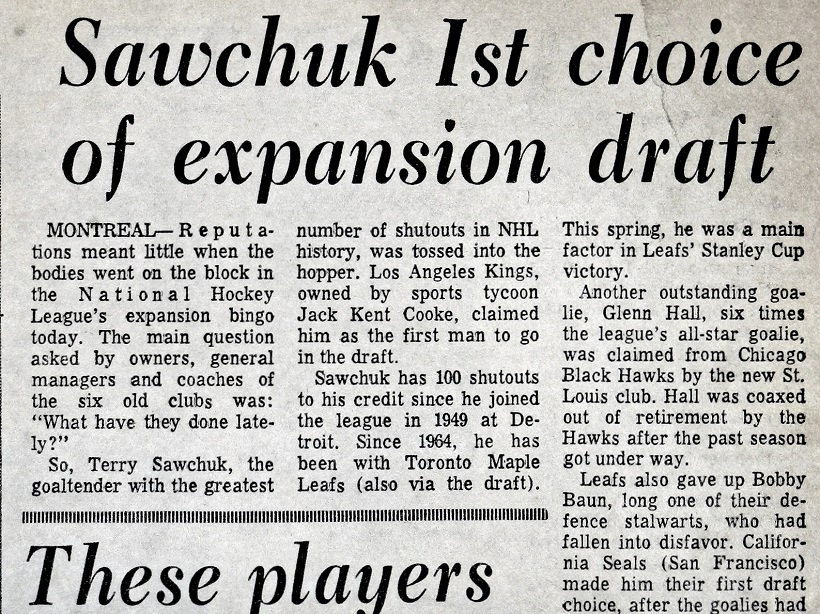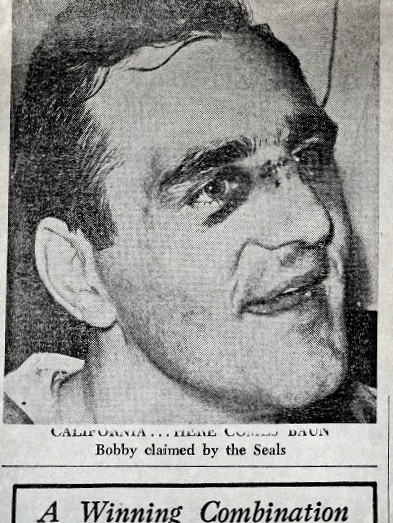 YESTERDAY AND TODAY — IN 1968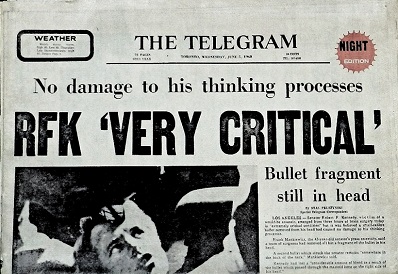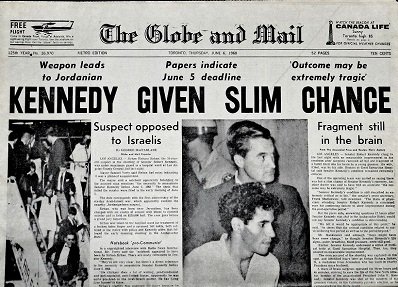 A year later, in 1968, United States Senator Robert F. Kennedy succumbed to an assassin's bullet and died in Los Angeles. Kennedy had been shot in the head at point–blank range by Sirhan Sirhan in the kitchen of the Ambassador Hotel after winning the California presidential primary. RFK was the Democratic candidate, running against Republican Richard Nixon. Robert's brother, John F. Kennedy, had been assassinated in Dallas less than five years earlier. Front pages (above and below) from the old Toronto Telegram, the Toronto Star and the Globe and Mail.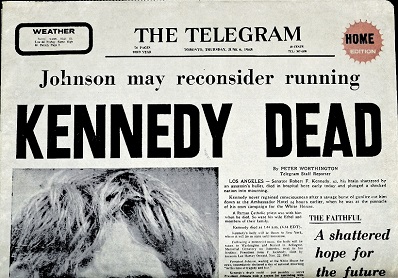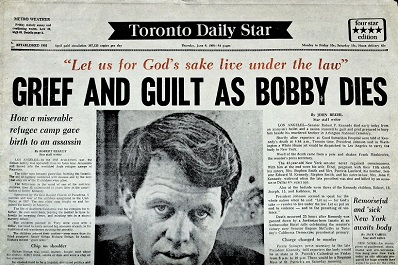 EMAIL: HOWARDLBERGER@GMAIL.COM