TORONTO (June 30) — It's almost as if the Leafs are making moves to deliberately aggravate their fans. Bad enough that Brendan Shanahan and Kyle Dubas haughtily dismissed the shameful opening–round collapse against Montreal, telling the world nothing about the team will change. Even worse, however, is the Dynamic Duo backing up its claim by assembling the identical roster that folded like a cheap suitcase. First, it was Jason Spezza. Then, on Tuesday, Wayne Simmonds, incredibly, doubled his take with the perennial playoff loser.
Can Jumbo Joe be far behind?
Or, "Soft Goal" Freddy, whose agent, according to Pierre LeBrun, has approached the Leafs about a new contract, suggesting the former No. 1 goalie would be "open" (sigh) to sharing the load with current No. 1 Jack Campbell?
Maybe Uncle Leo wants to finish his career where it started.
Yeah, the Leafs are a bit of a laughingstock right now and they seem intent on building that identity. You may recall a time, just more than 13 years ago, when a group of Toronto players refused to waive movement restrictions in their contracts prior to the National Hockey League trade deadline. Mats Sundin, Darcy Tucker, Bryan McCabe, Tomas Kaberle and Pavel Kubina rejected offers from general manager Cliff Fletcher to perhaps join a Stanley Cup contender and were dubbed (I think, by Damien Cox) the Muskoka Five — the inference being that all were content to stay with the Leafs, winning be damned, for the convenience of enjoying summers in nearby cottage country. Though the Leafs would miss the playoffs in 2007–08 for third of seven consecutive seasons, the slag was mildly unfair given that all but Kubina had won Stanley Cup rounds under the late Pat Quinn (it was John Ferguson Jr. that signed Kubina, a solid defenseman, as a free agent in 2006 from Tampa Bay, two years after raising the Cup with the Lightning). The "Muskoka" element seems to be returning, but without prior qualification.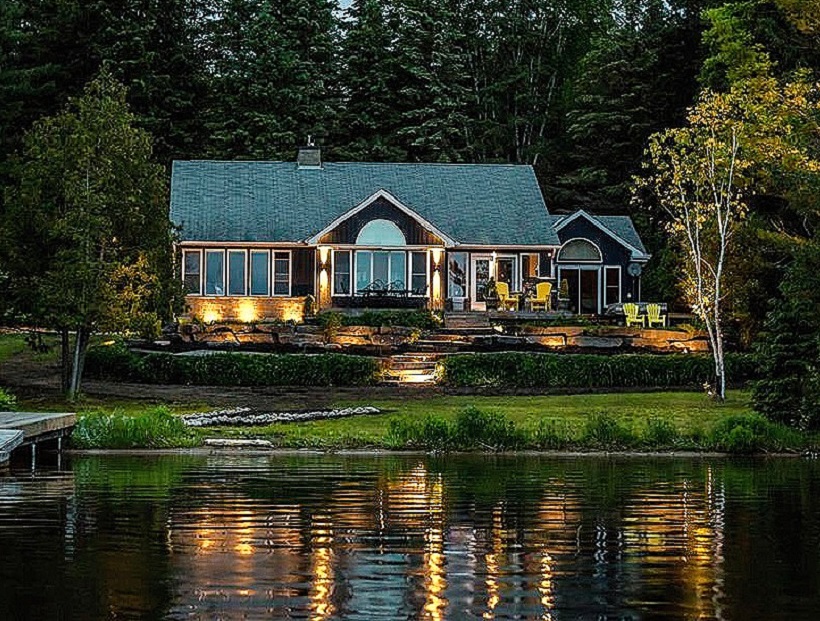 Toronto is the birthplace of both Spezza and Simmonds: each a respected pro; neither with much left in the tank. After signing a two–year extension with the Blue and White on Tuesday, the latter was quoted under a conspicuous Toronto Sun headline that read: COMFORT, DESIRE TO WIN PROPELLED SIMMONDS TO RE–SIGN WITH MAPLE LEAFS AHEAD OF FREE AGENCY. In the accompanying story, by Terry Koshan, Simmonds fessed up:
"I spent the last few seasons switching up teams. I have a two–year–old daughter, my wife, we're from Toronto. This is my home, where I want to be. This is where I want to raise my family; this is where I want to win a Stanley Cup. It was a no-brainer for me." Nowhere in the article did Koshan mention a cottage. Or, why a "desire to win" was part of Simmonds' mind–set with a team that hasn't won anything in more than half–a–century (wouldn't you ask your agent to knock on Colorado's door, or Vegas's door, or Tampa Bay's door, or the Islanders' door, if you truly had a "desire to win"?). It was deja vu, again, for an apathetic Toronto club that is sorely in need of change.
Neither did re–upping with Simmonds warm the hearts of Leaf rooters commenting on the chat forum H–F Boards.
Some typical responses:
Two years? another masterful negotiation by Kid Kyle.
Let's not change the Top 4. Let's not change the supporting cast. Then, run it back with these heartless f***s?
Too much for too long. Watch, we'll re–sign Thornton next.
Two years. He got the Dubas special.
Zero goals in his last 25 playoff games. Makes Mitch look like Mike Bossy.
Not one, but two years?! What the heck?! Not the end of the world. But…really?
But why? He was useless for pretty much the whole season besides the first few games. Highly doubt the [wrist] injury prevented him from being effective in the playoffs.
If anything, the injury is a good reason why we shouldn't have brought him back. A guy who is one hand injury away from being useless isn't very useful in the first place.
Engvall, Soup, Spezza, Simmonds, Brooks. We're going nowhere. Top 6 can't compete in the playoffs and Bottom 6 with no identity. They bring in veteran guys who haven't won a thing.
[Looks like] our third line is going to be Engvall, Mikheyev and some minimum–wage scrub.
[Leafs] look to be running it back, for the most part. I think the brass believes it is on the right path. How we can watch the other teams in the playoffs and think [the Leafs] are on the cusp of greatness is beyond me.
Of course, others participating were either contented or thrilled with Simmonds re–signing. But, that faction — so intrinsic to Leafs Nation — would be satisfied were 20 circus clowns on the ice each night at Scotiabank Arena.
Even if they spent summers on a lake north of here.
MORE ARGOS NOSTALGIA
As detailed in my previous blog (https://bit.ly/3jqr9N5), I date more than half–a–century with the Toronto Argonauts, attending my first game at old CNE Stadium in September 1969 and attending all games once Dad purchased season tickets in 1971. For those who remember the good Argo teams under Leo Cahill, these publications, as part of my sports collection, will offer nostalgia: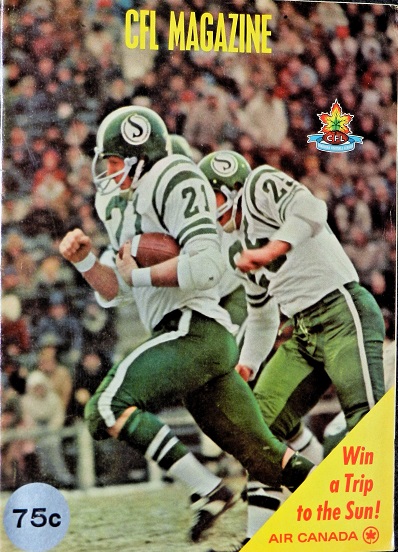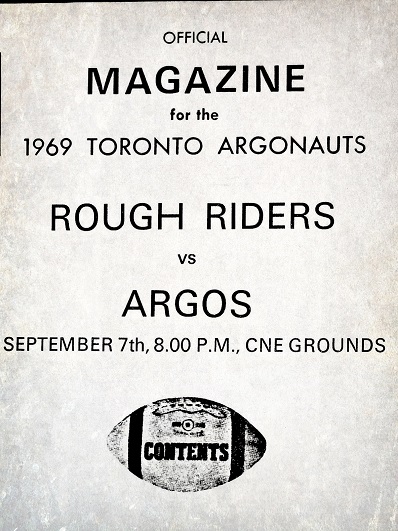 PROGRAM AND LINE–UPS FROM SASKATCHEWAN AT TORONTO GAME OF SEP. 7, 1969 — 34–15 WIN FOR THE ARGOS.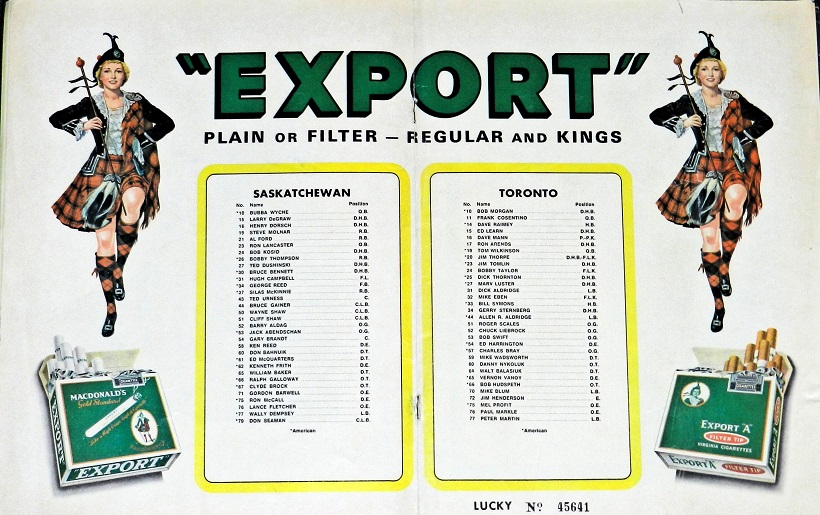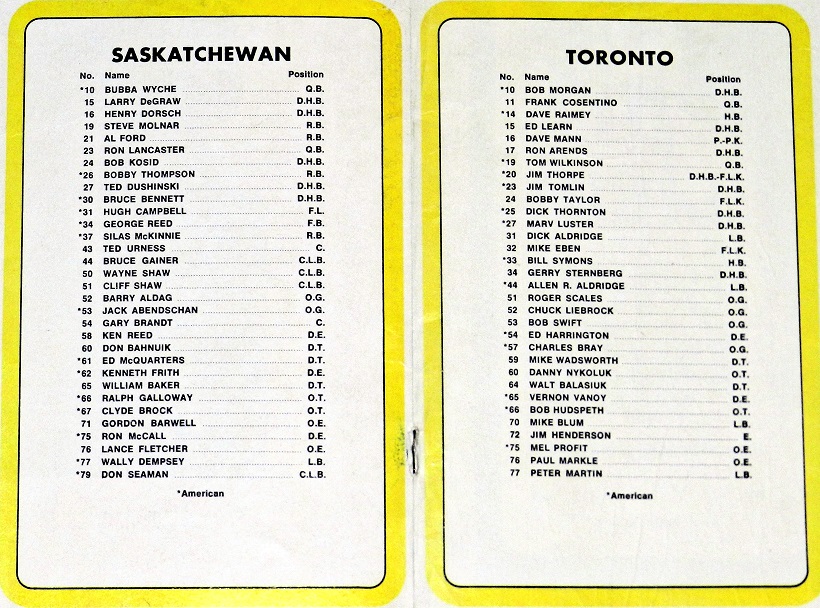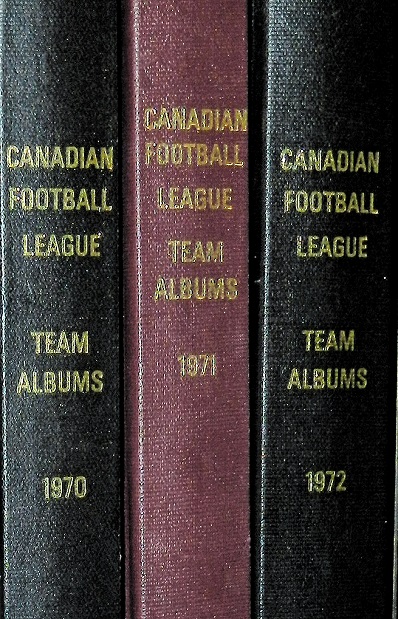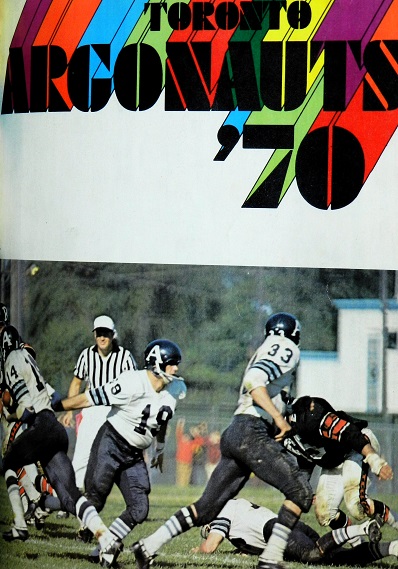 I HAVE, BOUND IN BOOK FORM, THE CFL TEAM ALBUMS SOLD AS PART OF THE PROGRAM AT ARGO GAMES IN 1970, 1971 AND 1972. ON COVER OF THE 1970 ARGOS ALBUM WAS A PHOTO OF QUARTERBACK TOM WILKINSON (19) HANDING THE BALL TO DAVE RAIMEY (14) WITH BILL SYMONS (33) PROVIDING A DECOY.  AT LANDSOWNE PARK IN OTTAWA.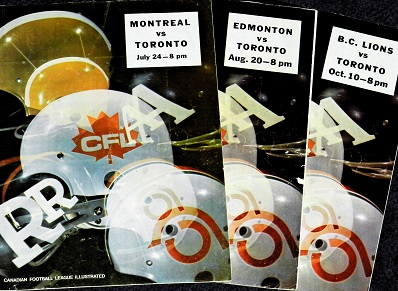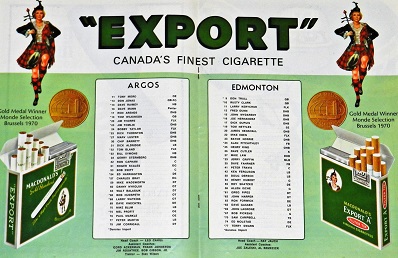 THE COVERS (TOP–LEFT) OF ARGO PROGRAM–INSERTS FROM THE 1970 CFL SEASON. AMONG THE FIRST GAMES I EVER ATTENDED WAS THIS THURSDAY–NIGHT ENCOUNTER (AUG. 20, 1970) AT CNE STADIUM AGAINST EDMONTON. THOUGH THE ARGONAUTS WERE FAR SUPERIOR TO THE ESKIMOS, THEY SQUEAKED OUT A 16–14 VICTORY. LINE–UPS ARE HERE: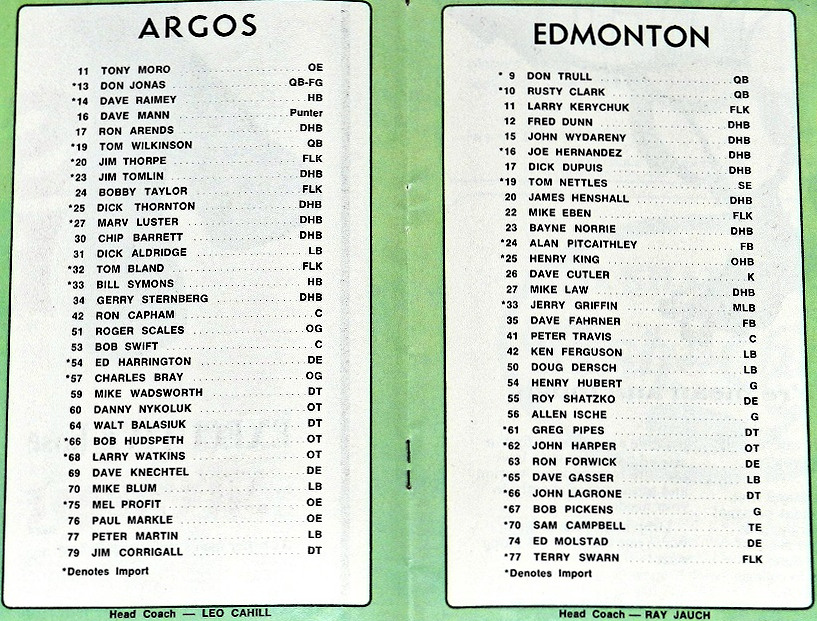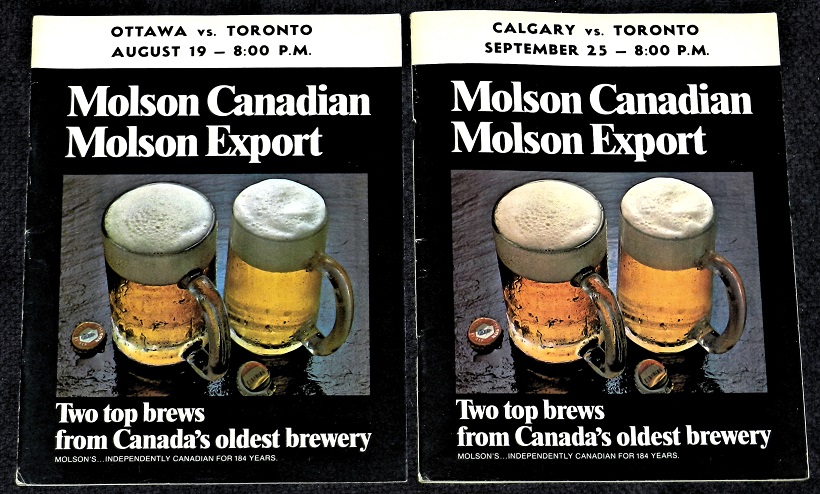 PROGRAM INSERTS (ABOVE) FROM THE 1971 SEASON AT CNE STADIUM.
THE ARGOS WENT TO THE GREY CUP THAT YEAR AND LOST TO CALGARY. BUT, THEY DEFEATED THE STAMPEDERS IN THEIR ONLY REGULAR–SEASON MATCH UP, 18–7, ON AN AUTUMN SATURDAY NIGHT HERE IN TOWN. LINE–UPS: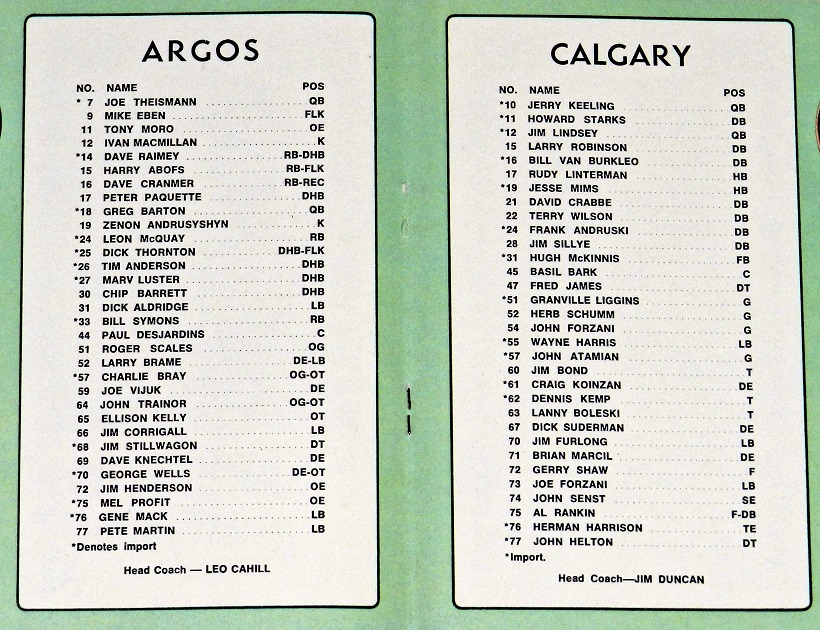 EMAIL: HOWARDLBERGER@GMAIL.COM